Renting a campervan and driving around Iceland is the ultimate road trip regardless of the time of year. Planning an Iceland itinerary is an exciting prospect once you really start getting into the details. Deciding when, where, and how to see the island's volcanoes, glaciers, hot springs, and geothermal areas is no small undertaking. While plotting your course, you'll want to know the answer to several questions. The first is how long does it take to drive around Iceland?
This is key as a starting point for planning your trip. Along with how long to drive around Iceland, you also want to know, "What's the speed limit in Iceland?". We will cover these questions along with the approximate times and distances between Iceland's major areas of interest. It will hopefully give you a better idea of just how much time you'll be spending on the road.
Driving in Iceland
The first is the speed limit in Iceland. The second is the road conditions you will encounter. And lastly, what people really want to know when they ask about driving times around Iceland is how many days should they spend visiting. Can you drive around Iceland in five days, seven days, or ten days is a much more common question than how many hours to drive around Iceland.
What's the speed limit in Iceland?
Just to quickly put things in context, let's look at the speed limit in Iceland. It varies depending on the area where you're driving as well as the surface material of the road.
If you happen to be driving on the limited part of the Ring Road that's made of gravel, this speed slows down to 80 km per hour (50 mph). When driving in populated areas, the speed limit is 50 km per hour (31 mph).
90 km per hour (56 mph) on paved roads in rural areas.
80 km per hour (50 mph) on unpaved gravel roads in rural areas.
50 km per hour (31 mph) in urban areas like cities or towns.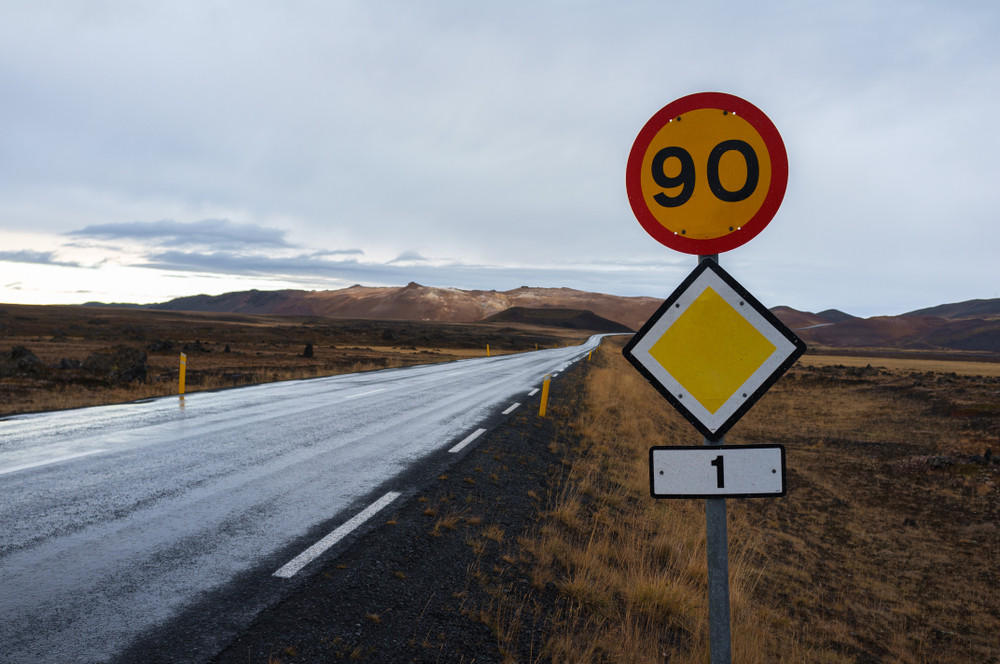 How many hours does it take to drive around Iceland?
This gets to the real crux of the matter. But like many things in life, the answer is not always straightforward because there are a large number of factors that come into play. The distance to drive around Iceland and the Ring Road is 1,332 km (828 miles). So if you just divide this by the top speed limit, that should give you your answer or something close to it right? Or perhaps just see what Google Maps has to say about the matter. I say not so fast.
I suggest this is range because anything from a storm appearing out of the blue to you getting stuck behind a slow semi can reduce your pace to a crawl. The 18-21 hours figure is a guesstimate based on the assumption of relatively good weather and not encountering any major delays along the way. You want to also add in time needed to stop for meals, taking pictures, and filling up your gas tank. Each of these micro delays will add minutes and hours do your daily driving schedule.
And of course, you'll be spending a lot of time each day visiting our beautiful country's stunning natural attractions.
Driving conditions on the Ring Road
Freak snowstorms crop up in Iceland all the time, even in June. This means you want to check the weather on a regular basis, regardless of when you visit. As we mentioned previously, around 97% of the Ring Road is paved. Slow down when approaching the gravel sections of the highway so that you don't lose control of your vehicle.
Driving times to attractions around Iceland
From Borðeyri, Iceland near the Westfjords, it takes another 30 to 60 minutes to get to either to Búðardalur or Borgarnes respectively. These towns are usually the starting points for exploring the Snaefellsnes Peninsula. And once you've completed this part of your journey, it takes around two and a half hours to return to Reykjavik.
Your Iceland itinerary
So really, how long does it take to drive around Iceland? The minimum suggested time for driving around all of Iceland, in my opinion, is seven days. Even then you'll still be missing out on some places like the Diamond Circle, which could take three or four days alone. If you want to take in all of those places as well, I suggest spending 10 days driving around Iceland.
How long does it take to drive around Iceland and the Ring Road?
What do you spend a few days or a few weeks exploring all that Iceland has to offer, you won't be disappointed. This is a country that was made for road trips, and the Ring Road makes everything so easy. So don't rush, take the time to enjoy the ride, and remember that life and your trip are a journey rather than a destination.