April in Iceland means that it's officially springtime on the island. But except for the weather getting better, April also holds a lot of other perks for those visiting Iceland during the month.
In this article, we discuss everything you need to know about April in Iceland. From the weather and what to pack, to all the things there is to do and see on the island during these times. Do you still wonder if April might be the right time for you to come for a visit? This guide will definitely push you in the right direction.
The Pros and Cons of Spending April in Iceland
As with most things, April in Iceland also has its pros and cons. We created this nifty overview to help you make a better call on whether a trip to Iceland in April will be the right fit for you:
Pros
Although the weather in Iceland in April may not be what you're used to back home, it's still considered to be warm and mild compared to Iceland standards. Temperatures no longer dip below 0 and the harsher weather elements have quietened down.
April is the perfect shoulder month to experience most things. The warmer weather and increased daylight hours allow you to have a pretty full itinerary. Yet, you still have enough darkness in Iceland in April to spot the Northern Lights.
Despite the longer daylight hours and the nice weather, it's still not considered peak season here on the island. That means that you won't be competing with the peak season crowds for a spot on a tour or a glimpse at a popular attraction.
With no peak season crowds, there are no peak season prices, which makes your vacay budget last longer.
Although you may still find some patches of ice still thawing, it's few and far between and the road conditions are back to normal again here on the island. Roads and regions that are kept closed during the colder months are also starting to reopen slowly. This makes April the perfect month to start road-tripping around the island again.
When you're visiting Iceland in April, you're just in time to spot some of the migratory whales. Several species call Iceland their home from April to September every year.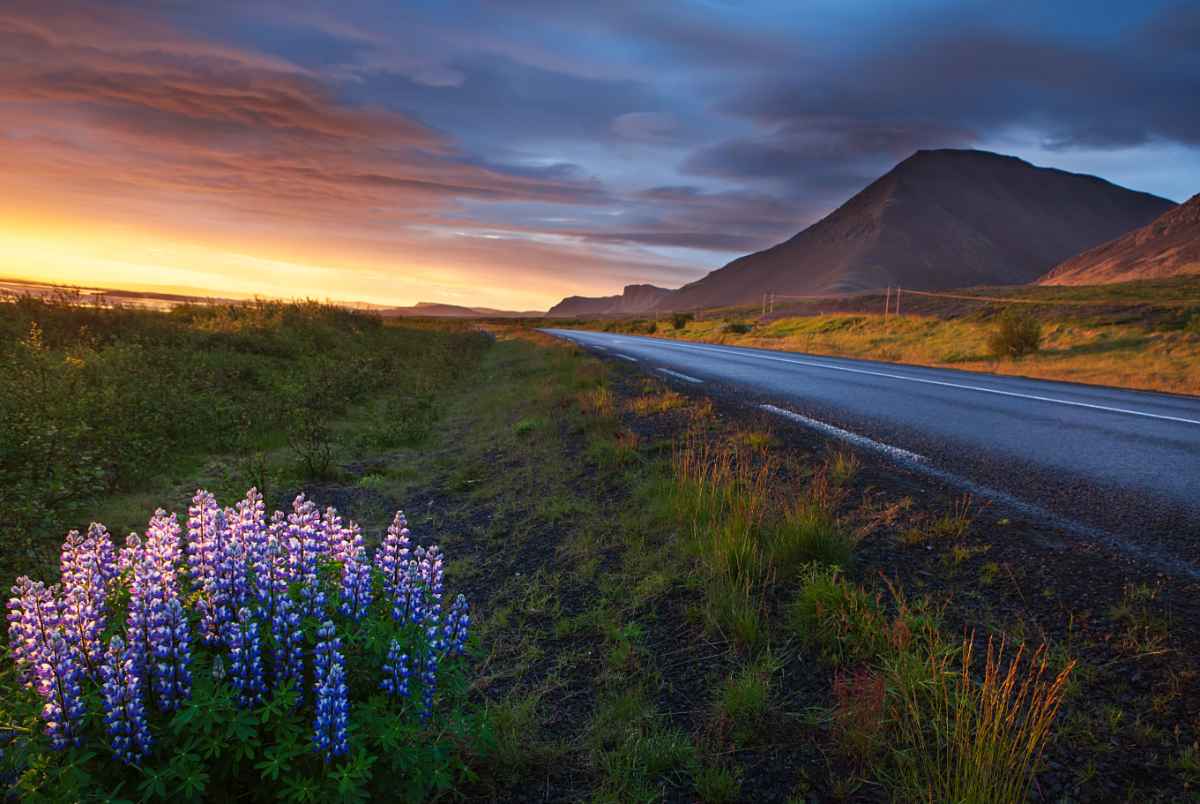 Cons
Daylight hours have drastically increased from the mid-winter 4 hours each day, but that's still not enough to experience a Midnight Sun.
Some roads and regions are starting to open up, still, places such as the Westfjords and the F-roads

in the Highlands, won't be open to the public

.

So, if these are some of the things on your Iceland bucket list, you might need to rethink a trip to Iceland in April.
You may be able to see the migratory whales that come to Iceland in April, but you'll just miss the Iceland Puffins that arrive in May.
What You Can Expect From the Weather When Spending April in Iceland
As we already mentioned, the overall weather in Iceland in April is nice and mild. Temperatures might not be typical bikini and surf shorts weather from where you're from, but temperatures no longer dip below 0. The temperature in Iceland in April ranges between 3-7 degrees Celsius.
You also no longer need to be concerned about getting caught in a blizzard or getting snowed in. Nor about dealing with the legendary Iceland wind speeds that can rip a car door right off of its hinges. You might still get some rain on your trip, so remember to bring your raincoat (no umbrellas! – they get destroyed here).
Also keep in mind that despite a general overview of the weather during April in Iceland, the famous local saying says that "you can experience all four seasons in a day in Iceland", so you'll need to be prepared whilst out on a day tour or driving around.
The Reykjavík Weather in April
Some who visit the capital believe that Reykjavík weather in April is somehow better than the weather on the rest of the island. This could not be further from the truth but does touch on a phenomenon that occurs in most major cities in Iceland, irrelevant of the month or season. The buildings in these cities create a form of shelter against some of the weather elements on the outskirts of the city, so it may feel warmer.
Daylight hours average about 13.5 hours each day. It means that you can take advantage of the nice weather for longer! You can also have a jam-packed itinerary, including all the various outdoor activities that are out of bounds during the colder months of the year.
Packing List When Traveling to Iceland in April
If you're still a little unclear on what to pack for a spring month in a place called Iceland, don't worry. We've created this handy packing list for you to use as a guide:
Raincoat
Warm, waterproof jacket
Fleece/woolen sweater. (only one or two, so you can have enough space in your suitcase to take a couple authentic Icelandic woolen sweaters home with you)
Waterproof pants
Waterproof hiking boots. (whether you're planning on actually hiking or not)
Underwear
Thermal vests
Thermal leggings
Warm, woolen socks
T-shirts & long-sleeved shirts
Casual pants. (for whenever you're sticking to the city perimeters)
Warm hat (beanies come highly recommended)
Warm gloves
Warm scarf
Bathing suit (for when you want to take a soak in a hot spring)
Quick-drying towel. (even in spring, you don't want to be lugging around wet things on your travels)
Flip-flops (to use at the hot springs and other public changing rooms)
Sunglasses
Toiletries & medications. (remember to always check flight restrictions, so you don't have to pour half a liter of expensive conditioner down an airport drain)
Water bottle. (Iceland has some of the highest quality water you'll find anywhere in the world, so you'll only need to top up as you go)
Backpack. (suitable for day outings and hikes)
Electronic devices: cables, chargers, an adaptor, a power bank, etc.
Camping During April in Iceland
Finally! Since April in Iceland is officially springtime, camping is also officially back on the table. But camping in Iceland has a lot more benefits than just being in the great outdoors and eating s'mores around a campfire. Accommodation will be your biggest expense whilst on holiday on the island. Luckily, camping can drastically decrease that expense.
And you don't need to be the next Bear Grylls or Survivor contestant to go camping. You can rent a campervan in Iceland and go camping in style and comfort! If you'd like to save even more on your accommodation budget, you can get yourself a Camping Card. This handy little card costs only €159! And it gives an entire family of 2 adults and up to 4 kids access to a wide variety of campsites all across the island for a stay of 28 nights.
If you'd like to work out how much you'll save, do the maths taking into account that the average price of campsites ranges between $10-$20 per person per night! Some of the best campsites on the island are considered to be the following:
Driving During April in Iceland
As we already mentioned, the challenging road conditions of the colder months are a thing of the past. Roads and regions typically closed during the colder months are starting to open again. With increased daylight hours and the excellent weather conditions, you've got the winning recipe for a road trip.
Just remember to discuss your planned routes and itinerary with your rental agent beforehand. They'll be able to advise you accordingly. Locals will tell you that some routes and roads, even though not technically 4x4 trails, are best done with a 4-wheel drive in Iceland. If you're not quite sure which routes to road trip, these are a few favorites:
Other Things to Do When Spending April in Iceland
Camping and road-tripping are not the only things you'll be doing on the island. The following are some of the must-visit spots and things to do on the island:
Try to take a snap of an erupting geyser at the Geysir Geothermal Area.
Take a walk on one of Iceland's black sand beaches.
Visit some of the many museums like the Saga Museum and the Icelandic Phallological Museum.
Explore the capital city of Reykjavik. Walk its streets with a guide and stuffing your face with delicious local cuisine during the Reykjavik Food Walk.
Attend events, festivals, or celebrations such as the Iceland Writers Retreat.
Go on a Super Jeep or snowmobile tour across an Iceland glacier.
You might still be able to explore an Iceland ice cave. This is a seasonal activity limited to the colder months, but there are some ice caves like Katla Ice Cave that are open all year round
Become a Viking and leave with a souvenir at Mink Studio.
Take a hike (literally!). There are various day and multi-day hiking trails that range in difficulty.
Take a dip in one of Iceland's hot springs.
Dive or snorkel the Silfra Fissure.
Visit one of the Iceland waterfalls (there are 10 000 to choose from!).
Discover the National Parks of Iceland such as Thingvellir National Park.
Go horseback riding on one of the authentic Icelandic horses.
Helpful Tips When You're Spending April in Iceland
If this is your first trip to the island, or it's your first visit during the month of May, the following tips will ensure a safe and pleasant stay:
Always Check the Weather & the Road Conditions
Remember when we told you about the "four seasons in one day" local saying? Well, this is why it's essential to stay on top of these things before you end up trying to kayak in a rainstorm or have to turn back after hitting a sudden road closure. Always remember to check the Iceland weather forecast and the Iceland road conditions.
Keep Waterproof Gear Close By
You might've noticed that our packing list contains quite a few waterproof items. Now, this is not just to keep you dry during some rainfall. Waterproof hiking boots come in really handy walking muddy paths to and from hot springs. And a raincoat is an absolute lifesaver when it comes to standing next to a powerful waterfall with its mist and spray.
Let Others do the Searching for You
When visiting Iceland in April it can be tempting to hunt the Northern Lights yourself. But the Aurora Borealis only appears under certain conditions, and no one knows better than a local expert when and where that will be. That's why we always recommend that you save some time searching for the Northern Lights yourself. Rather, book a spot on a Northern Lights tour, during which you have a much better chance of seeing this spectacular natural phenomenon.
Remember to Dress in Layers
Irrespective of the current weather or the season, you always dress in layers in Iceland. That's because of the "four seasons in one day" as well as the difference in indoor and outdoor temperatures. By dressing in layers, you'll always be able to take something off or put something on depending on how warm or cold you feel.
April in Iceland: Your Dream Holiday Awaits!
There's not much more you can ask from a much-loved destination like Iceland than what you get in April. Nice weather, long days, loads to see and do, and the perfect road trip conditions. So, are you ready for the trip of a lifetime? Then book the flight, rent a motorhome in Iceland and come and explore the island in April!