If you're a history buff passionate about all things Viking, Iceland should be at the top of your travel bucket list. This ruggedly beautiful country is brimming with fascinating Viking sites that offer a glimpse into the rich cultural heritage of this ancient civilization.
From the legendary Althingi, where Viking chiefs gathered to discuss legal matters, to the sprawling ruins of Viking settlements and homesteads, Iceland is a treasure trove of Viking history just waiting to be explored.
In Viking Iceland, every moment is a chance to step back in time and immerse yourself in the world of the Vikings. Whether you're relaxing in a geothermal hot spring, or exploring a Viking village. Or even admiring ancient artifacts in a museum, the experience is truly captivating.
Top 11 Viking Sites in Iceland
If you've been dreaming of exploring Viking ruins in Iceland, you've come to the right place. From the soaring fjords of the north to the mysterious lava fields of the south, Iceland is home to some of the most remarkable Viking sites in the world.
Here are our top 11 recommended Viking sites in Iceland:
Viking World is a captivating Viking museum in Iceland, dedicated to showcasing the intriguing history of the Vikings. Situated just 8 kilometers/5 miles from Keflavík International Airport, the museum houses an impressive collection of Viking artifacts and exhibits. One of the highlights is a life-size replica of a Viking ship, inviting visitors to embark on an exploration of the Viking era.
Step back in time as you discover the stories of famous Viking warriors and explorers, and learn about the daily life of these brave seafarers. You can also catch a glimpse of Viking history through the eyes of the Norse gods themselves with the unique "Viking Voyage" ride. It will take you on a thrilling journey through Viking mythology.
View this post on Instagram
The Settlement Exhibition is the perfect place to start if you're looking for a Reykjavik Viking museum. This fascinating museum is located in the heart of Reykjavik. It offers visitors a unique insight into the city's ancient Viking past.
Transport yourself to the 10th century by visiting the Viking museum. The exhibition is centered around an excavated Viking longhouse. This historical site offers a glimpse into the daily lives, customs, and traditions of the early Viking settlers. Engage with interactive exhibits and multimedia displays, explore the excavation site, and delve into the settlement's intriguing history through remarkable archaeological discoveries.
View this post on Instagram
Step back in time and experience life in a Viking village at Fjorukrain. It is a fascinating open-air museum in the small fishing village of Hafnarfjordur. Step into the world of Vikings and indulge in their culture and traditions at this unique attraction. With a variety of activities and events, you can travel back in time and experience the Viking era firsthand.
Explore the Viking-style turf houses and witness live demonstrations of ancient crafts. You'll get to see blacksmithing, weaving, and pottery. You can also try archery and axe throwing, or enjoy a traditional Viking feast with mead and Viking songs.
View this post on Instagram
Take a trip to Eiriksstadir and discover the home of one of Iceland's most famous Viking settlers, Erik the Red. Situated in the scenic Borgarfjordur area, this historic site provides a glimpse into the legacy of a prominent Viking figure.
Explore the reconstructed turf farm and see how Viking families lived and worked over 1,000 years ago. Learn about Erik the Red's adventures in Greenland and how his son, Leif Erikson, is said to have discovered America long before Christopher Columbus.
You can also enjoy various Viking-themed activities, such as dressing up in Viking costumes, trying archery, or even participating in a traditional Viking feast.
View this post on Instagram
Get into character and capture your inner Viking at the Mink Viking Portrait Studio in the heart of Reykjavik. This unique photo studio allows visitors to dress in traditional Viking clothing and pose for a professional portrait.
The Mink Viking Portrait Studio is the perfect place to channel your inner Viking in Reykjavik. You'll get a unique trip souvenir while having fun with friends and family. The studio has various costumes and props, from Viking helmets and shields to fur cloaks and swords. Professional photographers will help you capture the perfect shot.
View this post on Instagram
Step into the world of Viking Iceland at the Saga Museum. This immersive attraction brings the tales of the country's legendary heroes to life. This Reykjavik Viking Museum offers visitors a unique and engaging experience of the Viking Age.
Immerse yourself in the captivating world of Viking legends and sagas at the Saga Museum. Explore lifelike wax figures and detailed sets that bring to life the legendary tales of Iceland's history. From the founding of the country to the adventures of renowned Viking figures such as Erik the Red and Leif Eriksson. The museum offers a fascinating glimpse into Iceland's rich Viking heritage.
View this post on Instagram
Experience the traditional way of life in Viking Iceland at the Glaumbær Folk Museum. This living history museum showcases the daily routines of Iceland's past. Located in northern Iceland, the museum features a collection of turf houses that date back to the 18th century. It allows visitors to step back in time and learn about the country's unique cultural heritage.
The turf houses are furnished with authentic artifacts, tools, and household items. It gives visitors a glimpse into the daily lives of Iceland's past inhabitants. In addition to the houses, this Viking museum in Iceland also features exhibitions on traditional crafts and farming practices, providing a comprehensive look at Iceland's rich cultural history.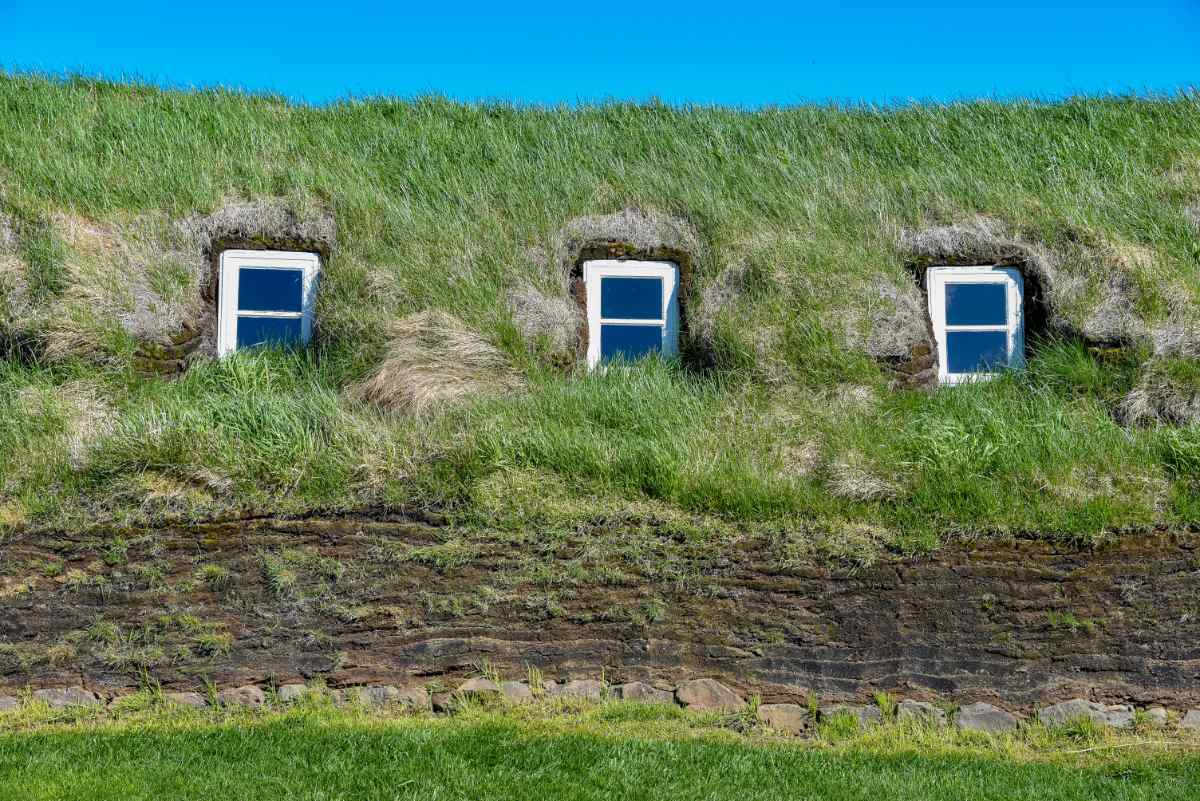 For an intriguing glimpse into the world of Viking ruins in Iceland, make sure to visit the Grettisvarda Cairn. This historical burial site, located in the northeastern region of Iceland, is said to be the final resting place of the legendary Viking warrior, Grettir the Strong.
The Cairn is an impressive mound of stones with a fascinating history dating back to the 11th century. Local folklore tells stories of Grettir and his exploits. The Cairn has become a pilgrimage site for those seeking to connect with Viking Iceland's rich cultural heritage.
Today, visitors can explore the Cairn and soak up the atmosphere of this ancient burial site. This way, they can discover the legends and stories that have made it such an essential part of Iceland's Viking history.
View this post on Instagram
Snorri Sturluson was a famous Icelandic author, poet, and politician who lived during the Viking Age. He was born in 1179 and is known for his extensive work in writing and preserving Icelandic sagas and Norse mythology.
Snorri Sturluson was a chieftain and one of the most prominent figures of his time. He made significant contributions to the political landscape of Iceland. His best-known work, the Prose Edda, is a collection of Old Norse mythology. It was instrumental in preserving much of the knowledge of Viking mythology that we have today.
The work has influenced the modern understanding of Norse culture and mythology. At Snorrastofa, visitors can learn about the fascinating life and works of Snorri Sturluson through various exhibits, lectures, and workshops.
View this post on Instagram
Located in the beautiful town of Borgarnes, on the west coast of Iceland, lies the Viking burial mound at Skallagrimsgardur. This site is considered the final resting place of Skallagrimur Kveldúlfsson, a legendary Viking warrior and chieftain.
Visitors can learn about the fascinating history of the mound and the stories surrounding Skallagrimur through exhibits and interactive displays. The burial mound dates back to the 10th century and is one of Iceland's most well-preserved Viking ruins in Iceland.
At Skallagrimsgardur, visitors can explore the site and learn about the Viking burial customs and beliefs surrounding death and the afterlife. You can also take part in guided tours and educational programs to gain a deeper understanding of the fascinating Viking history of Iceland.
View this post on Instagram
The Ruins of Hrafna-Floki are located on the western coast of Iceland, near Stykkishólmur. According to Viking legend, this site is named after the legendary explorer Hrafna-Floki, who is said to have been the first Norseman to sail to Iceland intentionally.
Visitors can explore the ruins of his farmstead, which date back over a thousand years. The site offers a glimpse into the daily life of the Vikings, as well as the harsh conditions they endured in this remote land.
While these Viking ruins in Iceland are simple and unassuming, their historical significance is profound, making this a must-see destination for anyone interested in Viking history and culture.
View this post on Instagram
Unleash Your Inner Viking With Viking Iceland Tours
If you want to immerse yourself in Viking culture and history in Iceland fully, look no further than Viking Iceland Tours. From ancient ruins to modern-day attractions, there are plenty of ways to explore this fascinating culture.
Here are 4 unique Viking Iceland tours we highly recommend:
Viking Horse Riding Tour:

Ride on the back of Icelandic horses through the scenic countryside, just like the Vikings did. You'll also learn about the history of Icelandic horses and their importance to Viking society.

Viking Sailing Tour:

Take a boat tour along Iceland's rugged coastline while learning about Viking navigation and seafaring skills. You may even spot some whales or dolphins along the way.

Sightseeing Walking Tour with a Viking:

Get an up-close look at Reykjavik's famous landmarks on this family-friendly tour that brings Icelandic mythology to life through exciting stories a real Viking tells!

Viking Saga Tour:

Follow in the footsteps of famous Viking sagas, visiting locations mentioned in the stories and hearing about the legendary heroes and battles. This tour will bring the sagas to life in a whole new way.




Experience the Legends and Myths of Viking Iceland
Iceland offers many opportunities to experience the legends and myths of Viking Iceland. Visitors can immerse themselves in Viking history and culture from the Settlement Exhibition and the Saga Museum to Skallagrimsgardur and Hrafna-Floki.

To fully appreciate the beauty and history of the Viking sites in Iceland, renting a campervan is the way to go. With affordable options available, visitors can take a comfortable road trip at their own pace and explore all of the fascinating Viking sites Iceland has to offer. Book a campervan today and get ready to unleash your inner Viking.