Camping in Iceland is one of the best ways to immerse yourself in the Nordic land of Fire and Ice. Do you dream of waking up to watch the sunrise across a magnificent fjord? Or long to fall asleep under the magical Northern Lights? If your answer is YES, then you're in the right place.
Read our guide and learn everything you ever needed to know about camping in Iceland.
Why You Should Go Camping in Iceland
Camping in Iceland is all about experiencing the Great Outdoors. Iceland has some of the most awe-inspiring sights in the world, so you don't want to be stuck inside. The best way to see the country is to plan a camping trip.
Camping is certainly a fantastic way to get to know the country. You're not limited to the itinerary of a group tour, you are free to chase the good weather, and spend as long as you need getting from one attraction to another.
For travelers on a budget, camping is a great option as it's a lot cheaper than staying in hotels.
The Easiest Way to Go Camping in Iceland
Renting a motorhome or campervan is the easiest option for camping in Iceland. There's no need to put up a tent and lug heavy equipment across the country, and you'll have a dry and warm indoor space for sleeping.
When hiring a campervan, there are a variety of different options available depending on how many people you're travelling with and where in Iceland you plan to visit.
Tent camping is an option for travelers on a budget, but the inclement weather could make it a difficult and unpleasant task. Plus, you'll have to hire a car anyway to carry all your camping equipment. The benefit of a campervan is that accommodation and transport are combined.
If you're travelling light, a good option is to rent camping equipment in Iceland. Tents, sleeping bags, weatherproof clothing, cooking sets and much more can be rented in Reykjavík for a small fee per day.
Purchasing a Camping Card is recommended, no matter which option you choose, as it will save you money and guarantee a safe place to sleep for the night.
Using the Camping Card in Iceland
The Iceland Camping Card is a pass that allows a family to camp at participating campsites across Iceland for a single fee. If you don't have a camping card, then campsites will charge you on a per person basis, which can get expensive with a large family.
All members of the group need to stay in one unit or vehicle for the Camping Card to be valid. If you have another adult in your group who is travelling in a separate vehicle, they would need to have a separate card or pay for their campsite per night.
The card covers around thirty-five locations around the country. It is also valid for twenty-eight days, starting from your group's first night of camping.
The Best Time to Go Camping in Iceland
Summer Camping
May to August is high tourist season in Iceland, meaning campsites are often overcrowded. It's also the best weather with warmer temperatures and less temperamental rain, wind, and snow.
Summer camping trips to Iceland mean enjoying the midnight sun. The sun rises as early as 4 am and doesn't set until after midnight, sometimes not setting at all! This means you'll be driving in the light with good visibility and can cover more ground safely. You'll also be able to visit historic sites and tourist spots later in the evening, cramming more into your trip.
Winter Camping
To avoid crowds, try visiting in April or September. However, expect the weather to be more volatile. The benefit of visiting out of season is the increased chance of seeing the elusive Northern Lights after dark. On the flip side, you'll only have around 4 hours of daylight for driving. If, as we said, you want to avoid the crowds, autumn camping is also a great option, as the weather is milder than in winter, and the crowds are not as big as in summer and spring.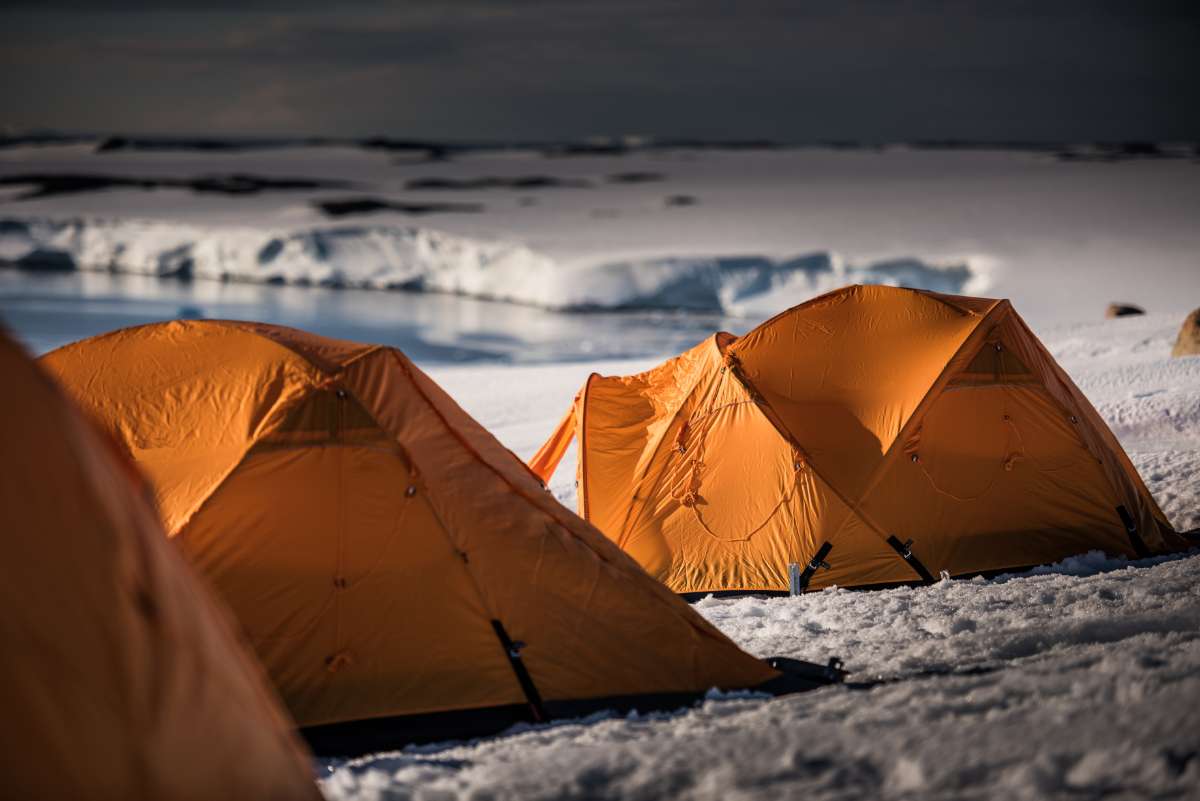 Safe Camping in Iceland
The Weather and Camping
Iceland's fickle climate means you'll need to check the weather on your trip. The weather can range wildly from one part of the country to the other. It can be raining in the West but be sunny in the East. Even in the summer, the weather in Iceland is unpredictable, with the potential for high winds and rain.
We suggest checking Iceland's official weather website. It shows you the most up-to-date information for each area of Iceland and forecasts for the next five days. The Icelandic Association for Search and Rescue also has a website that warns travelers of road closures and roads exposed to weather-related risks.
Iceland is a sparsely populated country with large stretches of uninhabited land, so you'll want to check the services on your route, such as fuel and food.
Campsite Safety
When camping, you should only stay overnight in designated campsites. This is less about safety and more of a legal reason. New Icelandic laws prevent travelers from wild camping. If you've found camping on non-designated land, you could receive a fine and be required to leave immediately by the police.
Also, note that In Iceland, bonfires are prohibited due to the risk of wildfires. The country's fragile ecosystem and makes it necessary to take extreme precautions. And as you'll notice, there's a lack of trees and other natural resources that can be used to create one. However, there are still plenty of ways to enjoy the outdoors without the need for bonfires. Visitors can explore the country's natural wonders, go on hikes, take a dip in hot springs, or enjoy the famous Northern Lights.
Driving and Camping
When driving your vehicle between campsites and tourist attractions in Iceland, it's important to remember these safety rules:
Vehicles drive on the right side of the road in Iceland, with the steering wheel on the left-hand side of the car. Make sure to practice driving around the car park if you're feeling nervous.
Be wary of high winds. Winds in Iceland have been known to rip off car doors.
Be wary of the weather. If you get caught in a blizzard and the road becomes too covered in snow; pull over and wait it out.
Watch out for sheep and cattle. These animals roam freely across the fields, so watch your speed.
Nature and Animals when Camping
There are very few dangerous animals in Iceland. The most dangerous animal you might encounter is the Arctic Tern or a Kría. These birds are very protective over their nests and young, and might try to peck you if you come too close. Keep your distance and you'll be fine.
Best Places to Camp in Iceland
There are many amazing campsites in Iceland. Most campsites have a full range of amenities such as showers, electricity and nearby shops or restaurants.
For those on a budget you can choose campsites that are simple fields or beaches. These types of sites tend to have little to no amenities.
Always check the availability of your campsite for setting off on your trip, especially in the busy summer months. Some campsites will only be open in summer, but there are plenty of places that open all year round!
Camping in Iceland is all about enjoying the country's incredible natural environment, and that means leaving it exactly as you found it. Wherever you chose to camp, make sure you're as eco-conscious and zero waste as possible.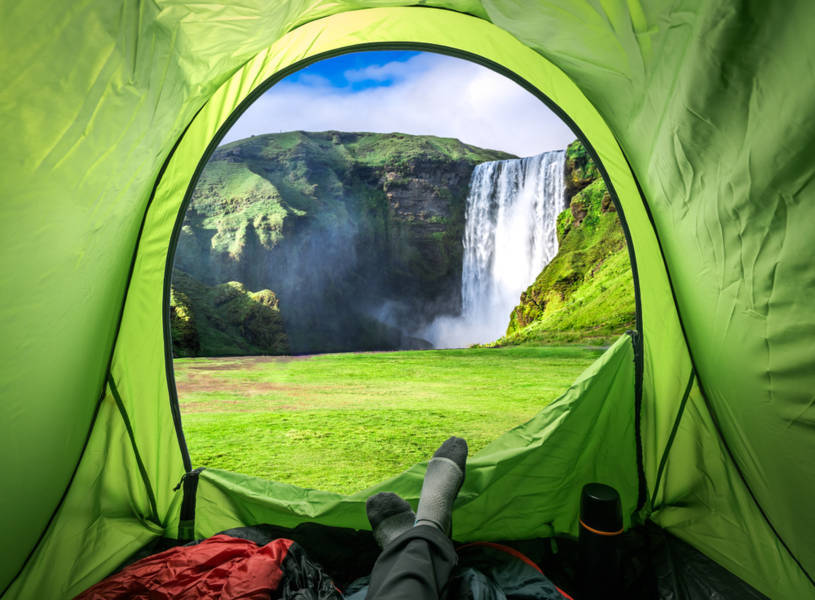 Wild Camping in Iceland
Wild camping, sometimes known as free camping, is illegal in Iceland unless you're in a traditional tent. Even then, there are a lot of rules and restrictions. If you are camping in a campervan, motorhome, caravan, or car then you must spend the night at a campsite.
This recent change in legislation was made to protect the Icelandic countryside and environment.
A summary of the Iceland camping rules can be found on the Iceland Environment Agency website.
Camping in Iceland Prices
By hiring a campervan, you will save money because you're not paying for both accommodation plus vehicle hire. Hiring a campervan and paying for a campsite is way better for the wallet.
Campsite Prices in Iceland
Campsite prices vary; most sites charge between 12 and 20 USD, 10 and 17 GBP, or 12 and 20 EUR per person per night. Oftentimes children under 12-year-old are free of charge.
Additional services at your campsite, such as electricity, showers, or use of the washing machine, are not included in the fee.
Fuel Prices for Iceland Camping
Fuel costs are something to consider when camping, whether it be for your campervan or car. The average fuel price in Iceland is 2.45 USD, 2.09 GBP or 2.43 EUR. If you choose a diesel vehicle, these prices may vary, but your vehicle will go further between refueling stops.
Food Prices when Camping
Camping in Iceland means cooking in the great outdoors, but sometimes you might want to eat out as a treat. The average cost of a meal at a budget-friendly restaurant will cost around 25 USD, 21 GBP and 25 EUR.
Hiring a campervan probably means you'll be cooking most of your meals, which is more cost-effective than eating out every day. If you are buying groceries, you can expect to half your food bill.
Spending Money when Camping
There's lots to see in Iceland, so you'll want to budget for tourist attractions. An average trip to Iceland costs approximately 150 USD per person per day, or 125 GBP and 150 EUR. You can expect prices to be lower if you're traveling out of season, and higher if it's peak time. This estimate doesn't include airfare or pre-trip expenses, however.
Tips and Tricks for Camping in Iceland
If you're visiting Iceland in summer; bring a sleeping mask, as it rarely gets dark.
If you're visiting Iceland in winter; leave room in your budget for a night or two in a guesthouse, just in case the weather gets awful.
Campsites in the summer get full quickly from 6pm onwards; pre-book your campsite or turn up earlier.
Not all campsites will have laundry facilities, and there are very few laundromats in Iceland. Head to a local swimming pool and ask if you can use their washing machine and dryers for a small fee.
Make sure you have GPS, a map app on your mobile device, or an old-school paper map.
Remember to bring portable chargers and an adapter.
Summer or winter; the weather can change rapidly and unexpectedly; bring warm clothes and undergarments.
Bring your swimming costume! Iceland is full of geothermal pools.
Don't get caught short in the countryside; bring some toilet paper and a small shovel.
Bring a reusable water bottle. Icelandic tap water is one of the safest and most clean in the world. No need to buy bottled water here!
Want to avoid the crowds? Head to East Iceland as it receives considerably fewer visitors.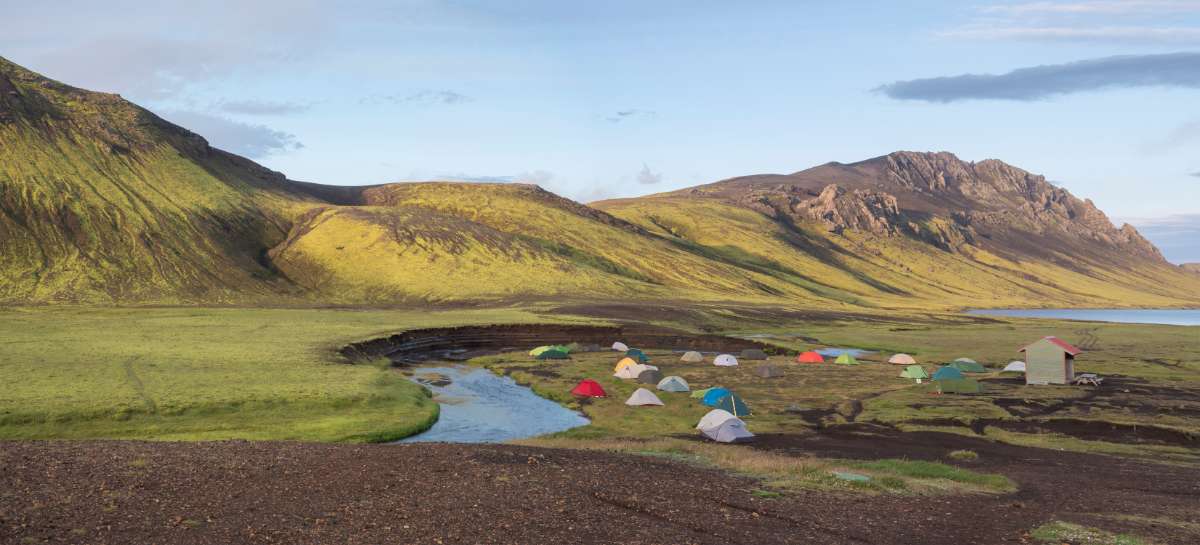 Camping in Iceland is the Experience of a Lifetime
An Iceland camping trip will bring you wonder after wonder. From dramatic mountains to beautiful fjords, from fields of volcanic sand to stretches of twisted lava.
Whether hiring a campervan or motorhome, or choosing to stay in a tent, this trip promises to be the adventure of a lifetime. Traveling across this beautiful country is a liberating and thrilling experience.
Whether you're a first-timer or seasoned van-lifer, we'd love to hear from you! Drop us a message with your queries.