Camping is always an enriching experience, but in Iceland where a multitude of natural wonders are on display for every visitor to admire, it's clearly taken to the ultimate next level. Going on a camping trip means leaving behind modern comforts to connect more closely with the great outdoors, enjoying the wilderness as harmoniously as possible. Not to mention camping makes you even more appreciative of sleeping in temperature-controlled buildings, a simple act we often take for granted in our everyday lives.

Clearly there are many benefits of camping, but what preparation is needed to embark on the very best Icelandic camping trip? Where should you camp, what equipment do you need, how much food and water must you bring? Here's the guide that answers all those questions and more, with the goal of teaching you how to go camping in Iceland like a pro.


What is Camping in Iceland Really Like?
Firstly, it should be noted that free camping is illegal in Iceland. This is important because sometimes campsites are in remote places that are far apart from each other. Although there's certainly room for spontaneity, it's a good idea to know where you'll be resting your head every night in advance. After all, part of the excitement of a camping trip is picking fun, well-located campsites.


Open fires are also not allowed in the country, so be sure to check if your campsite has kitchen facilities. If not, consider investing in a portable gas stove, or opt for food that doesn't require cooking. Fortunately, if you rent a camper with us, most campers come with such kitchen utensils included. More info on food and equipment to come!
Most campsites in Iceland are only open in the country's summer months
, from around April or May to September or October. To have the best chance of good weather and access to hiking trails, book your trip during this time. Choose July or August for the most ideal temperatures as these are Iceland's warmest months. In fact, some parts of the country are completely inaccessible in winter, such as the Highlands (Iceland's interior).
However, even during certain summer months, the weather can be cold, wet and windy. Regardless of when you're traveling, pack warm, waterproof clothing and always have it handy wherever you go. The conditions can famously change at a moment's notice, so pay attention to weather warnings and alter your plans if alerts are posted.

To help you stay on top of things, we recommend downloading the Safe Travel app. In this, you'll find the above-mentioned weather warnings and information on route statuses. Since road closures can occur throughout the country, being aware of them in advance can be a huge time saver.
All that aside, camping in Iceland is an incredible experience that will leave you speechless when you attempt to retell it to friends and family. The country's low population density means that there is much more wide-open space compared with urban areas. To complement this,
three national parks
equipped with their own on-site campsites help to keep a large part of the country in pristine condition. Add to that the relative lack of insects and you have the perfect camping destination!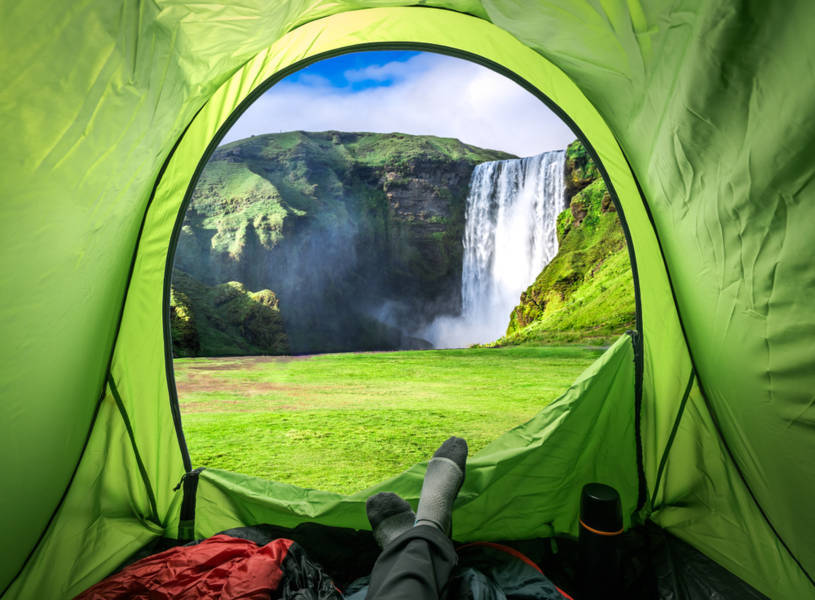 What Equipment to Bring on a Camping Trip in Iceland?
In some cases, it's better to follow the golden rule of "better to have, and not need, than to need, and not have." This applies to everything from kitchen equipment like cutlery and pots/pans to supplies like headlights, rope and spare water bottles. On the other hand, wasting space and money on unnecessary equipment can make you too focused on 'stuff'. Camping is generally about minimalist living, unless you're a 'glamper' of course.

Here are ideas for some essentials to include on your camping trip list. You can, of course, use your campervan to store what you need, but note the space you have in there.
A day backpack. You're sure to need this on long hiking days, for carrying food, water and extra clothing. Backpacking backpacks are usually measured in 'liters' and a 25-liter pack is a standard size. For multi-day hikes, it goes without saying that you'll want to choose a larger size.
Fitted thermals. These can be worn underneath your normal clothes, and will keep you warm when the temperature drops.
Swimming costume and towel. There are both wild hot springs and naturally heated swimming pools throughout Iceland, so even if you're traveling during the colder season, pack swimwear. These natural bodies of water are great to relax in after a strenuous day of hiking and are also very affordable (or free in the case of wild springs).
Waterproof jacket and trousers. No matter the time of year, expect to encounter rain or snow at some point. Waterproof apparel will ensure that you stay warm and dry, especially on multi-day hikes.
Sleeping bag. Whether you choose to sleep in a tent, your campervan or camping huts, a decent sleeping bag will be essential. The most practical are those that can fit into a small bag and be strapped to a pack for hands-free portation
A credit or debit card ready for use in Iceland. There are many unmanned petrol stations around the country in which cash is not a viable option. Additionally, many parking meters here also only accept card payments.
What to Eat and Drink on a Camping Trip?
When it comes to packing food and drinks, you'll want to avoid anything that is too heavy and bulky. Whether you're in a tent or campervan, maximize your space by sticking to only the essentials. Lucky for you, all flowing water in Iceland is drinkable. Fill up your water bottle from any tap or river and enjoy the cleanest water in the world.

It's best to not buy anything that needs refrigerating or freezing unless you're going to eat it straight away. Dry food that only needs water added to it is very handy, and you can purchase dehydrated food packets from many campsites. Dried fruits and nuts not only make for great on the go snack foods, but they are also healthy, energy-giving options.
Depending on your budget, you should make it a point to eat out at least a few times while in Iceland. Every town has a great selection of restaurants, serving both local and foreign food, and many campsites, especially along the south coast, have cafés or small restaurants on-site. A well-cooked hot meal will be a blessing after a jam-packed day full of adventure.

As mentioned, if your campsite doesn't have a kitchen, you might want to buy a portable stove and cooking equipment to make your life easier. Renting gear is also an option as there are several camping stores in Reykjavík, so you won't have to lug the materials all the way home with you.
Where is Best to Camp in Iceland?
The first consideration when deciding on your camping location is how 'wild' you want to go. The Ring Road, or Route 1, is a highway that circles the whole country, excluding only the larger fjords. Spending a week travelling along this route is a popular road trip for visitors since there is so much to see. You'll have no trouble finding a campsite accommodation along Route 1.

If you want to have a base from which to explore one area fully, camp at one (or all) of Iceland's three national parks: Snæfellsjökull, Þingvellir and Vatnajökull. Vatnajökull is by far the largest and, as its name suggests (jökull=glacier) it contains a famous glacier. Snæfellsjökull also contains a glacier, and Þingvellir is the place to see the tectonic plate split.

All three parks contain a large number of hiking trails of varying difficulties, with fully equipped campsites at their borders. Snæfellsjökull takes you north-west of Reykjavík, Þingvellir onto the Golden Circle, and Vatnajökull down the south coast.

If you want to head off the trail a bit, consider camping in the Highlands or the Westfjords. Only a small percentage of Iceland's many visitors make it to these spots.
The Highlands are uninhabited outside of June to September, and there aren't many campsites up there. Landmannalaugar is the best known, as it gives access to Iceland's most famous hiking route, the Laugavegur Trail. There is both tent pitching space and hut accommodation, as well as a natural hot spring nearby.
The Westfjords are the north-west part of the country, and it is here you can experience some very isolated camping. The Hornstrandir Nature Reserve is Iceland's northernmost peninsula and is completely uninhabited. It can only be reached by boat and, with no cell service, must be navigated with a map and compass.
Completing a Multi-Day Hike While Camping
Hornstrandir and the Laugavegur Trail are both multi-day hikes, which require a different kind of preparation. You'll be leaving your campervan behind and will have access to only basic facilities, so you'll need to bring everything you need with you.
Let's start with the backpack. You'll want to have at least a 60-liter pack or bigger, but don't forget to keep the weight in mind. The more you put into your pack, the more effort it will be to carry. Although most trails have optional huts, you'll still want to have your tent and sleeping bag on your back.
Water will be your biggest consideration, so carry plenty of water bottles and fill them up whenever the opportunity arises. Stick to the trails so that you don't get lost and, if in doubt, join a guided tour. Free camping is not allowed here to protect the delicate nature of Iceland's landscape, so be sure to stay within designated camping areas.
General Tips About Camping in Iceland
The advice about staying on trails when camping and hiking in Iceland isn't just for your own safety. Much of the country is covered with delicate green moss, which is crucial to the landscape's stability. It's easily damaged if stepped on and takes decades to grow back.
If you're coming in summer, bring a sleeping mask. Between June and August, the sun barely sets, and you may find it hard to sleep with the constant sunlight staring back at you

Try to stay off of all tech devices during your camping trip, unless you really need to use them for navigation. Save social media, Netflix and all other internet-reliant things until after your trip is over. Iceland has too much beauty to behold to even be distracted for a minute.
Bring a pair of comfortable, well-fitted hiking boots. Ugg boots, flip-flops and even trainers won't cut it on Iceland's rugged terrain.
Always have a back-up plan in case of bad weather. Most of the larger towns will have indoor activities, such as museums, and hot pools are almost always open. Swap that Netflix series with a book to read in your spare time. We recommend Independent People by Halldór Laxness, probably the most famous Icelandic author in history.
By now it should be clear that Iceland is not a destination to sit by a beach and relax, but rather it is a place to have unforgettable adventures. Camping is another way to elevate this adventure factor, as sleeping in a tent or campervan gives you a sense of freedom that a hotel simply cannot.
To go to and from Iceland's glorious campsites, you'll undoubtedly need a vehicle. Book yours at
https://www.campervaniceland.com/book
to begin your Icelandic camping trip preparations!