The most visited attraction in Iceland also happens to be very close to the airport, and a short detour on your way to the capital. Whether you suffer from a skin condition, maybe you are on the hunt for some relief? Or simply looking for a nice, relaxing spa day, Iceland's Blue Lagoon is the place for you.
Originating from a mistake and made a success. If places could have Cinderella stories, Iceland's Blue Lagoon would have one worth telling. This world-renowned Blue Lagoon spa in Iceland went from zero to being on every list of the best things to do in Iceland and is now the center of research on unique algae and geothermal phenomena. Alleviating skin conditions and offering world-class food and accommodation. We give you the lowdown on Blue Lagoon.
What is Iceland's Blue Lagoon?
One of the places you simply cannot miss when you travel to this island of fire and ice is the world-renowned Blue Lagoon. We're not talking about a frosty renovation of the old tropical movie with two siblings. Rather, a place where it will feel like you are the one getting a renovation. Blue Lagoon is an immensely famous Iceland hot spring. Here you can submerge yourself in this semi-natural health pool and feel new, and relaxed as you step out into the crisp Iceland air. There's a reason why this is one of the most Instagrammable places in Iceland.
This place was the site of a happy accident a couple of decades ago and is a flourishing health treatment place today. When the healthy properties of the water were confirmed, the Blue Lagoon Spa in Iceland was established. Now, it is a natural part of most trips to the island. At the spa, you can get everything from a simple hot bath to a full psoriasis treatment.
Iceland's Blue Lagoon is equipped to accommodate anyone who wants to stay for a little bit longer. It offers 4 top-notch restaurants to deal with that hunger that comes after a full day of swimming. The company that owns the spa has its own line of skin care products. The line aim to provide people with all the healthy benefits from the different elements in the area.
How Was the Blue Lagoon Formed?
Iceland's Blue Lagoon was a happy accident that occurred when the neighboring geothermal plant was drilling for a heat source. They drilled into a superheated underground water source that is now used to power the turbine in the geothermal power plant. The superheated water powers the turbines to produce power. Then, this power goes through a heat exchanger to heat up municipal warm water and eventually gets released into Iceland's Blue Lagoon.
This is an example of how Iceland basically have "free" energy and warm water due to the geothermal energy right underneath them. The water in this case is literally being heated up by magma not far underneath the power plant and shows no signs of stopping.
In the beginning, this was more or less viewed as an ecological crime by many of the Icelanders. Then, one man decided that the water looked warm enough to have a swim in, so he decided to have a dip in one of the power plant runoff pools in 1981. He was viewed as a mad person for taking a swim in a power plant runoff pool. Yet, he soon discovered that his psoriasis symptoms became milder and milder the more he swam in the water. His friends quickly followed suit and agreed that their skin also seemed to benefit from their odd swims.
The Spa
The first swimming facilities were officially opened in 1987, and since then it practically exploded. Scientists from all over the world came to examine the seemingly magical azure blue sludge-filled pools of water. A research company was established in 1992 with the sole purpose of studying the healing properties of whatever is in the pools.
When the health benefits could be scientifically proven, it didn't take long before the open pool became a world-renowned spa. This was followed by a treatment center for psoriasis patients. Today, the spa holds multiple restaurants, pools, treatments, skin care products, and first-class accommodation.
What is In the Blue Lagoon?
The water you find in Iceland's Blue Lagoon is no ordinary water. As soon as you come close to the geothermally active area, you will see, feel, and even smell that there is something unique here. Luckily, this isn't like many other geothermal pools in Iceland! There, sulfuric compounds are the main characters, and everything smells like a million rotten eggs.
Misunderstand us correctly; some people might feel like the Blue Lagoon doesn't smell like a bundle of roses! But it is a very apparent improvement from the rotten egg-ish bubbly pools located more inland.
Why is the Blue Lagoon Blue?
Iceland's Blue Lagoon has an unnaturally azure blue color. As the water is runoff from the nearby power plant, many might be a bit skeptical before they dip their toes in the pools. It's a sound attitude whenever one is dealing with industrial by-products, and we are not judging at all, but it is completely unnecessary in this case. Even though the waters look unnatural, we can say that the water content is harmless.
The blue color is due to the various minerals, algae, and the large amounts of sulfur and silica in the waters. The mix of silica and sulfur is the main reason why the color is the way it is. Now, the sludge from the algae and the free-floating minerals help with the milky look too. All of them are bioactive substances, which is why they react with our bodies in all the best ways.
Sludge, Slime, and World-Class Facials
There are a couple of different algae species that have developed in Iceland's Blue Lagoon, which can't be found anywhere else (that we know of). These algae are the reason why we can use the sludge and slime in the pools for skin care products.
They take the different minerals and elements in the pools and convert them into perfect mixes for our skin. When you go swimming in the Blue Lagoon, you will find big wooden boxes filled with one of the best facial creams in the world. You scoop some up with the wooden ladles, rub it on your face, and rinse it off in the mineral-rich water. It's all part of the Blue Lagoon Iceland entry price.
Where is the Blue Lagoon?
Most of the sightseeing in Iceland requires some traveling along Ring Road 1, often starting in Reykjavík and heading either east or north. Blue Lagoon's location is unfortunately not in the capital, but rather southwest of the capital, ca 35 minutes away.
On the road from Keflavik (the airport) to Reykjavík, you will see a sign for the turnoff to the blue spa. This is why we recommend making this stop a part of your journey, either at the beginning or at the end of your trip. It just makes sense, logistic-wise.
To get from Reykjavik, Iceland to Blue Lagoon, you go southwest along road 41 and then turn off towards Grindavik on road 43. All in all, this should take you roughly 35 minutes depending on the weather, road conditions, and wherein Reykjavik you start.
Is the Blue Lagoon Good for Me?
When you look up Blue Lagoon in Reykjavík, Iceland, you will find numerous testimonies from happy visitors that swear that their skin is in better condition after a good swim and facial. We can't guarantee any specific positive outcome but given the vast amount of science that confirms the health benefits, and the massive numbers of happy visitors, we are pretty sure it's good for most people.
If you suffer from psoriasis, you can take part in the Iceland Blue Lagoon psoriasis treatment. You will be accompanied by a nurse and go through UVB narrowband treatment. You will also take baths in the lagoon and enjoy the application of various Blue Lagoon products.
Is the Blue Lagoon Expensive?
The Blue Lagoon's prices can feel quite high if you compare it to the admission of a public bathhouse or something similar. In general, Iceland as a whole is quite expensive. So, when we start to talk about price, you need to get into the mindset that this is generally an expensive country.
The prices at Blue Lagoon vary depending on what you want to do. The most basic package of coming into the lagoon, having a face mask, having a drink, and using a towel will cost you roughly ISK 8,500. Adding on two additional face masks (of your choice), getting a bathrobe, and having a glass of sparkling to the dinner will be almost ISK 11,000. Tickets for a Blue Lagoon Iceland five-hour luxury spa experience will start at ISK 59,000 and get more pricey the more you add to the package.
On top of that, there are different suites you can stay at to prolong your experience. These will start at around ISK 120,000 for two people per night and stop at around ISK 1,275,000!
When Can I Visit the Blue Lagoon?
The Blue Lagoon is conveniently situated near Reykjavík and is open all year. Depending on the season, they will have different opening hours, which is something you will have to plan for on your trip. Obviously, if you are staying at the hotel, you can be there before and after hours, but you'll likely not be allowed in the main pool or spa. The Blue Lagoon in Iceland's operating hours are:
9:00-21:00 January – May

8:00-22:00 June

8:00-23:00 July – August

8:00-21:00 September – October

8:00-20:00 November – December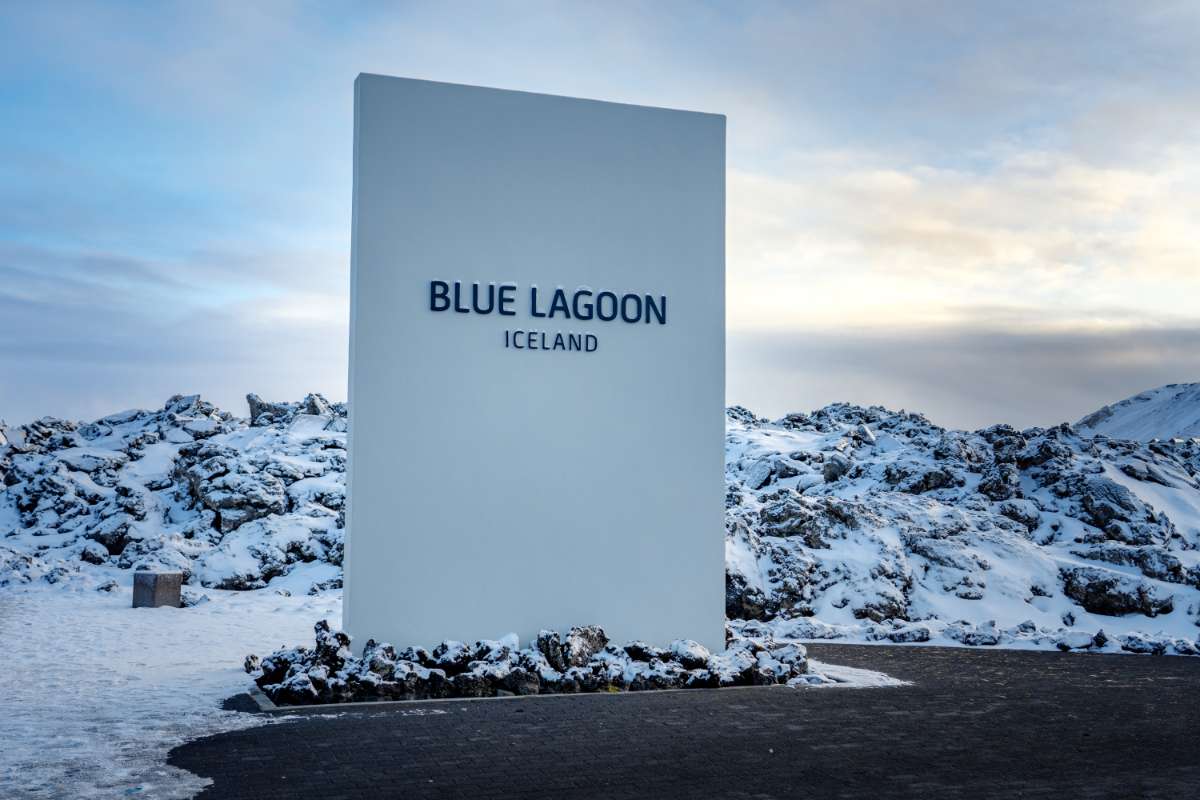 The best time to visit Iceland's Blue Lagoon depends on how you like your spa days. The warm, vibrant, and bright summer days are an amazing period to visit this magical place if you want to bring some energy into the swim and explore the pools.
If you want to have a tranquil experience and maybe stay the night, the wintertime is our favorite time. And that's because the Blue Lagoon gives the opportunity to view Iceland's Northern Lights, which is an amazing display we wish everyone could see. Going there in February will give you a great chance to see the Iceland Northern Lights from Blue Lagoon and truly experience the feeling of fire and ice.
To the Blue Lagoon and Beyond!
If you're not the kind of person who can spend a whole day relaxing, don't worry. There are plenty of things to do near the Blue Lagoon.
If you're a fan of surfing or other water sports, Grindavik is a popular spot where adventurous people can get into contact with the ferocious North Atlantic. This is perfect if you feel like having a completely different type of bath compared to the warm, relaxing waters of Iceland's Blue Lagoon.
If you want to check out one of the most recent volcanic eruptions in Iceland, you can head over to the mountain from which the warm water comes. Fagradalsfjall is one of the shield volcanos that had an eruption at the beginning of 2021 and opened up multiple fissures on the mountain. This quickly became a popular tourist spot, closely monitored by various governmental bodies and volunteer organizations.
If you don't want to stay in the immediate vicinity, but don't want to travel too far, we suggest you check out our article on things to do and see on the south coast of Iceland. After that, you only need to decide on which campervan rental you want to travel and get on the road!