Iceland has 10,000 waterfalls scattered all across the island. And whilst visiting all of them will be nearly impossible, there are a few that are considered to be must-visit spots whilst traveling on the island. One of these waterfalls is Seljalandsfoss.
Not only is this waterfall incredibly impressive in size, and offers amazing views, but it also has a unique feature that makes visitors flock to the site. In this article, we tell you exactly what you can expect from your Seljalandsfoss experience and what makes this waterfall so special.
What Makes Seljalandsfoss Waterfall so Special?
Seljalandsfoss is one of our tallest waterfalls here on the island, clocking in at a staggering 60 meters. And whilst you can stand on the ground and look up at the wall of water plummeting over the towering cliffs above you, you can also opt to take the trail up to the falls.
Except for breathtaking views of the Icelandic landscape (even from mid-way up the trail), the piece de resistance of Seljalandsfoss is the fact that you can actually walk behind the falls once you've reached the top of the trail.
This means that you can actually stare out across the Icelandic landscape from behind a veil of water. This doesn't just make for a very memorable moment, but is also the reason why many photographers come from far and wide to take that perfect snapshot.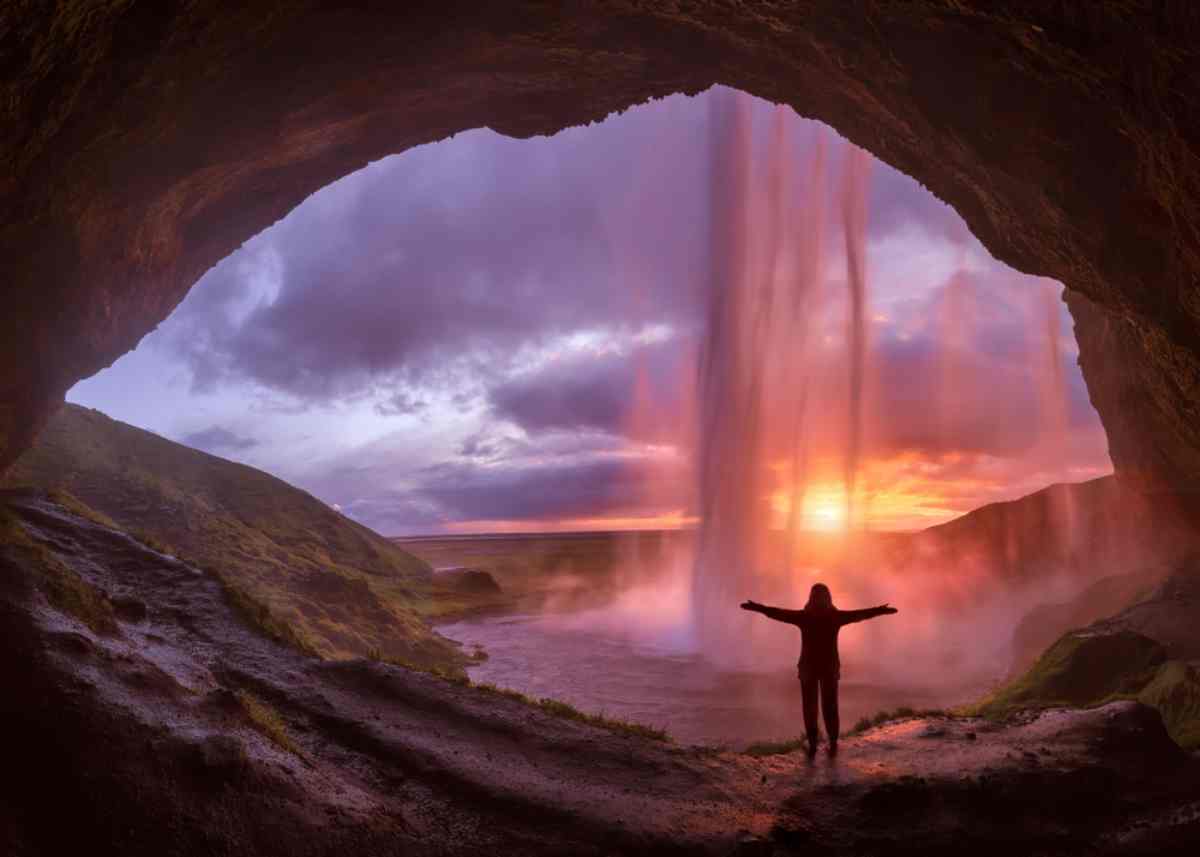 How Was Seljalandsfoss Falls Formed?
Seljalandsfoss Waterfall is the result of geological changes here on the island. It's hard to believe that what we now see as the steep cliffs that Seljalandsfoss tumbles down from was once the Icelandic coastline.
And Seljalandsfoss as a waterfall today, was once just a stream running into the North Atlantic Ocean. The Seljalandsfoss that we know and love today is because of geological changes causing the coastline to recede.
The Seljalandsfoss Waterfall is where the Seljalandsfoss River drops over the cliffs. But the river originates from the Eyjafjallajökull Glacier (and, yes, this is the same Eyjafjallajökull Glacier sitting on top of our little troublemaker volcano, Eyjafjallajökull, here on the island).
In 2010, the volcano erupted and left many stranded as flights all across Europe got canceled due to the thick, smoke in the air, and many locals needed to be evacuated to safety.
Where is Seljalandsfoss Waterfall in Iceland?
Seljalandsfoss Waterfall lies on the south coast of Iceland, conveniently close to a popular road trip route around the island called the Ring Road. The nearest towns to Seljalandsfoss are Selfoss and Vik, with the distance to Selfoss being 71 kilometers (roughly an hour's drive), and the distance to Vik being 60 kilometers (roughly a 50-minute drive).
How to Get to Seljalandsfoss Waterfall?
There are numerous ways you can choose to visit Seljalandsfoss Waterfall:
Via a Guided Tour
You will find plenty of tour operators who offer tours to Seljalandsfoss Waterfall. Since the waterfall is not even 2 hours from Reykjavik, you'll be able to opt for a day tour from the capital city. Or you can choose a multi-day holiday tour package that simply includes Seljalandsfoss as one of their stops.
But when it comes to guided tours, you need to remember that, although you'll receive a lot more knowledge about the falls and the surrounding area from a tour guide than just a guidebook, you'll have absolutely no say over the trip itinerary.
And whilst it's nice to hand over the reins and responsibilities to someone else, it also means that you have no control over your time and must work according to someone else's schedule. As you can imagine, these tour prices can get pretty steep (especially the day tours) and might be hard to wrangle when you're already working with a tight budget.
Via Camper or car
This will always be our top pick, since we are firm believers that there's no better way to explore the island yourself than by making a road trip out of your holiday here. And since Seljalandsfoss is so close to the Ring Road, there's no excuse to make a quick stop along the way.
Whilst the Ring Road is one of our main roads here on the island, which means that it's paved and well-maintained, things can get a little slippery during our winter season. So, whilst you can easily rent a 2-wheel drive for your trip to Seljalandsfoss, we highly recommend that you opt for a 4x4 during the winter season in Iceland. And ask your rental agent about the various car rental insurance options.
When is the Best Time to Visit Seljalandsfoss Waterfall in Iceland?
The Ring Road is not one of the routes that are annually closed during the colder months, so you will technically be able to see Seljalandsfoss Waterfall all year around. And whilst many will presume that the best time to visit Seljalandsfoss is during the summertime, the truth is that all seasons offer very unique experiences at the falls.
Whilst you'll get to see a rushing waterfall during the summer season in Iceland, the winter will offer an almost sci-fi scene; frozen tentacles crawl over the edges along with the water tumbling from the cliffs down to the thick blanket of snow below. You'll just need to be careful on the trail up to the falls, as this can get pretty slippery during the colder months.
Where to Stay Near Seljalandsfoss Waterfall
There's quite a variety of accommodation options all around Seljalandsfoss that's suitable for different types of people working with different budgets. You can really embed yourself in the Icelandic landscape and save a ton on accommodation costs by camping nearby at Hellisholar Campsite.
Or you can opt for a guesthouse stay at places such as Bru Guesthouse. And, if you're looking for something a little bit fancier, you can opt for hotels such as Hotel Selja.
Seljalandsfoss; the Waterfall for Every Season
Seljalandsfoss Waterfall is one of those places that offers a magical experience irrespective of which season you choose to visit the falls. Rent your campervan in Iceland, so you can cut down on accommodation costs and go camping in comfort when going to see Seljalandsfoss.