Summer in Iceland is a magical time full of flourishing nature and animal life, lively cultural festivals, and amazing boat trip and hiking opportunities. With the milder weather and open access to all areas, including the beautiful Highlands, summer is a wonderful time to make your trip to Iceland.
An Iceland summer travel adventure will give you the opportunity to experience a breath of the country's majestic landmarks and awe-inspiring nature. Make this dream trip a reality by exploring our top travel tips below and booking your cheap campervan in Iceland ready for your summer visit.
Which are Iceland's summer months?
As Iceland is a country in the Northern Hemisphere, Iceland's summer months are between June and September. The official summer season starts on June 20th-21st, the date of the Summer Solstice, and lasts until the Autumnal Equinox on 21-23rd September.
In practice, however, the summer weather starts to arrive in Iceland around the end of May, with the summer months of July and August being Iceland's warmest time of year.
Why go to Iceland in summer?
Wondering whether the summer season is the best time for you to make your trip-of-a-lifetime to Iceland? Our pros and cons list will help you figure it out!
Pros
Everything is open!
Due to harsh weather conditions in Iceland, many places are inaccessible during the winter months. From the start of October to the beginning of June, the F-roads in Iceland are closed, which are the mountainous areas you need to traverse in order to reach the stunning and remote Highlands.
In summer, however, these roads are open, giving you unlimited access to explore the beauty of Iceland! There are also more tours running during summer in Iceland, allowing you to take your pick of activities, including boat trips, ziplining, and horse riding.
Mild weather
You can enjoy exploring Iceland in the milder weather during the summer months, with average temperatures of around 10 to 13°C. The weather is often sunny and quite pleasant during the summer months of June, July and, August, allowing you to comfortably hike in Iceland's amazing national parks, swim in the natural pools, or stroll around Iceland's villages.
Best time to spot wildlife
Summer is the best time to see some of Iceland's varied wildlife, including whales and puffins. In some areas of Iceland, you're almost certainly guaranteed to spot a whale during the summer months. There are whale-watching trips available all around Iceland, no matter where you are on the coastline. Puffin-watching season is between June and September in Iceland.
See the midnight sun
Between mid-May and mid-August, daylight lasts for 24 hours due to Iceland's proximity to the Arctic Circle. The sun sets for around 3 hours during the summer months, but it never gets fully dark across the island, so you can experience the midnight sun!
Cons
Lots of visitors
The crowds are one of the downsides to visiting Iceland in summer, as the warmer months are the busiest time of year to visit Iceland. You'll need to plan ahead for your trip by booking activities and tours in advance to make sure you don't miss out.
Northern Lights are not visible
The magical spectacle of the Northern Lights is sadly not visible in Iceland during summer, as it's too light. With 24 hours of daylight each day in summer, you'll have to wait until winter to have a good chance to witness the Aurora Borealis in Iceland.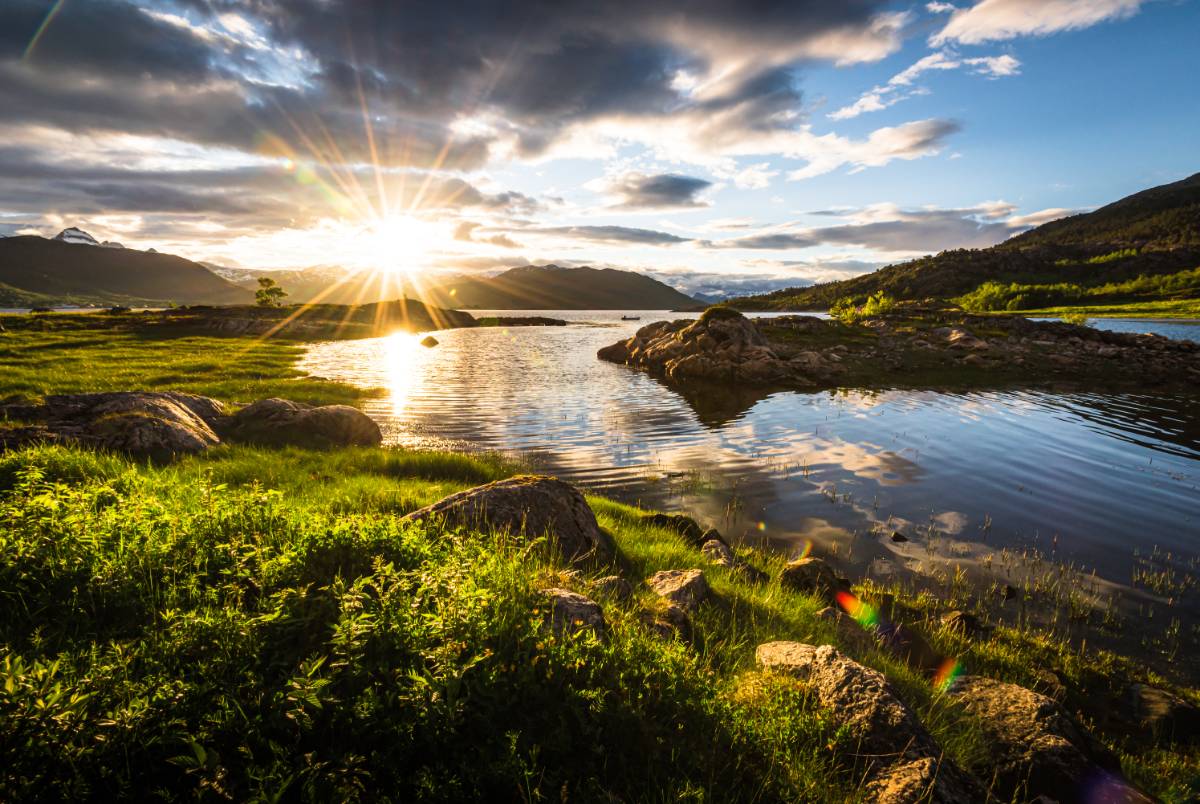 Driving in Iceland during summer
Driving conditions in Iceland during the summer months are much better than in winter. With open F-roads to explore if you'd like to see the Icelandic Highlands, you'll be able to drive with minimal restrictions during summer in Iceland.
The famous Icelandic Ring Road (Route 1) will take you all around the island, offering spectacular views and a variety of wonderful destinations to stop off at along the way. If you're planning to stick to the Ring Road, you won't necessarily need a 4x4 drive, but if you're planning to drive on the F-roads, a 4x4 is required.
Camping in summer in Iceland
Summer is the best time to go camping in Iceland due to the mild weather and the absence of strong winds (most of the time!). If you've always dreamed of wild camping in Iceland, you can even sleep on the fjords as these are open during the summer months. It's important to note that you need to pitch your tent in certain designated areas. This helps to protect Iceland's delicate flora.
Traveling and sleeping in a campervan, motorhome or RV in Iceland will give you the most flexibility and freedom during your trip, allowing you to travel between destinations at your leisure. You'll find a wide variety of campervan parking around the island, allowing you to rest for the night amongst breathtaking landscapes.
Weather in Iceland during summer
During the summer months of June, July and August, the weather in Iceland is mild and usually sunny, with temperatures averaging between 10 to 13°C. Weather is highly changeable though; expect different weather conditions depending on where you are in Iceland. It may be raining in the mountains, but sunny in the valleys and at the coast.
Temperatures in the capital, Reykjavik, average around 12°C in the summertime, compared to a chilly 1°C in wintertime. There's less rain in summer than in spring, although you can expect the occasional shower. Overall, the best weather in Iceland is during summer!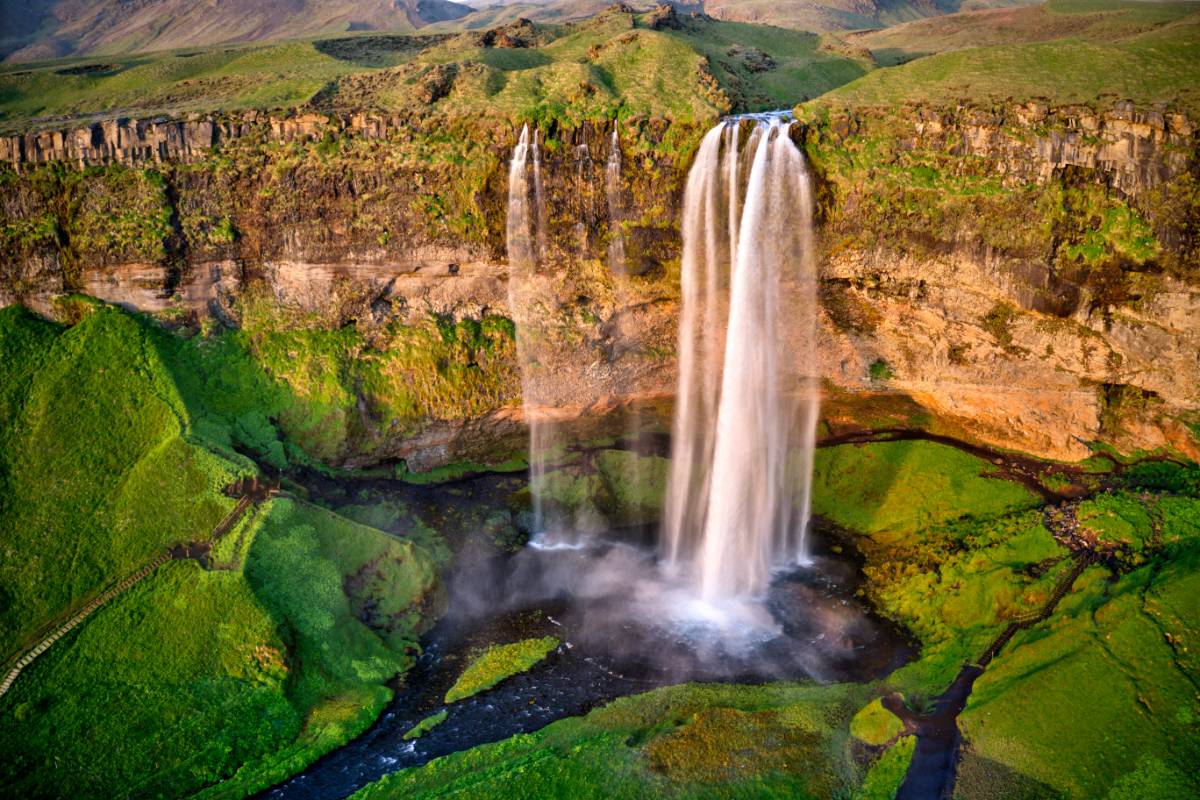 Packing list for your
Iceland summer trip
The best tip we can give you for packing for your Iceland summer trip is to pack for all eventualities, including a range of weather conditions. Here are some things to bring along to make the most of your Iceland summer travel adventure:
Warm layers

– If you decide to visit the glacier lagoons or hike up the mountains, you'll need some warmer layers.

Sunglasses

– Protect your eyes during the long daylight hours with your sunglasses, especially useful for visits to the bright white glaciers.

Swimsuits and towels

– Swimsuits and towels are a must to enjoy the nourishing waters of Iceland's geothermal pools.

Walking shoes

– You'll need some comfortable walking or hiking shoes if you're planning to go exploring in the mountains and on the beaches.

Hat, gloves, and scarf

– Yes, even in summer, you may need a hat, gloves, and scarf if you venture beyond Reykjavik. It can be windy in the Highlands or on the barren plains.

Waterproof jacket

– Although you'll avoid most of the rain when you visit Iceland in summer, there can be a little rainfall, so a waterproof jacket is a fantastic item to bring with you.

Camera

– A camera is a must to capture the amazing spectacle of Iceland's landscapes.
We recommend packing comfortable clothes, such as T-shirts and activewear, so you can explore Iceland to your heart's content.
Top tips for visiting Iceland in summer
Due to the large number of tourists in summer, the best advice we can give you is to book ahead with any activities you'd like to do, your car or campervan rental in Iceland, and your accommodation.
Working out what you'd like to do while in Iceland, then scheduling each activity, will help you make sure you can fit everything in and give you the opportunity to book early. Plan your itinerary with our handy guides for each month.
June
Experience midsummer celebrations in Iceland during the month of June. Visiting Iceland in June will allow you to attend some of the country's best events and cultural experiences.
July
A beautiful time to visit Iceland, there are loads you can get involved with in Iceland during July. Arts and music festivals, snorkeling and the Icelandic Horse Convention are among the top activities to do in Iceland during July.
August
Want some ideas for what to do in Iceland during August? You'll have an eclectic selection of festivals to attend in August, including the brilliant Reykjavik Culture Night.
September
If you'd like to head to Iceland a little later, you'll have a chance to spot the Northern Lights during September. Experience the autumnal colours and cheaper prices during September in Iceland.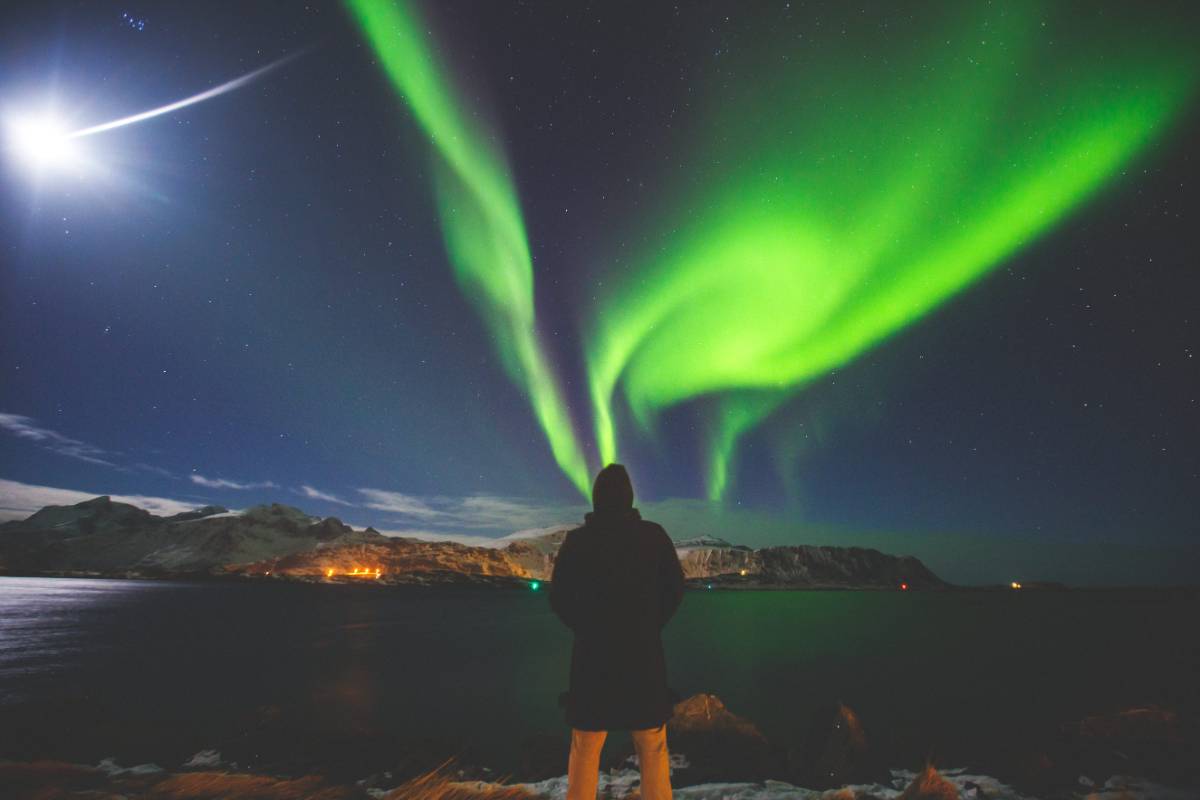 Things to do
Here's your lowdown on the best things to do in Iceland during summer – you're welcome!
Bathe in a geothermal pool – take a dip among colourful mountains and rolling hills in one of Iceland's outdoor pools, heated naturally by the Earth.
Visit Iceland's National Parks

– these gorgeous natural spaces are full of incredible geological features and otherworldly landscapes.

Take a trip to some of Iceland's coastal villages – from Vik to

Siglufjordur

, visiting

Iceland's picturesque villages will give you a taste of authentic Icelandic life.

Go whale watching

– venture out onto the open sea and spot whales in their natural habitat off the coast of Iceland.

See the puffins on the Westman Islands – take a ferry to Heimaey, the main island of the Westman Islands, to visit the colourful puffins during their breeding and birthing season.
Explore Reykjavik – with summer festivals and a wide array of brilliant cultural activities on offer, the vibrant capital of Reykjavik is the perfect summer destination.
Hike during the midnight sun

– take advantage of the long daylight hours in Iceland during summer by going on a late night hike to experience the majesty of the midnight sun atop a mountain.

Discover glacial lagoons by boat – boat tours run during the summer months at

Iceland's glacier lagoons

, giving you the chance to float past icebergs and experience a glacier up close.

Visit a volcano or two! – take a trip to one of Iceland's many volcanoes to walk across lava fields and see vast volcanic craters.
It's time for a summer adventure!
We hope you're feeling inspired to explore Iceland during summer. If you're ready to start planning your Iceland summer travel adventure, you can book your campervan in Iceland now.