The Land of Fire and Ice boasts a staggering amount of waterfalls – 10,000 to be precise. And there are many impressive waterfalls that usually feature on visitors' trip itineraries.
The most remarkable ones are Dettifoss, which is the most powerful waterfall in all of Europe. Seljalandsfoss, the waterfall you can walk behind. And, of course, Godafoss Waterfall, where it is said that the island's official conversion to Christianity occurred. But none is so interesting and has inspired so many as Svartifoss Waterfall.
In this article, we will reveal everything you need to know about Svartifoss and why this waterfall is such a special, must-visit spot. Intrigued? Then read on. You might be surprised at what you learn.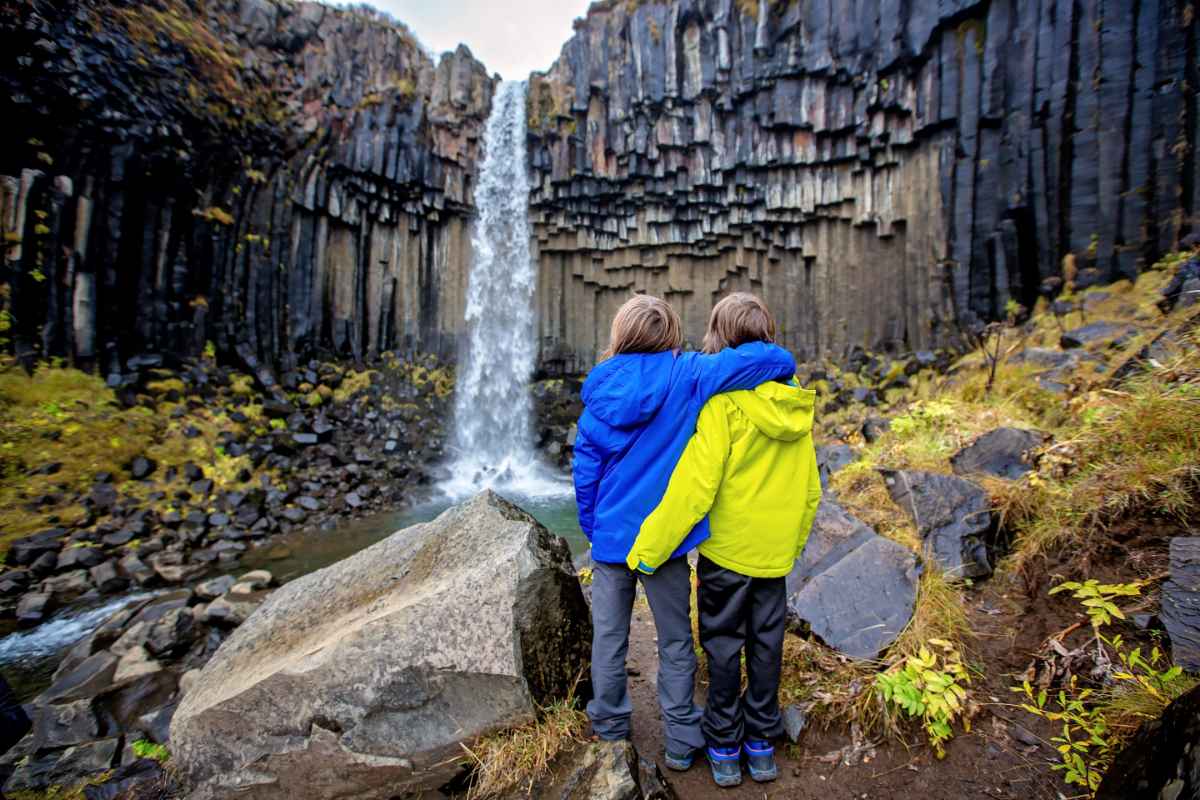 Svartifoss Waterfall; the Basic Facts
These are the basic facts about Svartifoss Waterfall:
The reason why Svartifoss Waterfall makes such an impression on people is because of its hexagonal black basalt cliff backdrop. It certainly makes for some dramatic photos.
That is also why it is understandable that the word Svartifoss directly translates to "black falls".
Svartifoss is situated in Skaftafell National Park that now forms part of the bigger Vatnajökull National Park.
It is Svartifoss's unique aesthetics that makes it so popular, and definitely not its height. In that category, clocking in at just 20 meters, Svartifoss pales in comparison to falls such as Glymur Waterfall. This famous waterfall towers 198 meters into the sky!
How was Svartifoss Waterfall Formed?
Black basalt columns are nothing new to the island and are a direct result of all the volcanic activity in the Land of Fire and Ice. Basalt columns are the remnants of eruptions that happened hundreds of years ago.
It's hard to believe that these black cliffs were once hot, flowing lava making its way across the Icelandic landscape. This lava then cooled down at a very slow pace due to the cold air and coming into contact with the cold ground and cold water. This cooling-down process causes crystallization.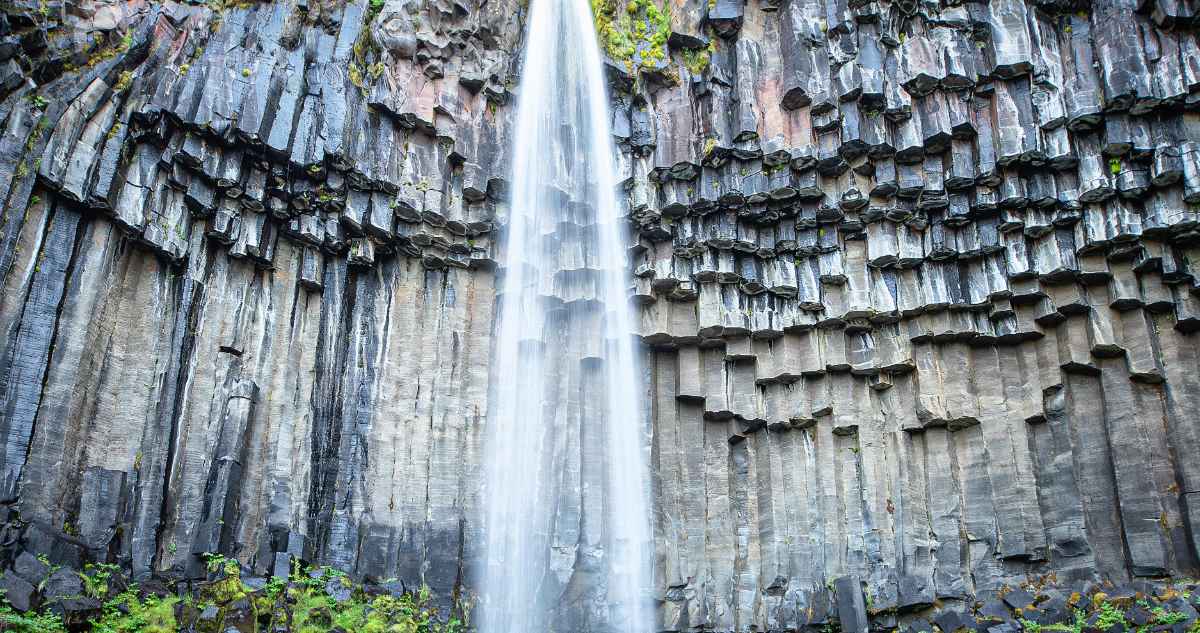 Where is Svartifoss & How do I Get There?
As we already mentioned, Svartifoss can be found in Skaftafell National Park, which is now a part of Vatnajökull National Park. It is near the coast on the southeastern side of the island. To get to Svartifoss you'll essentially have two options: book a spot on a guided tour or use your own transport. How long the drive takes will depend on where you find yourself on the island. This should give you some idea:
Many also opt to do a Ring Road road trip that has Svartifoss as one of the main attractions along the route. Either way, most visitors start their Svartifoss journey from Reykjavík by driving east along the Ring Road.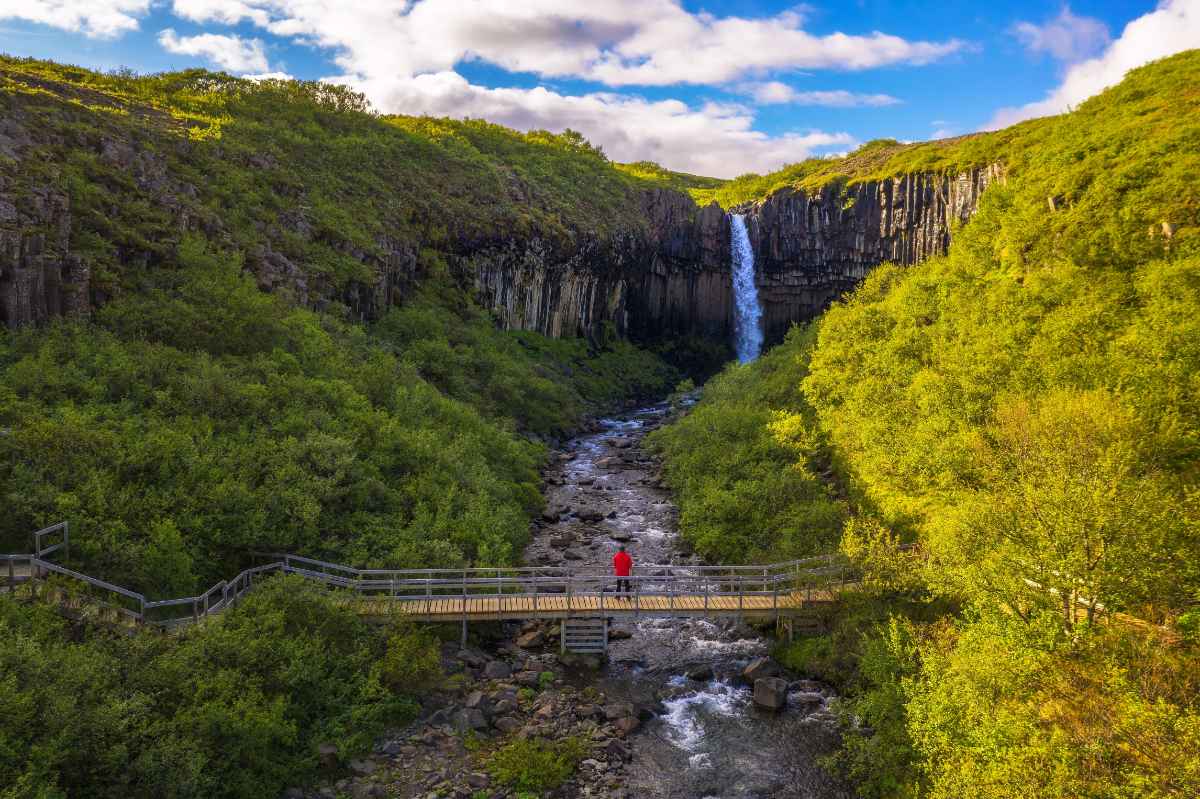 The Hike to Svartifoss Waterfall
Svartifos is not one of the waterfalls that you can stare at from the parking lot. It requires a little effort (but don't worry, not too much). You will need to hike a 2-kilometer trail to the falls, but it's a very easy hike and requires absolutely no hiking skills or experience.
The other option is to take on the longer Svartifoss hike trail. It starts at the visitor center, loops around the waterfall, and then takes you back to the visitor center. Even though the trail is longer (3.4 kilometers), it's not really much harder than its shorter counterpart, except that it has some pretty steep inclines at places that might be a bit tricky for small children and the elderly.
Also, keep in mind that any/all trails can also be very slippery after it has rained. You should set aside roughly 45–60 minutes for the shorter trail and 2–3 hours for the longer trail. If you opt to go on one of the guided tours, most also take about 2 hours.
When is the Best Time to Visit Svartifoss?
Svartifoss Waterfall is open all year round and whether winter or summer in Iceland, it's pretty spectacular. Each season has its own beauty. During the summertime you're left gawking at the water streaming down the black basalt cliffs. During the winter, one gets treated to a winter wonderland with frozen waterfall tentacles dangling over the cliffs! All of this, with a blanket of snow covering the surrounding ground.
Just be careful not to slip on an icy patch during the colder months. Also, keep daylight hours in mind since the height of summer brings 20+ hours of daylight each day whilst winter only has 4 hours of daylight each day.
We also have a local saying here on the island stating that "you can experience all four seasons in a day in Iceland". So, we highly recommend that you keep an eye on the Iceland weather forecast and the Iceland road conditions.
This way, you don't get caught in bad weather or reach a dead-end due to sudden road closures. We also recommend that you get an early morning start during the busy summer seasons, so you can try to avoid the peak season crowds.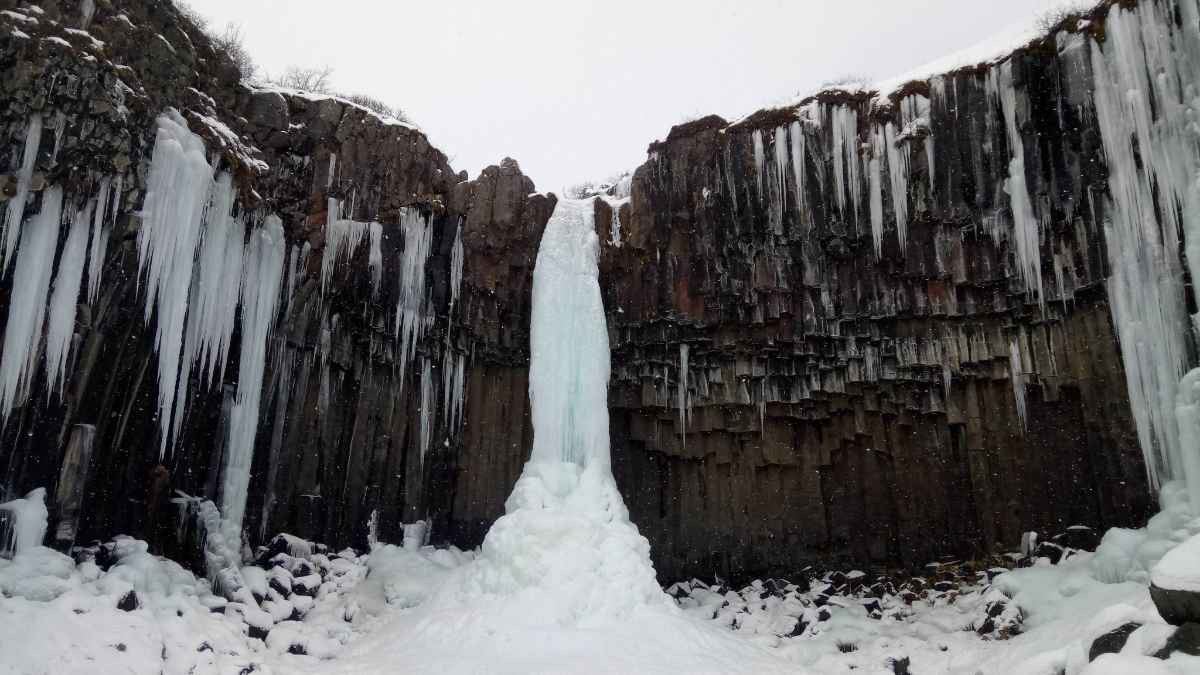 Svartifoss as Inspiration
Svartifoss has actually been somewhat of a muse to both locals and visitors to the island. Those who find themselves in the capital city of Reykjavík should visit Hallgrimskirkja. This beautiful Art Deco church building was designed by the architect, Gudjan Samuelsson. He found his inspiration in Svartifoss.
Looking at this architectural masterpiece, you can see the church-organ-like shape and hexagonal column features. Svartifoss has also made it to our screens because of its unique look. The waterfall has been featured in the popular series, Game of Thrones. Moreover, the Svartifoss glacier has even been the location for an epic battle in the movie Batman Begins.
Attractions Near Svartifoss
Svartifoss is not the only attraction in this area. There are quite a few other exciting sights and activities that you may wish to add to your Svartifoss outing itinerary. These include:
More challenging hiking trails such as Sjonarnipa (6.4 km long) or Bæjarstadarskogur (15.8 km long).
The Skaftafell Blue ice cave (exploring the cave can only be done via a guided tour and it's only open during the colder months).
Hiking Skaftafell Glacier (due to safety concerns, this activity can also only be done with a guide).
Taking a boat ride on the Jokulsarlon Glacier Lagoon.
Eating seafood at Pakkhus Restaurant in the fishing village of Hofn.
Taking a relaxing soak in the Vök Baths in Egilsstadir.
Skogafoss waterfall.
Taking a walk on Reynisfjara Black Sand Beach.
Seljalandsfoss waterfall.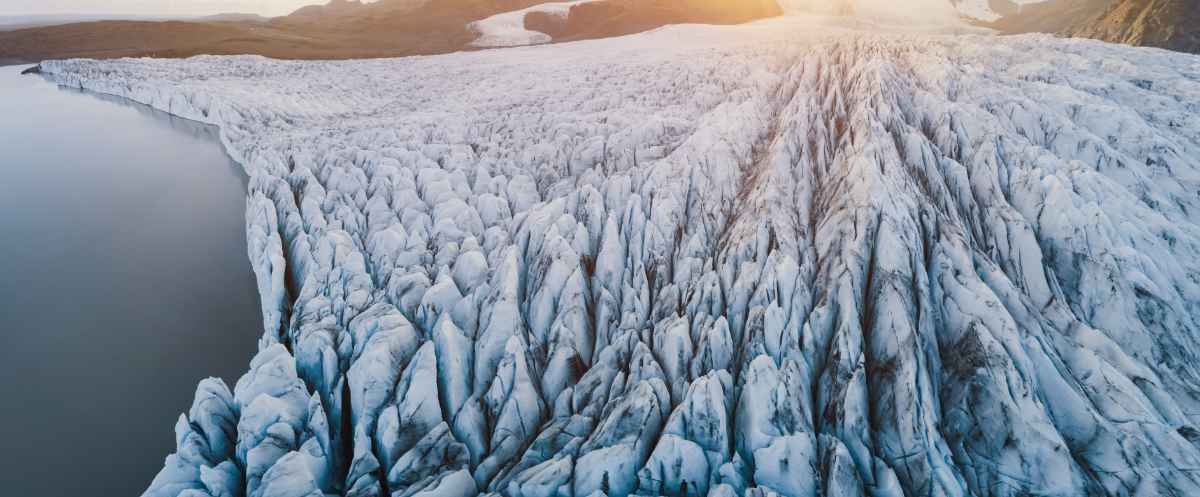 Accommodation Near Svartifoss
If you would like to stay over near Svartifoss, you'll find plenty of accommodation options that will suit any preference or budget. The following accommodation comes highly recommended:
Frequently Asked Questions About Svartifoss Waterfall
Below you will find further answers to some of the most frequently asked questions about Svartifoss Waterfall:
How far is Skaftafell Visitor Center from Svartifoss?
The Skaftafell Visitor Center is where most start their Svartifoss hike. The distance from the Skaftafell Visitor Center to Svartifoss is about 1.6 km.
Where do I find a Svartifoss Guided Tour?
You've got plenty of options when it comes to guided tours to Svartifoss. The first doesn't even require much research or effort. You simply go to the Skaftafell Visitor Center and book your Svartifoss guided tour there.
Or you can book a spot on a guided tour done by one of the many guided tour operators here on the island (either in person or online). These guided tours can range from day excursions to longer, multi-day tours. The majority of them also include other activities and attractions across the island.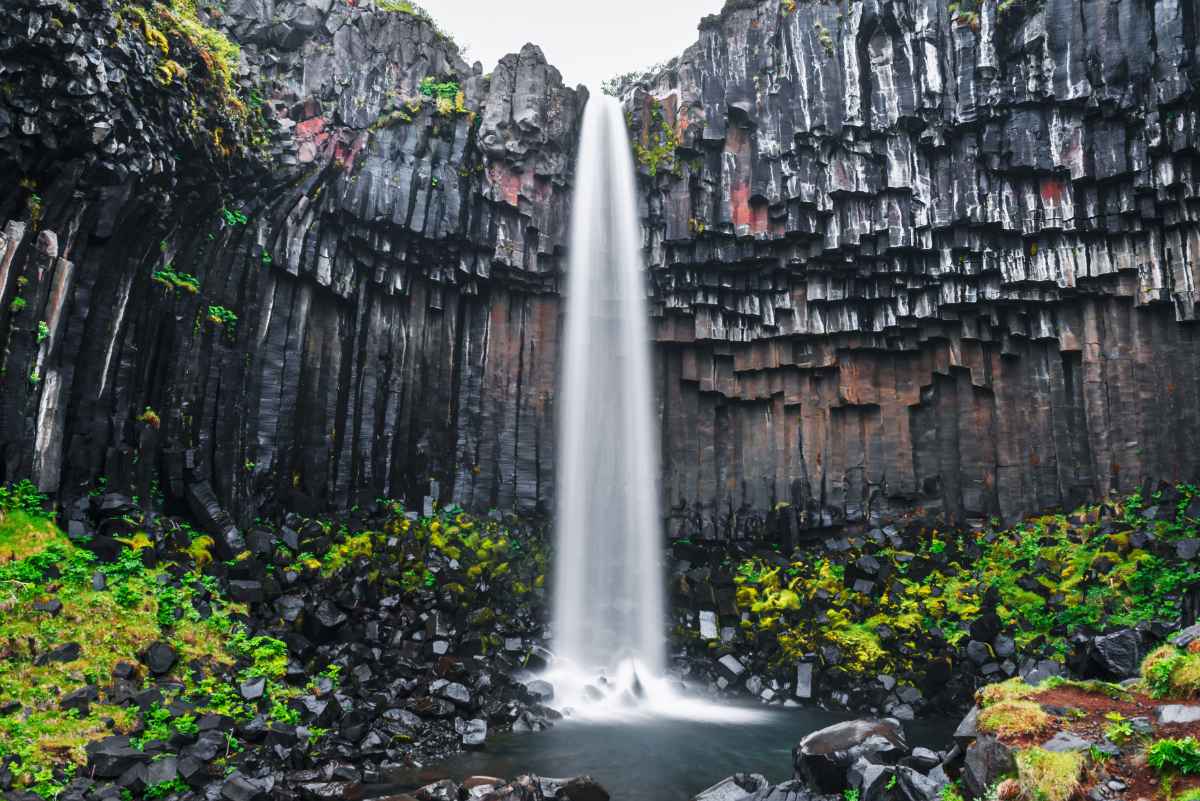 Is camping allowed at Svartifoss?
No. You can't camp at Svartifoss Waterfall. You can camp just a couple of kilometers away at one of the best campgrounds in Iceland: Skaftafell Campground. From the campsite, it's just a short walk to the Visitor Center, where the Svartifoss Waterfall trails begin. It is definitely the next best thing to camping at Svartifoss itself.
Why Must I Take Waterproof Gear & Clothing to Svartifoss?
Waterproof gear and clothing become invaluable when visiting the waterfalls in Iceland. Waterproof hiking boots will ensure that your feet don't get wet when walking on muddy trails. A raincoat and other waterproof clothing will keep you dry from the mist and spray created by the falls.
Svartifoss Waterfall; a Must-Visit Sight
With everything you've learned about Svartifoss, it will practically be a crime not to include it as a stop on your Iceland trip itinerary. We are big believers in the fact that there is no better way to explore the island than by making a road trip out of it. That's why we'll always recommend adding Svartifoss as a stop to a longer Ring Road road trip.
Renting a campervan in Iceland is always a good option for such a trip. It takes care of both transport and accommodation and allows you to camp in comfort – irrespective of the season. So, what are you waiting for? Svartifoss, the black falls of Iceland, is only a flight and a road trip away!