It's no secret that many visitors flock to the island to do all sorts of fun outdoor activities such as glacier hiking, kayaking or ice cave exploring. But the one activity that can be found all across the island and offers the widest range of experiences is taking those remarkable Iceland hiking trails.
Irrespective of your training or background, there will be a trail that's the right fit for you. So, if this sounds like something that you might be interested in, or you're already planning your Iceland hiking trip – this article is for you.
When is the Best Time to Go on an Iceland Hiking Trip?
Technically, you can go backpacking in Iceland all year round, here on the island. Except for certain Iceland backpacking trails (but we'll get to this in a minute). The best time to plan your trip will heavily depend on your personal preferences and what you want to do and see whilst here on the island. Generally speaking, hiking is an activity that is practiced during the warmer summer months in Iceland. This is mainly because of the following:
Weather Conditions
It's no secret that the winter might prove a challenging season to go hiking, with its lower temperatures. But Iceland trekking during the wintertime can almost be seen as an extreme sport.
You are not just dealing with temperatures that can sometimes reach -30 degrees Celsius. Know that you will also need to be prepared for our legendary Icelandic winds. They can blow car doors off their hinges and blizzards that will leave visibility close to zero. You will agree that these weather conditions during the colder months don't exactly scream "let's go hiking!".
Your Safety
With the weather conditions we described above, it comes as no surprise that it can cause a safety issue on Iceland trails. But this is not the only safety concern that chucks a spanner in the works of your Iceland backpacking plans.
Some roads on the island are closed every winter due to safety concerns from weather affecting road conditions. This is especially true for the Westfjords and the Highlands regions. So, no matter how badly you want to hit that hiking trail in the Westfjords or the Highlands, if the road is closed, you won't have access to it. In some areas, renting a 4x4 campervan can give you more freedom of destinations to reach.
The Daylight Hours Available
Daylight hours differ like, well, day and night here on the island. If you visit Iceland during mid-summer, you will experience the Midnight Sun phenomenon. That's because you are treated to 22+ hours of daylight each day, so the sun, technically, never really sets. In contrast, mid-winter will only give you up to 4 hours of daylight hours each day.
As you can imagine, the latter is not really inductive to an active outdoor life. It can become extremely tricky to navigate when it comes to Iceland's hiking trails. If the hike you want to do takes 3 hours, but it takes 2 hours to drive to the trailhead, you may not be able to do it during the season due to time constraints.
What to Pack for Your Iceland Hiking Trip
Does it seem a bit daunting to pack for an outdoor activity during the warm months of a country called Iceland? Don't worry, we get it. That's why we created this helpful packing list that you can use as a guide:
Raincoat (to be prepared for sudden weather changes and help keep you dry from the mist and spray created by the Iceland waterfalls)
Extra set of thermal underwear
Extra shirt
Waterproof hiking pants
Waterproof jacket
Warm hat (beanies come highly recommended)
Warm gloves
Extra pairs of socks (a minimum of 2 when taking the trail and its river crossings into account)
Sleeping bag & travel pillow (these should be packed for multi-day hikes, but many hikers prefer packing them in anyway "just in case")
Sunscreen
Sunglasses
Bathing suit (you will come across hot springs, streams, and swimming pools on some trails where you can quickly take a dip)
Quick-drying towel (to avoid walking around with a wet towel in your backpack)
Backpack of at least 25-40 liters (final decision to be based on the lengths of your planned Iceland hiking trails)
A pair of old shoes (for the times you feel sorry for your nice hiking boots)
Refillable Water bottle (with water obviously) & snacks
Toiletries & medication (don't forget especially important meds. Such as chronic medication and emergency allergy medication such as an EpiPen)
A first-aid kit
Power bank & chargers
Optional Extras:
*The packing list for multi-day treks looks pretty much the same. You will just need to adapt the number of things you pack (such as shirts and pants). Pack clothes based on the length of your trip and the type of accommodation on the trail. For example, if you're sleeping in overnight cabins, you don't need to pack a camping tent.
You will always have to keep in mind that the space in your RV rental in Iceland is limited, so be aware of the type of hike you will be doing.
Should I do a Solo Hike on an Iceland Hiking Trail?
Look, as the safest country in the world for 15 consecutive years, safety concerns for solo hikers in this country do not involve a killer in the woods. Nor a mugger waiting around the corner. The same recommendations, irrespective of where you find yourself in the world, still apply; don't hike alone!
This is merely because you might get hurt, and it will take hours or days for help to arrive, for someone to find you, never find you at all, or worse, find you when it's already too late. So, we will strongly advise you to stick to the buddy system. Alternatively, you should keep to the most popular, shorter, and easy trails that get a lot of foot traffic on a daily basis. If you intend to do a solo hike, however, you should follow these tips to ensure that you have a safe and memorable hike: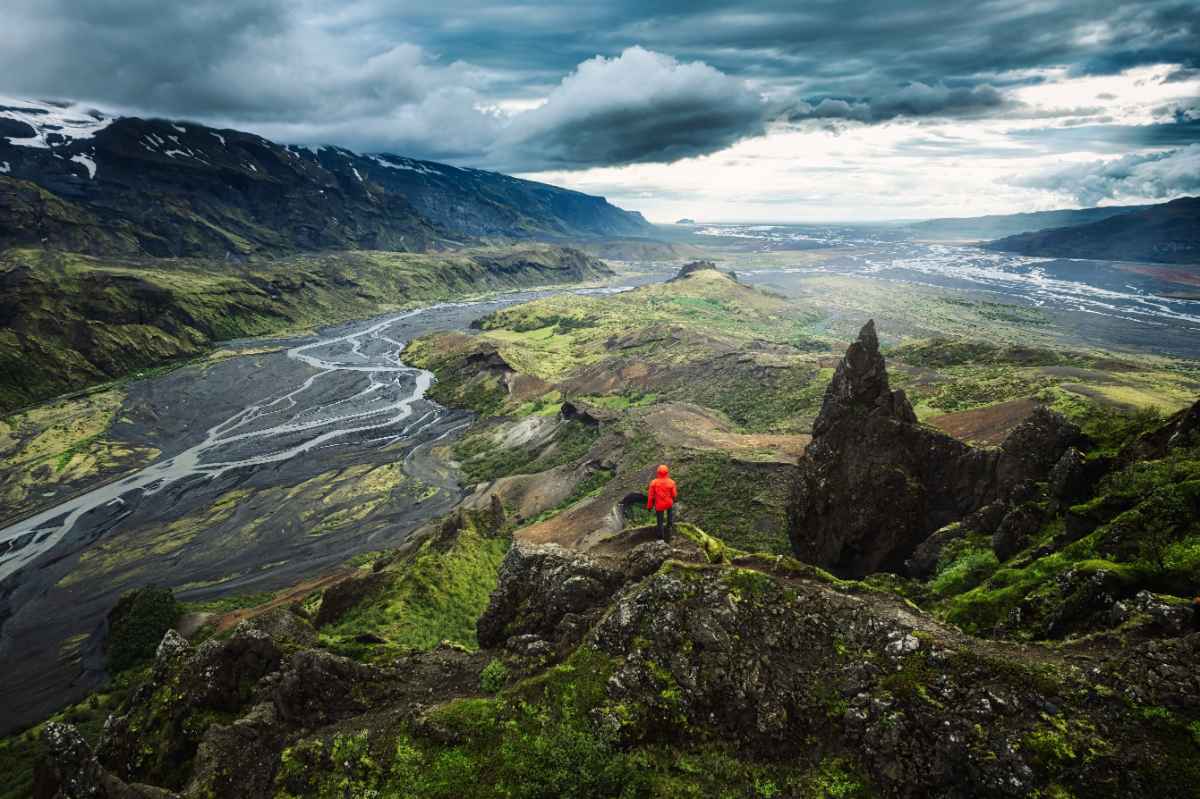 Pick a short and easy trail if you're a beginner. A solo hike is not the time to try and prove something to yourself.
Keep to the trail and stay on well-marked pathways. You don't want to accidentally step into a boiling hot spring (like Ed Sheeran did) or get lost.
Always make sure that your phone is fully charged and that you have a GPS with you to help you navigate. Just keep in mind that technology fails and signals drop, so download a few offline maps and keep a few hard-copy maps in your backpack.
Avoid taking "the road less traveled" in the more remote parts of the island. These parts (as in most countries) can struggle with signal (something you'll need to make an emergency call). Very few people will also hike these trails, so if you are relying on random foot traffic to find you, you're going to be in big trouble.
Keep those headphones off your ears. You can listen to that podcast or playlist when you get back home safely. Now is the time to be fully aware of your surroundings.
Give people a heads-up as to what your plans are. This way, people will know when to start sounding the alarm and where to start looking. We generally recommend that you notify a close friend or family member as well as the accommodation you're staying at.
Be realistic and know your limitations. This is not the time to test whether you can make that 7-meter jump over a crevice or whether you can do a 3-day Iceland hiking trek in less than a day. You may fall short (quite literally) of your expectations or goals.
Pack some extra water and snacks. If you do fall short, and you live to tell the tale, you'll need to wait for the cavalry. This could take quite a long time depending on where you are and provided that you are able to call for help. The only worse thing than dying due to your own stupidity is starving to death due to double the amount of stupid.
Do proper research. As a solo hiker, there's no one else to rely on for advice, knowledge, or an extra pair of hands or eyes. The well of wisdom begins and ends with you. And not knowing what to expect from a certain area or trail can have dire consequences. Accidentally, stepping on a Puffling or mistaking a natural hot spring for a boiling hot pot will make this a memorable trip for all the wrong reasons.
Stay one jump ahead of the weather. We have a saying here on the island that goes: "you can experience all four seasons in a day in Iceland". The only way to counter this (very true) saying is to always be prepared, and you can do that by keeping a close eye on the Iceland weather forecast. Especially before heading out for the day.
The Best Iceland Hiking Trails
Regardless of your experience, fitness level, or age, there is a hiking trail on the island that will be suitable for you. Trails range in difficulty levels as well as length, and you can choose between going on a day hike or taking on a much longer multi-day trek in Iceland. Here are a few hiking trails in Iceland that come highly recommended:
The Best Day Hikes in Iceland
The hikes mentioned below will take just a few hours, and you won't need to sleep over somewhere along the trail:
Mount Esja, 7km (a 2-3 hour hike)
Difficulty Level: Moderate
Location: Close to Mosfellsbær (+/- 50 minutes from Reykjavík)
Glymur Waterfall, 7.1km (a 3-4 hour hike)
Difficulty Level: Moderate
Location: Hvalfjördur (+/- 1 hour north of Reykjavík)
Kirkjufell in the Snæfellsnes Peninsula, 4km (a 3-hour hike)
Difficulty Level: Extremely challenging (best to take this one on with a guide)
Location: Kirkjufell Mountain in the Snæfellsnes Peninsula (+/- 2.5 hours from Reykjavík)
Blahnujur Brennisteinsalda Loop in Landmannalaugar, 9.7km (a 4-6 hour hike)
Difficulty Level: Challenging
Location: Landmannalaugar in the southern Highlands (+/- 4 hours from Reykjavík)
Skogafoss Waterfall, 16km (a 4-6 hour hike)
Difficulty Level: Easy
Location: Skogafoss (just over 2 hours from Reykjavík)
The Best Multi-day Hiking Trails in Iceland
The hikes mentioned below will take a few days. You will need to sleep over somewhere along the trail, whether by setting up your own campsite or sleeping in an overnight bungalow/hut:
The Hesteyri to Kögar Loop in Hornstrandir Nature Reserve, 67.6km (a 3-5 day hike)
Difficulty Level: Challenging
Location: Hornstrandir, Westfjords (43.2km from Isafjördur, but you will need to take the ferry)
Laugavegur Trail in Fjallabak Nature Reserve, 55km (a 3-4 day hike)
Difficulty Level: Challenging
Location: Fjallabak Nature Reserve, South Iceland (just over 3 hours from Reykjavík)
Fimmvörduhals Trail, 30km (a 1-2 day hike)
Difficulty Level: Challenging
Location: Skogar, South Iceland (just over 2 hours from Reykjavik)
Nupstadskogar to Skaftafell Trail, 59.5km (a 5-day hike)
Difficulty Level: Moderate to Challenging
Location: Vatnajökull National Park,South Iceland (+/- 2.5 hours from Reykjavík)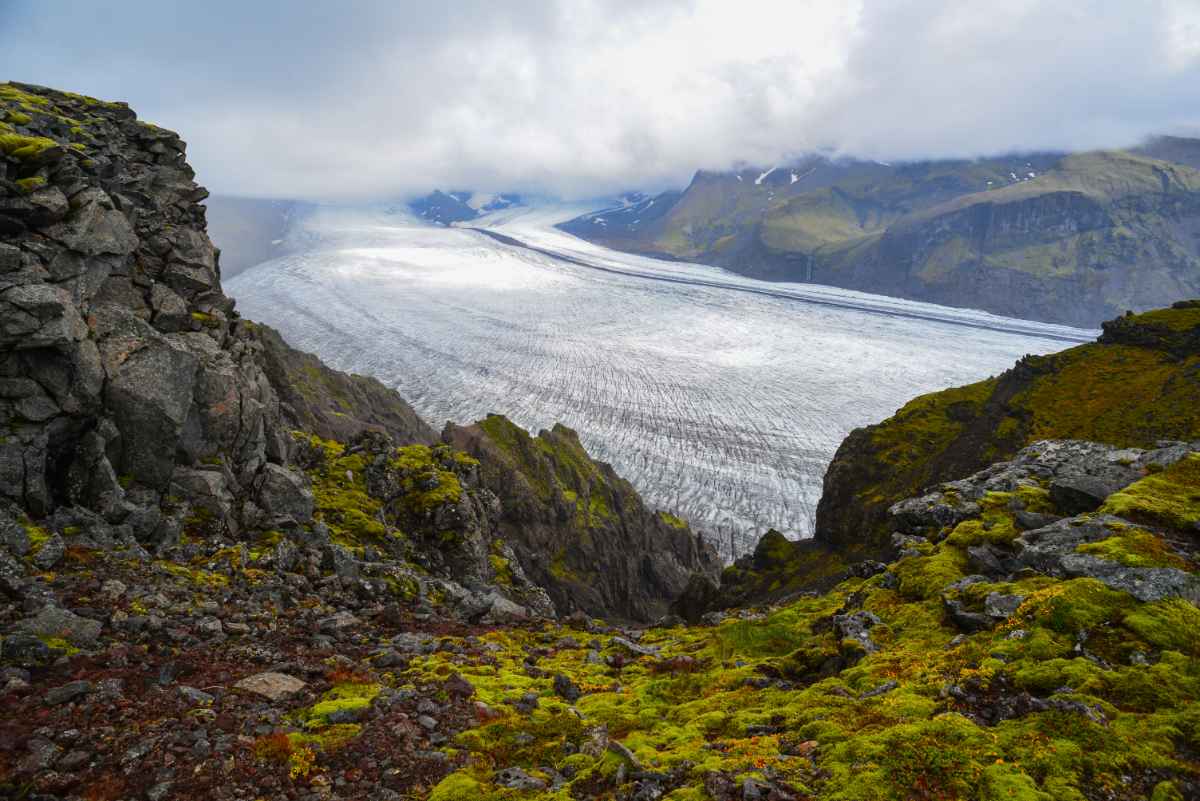 Seydisfjördur to Borgarfjördur Trail, 74km (a 4-day hike)
Difficulty Level: Challenging
Location: The East Fjords (+/- 1 hour from Egilsstadir)
Can You Find Guided Iceland Hiking Tours on the Island?
You will find a number of guided hiking tour options in Iceland. Generally, these tours are usually for people who have extra money to spend, enjoy group activities, or need assistance as solo travelers.
For trails like the Kirkjufell summit, it's recommended to not attempt the climb alone and to have an experienced guide accompany you. Whatever the case may be, if you're thinking of joining a guided hiking tour, the following tours are very popular:
An Iceland Hiking Trip; Fun for the Whole Family
If you can remember, we mentioned quite a few activities here on the island that are truly one-in-a-lifetime experiences. Such as glacier hikes, ice cave exploring, and diving in the Silfra Fissure. But these activities are not suitable for all. Some do not allow small children and pensioners because of safety concerns. Others require accreditation and a certain amount of experience.
But renting a campervan in Iceland and road-tripping cross-country whilst taking on various hikes along the way is a wonderful family-friendly experience that won't cost you an arm and a leg. Add on the legendary Camping Card, and you'll be able to make that vacay budget stretch beyond belief. So, what are you waiting for? Your Iceland hiking road trip awaits!