You may have heard Iceland's dramatic nickname, the Land of Fire and Ice, so-named due to the country's many volcanoes and glaciers. Although, with over 10,000 cascades on this tiny Nordic island, it could also easily be the Land of Waterfalls!
Chasing waterfalls is one of the best things to do in Iceland. However, with so many Iceland waterfalls to choose from, it can be hard to know where to begin exploring. Let's take a look through some of the most famous waterfalls in Iceland, so you can choose which ones you'd like to visit most on your Iceland adventure!
1. Gullfoss Waterfall: Iceland's Golden Falls
Gullfoss waterfall is usually one of the first waterfalls in Iceland that people encounter. That's due to its convenient location on Iceland's Golden Circle route. This popular tourist route is most people's introduction to Iceland's natural wonders.
This impressive double-drop waterfall careens straight into the Hvítá river canyon. During summer, sunlight imbues Gullfoss's flowing waters with a golden hue, giving Gullfoss its name. It actually translates to 'golden waterfall' in Icelandic.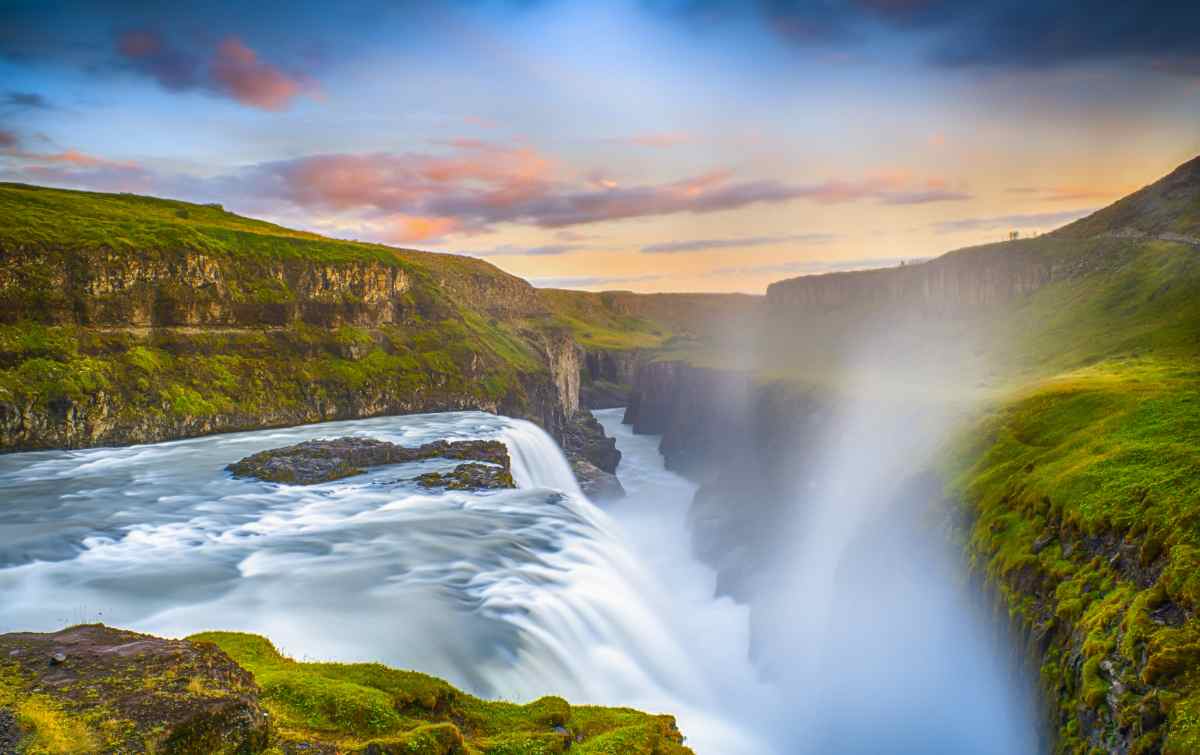 2. Seljalandsfoss Waterfall, Iceland: The Beauty
Of all the famous waterfalls in Iceland, Seljalandsfoss is nicknamed 'The Beauty'. The reason is, it is considered to be the most beautiful waterfall in Iceland! This is the first of two Iceland South Coast waterfalls you'll find along Iceland's Ring Road (Route 1), with Skogafoss being the second.
You can experience an exhilarating walk behind a waterfall at Seljalandsfoss! Simply following the footpath hidden behind the rushing waters. Just make sure to bring a rain poncho and cover your camera with plastic to protect from the spray!
Seljalandsfoss waterfall will surely be an unforgettable highlight on your Iceland campervan trip.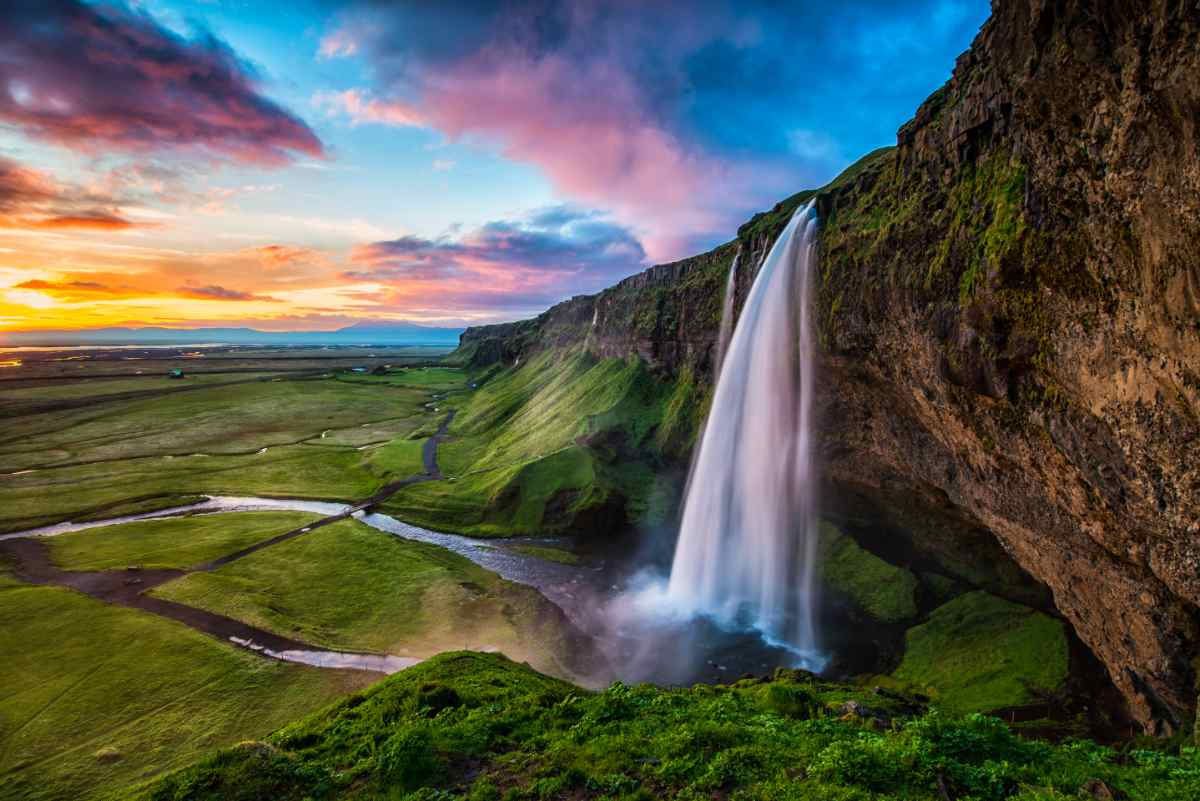 3. Skogafoss Waterfall in South Iceland
Skogafoss waterfall is a must-see attraction in South Iceland, located between Reykjavík and Vik. It is one of Iceland's largest waterfalls, with a 60-meter drop and 25-meter width.
Double rainbows are common to see at Skogafoss from the observation platform above the falls. The cliffs of this cascade actually used to be Iceland's former coastline. Now, thanks to glacial activity, has moved around five kilometers (three miles) further out.
If you're feeling adventurous, why not see if you can find the secret treasure chest of Skogafoss waterfall in Iceland? According to legend and local folklore, the treasure is hidden behind the falls. Watch out on the viewing platform, though!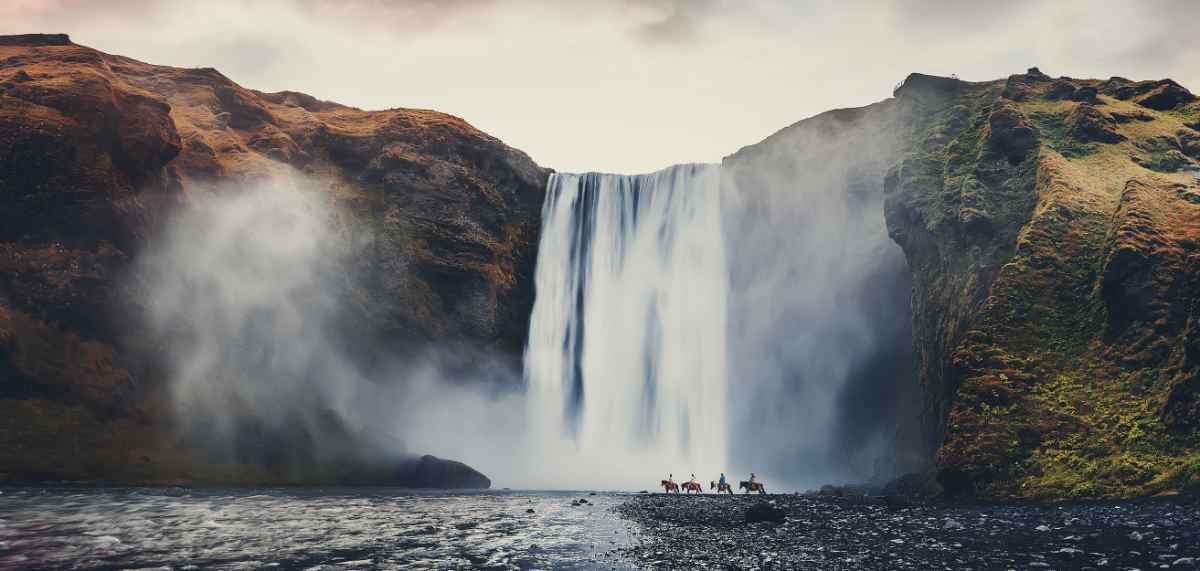 4. Svartifoss: Iceland's Black Waterfall
Further along the Ring Road, you'll find Iceland's unique black waterfall, Svartifoss waterfall. It is lined with magnificent basalt rock columns. These hexagonal columns of black volcanic rock cling to the steep, vertical cliff face, making an amazing photo opportunity.
Natural wonders like Svartifoss waterfall and the similar rock formations at Reynisfjara beach are so unusual that they've even inspired Icelandic architecture. The well-known Icelandic architect, Gudjon Samuelsson, emulated these volcanic structures in the facade of Reykjavík's Hallgrimskirkja, one of the most famous churches in Iceland.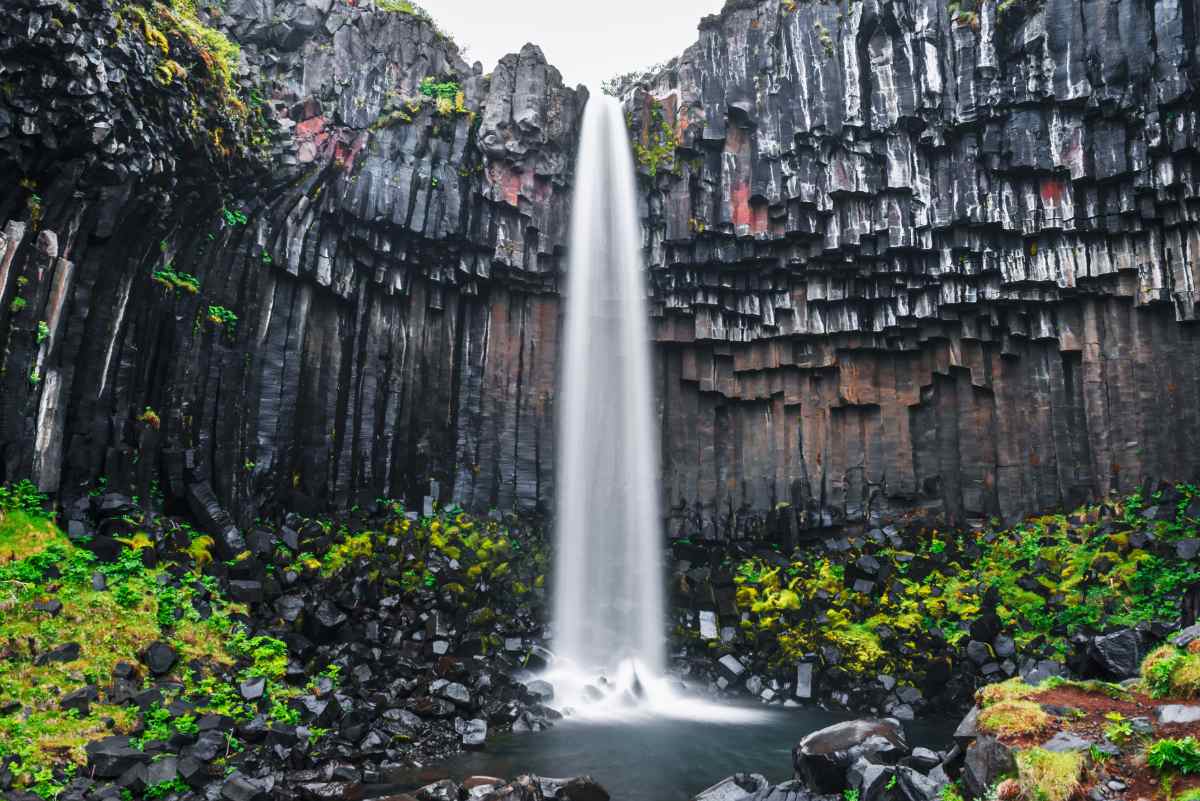 5. Godafoss Waterfall, Iceland: The Waterfall of the Gods
Up in the north of Iceland, you'll find the picturesque Godafoss waterfall, or 'the waterfall of the gods'. This destination is yet another place with stunning views and a fascinating history.
During the Viking era, Icelandic leaders faced a dilemma whether to convert to Christianity from their paganism. This decision was prompted by the threat of a trade war with Norway, whose king was Christian.
After the Icelandic leaders decided to convert to Christianity, the law-speaker and chieftain, Thorgeir Thorkelsson, threw his pagan idols into the waterfall. He did so as a symbolic gesture of accepting the new faith. This act gave the waterfall its name, "the waterfall of the gods.".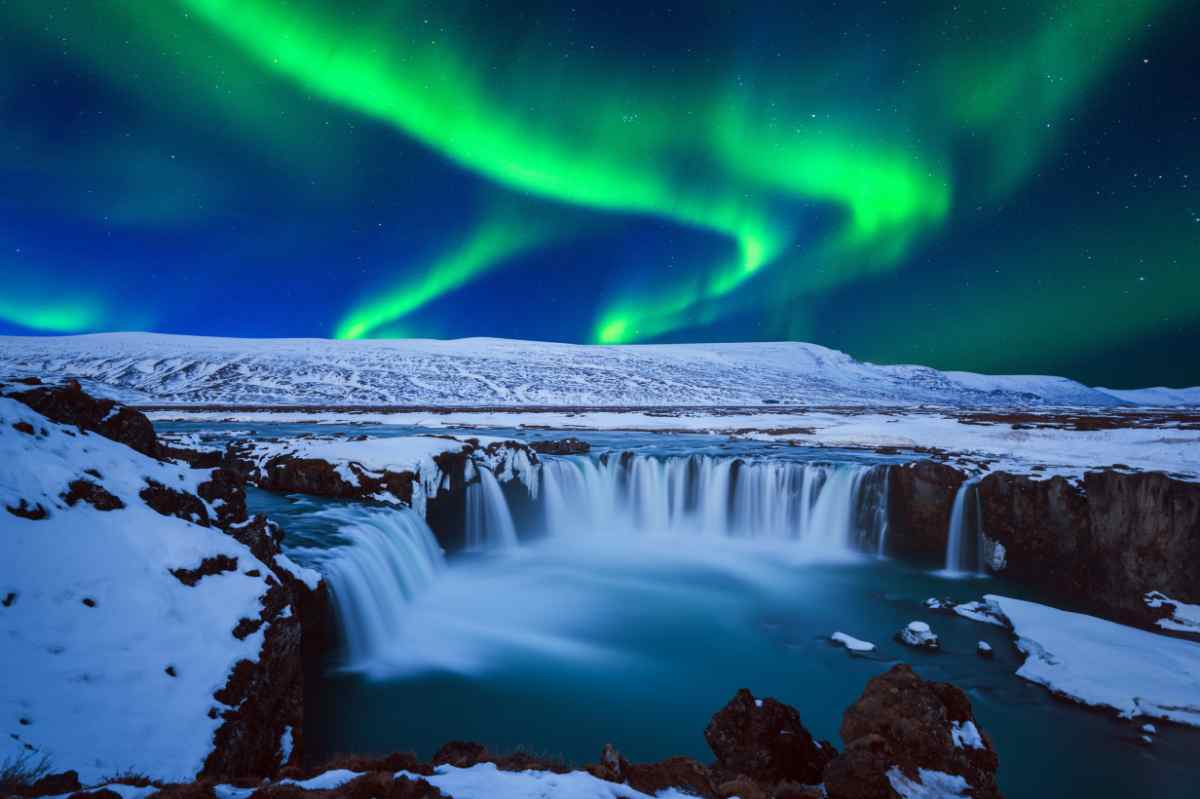 6. Kirkjufellsfoss: Game of Thrones Filming Location
One of the best waterfalls in Iceland to visit, Kirkjufellsfoss is among the most photographed in Iceland. That's due to its fame as a Game of Thrones filming location.
Kirkjufellsfoss is set against the majestic Kirkjufell mountain. This is the mountain that the Hound crossed with Jon Snow on their journey northward to do battle with the Whitewalkers.
Situated on the Snaefellsnes peninsula, Kirkjufellsfoss is around a two and a half hour drive from Reykjavík. While you're there, you can also visit the beautiful and remote Snaefellsjokull National Park.
7. Dettifoss Waterfall: The Beast
Fancy visiting the most powerful waterfall in Europe? Dettifoss waterfall is lovingly referred to as The Beast by local Icelanders. That's due to the sheer force and impressive output of its water flow, which is almost 200 cubic meters per second. As Iceland's biggest waterfall by volume, the low, constant rumble of Dettifoss is a sound to behold.
You might even recognize Dettifoss from the movies. If you're a fan of Ridley Scott, you'll recognize this as the Iceland waterfall in Prometheus. The film's magnificent opening sequence showing alien origins was filmed here: a fitting location for a truly epic event!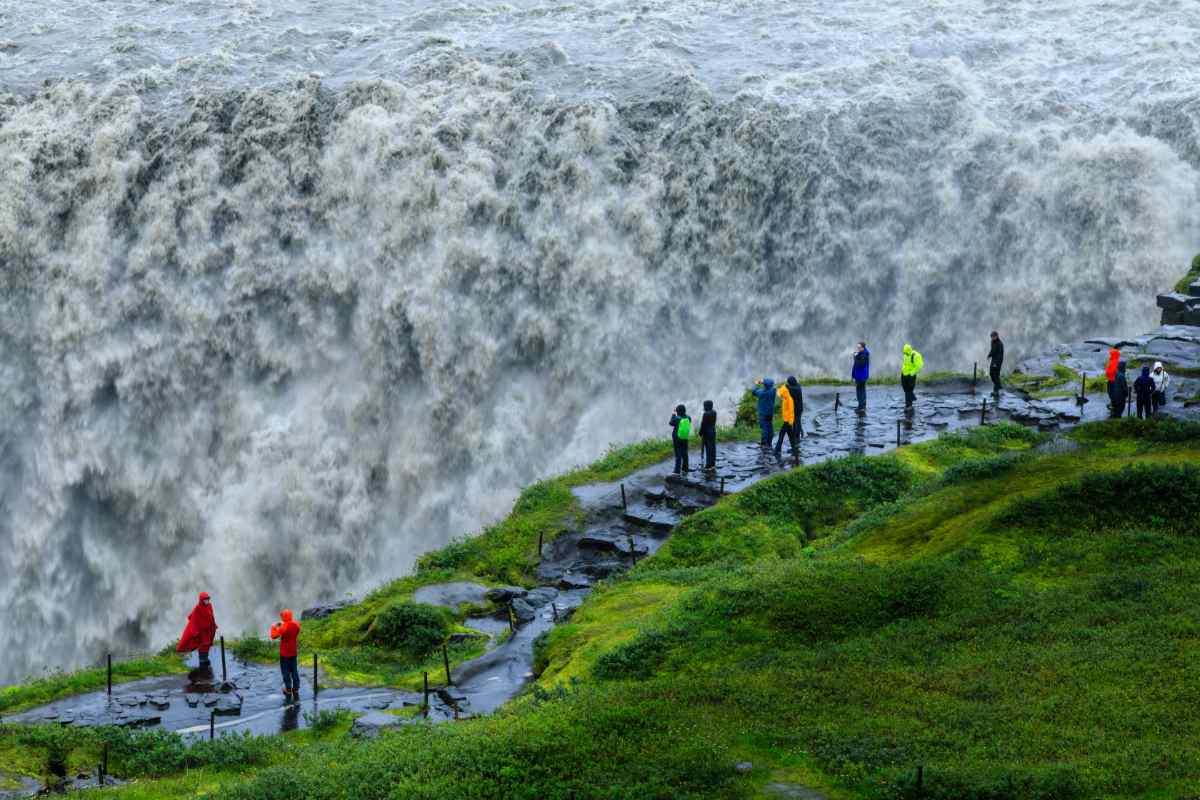 8. Bruarfoss Waterfall in Southwest Iceland
Located in the Bruara river in Southwest Iceland, the water of Bruarfoss waterfall is a beautiful, striking blue color. One of Iceland's hidden gems, Bruarfoss is worth the hour-long trek along a gravel path it takes to reach it. This rather remote location is definitely one for hiking fans.
Just under an hour and a half drive from Reykjavík, you'll find a series of small waterfalls in the Bruara river area. All of them are composed of the same impressive light blue water. Lovely!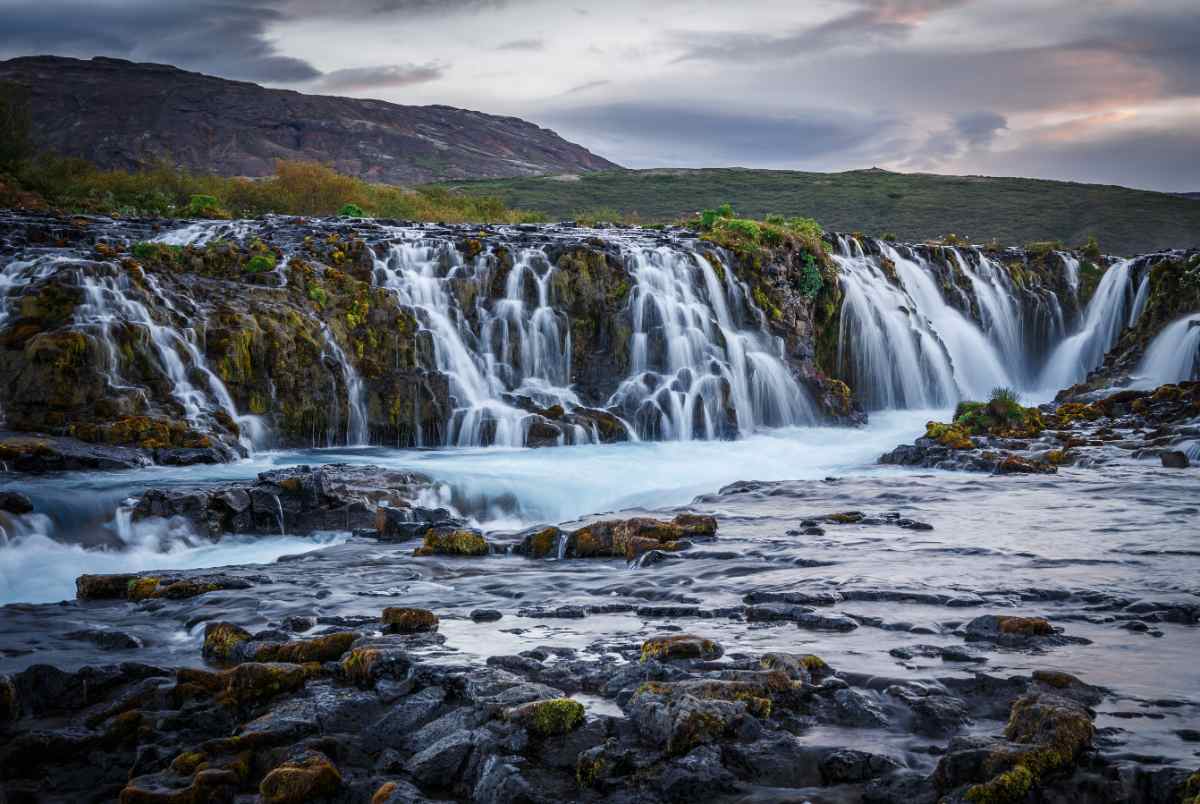 9. Oxararfoss Waterfall in Thingvellir National Park
Every visit to Iceland's amazing Thingvellir National Park isn't complete without taking a trip to Oxararfoss waterfall. This beautiful waterfall descends into the Oxara river, which leads into Thingvallavatn. For those who don't know it, it is the largest lake in Iceland.
Oxararfoss is actually a human-made waterfall, created to redirect water into a ravine. Easy to reach on Iceland's Golden Circle, Thingvellir is a place of incredible natural beauty and historical significance. This is the place where Iceland's parliament was first established.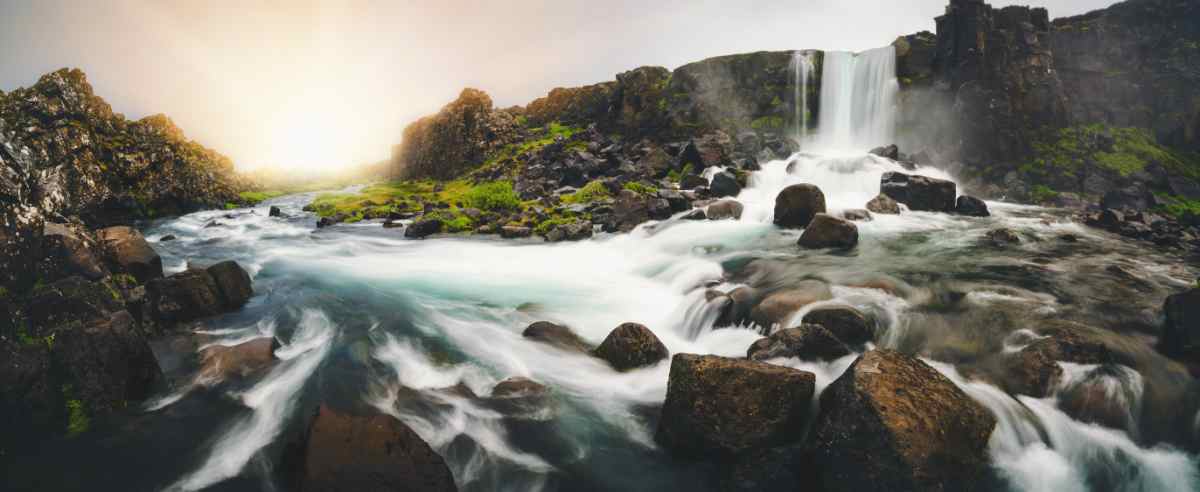 10. Hengifoss Waterfall: The Hanging Falls
The highly impressive Hengifoss waterfall is the second-tallest waterfall in the country. Located in East Iceland, this dramatic waterfall flows down a sheer basalt cliff with horizontal layers of red clay. Winning the name the 'Hanging Falls', Hengifoss is so-named due to its steep and dramatic cascade over the cliff.
Located within Vatnajokull National Park, you'll need to take a short hike to reach Hengifoss. On the way, you'll see a smaller waterfall called Litlanesfoss that is surrounded by many basalt column rocks.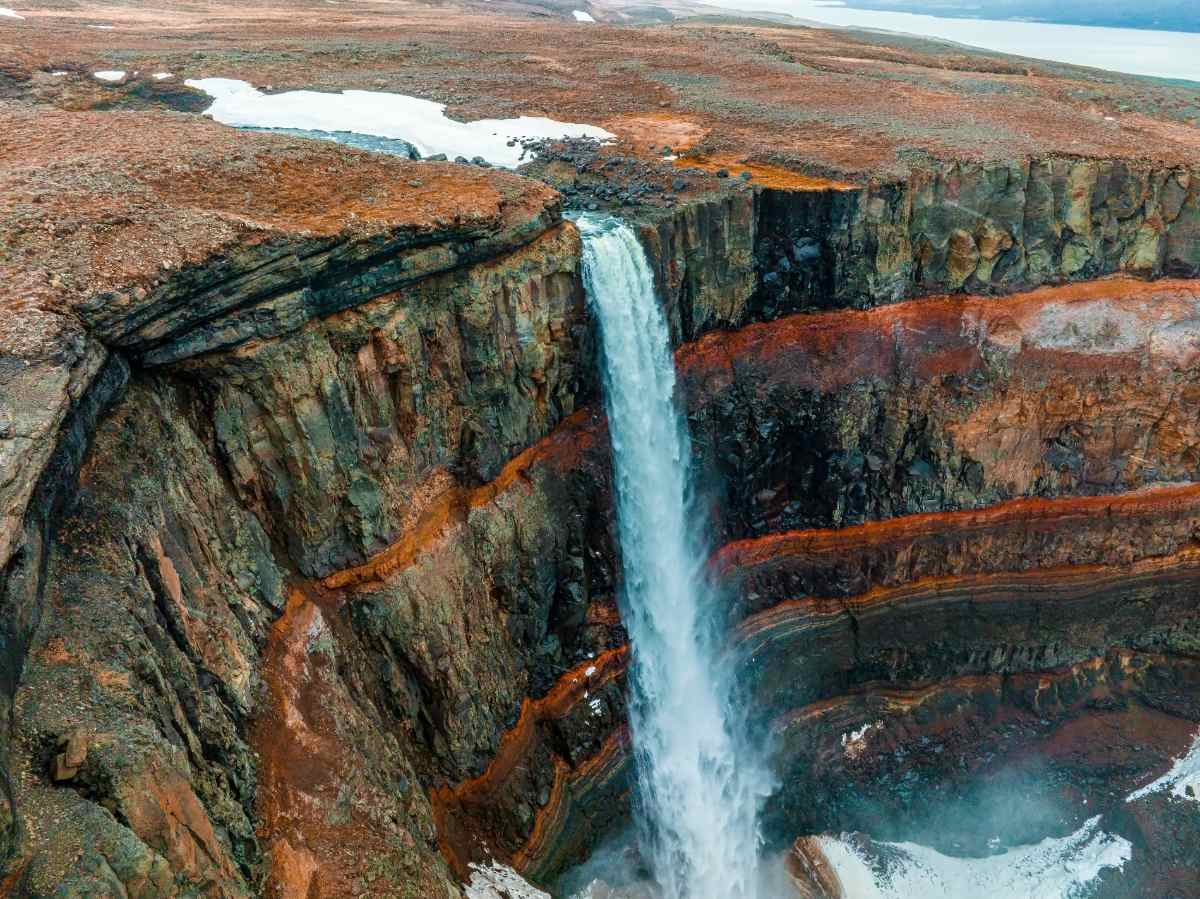 11. Hrafnabjargafoss Waterfall​: Raven Cliff Falls
Hrafnabjargafoss is a stunning horseshoe-shaped waterfall located in North Iceland. It is fed by the meltwater of Vatnajokull, the largest glacier in Europe, and flowing among the ice. It is also known as Raven Cliff Falls in Icelandic.
You'll need to travel along Iceland's F-roads (mountain gravel roads) in order to reach Hrafnabjargafoss. Nearby, you'll also find the scenic Aldeyjarfoss waterfall, which is surrounded by black basalt rock.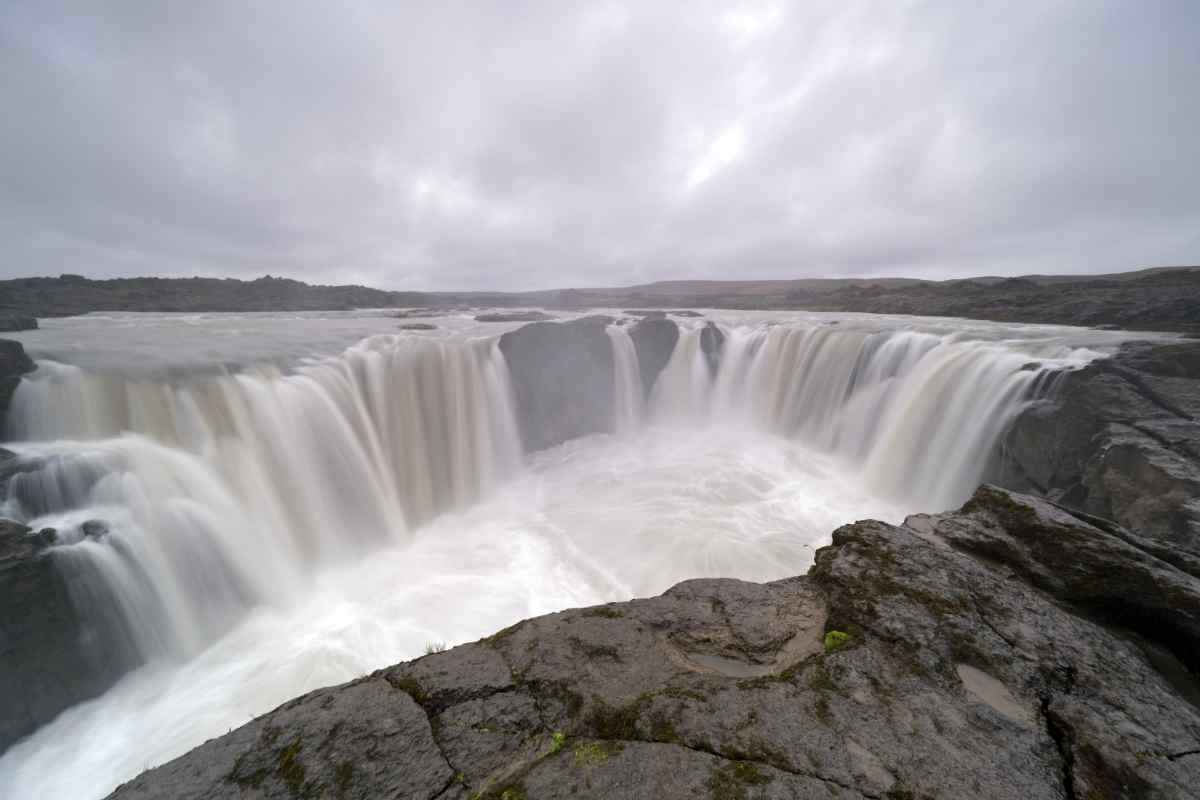 12. Haifoss Waterfall​: Tall Falls
The third-tallest waterfall in Iceland, the 122-meter high Haifoss waterfall is among Europe's ten tallest waterfalls. Haifoss is located in South Iceland in the beautiful Thjorsardalur Valley. You'll need to rent a 4x4 vehicle to traverse Iceland's F-roads along the path to these falls.
Flowing down into a steep valley, the picturesque Haifoss waterfall is nicknamed 'Tall Falls', due to its impressive height. Nearby, you'll also find the scenic Granni waterfall.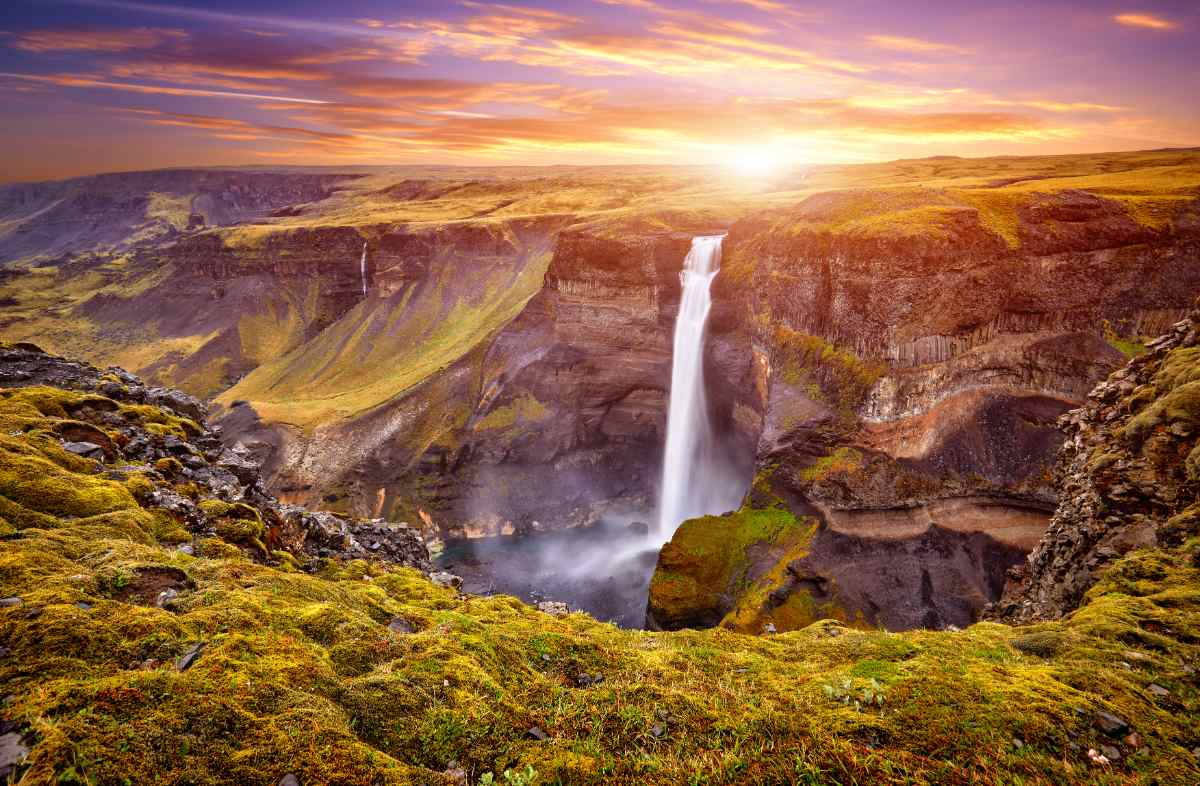 13. Morsarfoss Waterfall: Iceland's Tallest Waterfall
Over 230 meters tall, Mosarfoss holds the title of Iceland's tallest waterfall. This famous waterfall in Iceland is located in Skaftafell Nature Reserve. It requires a guide to visit, as it's in a hard-to-reach area with a glacier crossing.
You can also view Morsarfoss with binoculars from the Kristinartindar peaks. To reach this point, you'll need to take a hiking trail from Skaftafell. Many other waterfalls and cascades surround Morsarfoss, which is set among stunning glacial ice.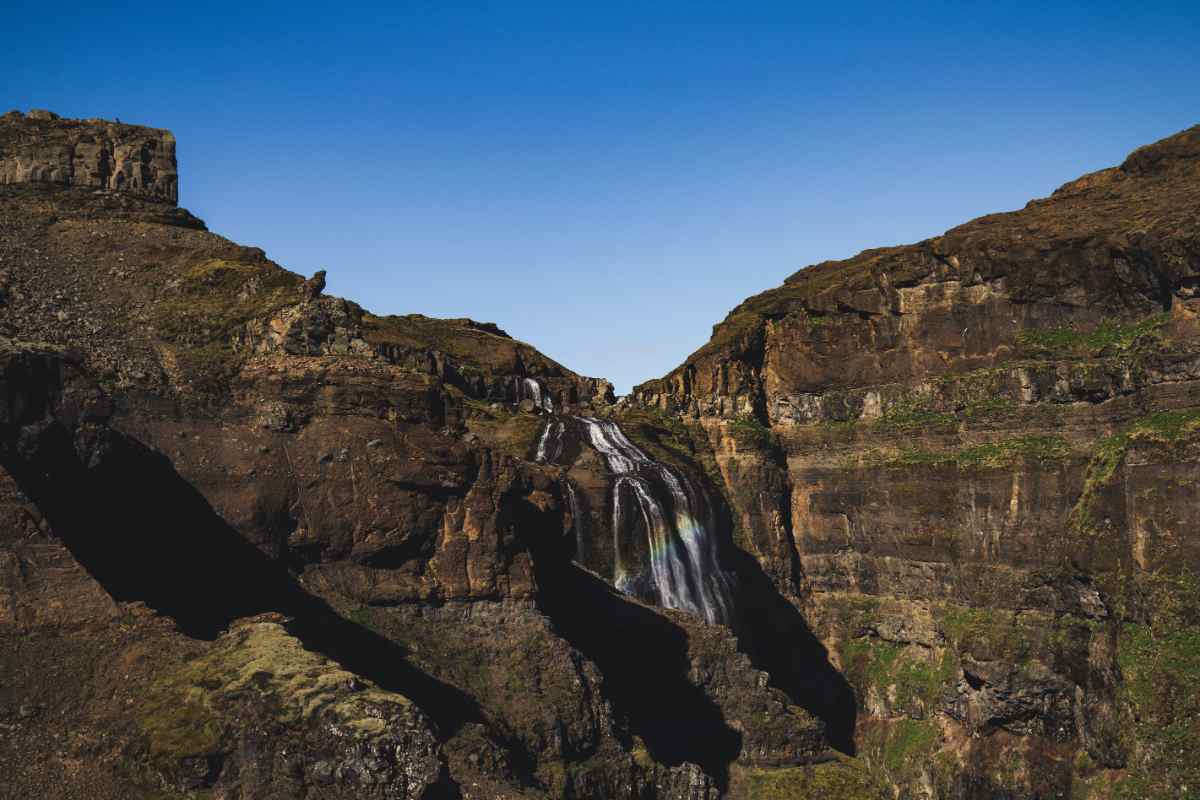 14. Kvernufoss Waterfall​ in South Iceland
A super beautiful waterfall in South Iceland, Kvernufoss is relatively undiscovered compared to some of the other, more famous Iceland waterfalls on this list. One of the best waterfalls to visit when exploring Reykjavík and South Iceland, Kvernufoss is a photographer's favorite due to its lush green surroundings.
Only a two and a quarter-hour drive from Reykjavík along the Ring Road, Kvenufoss drops 30 meters into the Kverna river. You may even be able to walk behind this waterfall if the weather allows!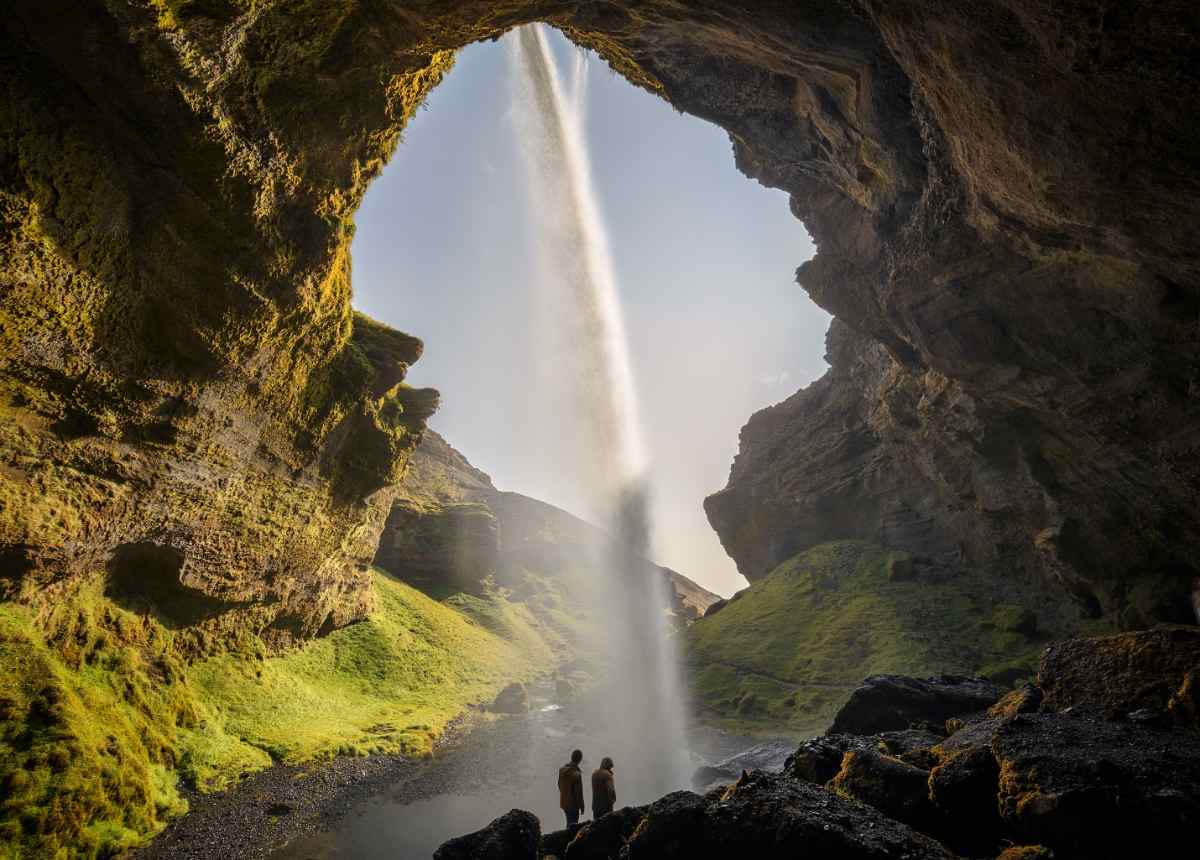 15. Dynjandi Waterfall: The Jewel of The Westfjords
One of Iceland's best waterfalls to visit for keen adventurers, Dynjandi will take you off the beaten track to the remote Westfjords. This stunning waterfall falls in a trapezoidal shape, measuring 30 meters across at the top and 60 meters across at the bottom.
Known also as 'the Jewel of the Westfjords' and 'Fjallfoss', Djnandi is the largest waterfall in the Westfjords at 100 meters high. This unique and beautiful waterfall is well worth a visit if you plan to explore the natural wonder of Iceland's Westfjords.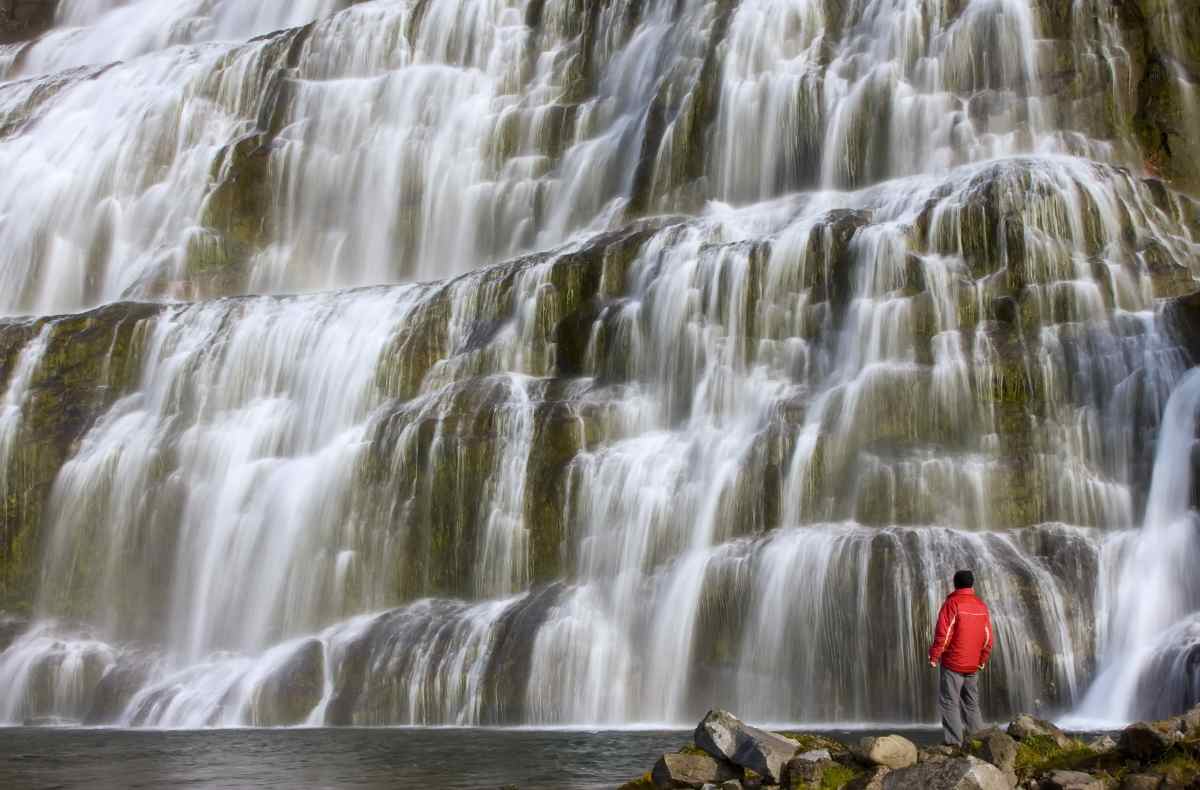 Time to Visit the Best Waterfalls in Iceland!
Fun Iceland falls fact: You may have noticed that the Iceland waterfalls all have 'foss' at the end. That's because the word 'foss' means waterfall or cascade in Icelandic.
Now you're armed with all the knowledge about the best waterfalls in Iceland, let's get planning your very own Iceland adventure! Fancy taking to the road to visit the best and most famous waterfalls all across this amazing country? Make your dream Iceland vacation a reality by reserving your campervan in Iceland, finding your accommodation and getting your packing list sorted. Let's go!