Iceland is known for its majestic landscape, and that's why it's no surprise that one can find various hiking trails all over the country. One of the most impressive is probably the Thorsmork hike.
If you have never heard of Thorsmork and have an upcoming trip to Iceland planned, or consider yourself an avid hiker, then this article is for you. We tell you everything there is to know about Thorsmork and why it should be on your Iceland to-do list.
What is Thorsmork?
Well, you will find a Thorsmork nature reserve that is part of the Katla UNESCO Global Geopark. However, this is only because of the Thorsmork mountain ridge one can find within its borders.
This mountain range is well-known for its hiking trails that take one through and past canyons and glaciers. They help to get one up close and personal with the island wildlife. When locals refer to Thorsmork, we don't just refer to the mountain, but rather the entire area which includes the mountain, the valley, etc.
How Tall is Thorsmork?
Despite technically being a mountain, Thorsmork is not very tall, and its highest elevation reaches just 233 meters.
How Wide is the Thorsmork Valley?
Thorsmork Valley covers roughly 9 542 square kilometers.
What Does Thorsmork Mean?
Thorsmork means the "valley of Thor" and is named after the Norse god that now graces our screens as a hammer-wielding Marvel character.
Where is Thorsmork?
Thorsmork can be found in the southern part of the Highlands of Iceland. Right between Eyjafjallajökull Glacier, Myrdalsjökull, and Tindfjallajökull Glacier. Since it's only 150 kilometers from the capital city of Reykjavík, it makes for a nice day outing. Otherwise, you can just include it as a stop on your Ring Road road trip.
How to Get to Thorsmork
You actually have 4 ways of getting to Thorsmork:
Driving to Thorsmork
You can take the F249 off the main Ring Road route to get to Thorsmork. However, this is one Iceland F-road adventure we'd recommend giving a skip if you don't have a beast of a 4x4 and plenty of experience. Not only is the road extremely rough, but there are multiple river crossings that are pretty deep and dangerous.
Taking the Bus to Thorsmork
Yes, we know what you're thinking; we just advised you against driving it yourself, and now we want you to get on a bus. But this is no ordinary bus and has been specifically modified to take on this difficult journey.
Just take note that since this is the Highlands, this bus only runs during the summer months. The bus has pick-ups at Reykjavík, Hella, and Hvollsvöller and has drop-offs at all three of the Thorsmork campsites. You will need to double-check departure times as the bus makes only 2 trips each day.
Going on a Thorsmork Super Jeep Tour
Not only are the super jeeps one of the best ways to hack challenging road conditions, but it's also incredibly fun! These vehicles are modified jeeps with massive wheels that remind one of the monster trucks.
Although tours in Iceland can generally become expensive outings, the Super Jeeps are actually a more affordable option since a jeep can be loaded up with 8 people who all share in the costs. A Thorsmork Super Jeep Tour usually takes between 6 to 10 hours and allows for 1-2 hour hikes or even 3-4 hours on special request.
Hiking to Thorsmork
That's right; the hiking fun can start well before you even reach Thorsmork. Not only can you hike to Thorsmork, but the trails are considered to be some of the best hiking trails in the world by the hiking community. These are:
The Laugavegur Trail
This is one of the most famous multi-day guided treks here on the island. The trail starts at Landmannalaugar and takes roughly 3 days. Meals, accommodation, etc. are already included in the price and this is one hike you don't need to worry about what to pack since you get luggage transportation. The only stuff you'll carry is the stuff that you need on the day.
The Fimmvörduhals HIke
This trail starts at the Skogafoss Waterfall in Skogar and is 25.7 kilometers long. The hike takes anything between 8-10 hours in total and is credited for having some of the most scenic views.
The Best Hikes in Thorsmork
Since exploring Thorsmork can essentially only be done via its hiking trails, you better come prepared. But remember, Iceland has various hiking trails of various difficulty levels to make this much-loved activity accessible to everyone. Luckily, the majority of the Thorsmork hikes, irrespective of length, are considered to be fairly easy.
All the trails are also properly marked throughout the valley, so you don't need to be worried that you might get lost. Here are some of the best Thorsmork hiking trails that you can consider doing:
The Mount Valahnukur Hike
Distance: 4.3 kilometers
Duration: +/- 2 hours
Difficulty Level: Easy
Claim to Fame: This hike will take you up Mount Valahnukur and give you some of the best views.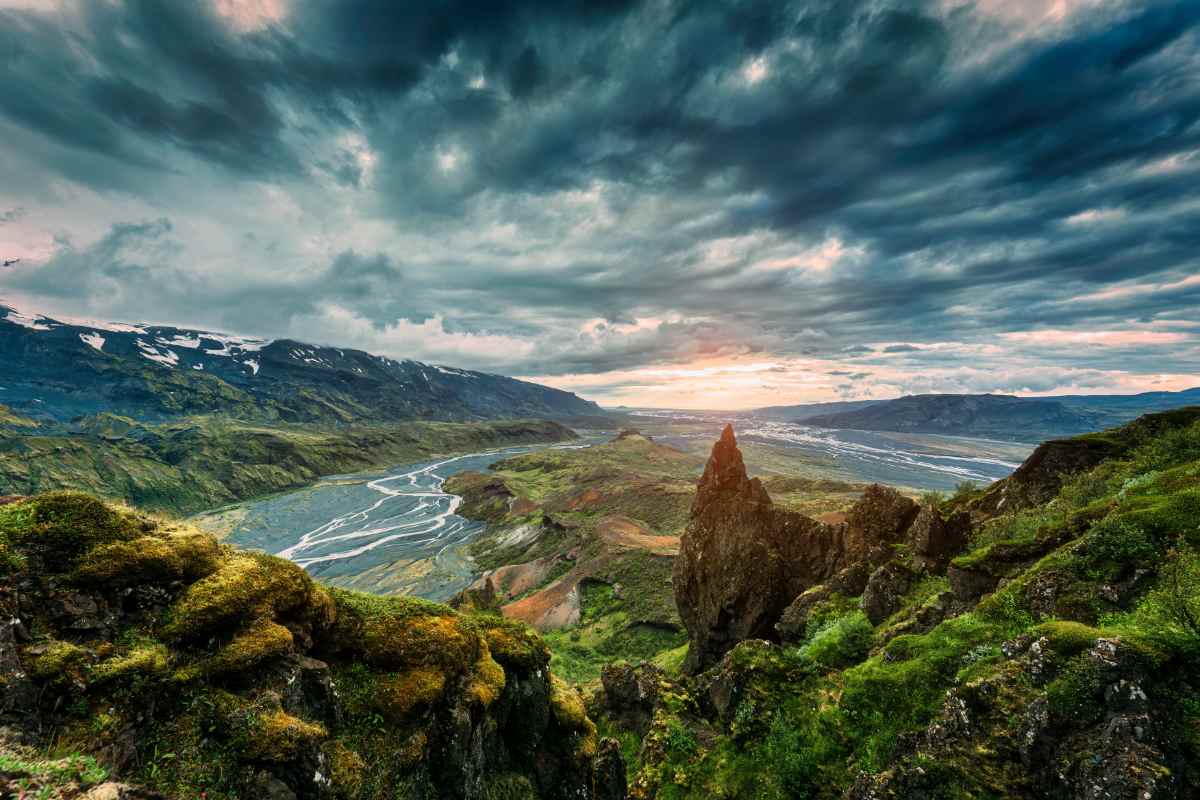 The Thorsmork Highlights Hike
Distance: 9 kilometers
Duration: Just over 3 hours
Difficulty Level: Easy to mid-level
Claim to Fame: This is a circular hike in the Husadalur Valley and includes various types of scenery.
The Rjupnafell Hike
Distance: 16 kilometers
Duration: 8 hours
Difficulty Level: Challenging
Claim to Fame: This includes the Tindfjöll Circle Hike which has incredibly rewarding scenery and views, but here you also climb the 964-meter-high Rjupnafell peak. Not for the faint of heart.
Where to Stay in Thorsmork
If you're planning on going hiking in Thorsmork, you'll probably end up staying in one (or more) of the following places:
Thorsmork; a Highland's Adventure
Thorsmork truly is an adventure – not just the various hiking trails with their majestic scenery, but getting there in the first place. Just remember that Thorsmork is in the Highlands, so you'll need to plan your trip during the warmer months here on the island.
Whether you book a spot on a Thorsmork tour or you opt for taking a self-drive remains up to you, but we highly recommend renting a campervan in Iceland for an exciting and cost-effective house-on-wheels solution – the ultimate way to go camping in comfort!