Are you looking for things to do in Reykjavik? Iceland's capital is an incredible city with fascinating attractions, delicious food, and unique experiences. But with so much to do in this vibrant city, it can be hard to know where to start.
Don't worry – we've got you covered! In this guide, you'll find the best of Reykjavik's attractions, from the iconic Hallgrímskirkja Church to the vibrant street art scene. Whether you're looking for outdoor activities like whale watching and glacier hiking or a night out at Kaffibarinn for drinks and live music, you'll find the perfect activity in Reykjavik.
So get ready for your next adventure – here's our guide on what not to miss when visiting Reykjavik!
1. Visit the Hallgrímskirkja Church
If you ever wondered what to do in Reykjavik, visiting Hallgrímskirkja is an absolute must. This iconic church towers over the city with its unique design and towering steeple.
The church was designed to mimic the basalt lava flows that are so prominent in Icelandic landscapes- and the resulting structure is both imposing and breathtaking. Inside, it's equally impressive: a massive organ and soaring ceilings make for an awe-inspiring experience.
Strolling around the church grounds offers equally stunning views, creating a great photo opportunity. It's no surprise that Hallgrímskirkja is one of the most visited tourist attractions in Reykjavik.
2. Wander Around Reykjavik's Museum
Exploring museums has got to be one of the best things to do in Reykjavik. With various fascinating museums to choose from, you'll find yourself immersed in captivating stories and art that reflect Iceland's unique heritage. Here are three noteworthy museums that deserve a spot on your Iceland itinerary:
Icelandic Phallological Museum: Home to the world's largest collection of penises (yes, really!), this museum is a must-visit for anyone wanting to learn more about Iceland's unique history and culture.
Saga Museum: This museum highlights the history of Iceland from settlement to modern times. Through a combination of interactive exhibits and displays, you can gain deep insight into Icelandic culture and traditions.
National Museum of Iceland: This museum provides an overview of the country's history, from the medieval era to the present day. Its comprehensive collection of artifacts and artwork will give you a better understanding of what Iceland has been through over the centuries.
View this post on Instagram
3. Take a Stroll Around Tjörnin Lake
Make sure to add Tjörnin Lake to your list of things to do in Reykjavik! Tjörnin is a beautiful lake located in the heart of Reykjavik. Strolling around this small body of water, you'll be greeted with stunning views of the city skyline.
During summer, you can spot ducks, swans, and other birds swimming in the lake and enjoy a sunny day lounging on its grassy banks. Tjörnin is also a great spot for peace and quiet, away from the bustling city center. During the Icelandic winter, you can even ice skate on the frozen lake.
Tjörnin Lake is not only a great spot for relaxing and soaking up the views, but it's also ideally located near other attractions like Reykjavik City Hall and the Harpa Concert Hall and Conference Centre.
4. Check Out Harpa Concert Hall and Conference Centre
Harpa Concert Hall and Conference Centre is a must-see attraction in Reykjavik. This modern building is one of the city's most iconic landmarks, with its distinctive facade and beautiful glass panels. Inside, it's equally impressive, with various concert halls and event spaces. Here's why you should check out Harpa:
Architectural Splendor: The mesmerizing design, with its intricate honeycomb-like exterior and vibrant interior, is a visual feast for the eyes. The play of light and reflection creates a dynamic atmosphere, making every visit a unique experience.
Cultural Hub: Harpa is not only a venue for world-class concerts and performances but also a cultural hub that hosts various events, including art exhibitions, conferences, and festivals. Immerse yourself in the lively art scene of Reykjavik within these walls.
Spectacular Views: From the balconies and terraces of Harpa, you can enjoy panoramic views of the city, the surrounding mountains, and the glistening waters of the harbor. It's an ideal spot to capture breathtaking photos and appreciate the beauty of Reykjavik.
5. Get To Know Reykjavik's Vibrant Street Art Scene
Reykjavik's vibrant street art scene is one of the city's hidden gems. If you're wondering what to do in Reykjavik, exploring its street art is an absolute must. From large-scale murals to intricate graffiti, Reykjavik's art reflects its creative spirit and diversity.
The best way to explore these amazing works of art is by taking a street art tour. These tours will take you through various neighborhoods where you can learn about the artists and get an up-close look at the artwork. Here are some of Reykjavik's most iconic street art spots:
Bergstaðastræti Street: Located in the city center, this street is home to a colorful mural that combines Icelandic folk art designs with urban elements.
Laugavegur Street: this popular shopping street is full of vibrant murals celebrating the city's culture and history.
Reykjavik Art Museum: This museum houses some of Reykjavik's most impressive street art, with works from both Icelandic and international artists.
6. Sample Icelandic Cuisine at One of the City's Many Restaurants
Trying Icelandic cuisine is one of the best things to do in Reykjavik. From traditional dishes like lamb soup and fish stew to innovative fusion dishes like Icelandic sushi, the city's restaurants have something for everyone. Here are some of the best places to sample Icelandic cuisine:
Grillmarkaðurinn: Grillmarkaðurinn is a unique restaurant in Reykjavik, known for its grilled and smoked local farm produce. With adventurous options like whale and horse, it has caught the attention of celebrities like the Kardashians.
Bæjarins Beztu Pylsur: This iconic Reykjavik hot dog stand is a must-visit for anyone wanting to try some local fare. It's been around since 1937 and has been visited by many famous people, including Bill Clinton.
The Coocoo's Nest: This vegan-friendly, family-run restaurant is located in a charming old fishing shed. With a diverse menu offering sourdough pizzas, leafy salads, and mouthwatering fish tacos, it's both delicious and affordable.
7. Enjoy Some Outdoor Activities
Reykjavik is a great destination for nature lovers. With its stunning landscapes, lush forests, and pristine rivers, there are plenty of outdoor activities to enjoy in the city. Here are some of the best outdoor activities in Reykjavik:
Horseback Riding Tour: Embark on an unforgettable horse tour in Reykjavík, riding the loyal and gentle Icelandic horses. Explore the scenic Laxnes hills, visit Þingvellir National Park, Gullfoss waterfall, Geysir geothermal area, and more.
Whale Watching Tour: Embark on a classical whale-watching tour in Faxaflói Bay, guided by marine biologists. Spot minke whales, humpback whales, dolphins, and porpoises, while enjoying stunning landscapes and abundant birdlife.
Langjökull Glacier Tour: Embark on an unforgettable Langjökull glacier tour, exploring the stunning man-made ice cave. Journey through scenic landscapes, witness the mesmerizing blue ice and enjoy a guided walk into the glacier. Ice caves in Iceland are truly a sight to behold.
8. Spend an Evening at Kaffibarinn for Drinks and Live Music
Looking for things to do in Reykjavik? Look no further than Kaffibarinn, the epitome of Reykjavik nightlife. Its reputation as a party hotspot is undeniable, drawing crowds with its hyper-uber-cool atmosphere and trend-setting clientele.
The queues that form outside speak volumes about its enduring popularity. By day, it offers a relaxed coffee spot with happy hour prices on beer. At night, Kaffibarinn transforms into a haven of energetic music and late-night revelry. The eclectic mix of music, limited space for dancing bodies, and stylish crowd create an unforgettable experience.
With a selection of gin, vodka, and whiskey, Kaffibarinn caters to diverse tastes. Just remember, no photography allowed - a testament to the bar's desire for privacy.
View this post on Instagram
9. Visit the Sun Voyager Sculpture and Waterfront
When exploring the attractions in Reykjavik, visiting the Sun Voyager Sculpture and Waterfront is a must. Located on the Seltjarnarnes peninsula, it is a beautiful steel sculpture designed by Jón Gunnar Árnason. It depicts an ode to the sun and symbolizes hope, progress, and freedom.
Stroll along the waterfront and admire the stunning views of Reykjavik Bay and Mount Esja in the distance. Make sure to snap a few pictures of the iconic sculpture against the beautiful backdrop of Icelandic nature.
Afterward, stroll along Reykjavik's charming old harbor or explore the nearby galleries and restaurants.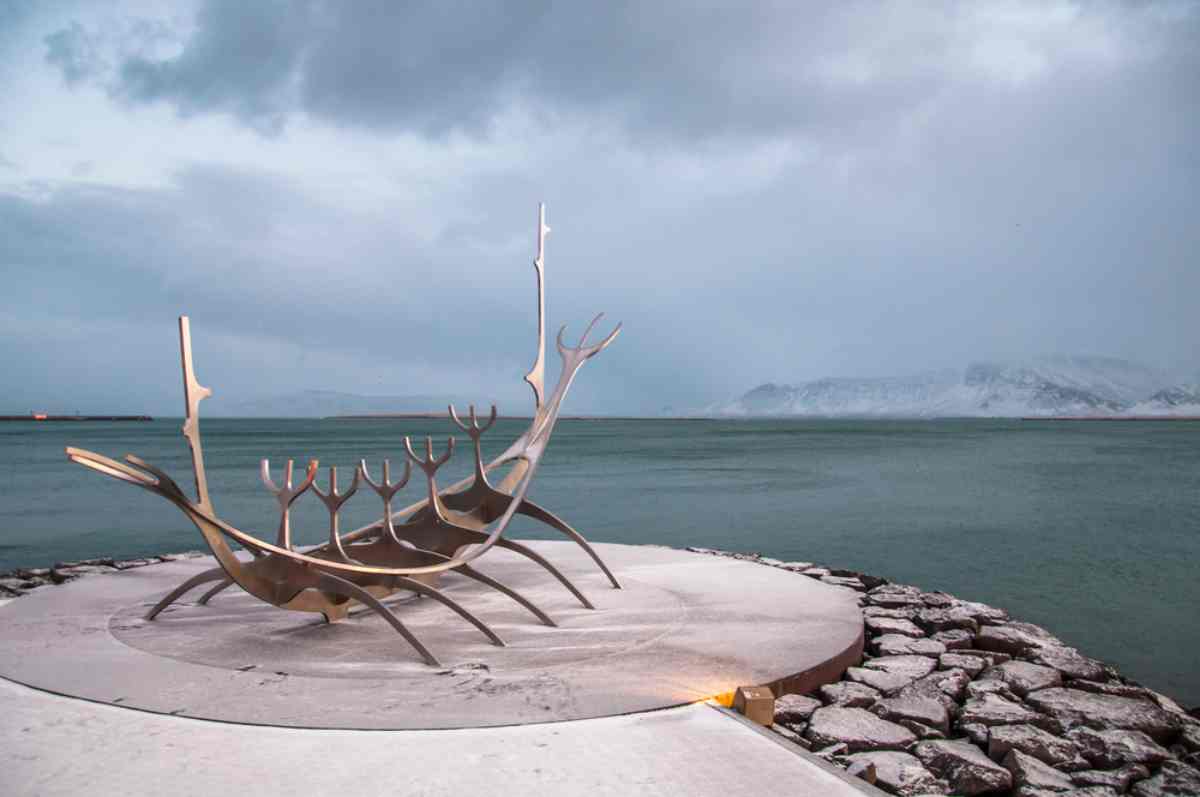 10. Take a Day Trip to Reykjanes Peninsula
If you're wondering what to do in Reykjavik, taking a day trip to the Reykjanes Peninsula should be at the top of your list. This stunning volcanic landscape, located just a short drive from the city, offers many unique experiences.
Explore the otherworldly landscapes of the Reykjanes Geopark, home to geothermal areas, lava fields, and dramatic coastlines. Visit the famous Blue Lagoon, a geothermal spa known for its mineral-rich waters.
Discover the picturesque fishing villages of Grindavík and Hafnarfjörður, immersing yourself in their charm and local culture. Don't miss the opportunity to cross the symbolic bridge between the Eurasian and North American tectonic plates at the Bridge Between Continents.
11. Explore the Laugardalur Park and Reykjavik Zoo
Regarding attractions in Reykjavik, exploring Laugardalur Park and Reykjavik Zoo is a delightful choice. Laugardalur Park, a verdant oasis, offers a range of activities for all ages.
Take a leisurely stroll through its lush greenery, enjoy a picnic by the pond, or relax in one of the hot tubs at the Laugardalslaug geothermal pool. Adjacent to the park, the Reykjavik Zoo introduces you to native Icelandic animals and exotic species worldwide.
Marvel at Arctic foxes, reindeer, seals, and more. With beautiful natural surroundings and captivating wildlife, Laugardalur Park and Reykjavik Zoo are perfect destinations for nature lovers and families seeking outdoor adventure.
View this post on Instagram
12. Enjoy a Therapeutic Soak in the Kvika Footbath
One of the best things to do in Reykjavik is to enjoy a therapeutic soak in the Kvika Footbath. This unique experience offers a blissful retreat for your tired feet.
Step into the warm, mineral-rich waters and feel the stress melt away as the soothing heat envelops you. The Kvika Footbath is designed to provide relaxation and rejuvenation, allowing you to unwind and indulge in self-care.
Sit back, breathe in the fresh Icelandic air, and let the healing properties of the footbath work their magic.
Sieh dir diesen Beitrag auf Instagram an
13. Catch a Show at the Iconic Reykjavik City Theatre
When it comes to what to do in Reykjavik, catching a show at the iconic Reykjavik City Theatre is a must for culture enthusiasts. This renowned venue showcases various performances, including theater, dance, music, and more.
Immerse yourself in the artistic ambiance as talented actors and performers take the stage, delivering captivating and thought-provoking shows. From classic plays to contemporary productions, the Reykjavik City Theatre offers an enriching experience.
View this post on Instagram
14. Enjoy the View From the Top of Perlan Dome Observatory
One of the must-try activities in Reykjavik is enjoying the breathtaking view from the top of Perlan Dome Observatory. This stunning landmark offers a 360-degree view of Reykjavik, from its iconic sights to its breathtaking landscapes.
Take the elevator to the top and marvel at stunning panoramic views of the city's snow-capped mountains, glaciers, volcanoes, and the Atlantic Ocean. On clear days, you can even glimpse the Snaefellsjokull glacier in the distance.
At night, be prepared to be mesmerized by Reykjavik's shimmering lights from this incredible vantage point. Whether during the day or night, visiting Perlan Dome Observatory is an experience no traveler should miss!
15. Experience the Magic of the Northern Lights
The ultimate attraction in Reykjavik is the Aurora Borealis or Northern Lights. From September to April, these mesmerizing displays of multicolored lights transform the night sky into a magical display.
Book a Reykjavik Northern Lights Cruise to maximize your chances of catching the lights. The boat takes you along Faxafloi Bay, where you can enjoy beautiful views of Reykjavik's coastline and get the perfect opportunity to observe the lights in all their glory.
Reflecting on Reykjavik's Delights
Now that you know all about the top things to do in Reykjavik, it's time to go out and explore. But if you're looking for an even more immersive experience, the best way to get to know Reykjavik and its surroundings is by renting a campervan in Iceland.
With a campervan, you can travel around the country at your own pace and explore natural wonders such as waterfalls, hot springs, geysers, glaciers, and more. So what are you waiting for?