Many say traveling Iceland is traveling off the beaten track. The real deal is when you venture out of driving the Ring Road. But you'll only truly understand that saying once you've traveled on the F-Roads in Iceland. We give you the lowdown on how to travel these scenic but tricky routes.
Many are very cautious when it comes to the F-roads Iceland, but travelers who have actually taken these roads less traveled will tell you all about what you miss out on if you give these routes a skip. In this article, we tell you all about the F-roads, how to navigate them safely and which routes are considered the best.
What are F-roads in Iceland?
The F-roads in Iceland are the rough-and-tough routes of Iceland. These roads are narrow gravel roads that are not regularly maintained. You cannot take these roads in a standard vehicle – you will need a 4x4 vehicle. Since many of these roads are also not marked properly, we highly recommend that you keep a map to refer to close by.
Map of F-Roads in Iceland
You can get an eagle's eye view of all the routes on this map of F-roads in Iceland. As you can see, the majority of them are concentrated in the middle of the island, which is Iceland's wild, unspoiled backcountry!
The F-roads Iceland: For a Limited Time Only
This may sound like a cheesy infomercial, but it's true. Due to the weather conditions in Iceland, the F-roads are only open for short periods of time. Although these periods vary between roads, they generally open in June/July and close again in September.
But take note; you will want to pay special attention to our advice if you want to be some of the first drivers after opening since you don't know what lies and waits after the damage caused during the winter months in Iceland.
What Type of Vehicle Should I Use on the F-Roads?
As we've already touched on, you cannot drive on the F-roads without using a 4x4. Many people swear by Jeep, but to us, the deciding factor will always remain the terrain. If your route's biggest challenges are being a bumpy ride with many potholes and a few puddles, you can honestly opt for just about any 4x4.
You can even drive the F-roads with a campervan, but you will need to check with your rental company as certain F-roads are off-limits according to your agreement. When you scout a river or stream on your route, your search criteria should immediately include a decent ground clearance (anything from 18 centimeters).
We also recommend having a chat with your car rental company and the locals about the actual state of the water mass you need to cross. There's a difference between a little river and a river. The latter will probably require you to go for one of the bigger 4x4s such as Land Cruiser, Hilux or Land Rover Defender. Or even one of the beautifully modified bad boys that will be able to take on the F-roads with no problem.
Tips on Driving on the F-Roads
Just the mere fact that you need a 4x4 to drive on the F-roads is enough to scare certain travelers off. But it really shouldn't. As long as you know how to handle yourself on the F-roads with the right type of vehicle, these routes might end up being your best trip yet. Here are a few wise words to live (or rather drive) by:
Make Use of the Buddy System
If it's your first F-road rodeo we recommend that you don't take it on by yourself. Use the classic buddy system and ensure that you travel along with at least one other vehicle in a group. This way, help is just a couple of meters away.
Always Remember that the Buck Stops With You
Insurance is a must when taking a rental on the F-roads, but insurance doesn't cover stupidity. If you take unnecessary risks, don't listen to weather warnings and other advice and end up damaging the vehicle – you will be held liable.
Do a Double-Check
We already mentioned that the F-roads are only open during certain periods of the year. But with these unpredictable routes, you never know. So before officially starting your drive, double-check whether the route is open. This is very easy to do by going on to the Icelandic Road and Coastal Administration website.
Stay on the Road
You've already gone off the beaten track by taking the F-roads, there's no need to mock the fates by DIYing your adventure any further. Not only is it illegal, but if you end up getting lost or need other help it's going to be a mission to find you.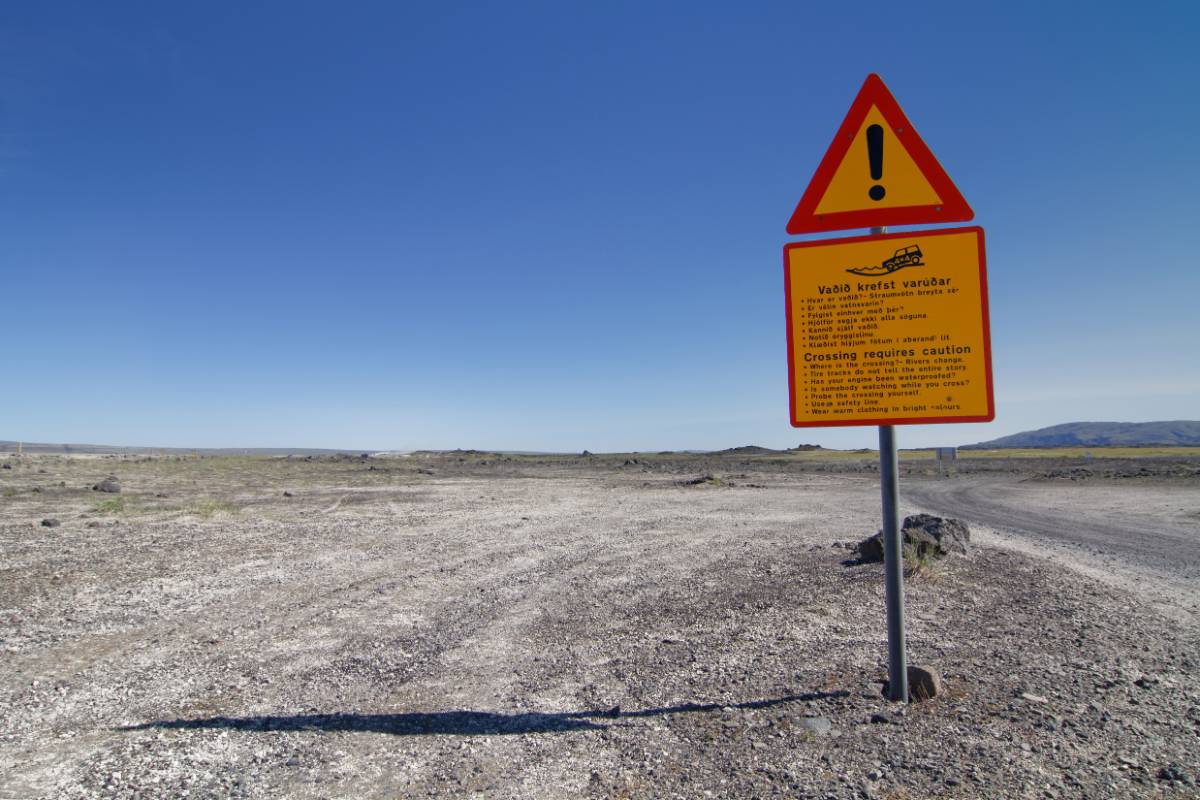 Remember that it's Not a Race
This is something many travellers to Iceland struggle with and it's no different when it comes to the F-roads Iceland. There's simply so much to do and to see that travellers are always feeling in a rush to tick off everything on their to-do list.
But this sense of urgency will need to be left behind when taking the F-roads. Slow and steady is the name of the game. With loose gravel, sharp turns, blind spots, just one lane for traffic coming from both directions and many more challenges, this is not the place to live out your Fast and the Furious aspirations.
Pack Enough Supplies
This is the kind of thinking we are not really used to in civilization. But when we say pack enough supplies, we mean pack enough food and drink for the planned duration of your drive and then pack even more! On the F-roads Iceland, it's not uncommon for vehicles to get stuck, damaged, you name it, leaving their occupants stranded. And there are no convenience stores to quickly pop into to stock up.
Fill up
Our last point is the precursor to this one. If you already know that you won't find stores along your route, don't bank on garages, petrol stations etc. In fact, the highlands have only one petrol station (Hveravellir) and you don't want to run out of gas in the middle of nowhere. So before you leave, be sure to fill up.
Have Emergency Numbers Close By
This is really a good rule of thumb for any trip and not just the F-roads Iceland. Ensure that you have Iceland's emergency number (112) and other important numbers such as the rental company, your medical insurance etc. all in one place and close.
And ensure that everyone in your party knows exactly where to find these. You'll be surprised how hard finding a number can be when the pressure is on. Even though some F-roads won't have a signal for some of the other emergency contacts on your list, the Icelandic emergency number will still work.
Be Prepared for all Weather
The Icelanders are famous for their saying that you can truly experience all seasons in just one day in Iceland,that's how the weather works here. So don't be fooled. You might've left with sunshine on a wind-still day, but this can change at the drop of a hat. This doesn't just relate to clothing and accessories, but also to the tyres on your vehicle, recovery gear etc.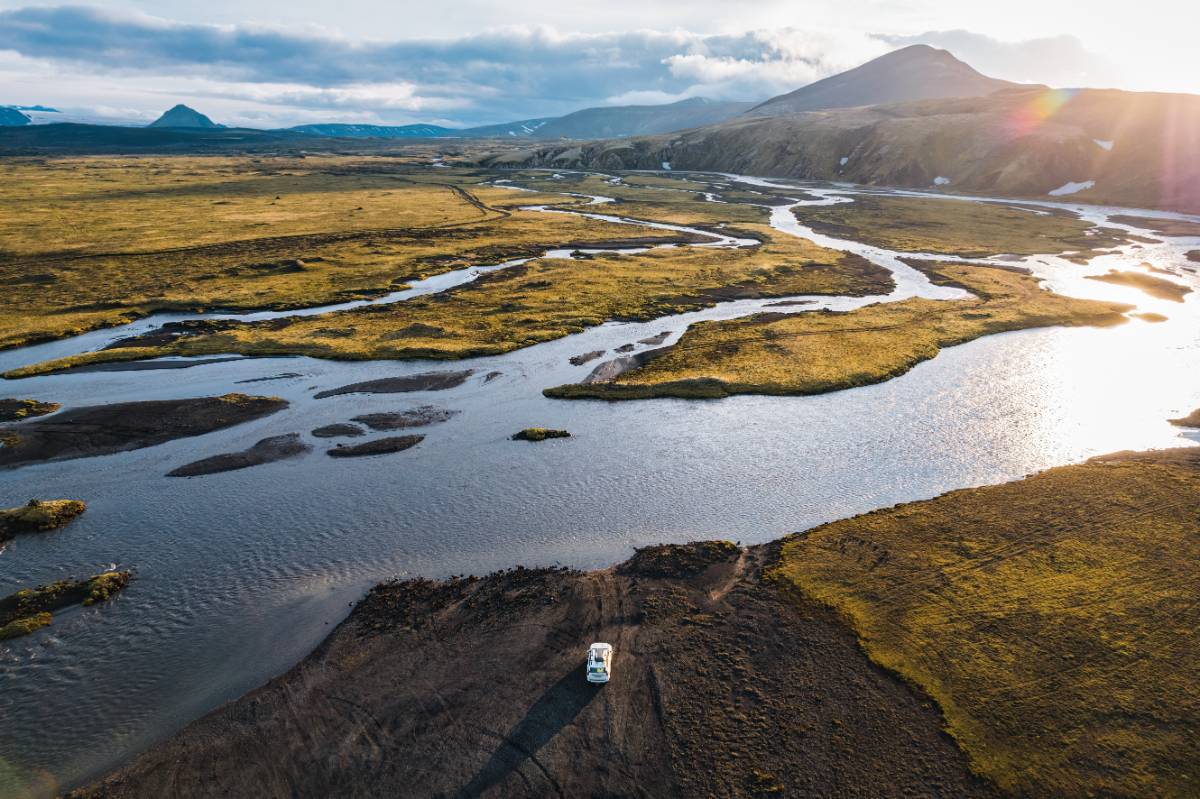 How to Cross Rivers on the F-roads Iceland
As we already mentioned, you will come across rivers and streams on certain F-roads where the only way out is through. But if you follow our advice it shouldn't be too tough:
Cross at the Designated Spot
There's a reason why this spot was chosen. Don't be the traveller that thinks they know better than the locals and try to find another way. The only thing you'll find is yourself in trouble.
Go Slow
It's almost instinctive to want to get out of the water as soon as possible but don't. Take it slow. The moment you start seeing water splashing on your bonnet and windshield you're already going too fast.
Stick to a Low Gear
A crucial element to crossing a river is driving in low gear. And more importantly, don't attempt changing gears when you're already in the water.
This is not Something to Take Head-on
While it serves you well to take on most things in life head-on, crossing a river is not one of them. It is recommended that you drive with your vehicle at an angle. The front of your vehicle should also be facing downstream.
Make the Right Judgement Call
Remember our point about insurance and stupidity? Well, crossing rivers is definitely one of those crucial decisions that might come back to bite you in the insurance butt. The rule of thumb for crossing any river is that it should be safe to cross in a vehicle if it's safe for you to wade in. In other words, trudge through or walk through. If you are unable to do that, rather be safe than sorry and give it a skip.
Take Note of the Water Level
Except for the strength of the stream, you should also take note of the water level. If the water comes over the tops of your tyres it's not a good call to still attempt to cross.
Don't Be Fooled by the Calm
See a spot in the river that looks particularly calm? Well, that's most likely because it's also one of the deepest spots. Definitely not where you want to find yourself when crossing a river.
Timing is Everything
Rivers, especially glacial rivers, have a much lower flow early in the morning. This is because the sun hasn't had a chance to melt the snow yet.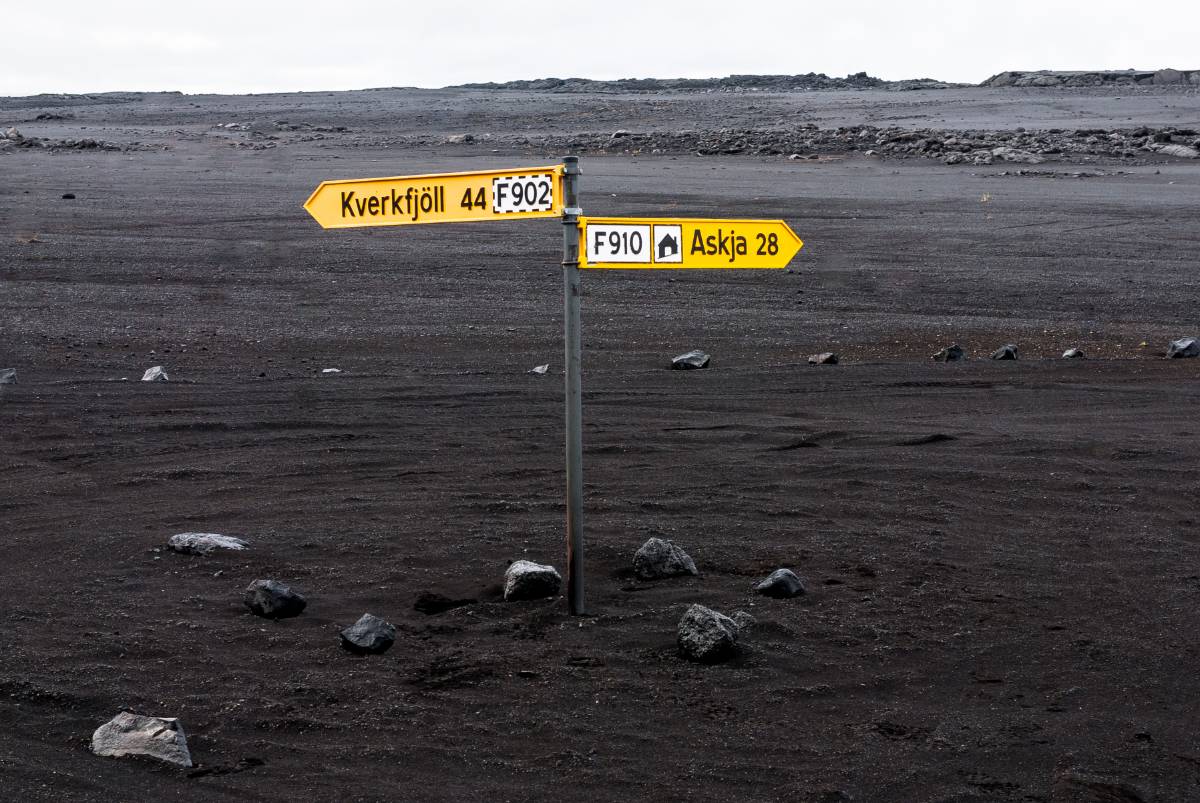 The Best F-roads in Iceland
Now that you know how to navigate these tricky routes, here are the ones that come highly recommended:
F66 (Kollafjardarheidi)
This route lies between Kollafjördur bay (in the South Westfjords) and Isafjördur bay (in the North Westfjords). This route is about 25 kilometres long and will take you about 3 hours. This route can be seen as a bit of a challenge and you need to be prepared for a few stream crossings, but there's a good reason why it's got such a great reputation for lunar views.
F570 (Jökulshálsvegur)
This route runs between the north and the south of the Snæfellsnes Peninsula, between Olafsvik and Arnarstapi. This route is about 18 kilometres long and will take you about 2 hours. This one is also fairly challenging, mostly because of its steep incline. But this is exactly why you want to take this route. As one of the highest routes in Iceland, it offers absolutely breathtaking views from the top.
F575 (Eysteinsdalsleid)
This is definitely not a route for the faint-hearted and extra caution is advised. There's barely any phone signal and this is not a road that sees a lot of traffic (in regards to a possible rescue scenario). But boy, does this route offer some unique experiences!
This route takes you from Utnesvegur to Eyvindarhola Lava Cave, into the popular Snæfellsjökull National Park and behind the 700 000-year-old glacier topped volcano that the park was named after. As if that's already not enough motivation to start packing, the Snukkjufoss and Klukkufoss waterfalls are also visible from this road.
F735 (Pjófadalavegur)
This road is the very definition of the scenic route. This route goes from east to west and runs between Hveradallir hot springs and Pjófadalir. Even though there is a river crossing on this road it's usually very shallow and easy to navigate.
Travellers are rewarded with spectacular views all along this route which includes glaciers, mountains, and rivers. If you prefer to have your adventure with a side of civilization this is the route for you since you will find some facilities including a little café in Hveradallir.
F35 (Kjölur)
This is probably the most popular mountain route when it comes to the F-roads in Iceland. It runs from Geysir on the Golden Circle all the way through the middle of Iceland up to the North.
Into the wild side of Iceland
the Icelandic Highlands are a particular source of pride. F-roads grant access to this savage territory and let you feel like you're getting lost in the wilderness.Just remember to stay on the marked paths. Even though you might not see it, much of Iceland's flora is quite fragile.
Please respect nature when you're behind the wheel in the hills of Iceland. If you still have questions or feel a little uncertain about which vehicle to use or which route to take, don't hesitate to contact us.