The Land of Fire and Ice is rich in history that often becomes blurred by legend. The fact that Icelanders are considered to be one of the most creative nations in the world, simply adds to the architectural gems here on the island. Since the island officially converted to Christianity many centuries ago, it's also no surprise that many of these architectural gems are churches. Today, some of these churches in Iceland are still in use, whilst others have been turned into guesthouses or museums.
But whether you consider yourself to be a religious person or just someone with an appreciation for art and architecture, there are a few famous churches here on the island that is not to be missed:
Hallgrimskirkja
Hallgrimskirkja is the largest church in Iceland and can be found in the capital city of Reykjavik. This church is incredibly special to both locals and visitors for a variety of reasons. Firstly, Hallgrimskirkja might look familiar if you've ever visited Svartifoss Waterfall. That's because Svartifoss served as the architect, Gudjan Samuelsson's, inspiration.
Hallgrimskirkja has also been named after a famous poet and author here on the island, called Hallgrimur Petursson. This all makes Hallgrimskirkja a type of homage to Iceland with its heritage and natural wonders. It took a staggering 41 years to complete the construction of this architectural gem, and today, you don't just need to admire it from the outside. You can actually go up in the tower and enjoy breathtaking views across the capital and the rest of the island.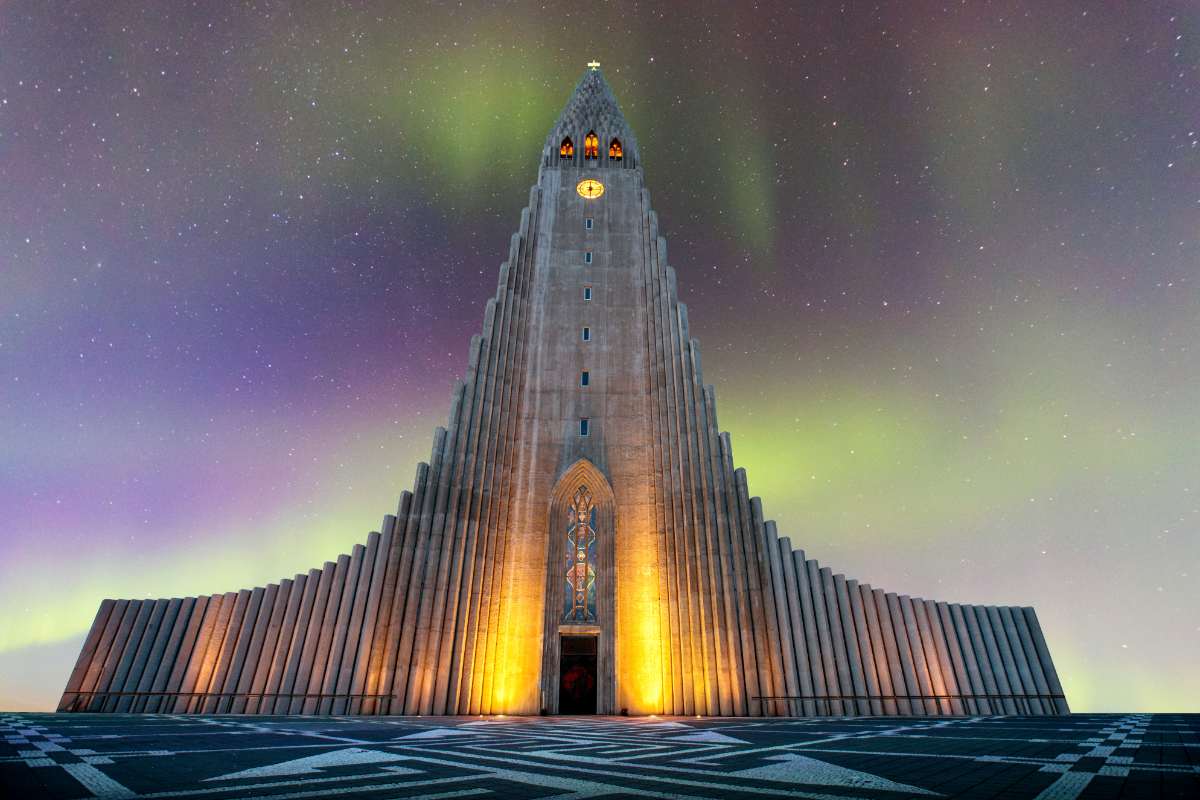 Heimaey Stave Church
Visiting Heimaey Stave Church makes for one interesting day outing. That's because of the location of this church; Heimaey Island in the Westman Islands. One can definitely draw parallels between Heimaey Stave Church and the Statue of Liberty in the US; both are standing proud on its island offshore and were a gift from another nation (also the reason why Heimaey Stave Church's architectural design is so unique).
In fact, the black church with its almost scale-like roof is a design that's rarely found outside of Norway (the country that gifted the church to Iceland in celebration of its 1000th year as a Christian nation). The church's unique design and interesting location make this a must-visit spot.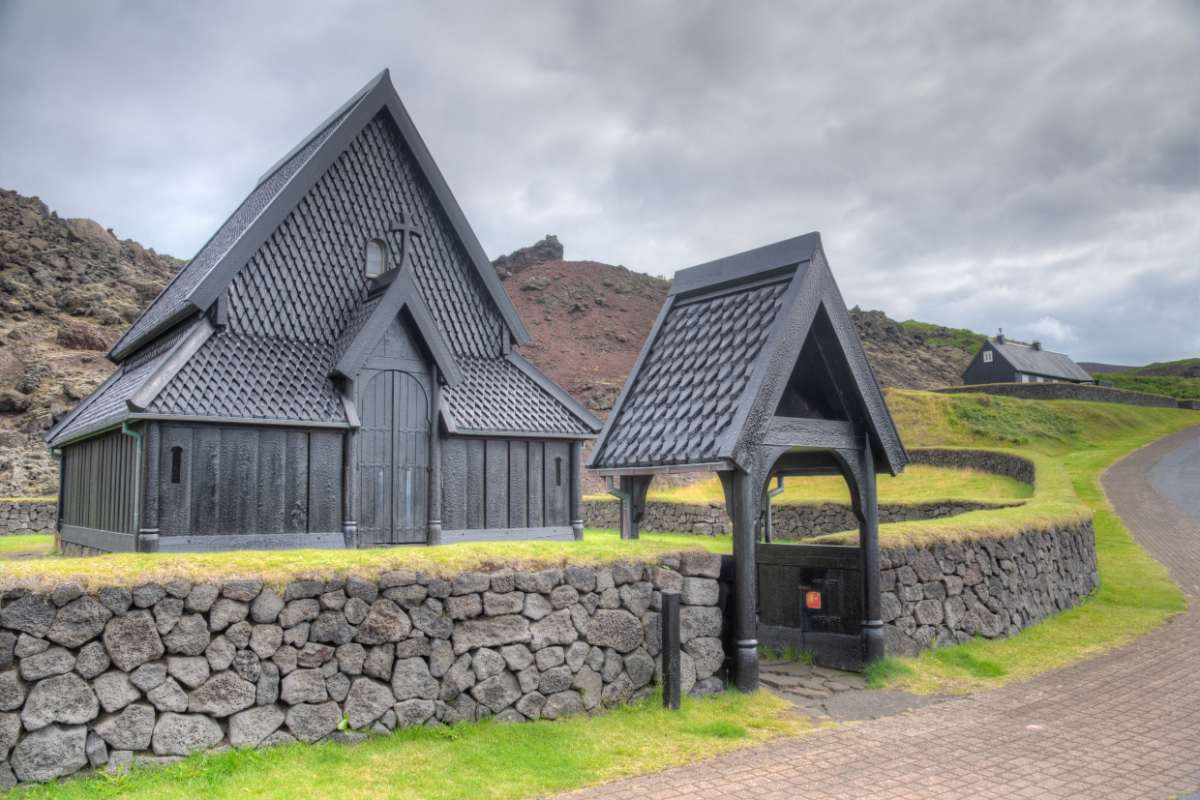 Budakirkja (aka the Black Church at Budir)
Budakirkja is a famous church here in Iceland, and one of the most photographed due to its unique aesthetic and location. Budakirkja can be found in the Snæfellsnes Peninsula, in the middle of a pretty vast and desolate lava field. These surroundings make this pitch-black church a favorite photographic subject. Especially on grey and overcast days, the site has a mysterious and ominous look to it that translates well in photos.
Budakirkja also has a pretty interesting origin story (if the legend is to be believed). It is said that a man was spun around in circles and handed three arrows to shoot. It was decided that the church would be built wherever the third arrow landed. Whether this is true or not, Budakirkja is all that remains of what was once a busy fishing village in the 19th century.
Kirkjubaer
This quaint little church with its white walls and bright blue roof, door, and windows have had quite a transformation since it was built in 1925. This famous church in Iceland is no longer a go-to spot for religious gatherings, but is now available for holiday rental. Sleeping in such a beautiful building with such a historic background is definitely a once-in-a-lifetime experience. So, if you ever find yourself in Stodvarfjördur in the east of the island, remember to book your stay at Kirkjubaer.
Arbæjarkirkja
Arbæjarkirkja is one of Iceland's most famous churches for very interesting reasons. Firstly, this incredible building was not just designed by an architect, but he also just so happened to be a famous politician here on the island called Jon Samsonarson.
Arbæjarkirja has also been one of our "busier" churches, having moved around the island quite substantially. Its original location was Skagafjördur till it was decided that the church needed an upgrade and this decision included a move to Arbær. Later, more restoration work was done and in the process, the church was moved to the Arbærsafn Museum in the capital city of Reykjavik in 1960.
View this post on Instagram
Husavikurkirkja (aka the Husavik Church)
Husavikurkirkja is another famous church in Iceland that is not just known for its design (which is the Schweitzer design style), but also its color. This church boasts a white exterior with a green roof and a brown door and windows, and is made from Norwegian wood.
Husavikurkirkja was consecrated in 1907 and is still an active parish today, even though it is open to the public to come and admire this beautiful building. What gives the church another edge is the fact that the church is located by the Husavik harbor. As Husavik is known as the whale capital of Iceland, it's not strange to actually spot one of these gentle giants from afar during a visit to Husavikurkirkja.
Akureyrarkirkja (aka the Akureyri Church)
Akureyri is known as the capital city of the north, and what makes this church so interesting is that it had the same creator as Hallgrimskirkja in Reykjavik; Gudjon Samuelsson. Once you know this little titbit, it's impossible not to see all the similarities between the sites. But what makes this one of Iceland's most famous churches is not the building itself, but the story behind its stained-glass windows.
During World War II, the Coventry Cathedral in the West Midlands of England feared that their beautiful stained-glass windows will be shattered by bombings. In an attempt to keep them safe, they were removed…never to be seen again. This was till stained-glass windows were purchased for Akureyrarkirkja only to find that they were the long-lost stained-glass windows of Coventry Cathedral!
Domkirkjan i Reykjavik
Domkirkjan i Reykjavik is still very much an active church in the capital city region. What makes this such a famous church in Iceland is not its neoclassical style, but the fact that it symbolizes the close connection between the traditions and laws in Iceland. This is why it is located next to the Icelandic Parliament House. A service is held at the church before every parliament opening.
Vik i Myrdal Church
Vik I Myrdal Church is a cute little church that offers some of the most jaw-dropping views you'll find here on the island. Situated on top of a hill overlooking the village of Vik I Myrdal, the mountains, and the ocean, this white church with its red roof quickly found its way onto the list of famous churches in Iceland. The fact that Vik i Myrdal is conveniently located close to the Ring Road makes this an easy stop on a road trip around the island.
Hvalsneskirkja
What gets Hvalsneskirkja on our list of famous churches in Iceland is its structure. Unlike most churches on the island that are built with wood, this church is built with stone, and the inside is decorated with wood that was essentially driftwood that washed ashore. Hvalsneskirkja was built between 1886 and 1887 and is one of the island's best-preserved churches.
Blaa Kirkjan (aka the Blue Church)
The name alone can already tell you that this is an interesting church to visit. But what makes the Blue Church one of the most Instagrammable moments in Iceland is the rainbow "road" leading to it.
This rainbow path was initially created to celebrate Pride, but people fell in love with it, and it has now become a constitution in Seydifjördur. This is also another one of Iceland's famous churches that is just a short drive off the Ring Road, making it the perfect road trip pitstop.
Grafarkirkja Turf Church
Grafarkirkja Turf Church is one of the oldest churches in Iceland. The church was built in the 17th century and once it fell into disrepair in the 1960s, the National Museum bought it and took it on as a restoration project. Today it's like being transported back in time since the church boasts many of its original features.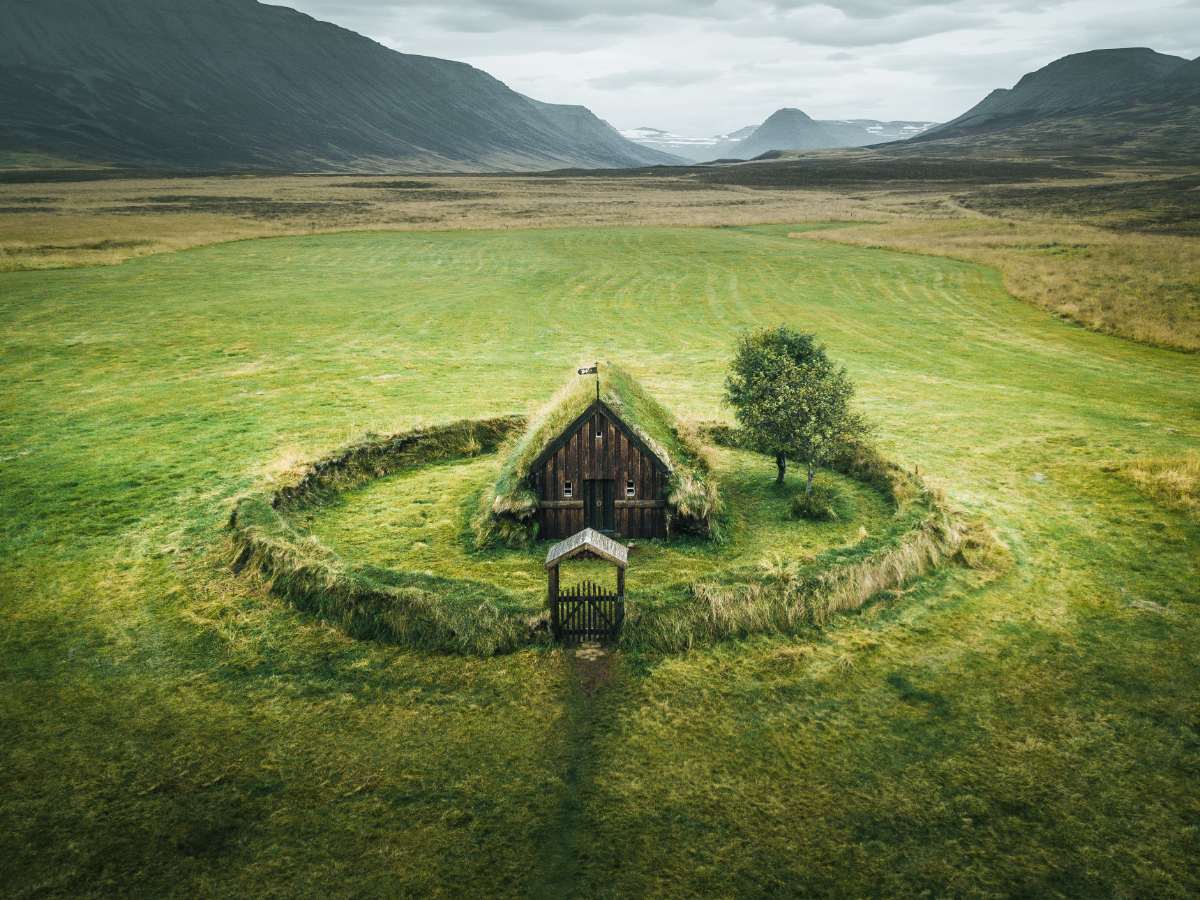 Vidimyrarkirkja Turf Church
Vidimyrarkirkja Turf Church can be found in the northern part of the island. Even though the current church structure was built in 1834, the clock tower is from the 15th century and mentions of a church on the site began as early as the 12th century.
Thingvallakirkja (aka the Thingvellir Church)
Thingvallakirkja can be found in one of Iceland's national parks; Thingvellir National Park. This is an incredibly picturesque church with its peaceful countryside feel, cream exterior, dark roof, and green decal.
Most of the time, this church is closed, but you will be able to join a free guided tour if you get there by 10 in the morning (just remember to double-check before heading out and being disappointed). This famous church in Iceland is located on the Golden Circle, yet another popular road trip route here on the island.
The Famous Churches in Iceland; a Must for Any Iceland Trip Itinerary
From impressive designs, and intriguing tales, to massive structures towering over the Icelandic landscape and popular photographic spots – our list of famous churches in Iceland is not to be missed. And with so many conveniently located next to the main roads and popular road trip routes, there is no better way than to rent a campervan in Iceland and make these churches stops along your road trip.