One of Iceland's most infamous myths relays the story of Porgeir Ljósvetningagodi who was one of the most powerful Chieftains of his time in Iceland. According to legend, he threw all of his Norse god idols into the waterfall.
He did so as a symbolic gesture of Iceland's official conversion to Christianity. Today, you can still visit this famous waterfall called Godafoss (which means "waterfall of the gods"). But with a dramatic "official conversion" such as this, it should come as no surprise that one can find plenty of churches in Iceland.
Icelanders are known as one of the most creative nations with an incredibly rich history. As a result, you will have incredible buildings across the country. They aren't only intriguing with their backgrounds and stories, but are also admired for their beautiful aesthetics. In this article, we will share a few of these famous churches for you to add to your itinerary during your next trip.
The 7 Most Famous Churches in Iceland
The following are our top picks when it comes to the must-visit churches in Iceland:
Hallgrimskirkja
Hallgrimskurkja is a church in the capital of Reykjavík. Although this church was only completed in 1986, it was already in the design phase since 1937. Have you seen the basalt columns that are so iconically Icelandic due to all the volcanic activity on the island? Well, they also served as the inspiration to architect, Gudjan Samuelsson, for the church's unique look.
This Lutheran church is now the largest church in Iceland (or, more technically, the tallest). Entrance to go and appreciate this architectural wonder is free. However, it will cost you roughly $6 to take the lift to the top to take in the breathtaking panoramic views.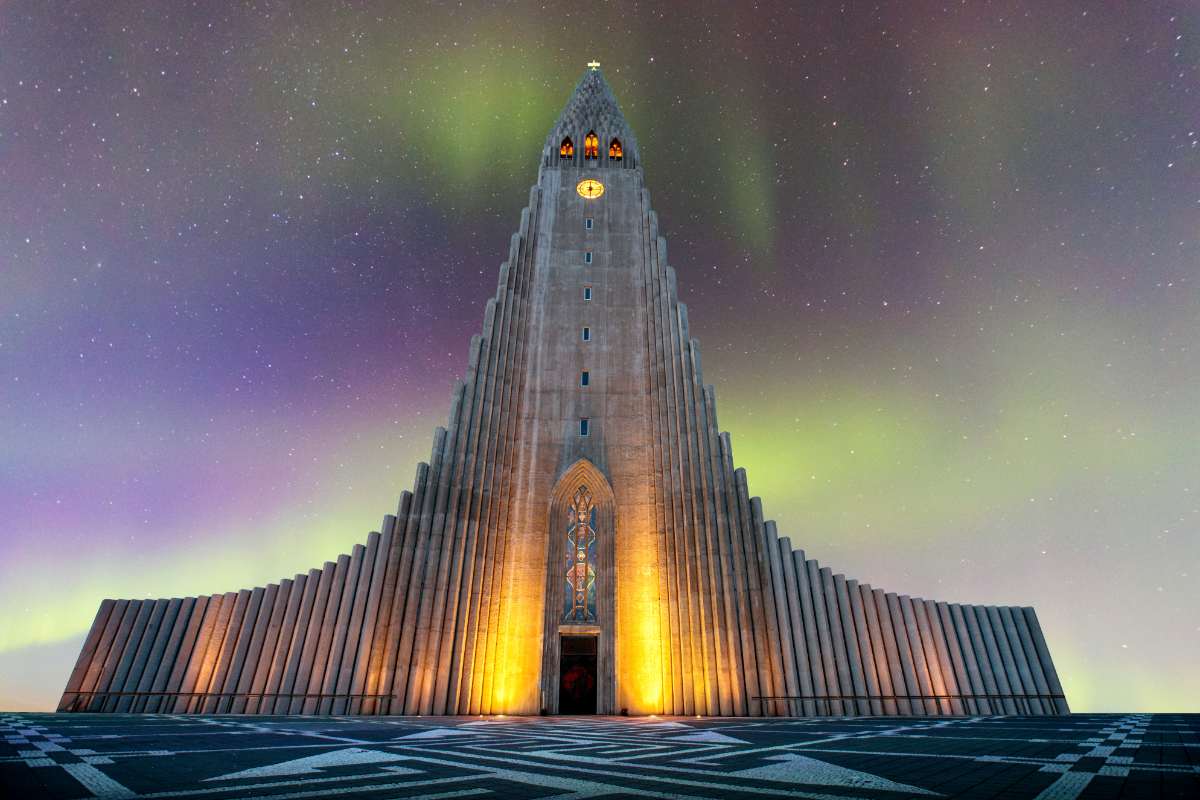 The Black Church of Budir
You will struggle to find a church more ominous and beautiful at the same time. That's probably why it's also such a popular photography spot. The Black Church with its vast landscape and mountain backdrop certainly is an impressive sight. But the story behind this abandoned black church's beginning is almost just as dramatic.
As the legend goes, a man was spun around in circles 'till he was properly dazed and confused and then asked to fire three arrows. The church was built on the spot the last arrow landed. It goes without saying that there is a serious "kids, do not try this at home" disclaimer here – whether for a building project or anything else.
Vikurkirkja
This cute little white church is not just a spiritual safe haven for the residents of Vik. Did you know it is also the emergency meeting spot should the volcano, Katla, ever start erupting? In fact, it is believed that this Icelandic famous church will be one of the few places that will survive any floods. These could be caused by the melting of Iceland's 4th largest glacier, Myrdalsjökull, if an eruption should ever occur. The church built in 1930 with its stained-glass windows also offers visitors a nice view over the town as well as the ocean.
Kirkjubær
Ok, so technically this cute little white church with its blue roof, door, and windows is no longer a church. Yet, that's what it was used for when it was built in 1925. The fact that Kirkjubær is no longer a church comes with its own benefits: forget about just stopping by and taking some pics - you can now sleep over! That's right, this little (ex) church in the small fishing village of Stödvarfjördur can now be rented as private accommodation.
Grafarkirkja
This famous church in Iceland is also its oldest. The church was originally built in 1888, but has since been restored in 1968 and 1996. It is said that the church was built based on a promise. A group of lost Icelandic sailors promised to build a place of worship wherever (but mostly if) they ever arrived at shore safely. If one looks at this little church it's easy to confuse it with a Hobbit house straight out of Tolkien's famous novel with its turf roof.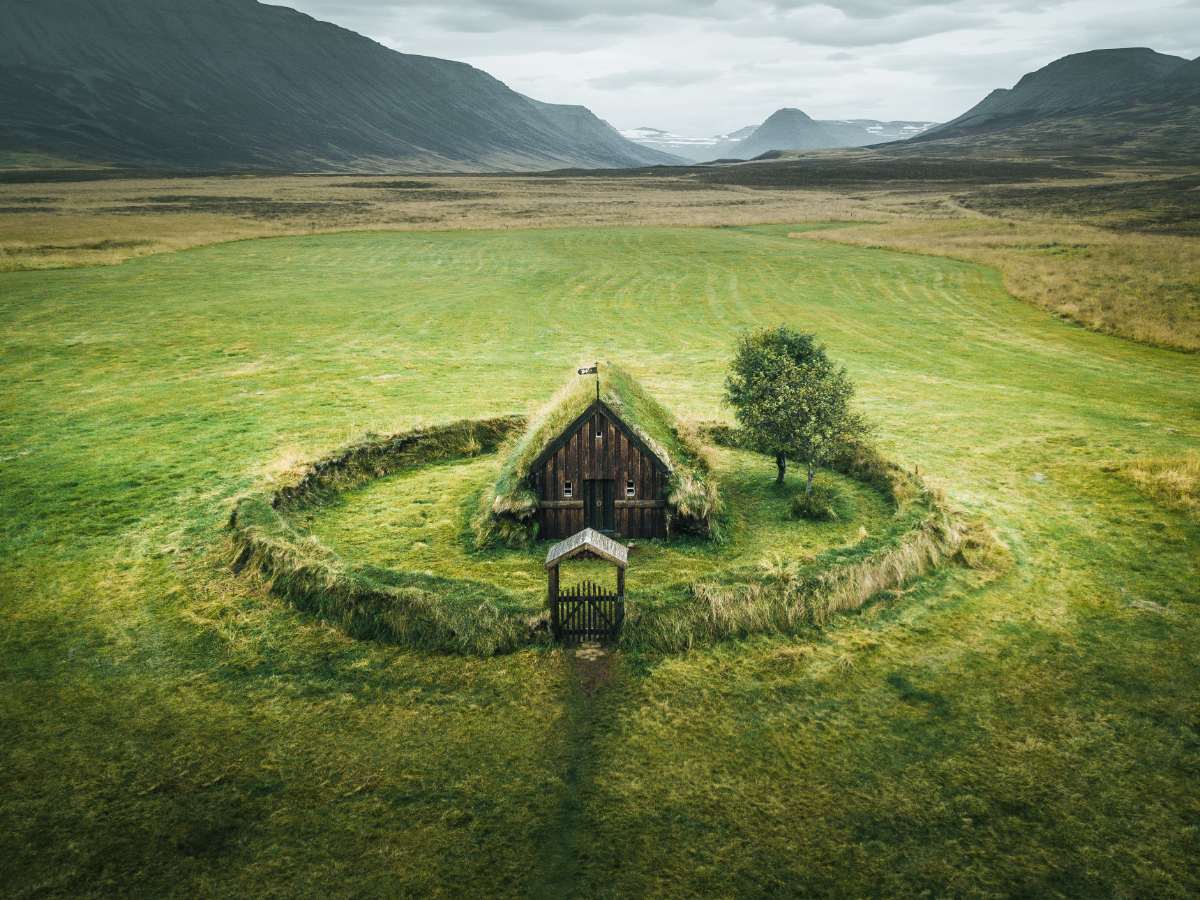 Heimaey Stave Church
The Americans got the Statue of Liberty and the Icelanders got the Heimaey Stave Church. The church was gifted to the island by the Norwegians upon its 1000th anniversary of becoming an officially Christian nation. The church was then placed in a spot in the Westman Islands that was recently created after a volcanic eruption. This church closely resembles the Haltdalen Stave Church in the harbor. With its black color and interesting texture, this striking Norwegian architectural style is easily recognizable.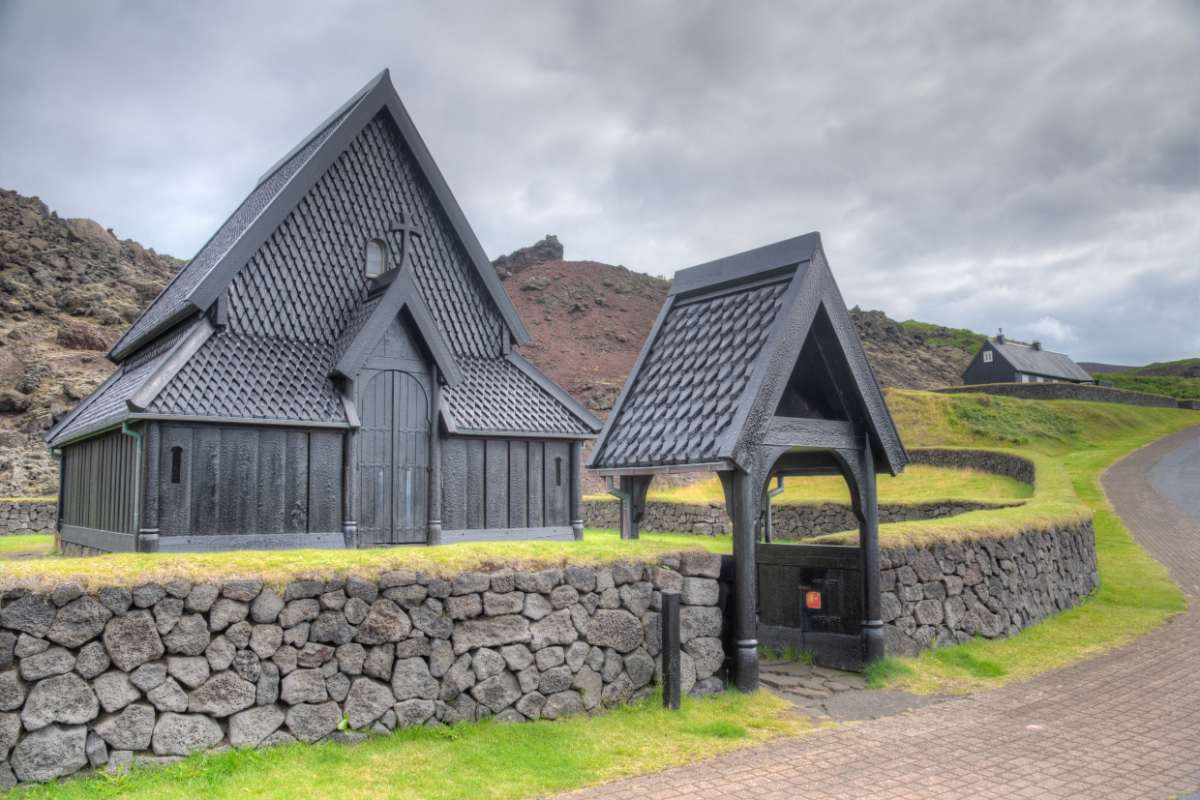 Husavik Church
Husavik Church aka Husavikurkirkja is also a famous church in Iceland. It is an incredibly interesting structure made from wood and painted in delightful white, green, and red. The church was built in 1907 by an Icelandic architect called Rögnvaldur Olafsson. And it's quite ironic that this little church made from Norwegian wood has such strong Swiss architectural elements to it. Today the church is still in use and funerals, baptisms, weddings, etc. are often seen being performed there.
The Reason for So Many Churches in Iceland
The reason why there are so many churches in Iceland is not only because the Icelanders were such a devout nation. The Iceland weather is renowned for its unpredictability and that has a huge impact in the society. There are certain regions (mostly rural Iceland) that don't even have proper road/roads. Thus, the only way to ensure that everyone would be able to attend church safely would be to build one as close to their homestead as possible. So, the number of churches in Iceland doesn't have so much to do with faith, but rather consideration.
A Budget-friendly Way to See the Churches in Iceland
If you intend to take a road trip across the island and want to add a few of these architectural stops to your itinerary, it might be a good idea to rent a campervan in Iceland. This will allow you not to be too bogged down by pre-booked accommodation. You won't have to be somewhere at a specific time, and it will save you a lot in terms of your accommodation budget.
Besides, if you're planning on staying over at Kirkjubær, you can simply park the camper there for the night before continuing on your adventure. Visiting the churches in Iceland also won't cost you a thing, so you can marvel at the structures free of any financial guilt. So, if you're ready for a jam-packed itinerary of stunning architectural designs and a budget-friendly trip, it's time to pack those bags!