The Golden Circle in Iceland is the most visited route in the country year in year out. That is due to the perfect combination of being accessible, adaptable, and full of cool things to see. And the fact that it's close to Reykjavík is also a big help, since you can drive the route in a day if you want to.
If you are in the mood to see most of what Iceland has to offer but are not in the mood to travel the entire country, the Golden Circle is for you. You can choose to have either a day trip or a multiple-day itinerary. Regardless of what you pick, the Golden Circle of Iceland contains all the different elements you can encounter around the island. Read on to find out which!
The Golden Circle in Iceland
The most popular route for visitors is the Golden Circle Route in Iceland. For a shorter holiday, or a self-drive trip, it is the perfect option. It provides you with all the essential elements of Iceland, and can be made into a short day tour or a week-long trip. This is one of the few routes in Iceland that will provide you with a good mix of Iceland's history, culture, and impressive nature.
Where is it?
The entire Golden Circle in Iceland is in the western part of Iceland. It stretches about as far into the highlands as you can go without having to drive a 4x4 vehicle. Arriving at Reykjavík, you will find the first stop of the Iceland Golden Circle roughly 47 kilometers to the east at Thingvellir.
How long is the Golden Circle in Iceland?
As with most trips, the Golden Circle route in Iceland is about as long as you make it. Now, distance-wise, it's going to be roughly 250-300 kilometers depending on what you want to see. That is if you count the road to and from Reykjavík, the complete route with all the stops included on the way.
If you only aim to do 2-3 stops for a day trip, you can cut it down to roughly 220 kilometers. If you focus on the "big three" (Thingvellir, Geysir, Gullfoss), you can count on spending roughly 3 hours of driving and then as much time as you want at the stops. That will unfortunately only take you on the northern part of the Golden Circle from Reykjavík. So, it will be less of a circle and more of a straight road.
The Golden Circle tour Iceland has will be a minimum of 3 days if you want to visit all attractions on the route. If you do it as a part of a campervan trip around Iceland, you can take as much time as you want. Spending a day hiking in Thingvellir or having an entire day in and around the hidden warm baths is strongly recommended. When you travel with your own campervan and don't have any booked accommodation to adhere to, your Golden Circle Iceland itinerary can take as long as you want it to take!
How to Get There
If you follow Road 36 northeast of Reykjavík for about 46 kilometers, you will arrive at Thingvellir National Park. This is usually the first attraction in the Golden Circle in Iceland and will clear the longest part of the route that doesn't have a stop in it. If you rather want to go the route counterclockwise, you can take Ring Road 1 southeast and turn left onto Road 35 just before Sellfoss. That way you will reach Kerid first, which will be 62 kilometers and take up to an hour depending on the road conditions.
Things to See at the Golden Circle
When driving the Golden Circle in Iceland, you will have the opportunity to see and experience some of the best things to do in Iceland. We have gathered some of the most popular and interesting stops below:
Thingvellir
One of the big three attractions where you will experience the history of Iceland. Thingvellir is where the world's oldest parliament was founded in the 930s. Viking chieftains in Iceland came here together to settle disputes, make connections and agreements, stipulate laws, and so on. It was moved to Reykjavík in the 1800s and has been there ever since.
Like many other areas in Iceland, Thingvellir was used as a shooting location for Game of Thrones.
Waterfalls
What is Iceland without a myriad of waterfalls? Along the Golden Circle in Iceland, you can come across many waterfalls not far from the route. We have gathered the five most common waterfalls to visit below. With Iceland's second-largest waterfall, Gullfoss, being one of the "big three" and the most visited waterfall.
Gullfoss
Faxi
Helgufoss
Thorufoss
Bruarfoss
Secret Lagoon
Taking a bath is nice but having a 40°C bath in a naturally occurring warm pool is even better. The well-known and not-so-secret lagoon is a great stop on the southern part of the route for a well-deserved relaxing bath after a tough journey. This is a fun stop if you're driving the Iceland Golden Circle in winter.
Skalholt
For the one interested in archaeology, history, and religion, this is the place to go. Skalholt used to be one of the most important places in Iceland in the Middle Ages. It became even more influential in 1550 when the last Icelandic catholic bishop got beheaded here with his two sons. From that moment onward, Iceland was considered protestant.
Slakki
Bringing the family along the Golden Circle in Iceland is always a good idea. You can even use the kids as an excuse to come pet cute goats at Slakki Petting Zoo! It's also a great stop to replenish some snacky supplies.
Sellfoss
Even though it sounds like a waterfall, it's far from one. Sellfoss is the center for trading and a meeting point for the southern part of Iceland, so you will be able to find a good restaurant or two as well as a place to sleep if you want to.
Reykjadalur
Another remarkable hot spring, but this time we go from a stationary spring to a slowly moving river. The Reykjadalur thermal river is a once-in-a-lifetime experience that puts a twist on the normal hot spring bath.
Gjabakkahellir cave
If you have ever wondered what a lava tube looks like, then Gjabakkahellir cave will be a good treat for you. It is in Thingvellir national park, so you can make that a part of your stop in the area.
Geysir
One of the "big three" on the Golden Circle in Iceland. Here you can see the massive Geysir, which gave name to all other geysers on earth. Nowadays, Geysir's little brother, Strokkur, is the one who keeps the show running with an eruption every 5-10 minutes. Geysir is way more laid back and only erupts occasionally, but in its prime, it often erupted and could have 170-meter-tall eruptions!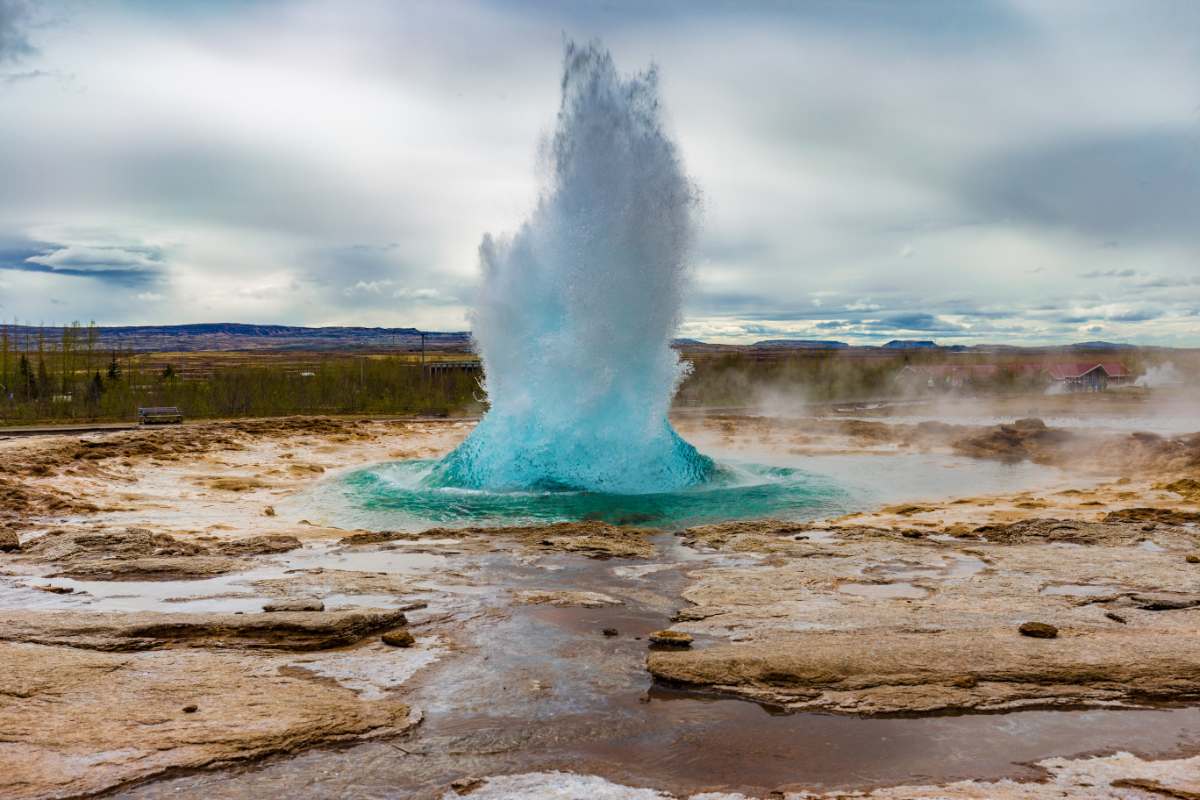 Kerid Crater
Visit a real volcanic crater without fearing lava.Kerid crater is believed to be a magma chamber that caved in after a volcanic eruption about 6,000 years ago. Now it's a beautiful milky, blue-green lake with some striking surrounding nature.
Fridheimar
The must-stop for the culinary curious companions! This giant greenhouse is specialized in tomatoes, cucumbers, and horse breeding, and provides its visitors with a great experience! If you go there in the summer, Fridheimar will have regular horse shows in up to 17 different languages.
Solheimar Eco-Village
Visit the oldest eco-village in Europe. For almost 100 years, this small village has lived as sustainably as possible with environmentally friendly architecture and sustainable teachings.
Tips for Your Iceland Golden Circle Route
Our top tips for the best possible trip around the Golden Circle in Iceland are as follows:
Plan your route: There are many places to be and many things to see, so make sure to plot out a route to follow before you get in your car.
Take your time: rushing through these spots is good for crossing them off a list, but not much else.
Keep an eye on the road and weather: Iceland is notorious for volatile weather and scruffy roads, so driving the Golden Circle in the Iceland winter might be an adventure.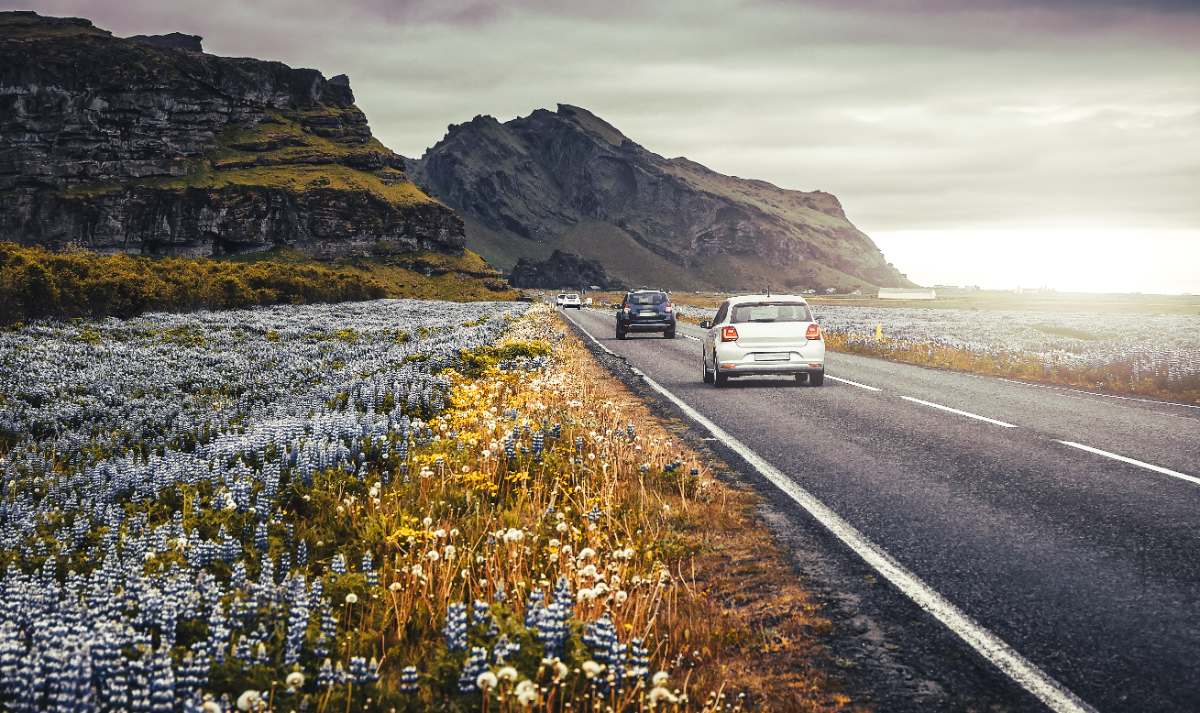 Golden Circle Driving Itinerary
For a day trip, you should visit the big three in this order:
Thingvellir
Gullfoss
Geysir
For a longer trip of more than 2 days, we recommend the following stops in this order:
Helgufoss
Thingvellir
Gjabakkahellir Cave
Laugarvatn
Bruarfoss
Geysir
Gullfoss
Secret Lagoon
Fridheimar
Slakki Petting Zoo
Kerid Crater
Reykjadalur
You can also check our detailed itineraries for further inspiration:
Obviously, you can pick and choose how you'd like to have your trip, but we suggest you rent a campervan. You can also use one of our itineraries to maximize your experience of the Golden Circle in Iceland!