Iceland has over 10,000 waterfalls, so you'll have your pick of these cascading water shows all across the country. But there are a few that should make it to the top of your to-do list, one of which is Gljúfrabúi Waterfall.
In this article, we tell you exactly what makes Gljúfrabúi so special, how the falls came to be, how to get there, and much, much more. So, if you've got an upcoming trip to the island or just want to learn more about Gljúfrabúi - this article is for you.
What Makes Gljúfrabúi Waterfall so Special?
Gljúfrabúi Waterfall is often a happy accident. Since it's located so conveniently close to Seljalandsfoss (they are about 150 meters apart), many visitors "stumble" upon the falls rather than specifically have it on their trip itinerary.
But this waterfall definitely has an air of hidden marvel to it. Hidden away in a narrow canyon, kept away from prying eyes with green moss-covered cliffs almost wrapping themselves around the falls, Gljúfrabúi plummets 40 meters down into a small pool. It is then that you realize how accurate its name really is - Gljúfrabúi means 'canyon dweller'.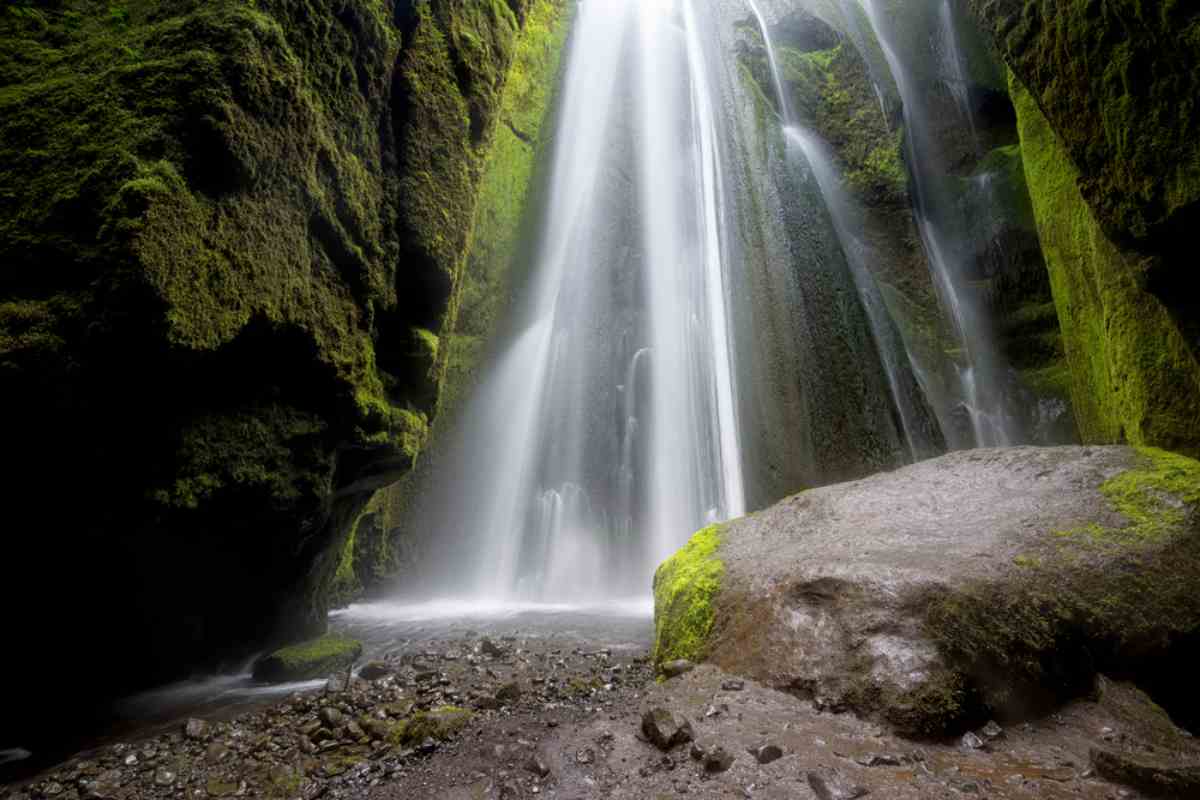 How Was Gljúfrabúi Falls Formed?
Like most waterfalls in Iceland, Gljúfrabúi is the result of thousands of years of volcanic eruptions and glacial floods, shaping the Land of Fire and Ice into what we see today. The water tumbling down the cliffs at Gljúfrabúi is from the Gljufura River.
Where is Gljúfrabúi Waterfall in Iceland?
Gljúfrabúi lies 150 meters away from the famous Seljalandsfoss Waterfall in the south of Iceland. It is a very convenient stop to have on a road trip around the island since the falls can be found just off the popular Ring Road route.
How to Get to Gljúfrabúi Waterfall?
As it goes with most hidden gems, Gljúfrabúi Waterfall is a bit off the beaten track. And your journey will begin with the Gljúfrabúi hike that starts at Seljalandsfoss Waterfall.
Whilst we don't recommend that you take this walk on with the elderly or small children, it's generally not considered to be a very difficult walk, and it shouldn't take you more than 10 minutes. But to get to the Gljúfrabúi hike path at Seljalandsfoss, you need to reach Seljalandsfoss first, and this can be done in any of the following ways:
Visiting as Part of a Group Tour
You will find plenty of tour operators who offer trips to Seljalandsfoss. This can range from multi-day holiday package tours that have the falls as a stop on their itinerary to day tours. Most day tours will depart from the capital city of Reykjavik. Just keep in mind that these tours can get pretty expensive, and you won't have much say when it comes to your schedule.
Take the Bus
There are a few ways to get to Seljalandsfoss Waterfall via bus. The simplest and quickest way is probably catching the bus from Reykjavik Campsite. This bus runs the route twice a day and will take you just over 2 hours. Just keep in mind that if you choose this mode of transport, you'll need to be on top of your timing, since missing the bus will leave you stranded. 
Drive Yourself
This is by far the easiest way to get to the waterfall and allows you to stay in full control of your time and itinerary. Gljúfrabúi Waterfall is one of the few attractions on the island that's quite easy to squeeze in as a day outing since the drive to the falls is just over 1.5 hours.
If you want to opt for a budget-friendly Iceland adventure and take care of both your transport and accommodation all in one go, then rent a campervan in Iceland. This way, you'll be able to road trip around the island and go camping in comfort, irrespective of season. And if Gljúfrabúi Waterfall is on your trip itinerary, you can kickstart your campervan road trip from Reykjavik Campsite.
Since the Seljalandsfoss Waterfall parking lot is just off the Ring Road, you just need to drive for roughly 1.5 hours from the capital city before turning left on Road 249, which will take you straight to the falls. If you are coming from the side of Vik, the drive will take you roughly 45 minutes.
When is the Best Time to Visit Gljúfrabúi Waterfall in Iceland?
The best time is the summer season. Whilst both Seljalandsfoss and Gljúfrabúi Waterfall are open to the public all year round, and it promises to be a magical experience irrespective of season, you might need to think twice about visiting the falls during the extreme winter months. This is merely because of the hike and the potential safety risks the snow and ice pose on the trail.
Best Things to Do Near Gljúfrabúi Waterfall
Gljúfrabúi and Seljalandsfoss Waterfall are not the only interesting things that can be found in the area. The following can also be added to your itinerary (just keep the number of available daylight hours in mind when doing so):
Skogafoss
Eyjafjallajokull
Reynisfjara Black Sand Beach
Dyrholaey Rock Formation
Solheimasandur Plane Wreck
Where to Stay Near Gljúfrabúi Waterfall
If you fear that you won't have enough time to do and see everything the area has to offer, it's always a good idea to sleep over and do some more exploring the next day. If this seems like a good option, the following accommodation comes highly recommended:
Gljúfrabúi; So Much More Than Just the Bonus Falls at Seljalandsfoss Waterfall
Although Gljúfrabúi Waterfall is often the waterfall that is discovered by accident when visiting Seljalandsfoss, it should definitely not be thought of as a "lesser than" waterfall here on the island. In fact, Gljúfrabúi has been described as one of the most picturesque waterfalls in Iceland!
So, if you've rented a campervan in Iceland to go on a Ring Road road trip around the island, be sure to make that 150-meter added effort at Seljalandsfoss and experience one of the most treasured hidden gems Iceland has to offer.