If you are up for some Puffin scouting, Iceland should be your first stop. In this guide, we discuss when the best time to go on your trip is and where to spot some of the biggest colonies of Puffins Iceland has to offer.
Remember Hans from the Madagascar movies? Well, did you know that that bird with the colorful beak makes its home in Iceland? In fact, more than half of the world's population of Puffins come to Iceland each year to breed. That's approximately 8-10 million Puffins! It's no wonder that animal lovers across the globe flock (pun intended) to Iceland to view these amazing birds.
Interesting Puffins Iceland Facts
Many don't know how truly fascinating these feathery Icelandic friends are. Here are a few interesting facts worth knowing:
Because of the odd way they look and walk and their colorful beaks, they have been nicknamed the "clowns of the sea"

Their appearance changes throughout the year, even their beaks change shape and color.

They quite literally spend up to 8 months of each year out on the ocean, just resting on the waves.

The only thing cuter than a baby Puffin is what you call a baby Puffin – a Puffling.

A Puffin female only has one Puffling in a year.

Puffins are notoriously monogamous. It's not strange to find Puffin couples of 20+ years.

Male and female Puffins make the best co-parents, with both sharing parental responsibilities and taking turns incubating the eggs.

A Puffling takes only 6 weeks from being hatched to being completely self-sufficient.

Puffins are incredible physical specimens! They can dive to depths of 60 meters, fly at a speed of 88 km/hr, and flap their wings a whopping 400 times per minute.

Puffins have quite a long lifespan with the average being between 20-25 years, but the oldest Puffin ever recorded died at 38.
When Can You See Puffins Iceland?
Puffin season Iceland is during the summer months which is from May to mid-August. But they can be spotted as early as late April already and 'till as late as early September. Those who want to go Puffin watching Iceland can make use of the various Puffin tours Iceland has to offer.
Unfortunately, Puffins are known to be most active in the evenings, so technically that would be the best time to see Puffins in Iceland. But the majority of tours are not going to take you out to see Puffins in Iceland at such a late hour. But rest assured, with half the world population making Iceland their home during this time, you're bound to spot a few no matter the time of day. Definitely, one of the coolest things to do in Iceland!
Where Can You See Puffins Iceland?
There are plenty of spots to view the Puffins in and around Iceland. Here are some of the recommended spots:
Akurey & Lundey
Each of these is also called the Puffin island Iceland and is situated only a couple of minutes from the city centre of Reykjavik (by boat ride, mind you). These islands house many Puffin colonies during the summer months so you are guaranteed to see them. Not only that but you'll also be treated to many other bird species such as Arctic Terns, Cormorants, Northern Fulmars, and many more. Undeniably, one of the best things to do in Iceland in Summer.
Vestmannaeyjar
Here you can find Iceland's largest Puffin colony. Vestmannaeyjar is situated in the Westman Islands and consists of 15 small islands that are referred to as Heimaey (Home Island). You will need to take a flight from Reykjavik to reach the Westman Islands or you can opt for the ferries from Landeyjahöfn.
This is also where Puffins and humans probably live in the most co-existing way in the entire world. To say that the Puffins co-exist quite close to the inhabitants on these islands would be an understatement. But it's during August and September that these worlds really collide. This is the period that the Pufflings are supposed to become independent and so the parents start leaving them to their own devices.
But in true child form, these little ones are inquisitive and they are lured in by the city lights. That is why these small birds are often found wandering in the gardens of homes or even the city streets. Local children have been assigned the role of caretaker during this time. They are allowed to stay up late, patrol the streets and collect these wandering, lost souls so they can be returned to the wild.
Ingólfshöfdi Nature Reserve
This is an interesting place on Iceland's south coast to go on a Puffin spotting tour. Not only is it a good Puffin spot, but it's also the historic place of the first settlers. It is an isolated spot marked by black sand dunes on one side and the ocean on the other. We highly recommend this spot if you're not a fan of all the summer visitors. This is probably the one place you can do your Puffin viewing in peace and quiet during peak season.
Skrúdur Island
This island in the Eastfjords has a population of 0 (unless you count all the bird species, of course). In fact, you can view over 18 different species of birds including 150 000 Puffins.
The reason why so many birds flock to this island is because of the shelter it offers in the form of the other impressive natural wonder one can view on the island – the largest cave in East Iceland called Skrúdshellir cave. It's also one of the few places you'll see Puffins nest directly on the ground inside the cave instead of making their usual burrows.
Borgarfjördur Eystri
Another place perceived to be the best place to see Puffins in Iceland is Borgarfjördur which boasts approximately 20 bird species in one spot! And you can view them all from a special hideaway made exactly for this purpose.
We think one of the reasons it is perceived as one of the best Puffin viewing spots is because it's definitely the easiest to reach when it comes to accessibility and it's definitely the safest (but it does take quite a drive to get there). There's no meandering on cliffs or risking falling into burrows with beautiful walkways taking you to and from the hideaway.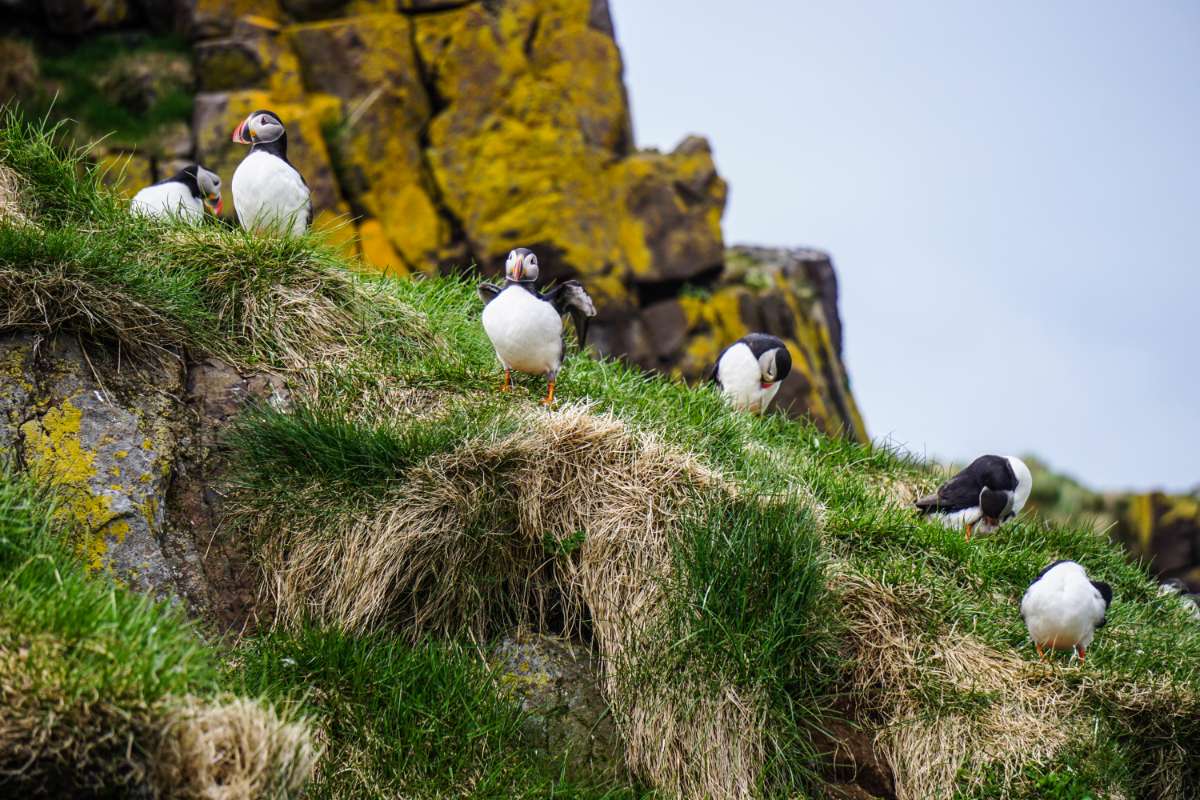 Látrabjarg Cliffs
Puffin spotting in Latrabjarg Iceland is not for the faint of heart. The cliffs here can go up to 441 meters in height and is home to various bird species including the Puffins. If you are a big animal lover, you might want to go Puffin viewing a little earlier in the nesting season as late-season can become quite nerve-wracking.
When Pufflings reach an age of independence, they launch themselves from the cliff into the ocean, with neither themselves nor the viewer knowing whether they'll land safely.
Helpful Tips When Going Puffins Iceland Spotting
Puffins Iceland rarely shows a natural fear towards humans, so it can be very easy to come pretty close to these cuties. But before the temptation to reach out and touch them overwhelms you, you need to know that your touch can seriously harm these birds. Their feathers have special properties that disperse water. Your touch essentially nullifies that characteristic.
Also please do not follow the Puffins around on the cliff edges. It may appear to be sturdy ground, but Puffins burrow. What may appear to be sturdy ground could, in fact, be mostly hollow and easily give way underneath your feet.
If you are viewing the Puffins as part of a tour group, please ensure that you strictly follow the advice and instructions of your tour guide.
Follow the Puffin!
Why not take your Puffin spotting to the next level and do a proper Puffin road trip? To make life even easier during the busy summer months, why not opt for a campervan? Not only will you be able to take your home with you wherever you go, but you'll be able to travel to all our recommended Puffin spots!