Iceland is renowned for its magnificent waterfalls. And whilst we have over 10 000 that you can visit, we definitely have a few that you simply can't miss out on during a trip to the island. One of these is Godafoss Waterfall.
In this article, we'll tell you exactly what makes this waterfall so special, how to get there, and what to expect from your visit to the falls.
History of Goðafoss
In Iceland, history tends to mix with local legend, so there will always be a certain element of mystique surrounding some of its famous events. One of these events occurred at Godafoss, and is, in fact, the reason why it is called Godafoss in the first place. Godafoss translates to 'waterfall of the gods'.
According to legend, the lawspeaker in 1000 AD was faced with a big conundrum; the country was caught between the traditional Norse Gods and the growing Christianity. After discussions were held at Pingvellir, the fate of the official faith of the country was passed to Porgeir Ljosvetningagodi the lawspeaker (or Asatru priest aka godi).
He prayed earnestly for an entire day and night, and he finally resolved that the country would officially convert to Christianity, although traditional Norse Gods could still be worshipped in private. As a symbol of this official conversion, he took all his Norse God idols and threw them into the waterfall that we now refer to as Godafoss.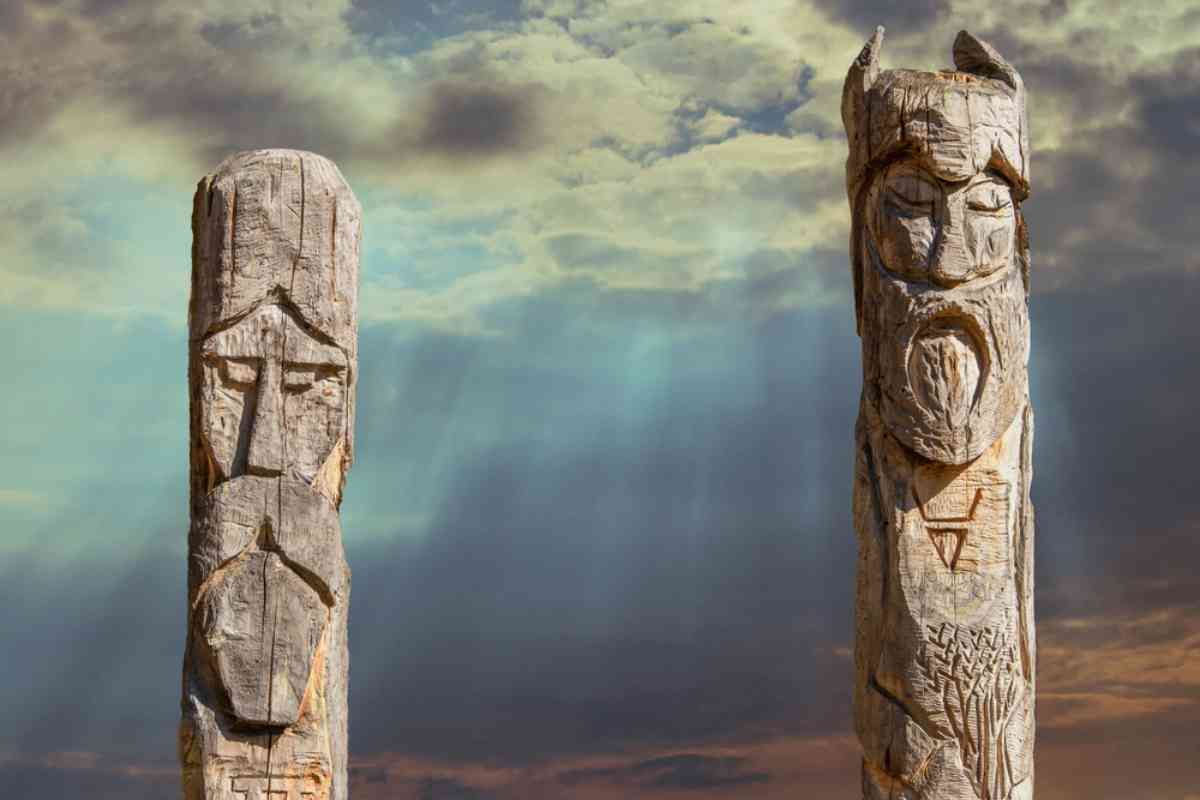 Where is Goðafoss in Iceland?
Godafoss Falls can be found in north Iceland, and is conveniently situated along some of the most popular road trip routes on the island; the Ring Road and the Diamond Circle. That's why most add Godafoss as a stop on their road trip itinerary.
If you are thinking of rather taking it on as a day outing, we highly recommend that you do it from Akureyri (known as the capital city of the north) or Myvatn which are only a 30-minute drive away from Godafoss. It is definitely not a day outing you can take on from Reykjavík.
How to get to Goðafoss
There are three options when it comes to visiting Godafoss:
Going on a Guided Tour
There are many tours on the island that have Godafoss as a stop or destination. These tours can range from day tours to multi-day holiday packages that also include other attractions on the island.
For example, some tours give you the opportunity to see the Northern Lights at Godafoss. The tours mostly depart from the bigger cities on the island, such as Reykjavík and Akureyri. Just remember to book your spot well in advance if you are planning on visiting during our peak season summer months here in Iceland.
Taking a Bus
If you are coming from Akureyri or Myvatn, you can simply hop on Bus 56, which has Godafoss as one of its stops.
Driving Yourself
This will always be the best way to travel, in our opinion, since you'll always be in full control of your time and schedule. This will also allow you to take on one of those road trip routes we were talking about earlier. If you are doing a road trip from Reykjavík, you will take the Ring Road north.
A drive from Reykjavík to Godafoss is a 6-hour trip, so we suggest that you plan this outing as a stop on your second or third day of road tripping. Driving from Akureyri is incredibly easy and as we've already mentioned, takes about half an hour. Just get on the Ring Road, but drive east instead of north. There are very clear signs along the Ring Road marking the turnoffs to the falls.

Visiting Goðafoss Waterfall
Visiting Godafoss Waterfall is quite the experience. Here are a few things to know to prepare you for your trip:
Godafoss Waterfall Facts
Godafoss Waterfall is in the shape of a horseshoe and is 12 meters tall and 30 meters wide.

Godafoss's water originates from the Skjalfandafljot River, which is the fourth-longest river in Iceland.

You can view the falls from the west or the east side. Just keep in mind that because the falls are closest to the parking lot on the west side, most visitors tend to go there. So, if you want to avoid the crowds, the east side is going to be your best bet. The east side also allows you to get the closest to the waterfall (just remember your waterproof clothing and gear).

Plan your trip in such a way that you pack snacks for the falls, but have your bigger meals at Akureyri or Myvatn where you will find top-notch restaurants with all sorts of Icelandic cuisine.
When to Visit Godafoss
Godafoss Waterfall is open all year round, and each season brings its own unique experience. During the warmer seasons you get to experience the immense power of the rushing falls over the cliffs with the majestic landscape a lush green.
During the colder seasons, the waterfall seems to be frozen in time in places with long icy tentacles dangling over the cliffs and the landscape is draped in a thick blanket of snow. The only thing to consider during the colder months is that the weather and road conditions can be quite challenging in the north of Iceland, so you'll need to keep a close eye on the Icelandic weather forecast and the Icelandic road conditions.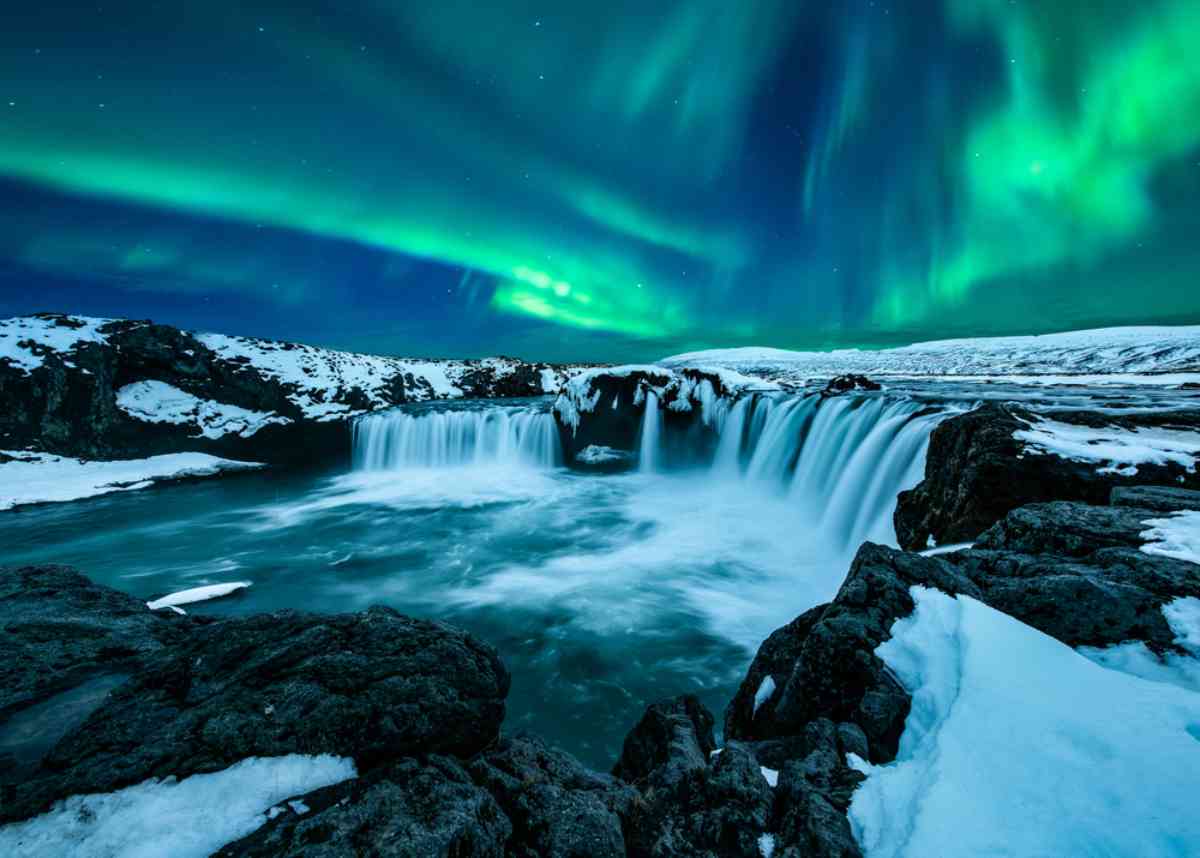 Other Waterfalls Nearby
If you're visiting Godafoss, we highly recommend that you pop by the following waterfalls that can also be found in the surrounding area:
Geitafoss

Aldeyjarfoss

Hrafnabjargafoss
Visiting the Waterfall of the Gods in Iceland is a Must!
It's hard to describe what visiting Godafoss is like. The sheer size of the falls, the power of the water that actually brings a type of vibration with it, the mist and spray that can completely drench you if you don't come prepared, not to mention the incredible views of the surrounding landscape.
The only way to truly understand the magnitude of visiting the falls is by experiencing it for yourself. And now that you have Godafoss Waterfall's location, know how to get there, and what to expect, there's no reason why you can't start planning your visit. If you are planning on making the falls a stop along your road trip, we highly recommend that you rent a campervan in Iceland.
This way you'll take care of both transport and accommodation, as well as dramatically cut down on accommodation costs, all whilst living in extreme comfort. Why not book a spot for your camper at Guesthouse Fossholl? This way you can go camping in style, a mere 500 meters across from Godafoss! So what are you waiting for? Plan that trip, pack those bags, and come and collect memories that will last a lifetime.