We strongly believe that the best way to truly explore and experience the island is via a road trip. There are five different popular routes when it comes to taking on such an endeavor, one of which is the Diamond Circle in Iceland.
In this article, we'll take you through the outline of the route, a few tips as well as the must-visit stops along the way.
What & Where is the Diamond Circle in Iceland?
As we've already touched on, the Diamond Circle in Iceland is a popular self-drive route. The route is a 250 km long loop and takes you on an exciting discovery of the northeast of the island. If you would like to add the Diamond Circle route in Iceland to your trip itinerary, we recommend that you give it a go after visiting Akureyri. This is the so-called "capital of the north" and is just 30 km from the route.
But that doesn't mean that the Diamond Circle is only accessible via Akureyri. If you're coming from Reykjavík's side, it'll take you roughly 140 km to reach the Diamond Circle road. For the sake of this article, our focus will be as if you've decided to take the Diamond Circle tour from Akureyri. There are guided Diamond Circle group tours that depart from Akureyri that you can check out. Although, we will always promote a self-drive trip!
These tours can range anything from 10-15 hours and, as you might've already expected, leaves you with very limited time at all the stops. Also, in group settings such as this, you have no say in which attractions or activities you wish to stop or for how long.
How Long does it Take to Drive the Diamond Circle?
When driving the route and wanting to prove a point, one can actually complete the entire route non-stop in just 4 hours. Now, we highly recommend that you take a look at an Iceland Diamond Circle map and plan to sleep over at least 1-2 nights along the way. Do give yourself adequate time to truly experience the route and all it has to offer.
Best Attractions Along the Diamond Circle in Iceland
To give you an idea of some of the exciting sights and activities you can expect without even having to check your Diamond Circle Iceland map, take a look below:
Godafoss Waterfall
Godafoss waterfall directly translates to "waterfall of the gods". The legend says the most powerful chieftains of the time threw away all his Nordic god idols as a symbol of the country's conversion to Christianity. Whether the legend is really true remains to be proven, but this powerful waterfall, which is the 4th largest in Iceland, certainly has a godly presence about it.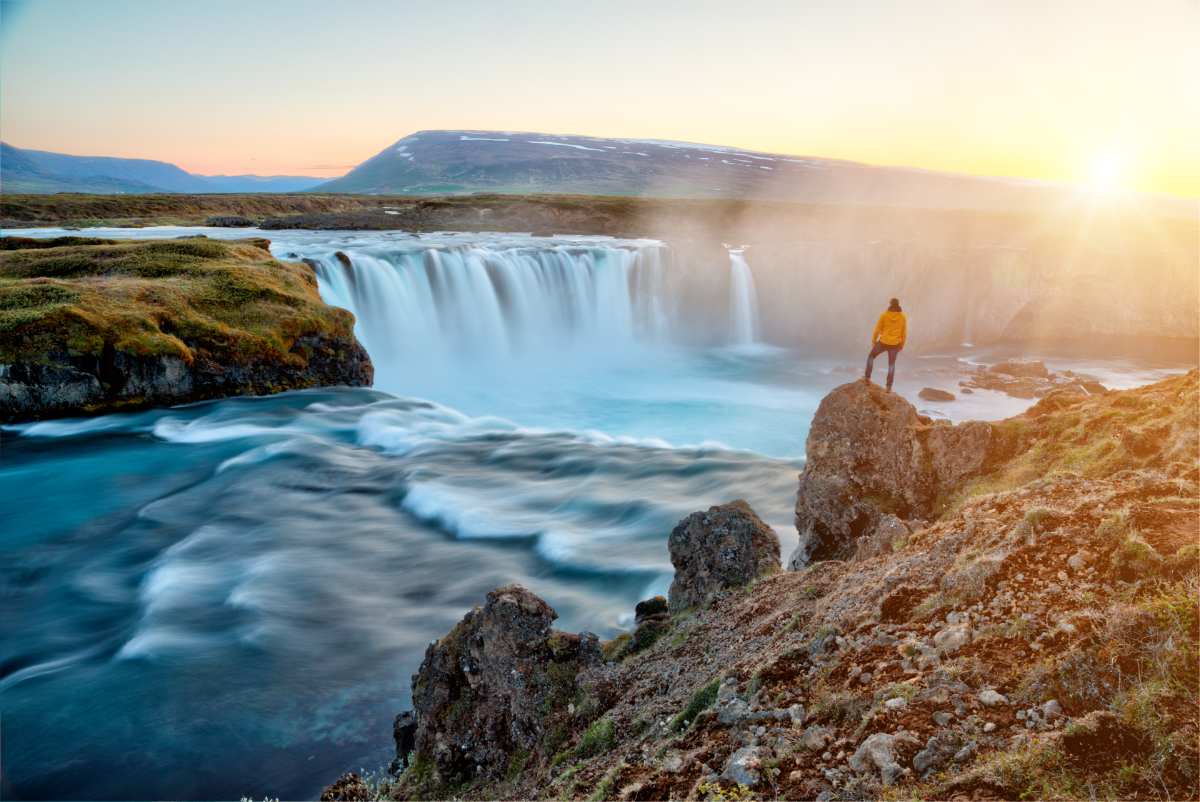 Husavik Whale Watching
Husavik is known worldwide as the whale capital of Iceland. If you are visiting the island between April and September, there is no way that you can visit the town without going on a whale watching tour. This is because, even though whales can be seen in Iceland all year round, you have migratory species that come to the island during those months. You can then be treated to sightings of Blue whales, Sperm whales, Orcas, Humpback whales and plenty more.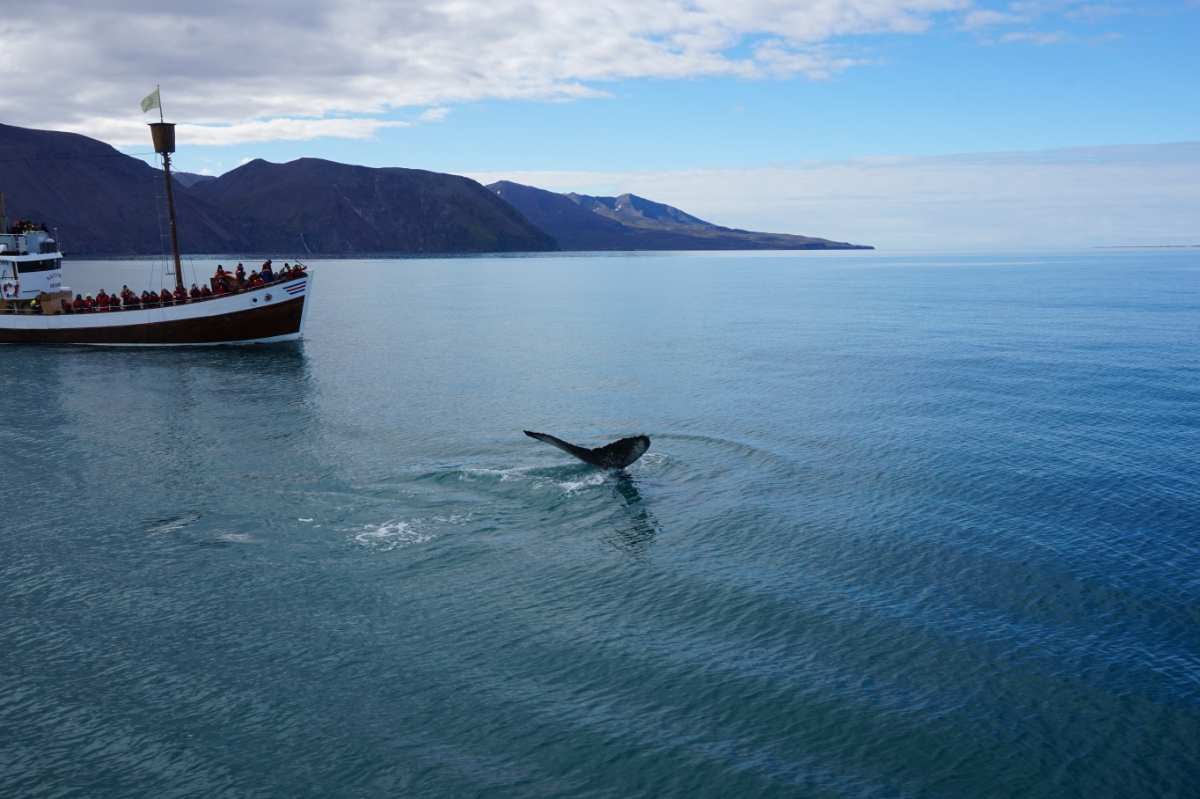 Puffin Spotting at Tjörnes Peninsula
The cliffs at Tjörnes Peninsula are a bird-watchers paradise for most of the year. However, a special treat awaits those visiting the island between May and August. During these months, you'll be able to spot the Iceland Puffins or "clowns of the sea" as these odd little birds with their colorful beaks are fondly referred to. To reach the cliffs, you'll need to drive to Tjörnes lighthouse and then take a hike via one of the trails to the cliffs.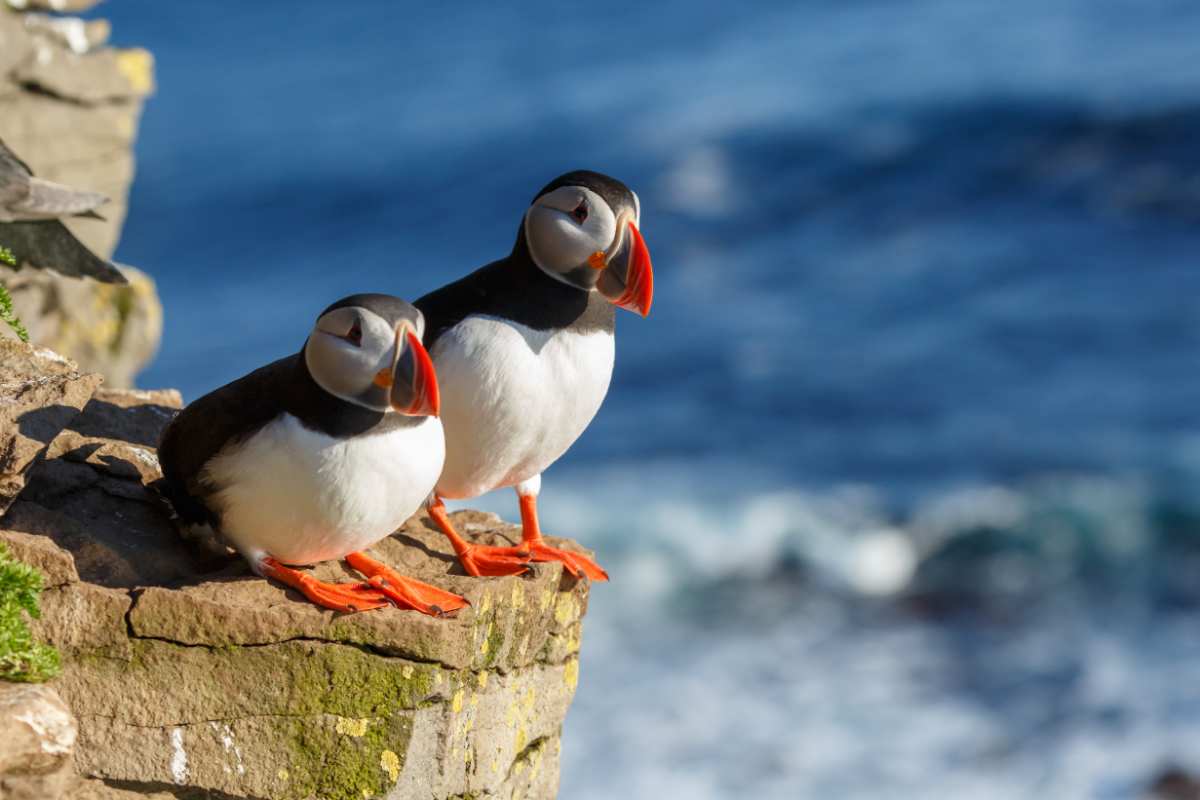 Hiljódaklettar Echo Rocks
Iceland with all its volcanic activity is known for its beautiful basalt columns, but what you'll find at Hiljódaklettar is quite unique. These rocks are angled in all kinds of ways, and this actually creates pretty strange echoes. Hiljódaklettar also has some other rock formations up its sleeve, so be sure to check these out as well whilst you're there.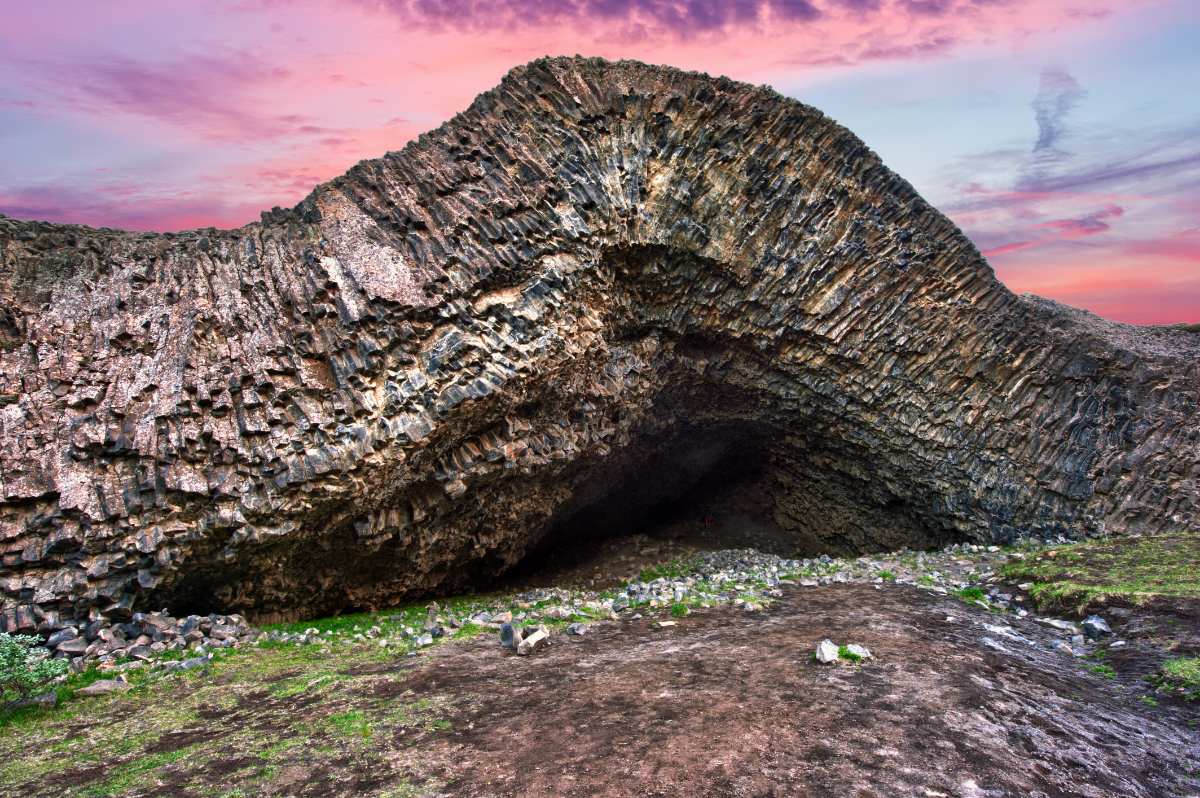 Lake Myvatn
Lake Myvatn is the 4th largest lake in Iceland. Except for the beauty of the surroundings, Myvatn Nature Baths is just a short hop skip and a jump away where you can lounge around in the warm healing waters of one of Iceland's natural hot springs.
Helpful Tips for Driving the Diamond Circle Route in Iceland
If it's going to be your first time driving the Diamond Circle in Iceland, here are a few helpful tips:
Do not have any expectations regarding public transport. This region is not Reykjavík. You will either need your own transport or settle for a guided group tour.
When you are visiting in winter, do yourself the favor, just give the rest of the cars a skip and immediately go for the 4x4 rental. And for those of you wondering; yes, there are campervans and motorhomes with this feature.
If you do decide to visit the island during the wintertime, please don't leave your bathing suit at home thinking you won't use it. There are many hot springs all along the Diamond Circle route. You do not want to miss out on sitting in the heat staring at a blanket of snow that's wrapped itself over the landscape.
Always adhere to the speed limits (which are often entirely different than where you're from). There are certain places in Iceland where you are not even allowed to drive more than 30 km/h. Be aware that the country does not look kindly on anyone breaking the rules of the road.
A 3-Day Diamond Circle Iceland Itinerary
Without going into too much detail and limiting you with any specific attractions, activities, and time restrictions, following this basic outline of a 3-day Diamond Circle tour itinerary should give you more than enough to write home about:
Day 1: Husavik & Surrounds. Remember that we are working on the assumption that you'll be starting your Diamond Circle journey by leaving Akureyri. That's about an hour's drive to Husavik.
Explore the city, go whale watching, take a peek at some Puffins at Tjörnes and stuff your face with local cuisine.
Day 2: Husavik to Asbyrgi
After a hearty breakfast, head out to Asbyrgi in Vatnajökull National Park whilst taking in the sights such as Hiljodaklettar along the way.
Day 3: Asbyrgi to Myvatn
Your first stop on your way to Myvatn should definitely be Dettifoss waterfall. From there you can choose between stops such as Vogafjos Farm Resort and the Myvatn Nature Baths. After that, you can either choose to "end" the loop by visiting Godafoss waterfall and heading back to Husavik or you can move on to the next region.
A Budget-friendly Diamond Circle Tour in Iceland
Taking the Diamond Circle tour in Iceland (whether it's a guided tour or a self-drive road trip) promises to be the adventure of a lifetime. If you've decided that you'd rather go the road-tripping route, we suggest you rent a campervan in Iceland. Not only will this make things a lot easier during your trip, but it'll also save you a ton on accommodation expenses. All the comforts at half the cost!