Have you ever dreamed of visiting a place right out of a fairy tale? John Muir, a renowned naturalist and advocate for preserving wilderness, once said, 'The mountains are calling, and I must go.' Kirkjufell, a mesmerizing mountain that shadows the north coast of the Snæfellsnes peninsula, seems to echo Muir's sentiment.
This enchanting site, also known as the "Church Mountain of Iceland" due to its distinctive shape, dominates the landscape at 463 meters (1,519 feet) high. Renowned for its unusual shape and breathtaking surroundings, Kirkjufell's captivating ambiance has been a focal point of Icelandic folklore for centuries.
It's not just a mountain; it's a symbol of Iceland's untouched natural beauty. As we unravel the tales of Kirkjufell, you'll feel an irresistible urge to experience its charm firsthand. Stay with us as we embark on this exciting journey to Iceland's most photographed mountain.
How Was Kirkjufell Formed?
Mount Kirkjufell in Iceland might look like the Gods sculpted it, but its formation is a captivating tale that spans millions of years. The dramatic shaping of Kirkjufell is attributed to glacial erosion. This process has been at play since the Ice Age.
This erosion is evident in the mountain's steep sides and the clearly visible rock layers stretching from its base to the peak. A unique natural phenomenon known as "nunatak" played a significant role in its formation.
The term 'nunatak,' derived from a Greenlandic Inuit word, refers to a peak that remains exposed and isn't covered by ice, often called a glacial island. Interestingly, Kirkjufell was positioned between two glaciers, and its layers are the remnants of numerous volcanic eruptions, further adding to its majestic presence.
Why is Kirkjufell So Famous?
Kirkjufell stands as a testament to Iceland's unparalleled natural allure. With its distinctive and unique shape, it rises majestically above Grundarfjörður, a quaint fishing town, capturing the imagination of all who look at it.
Its fame isn't just rooted in its beauty; Kirkjufell holds the title of being the most photographed mountain in Iceland and is celebrated as one of the top 10 most beautiful mountains worldwide. However, its global recognition skyrocketed when Kirkjufell was featured in Game of Thrones.
The mountain took center stage as the iconic "Arrow Head Mountain" in seasons 6 and 7, becoming an instant landmark for fans of the series. This cinematic connection, combined with its inherent beauty, has solidified Kirkjufell's status as a natural wonder and a cultural and cinematic icon.
Is Kirkjufell Worth Visiting?
Absolutely! Kirkjufell Mountain is more than just a visual treat; its awe-inspiring landscape offers an unparalleled experience, worth every minute of the journey. The panoramic views from the top are breathtaking, and the surrounding landscape, with its lush greenery, cascading waterfalls, and the clear blue sky reflecting in the nearby fjord, is nothing short of picturesque.
Kirkjufell is particularly famous for its waterfall - Kirkjufellsfoss. The water cascading down the three-tiered waterfall with the majestic mountain backdrop is a sight to behold, making it a favorite spot for photographers.
Whether you're hiking up the mountain, exploring the nearby fishing village of Grundarfjörður, or capturing the Northern Lights dancing over the mountain peak, Kirkjufell offers a unique and immersive experience for every nature lover and adventure enthusiast.
Where Is Kirkjufell in Iceland Located and How To Get There?
Kirkjufell is located on the Snæfellsnes peninsula in West Iceland. It stands approximately 183 km (113 mi) from the capital, Reykjavík, and about 107 km (66.4 mi) from Borgarnes.
The most popular way to get to Kirkjufell is by driving from Reykjavík. The drive takes approximately 2-3 hours. Follow the Ring Road (Route 1), leading you through the Hvalfjarðargöng undersea tunnel and to Borgarnes. From Borgarnes, a turn onto road number 54 will guide you straight to Grundarfjörður, with the unmistakable silhouette of Kirkjufell greeting you upon arrival.
For those preferring public transport, a combination of three buses - nr. 57, nr. 58, and nr. 82 - will get you there. Remember that buses are less frequent in rural areas, so check the schedules and plan in advance. Additionally, private tours are available, offering a curated experience of this iconic mountain.
How Long Does It Take To Climb Kirkjufell?
Kirkjufell presents a hiking trail that is both exhilarating and demanding. Climbing to its summit usually takes about 1 hour and 30 minutes, though this can vary based on individual capabilities.
The trail is marked with chains and ropes in certain sections, aiding hikers through its more challenging parts. However, despite these aids, the path has witnessed several tragic accidents, including fatal falls in recent years.
The terrain can be especially treacherous when wet, and climbing is not advised for those who fear heights. While the journey up Kirkjufell demands caution and respect for its inherent dangers, the breathtaking views from the top will blow you away, making the hike all the more rewarding. If this hike seems too demanding, alternatively explore our Iceland hiking guide, which features less strenuous trails to discover in Iceland.
Is Kirkjufell Better at Sunrise or Sunset?
Kirkjufell shines distinctly under the soft glow of sunrise and the fiery embrace of sunset. Sunrise offers a tranquil setting with muted colors and fewer crowds, ideal for capturing serene landscapes.
Sunset, conversely, drenches the mountain in vibrant hues, creating dramatic shots with stark contrasts. Local photographers often lean towards sunrise for its peaceful ambiance but acknowledge the visual spectacle of sunset.
A sturdy tripod is essential for both times due to low light conditions. Additionally, a polarizing filter can enhance the sky's brilliance.
Where To Stay When Visiting Kirkjufell
Grundarfjörður has plenty of those 'cozy" guesthouses and hotels. But let's be honest: If you're looking for a story worth telling, why not rent a campervan in Iceland? With a campervan, you're not just traveling; you're adventuring on your own terms.
Wake up, pull back the curtains, and bam! There's Kirkjufell, looking all majestic, right at your doorstep. And if you're thinking of parking that beast, Grundarfjarðarbær Camping Ground is just a mere 2.7 kilometers (or 1.6 miles) away.
It's not just a campsite; it's your front-row seat to nature's grandeur. Why settle for ordinary when extraordinary is just a campervan away?
What Else Can You Do Around Kirkjufell?
Beyond the mesmerizing allure of Moun Kirkjufell in Iceland, several other attractions promise an equally enriching and diverse experience:
Grundarfjörður Village:

This charming fishing village offers a glimpse into Iceland's rich cultural heritage. Explore the local shops, dine in traditional eateries, and enjoy the stunning views of the mountain.

Lýsuhólslaug Swimming Pool:

Take a dip in this geothermal swimming pool, renowned for its naturally warm and mineral-rich water. Perfect for unwinding after a long day of exploration.

Bjarnarhöfn Shark Museum:

Learn about Iceland's unique tradition of shark hunting and fermenting at this

family-run museum

. Don't miss out on the chance to taste the infamous fermented shark!

Arnarstapi:

This small fishing village, nestled amidst a beautiful natural harbor, is an ideal spot for birdwatching and witnessing extraordinary cliffs and rock formations.

Hellnar:

A historic fishing village boasting unique rock formations, coastal views, and a lovely café, Hellnar is a must-visit for any nature lover. Don't forget to try the delicious seafood soup.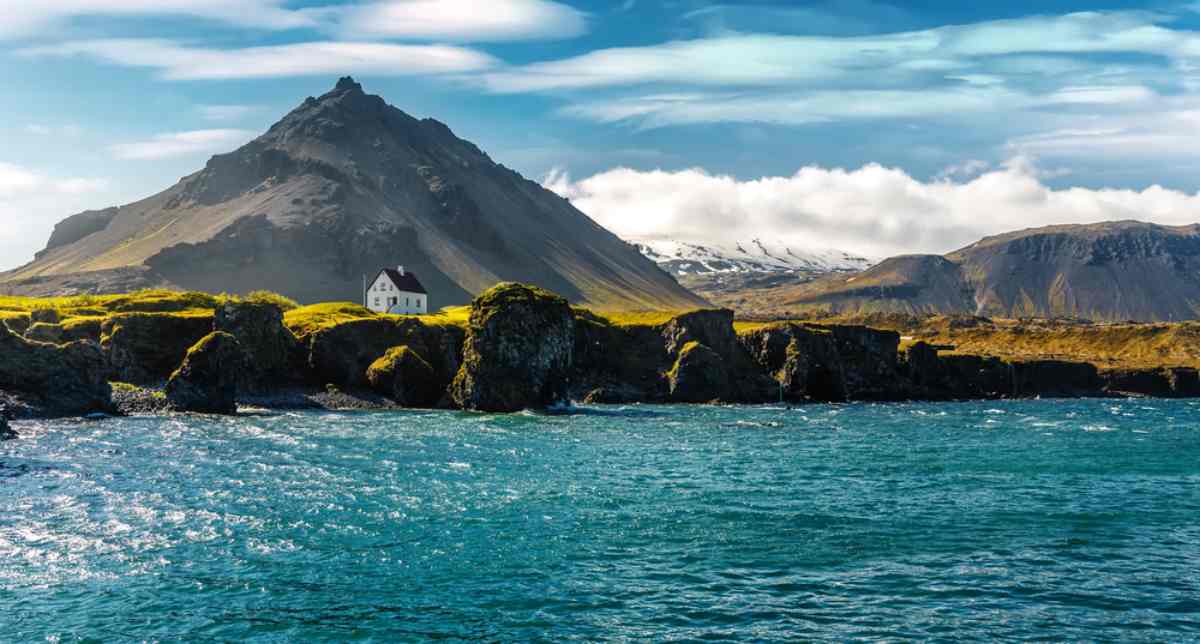 Saying Farewell to Kirkjufell
Kirkjufell, often called the "Church Mountain in Iceland,' stands as a testament to nature's grandeur. Its unique silhouette, reminiscent of a church's steeple, rises majestically against the vast Icelandic skies, captivating all who look at it.
Each season, the mountain dons a new cloak, from verdant green meadows to snowy white peaks, offering a year-round visual treat. Its allure goes beyond mere aesthetics; it symbolizes Iceland's raw, untamed beauty.
Words can only paint a partial picture. To truly grasp Kirkjufell's magic, one must experience it firsthand. So, why wait? Let the mountain's call beckon you.