Immerse yourself in the magic of the Secret Lagoon in Iceland, one of the country's hidden gems tucked away in the small village of Fludir.
Far from the tourist crowds, this geothermal hot spring offers a serene escape into nature's warm embrace. Untouched and preserved, the Secret Lagoon's steamy waters provide a surreal experience steeped in tranquility and mystique.
Keep reading to learn how this enchanting destination can highlight your Icelandic journey. After all, who wouldn't want to soak in a hot spring under the ethereal Icelandic sky?
What Is the Secret Lagoon?
The Secret Lagoon, locally known as Gamla Laugin (the 'old pool'), is a geothermal marvel with a storied past. It's reputedly Iceland's oldest man-made pool. It was originally constructed in 1891 as a public bathing site and even served as a locale for swimming lessons until the 1940s.
Steeped in history, Gamla Laugin differs from commercialized counterparts like the Blue Lagoon. While the Blue Lagoon is celebrated for its modern amenities and therapeutic silica mud, the Secret Lagoon boasts authentic Icelandic charm, uninterrupted by modern interventions.
Both offer enchanting experiences, but the Secret Lagoon provides a more rustic and genuine connection to Iceland's geothermal legacy.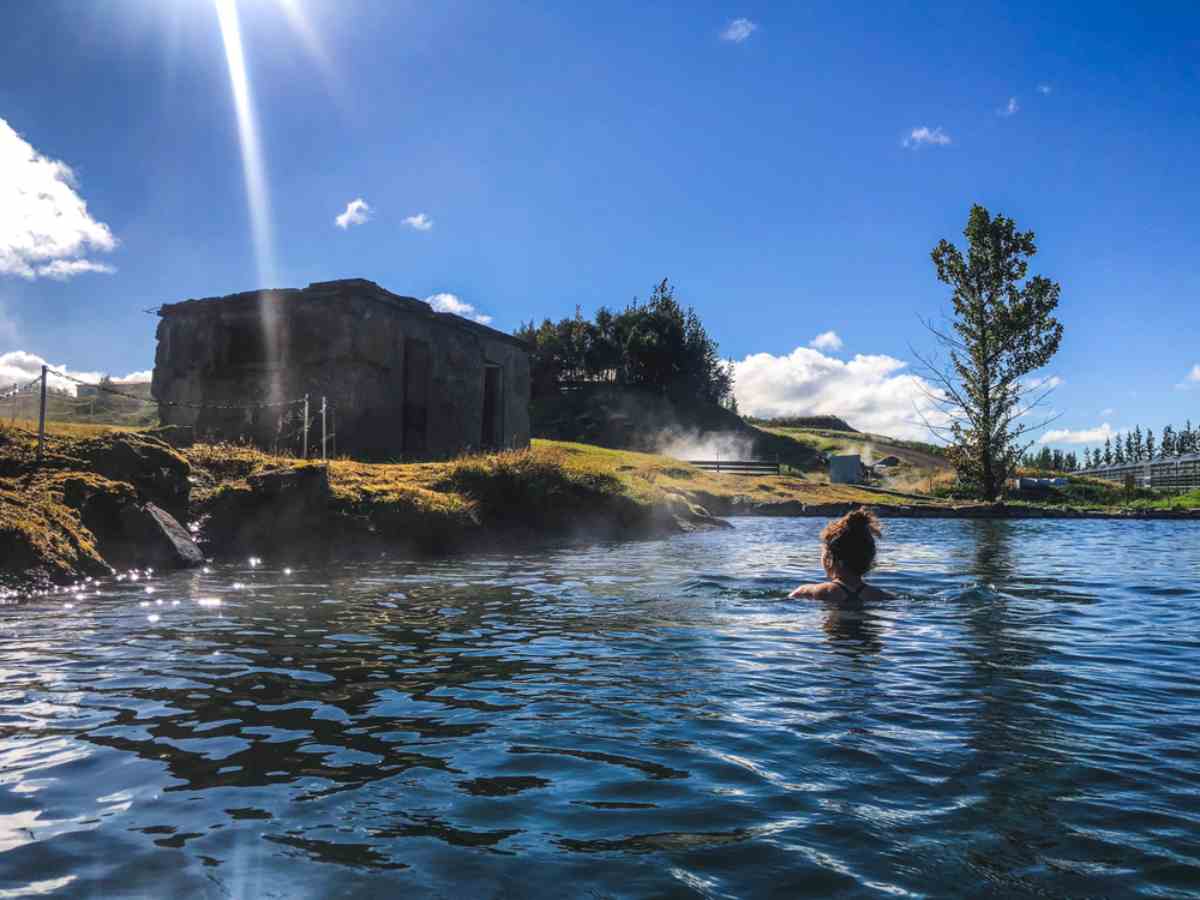 How To Reach the Secret Lagoon in Iceland?
Reaching the Secret Lagoon, nestled in the small village of Fludir, is relatively straightforward but requires planning, especially if you're exploring Iceland alone. If you're driving from Reykjavik's capital city, start by heading southeast on Route 1 (Ring Road) and then divert onto Route 30.
Follow Route 30 until you reach Hvammsvegur Road, leading you directly to the Secret Lagoon. The entire journey should take about 1.5 to 2 hours, depending on weather and road conditions.
For those who'd rather skip the hassle of navigating, numerous tour operators offer day trips from Reykjavik that include the Secret Lagoon, often combined with other attractions like the Golden Circle. Gray Line tour operators are one of the most reliable and affordable options if you want to explore the Secret Lagoon as part of a guided tour.
What To Expect at Secret Lagoon?
Stepping into the Secret Lagoon in Iceland is akin to entering an ethereal realm. Drawing its warmth from renowned springs like Vaðmálahver, Básahver, and the theatrical Litli Geysir - which delights visitors with frequent eruptions.
The Secret Lagoon boasts a continuous water flow, fully replenishing itself every 24 hours. Bathing here, you're enveloped in clean, sulfur-rich waters that consistently maintain a temperature of 38-40°C (100-104°F) throughout the year.
The entire experience is one of tranquility and rejuvenation as the ancient waters of the Secret Lagoon embrace you, providing a genuine and intimate Icelandic geothermal experience.
Things To Do at the Secret Lagoon
For adventure lovers, swimming in the geothermal waters of the Secret Lagoon hot springs is a must-do. The pool is shallow enough for a comfortable swim, and the warm temperatures make it a year-round activity.
Beyond the inviting swim in its geothermal embrace, you can enjoy sightseeing, watching the regular spouts of Litli Geysir. The surroundings brim with natural wonders, perfect for explorers. Nearby, the Golden Circle route offers iconic sights like the Gullfoss waterfall and Geysir geothermal area.
At night, the place transforms into a magical viewing platform for the Northern Lights (Aurora Borealis), given the right conditions and season. Stargazers will find the setting unparalleled, with clear skies and no light pollution. After a therapeutic soak, consider dining in local eateries in Flúðir, tasting authentic Icelandic cuisine.
The Benefits of the Secret Lagoon Waters
The Secret Lagoon's hot springs are not just a visual delight; they also offer significant health benefits. The mineral-rich waters, infused with sulfur, are known to soothe skin conditions such as psoriasis and eczema.
The warm temperatures help to improve blood circulation and relieve muscle tension, providing a natural remedy for body aches and stress. Additionally, the serene environment of the Secret Lagoon encourages mindfulness and relaxation, promoting mental wellness.
Immersing yourself in these tranquil waters can be a therapeutic experience, rejuvenating not only your body but also your mind and soul.
Price and Ticket Information
Venturing into the ethereal realm of the Secret Lagoon in Iceland promises an unforgettable experience. To ensure you're well-prepared for this Icelandic marvel, here's a concise breakdown of the costs associated:
Adults (15 years and older):

ISK 3300

Children (14 years and younger):

Free

Seniors (67+):

ISK 2300
You can book tickets online or buy them at the ticket office onsite. We recommend pre-booking tickets from the official Secret Lagoon website to avoid disappointment.
Opening Hours At The Secret Lagoon
The Secret Lagoon is open to visitors all year round, and the opening hours are as follows:
Winter Season (1st October - 31st May)

: Open daily: 10:00 - 19:00

Summer Season (1st June - 30th September)

: Open daily: 10:00 - 20:00
How Long Do You Need at Secret Lagoon?
Typically, visitors spend around 2 to 3 hours at the Secret Lagoon to fully soak in its therapeutic waters and enjoy the surrounding beauty. This duration allows ample time for relaxation, witnessing the frequent eruptions of Litli Geysir and even capturing some scenic photographs.
Can You Swim in the Secret Lagoon?
Yes, you can swim in the Secret Lagoon in Iceland, and it's recommended if you want to experience its therapeutic benefits fully. Not only is this a unique opportunity to swim in natural hot springs forged by volcanic activity, but also a chance to explore the serene surroundings.
Why the Secret Lagoon In Iceland Should Top Your Iceland Itinerary
The Secret Lagoon in Iceland, with its authentic charm and therapeutic waters, offers a distinct and intimate Icelandic experience. Unlike the bustling tourist spots, here, you connect deeply with nature's geothermal wonders.

For a holistic adventure, consider renting a campervan in Iceland, allowing you the freedom to explore and then unwind in the lagoon's embrace, making it an essential stop on your journey.