The unique island of Iceland is home to magical natural landscapes carved by the almighty creative power of Earth. Here you can enjoy anything from vast glaciers, to explosive volcanoes and cascading waterfalls. The 'Land of Ice and Fire' is an outstanding place to explore by campervan.
In just a week, you can see some of the most spectacular scenery and attractions that Iceland has to offer. You can do so by just traveling around the famous Golden Circle and Ring Road routes. Discover our complete Iceland 7-day itinerary guide to the top places to explore during your week in Iceland!
Ps. Flights and airport time are not considered within these 7 days.
7 Days in Iceland Itinerary by Campervan
Day 1 – Blue Lagoon and Reykjavík
A trip to the Blue Lagoon is easy enough to fit into your day, either before or after exploring Reykjavík itself. It's only around a 45-minute drive from the capital.
Blue Lagoon
No trip to Iceland would be complete without an obligatory Blue Lagoon visit. The milky blue waters of this most visited attraction in Iceland are full of skin-nourishing minerals. You'll get a beautifully relaxing experience that's perfect for the second day of your 7-day trip to Iceland. Soak in the serenity of these geothermal waters as you relax after your drive around the Golden Circle.
Reykjavík City
Take a stroll around this buzzing, beautiful and culturally rich city. Enjoy Reykjavík's coffee shops, restaurants and wide array of fascinating museums and buildings. With enough to keep you occupied for more than a day, Reykjavík is bursting with life, history and culture just waiting to be discovered.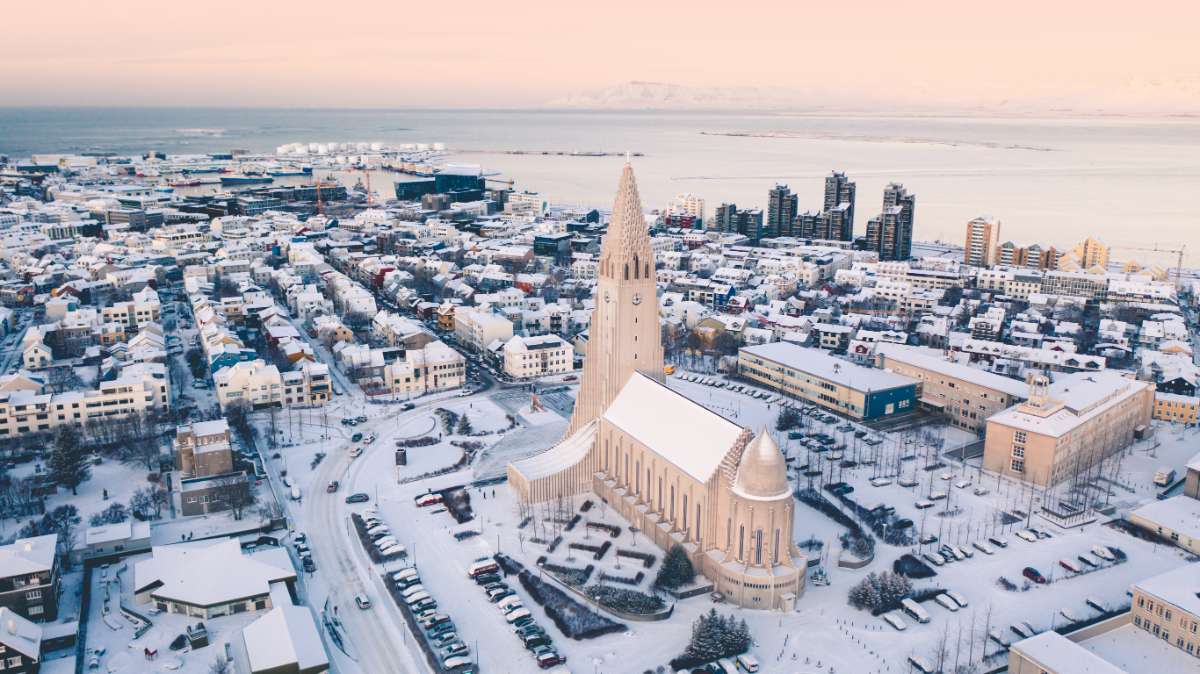 Day 2 – Golden Circle
Iceland's iconic Golden Circle route is iconic for a reason. It will take you to some of the country's most impressive spectacles. The Golden Circle route passes through Thingvellir National Park, Haukadalur Geothermal Field, Kerid Crater, Gullfoss Waterfall and many other awe-inspiring geological phenomena.
Easy to follow from a starting point of Reykjavík, Iceland's Golden Circle can be driven in a day. Looping 230 kilometers (140 miles) around in a circle, the entire route could be driven in three hours. However, you'll want to make some stops along the way to soak in the sights, so you could easily spend double this time exploring.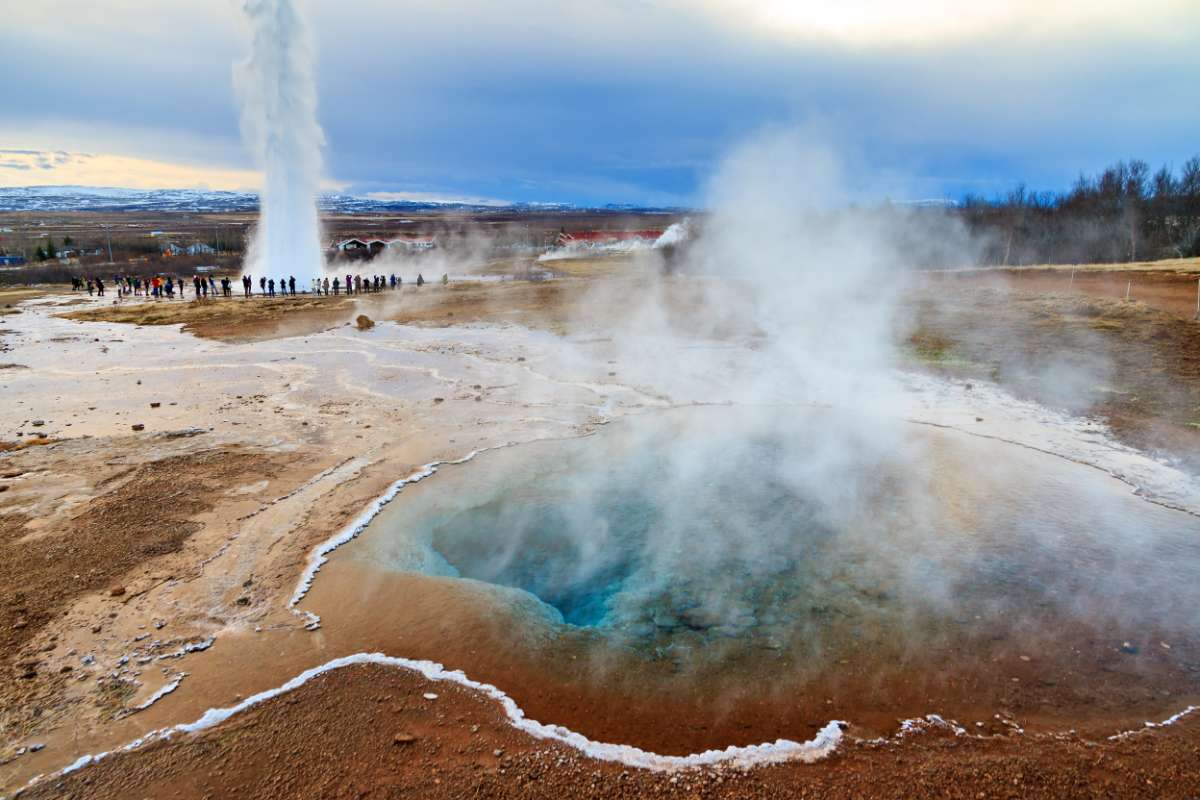 Day 3 –Heimaey Island and/or Landmannalaugar
Fancy exploring somewhere a little off the beaten track? The breathtaking Heimaey Island, or the stunning area of Landmannalaugar, located in the remote Icelandic Highlands, are perfect for an adventurous day 5 of your 7 days in Iceland.
Landmannalaugar
If you enjoyed Skaftáreldahraun lava field, you'll love Landmannalaugar. It is located at the edge of the Laugahraun lava field in the Fjallabak Nature Reserve. With colorful rhyolite mountains, natural hot springs and stunning hiking routes, this incredible area of unique beauty offers untouched. Around 3 1/2 hours Skaftafell Campground, or over 2 hours from Vik Campsite, Landmannalaugar requires a full day of exploring.
Heimaey Island
Heimaey Island is another fantastic option for the fifth day of your 7 days Iceland itinerary. It is the most populated of the Westman Islands, and a famous puffin-watching spots in Iceland. The island is located just four nautical miles off the coast of Iceland, and it's easy to reach from Reykjavík. Its green mossy cliffs, volcanic landscapes and colorful houses make Heimaey a striking place to visit. You can also take a whale-watching tour from Heimaey.
To reach the island of Heimaey, you can catch the ferry from Landeyjahöfn, which is an hour's drive from Vik or 2 hours and 45 minutes drive from Skaftafell.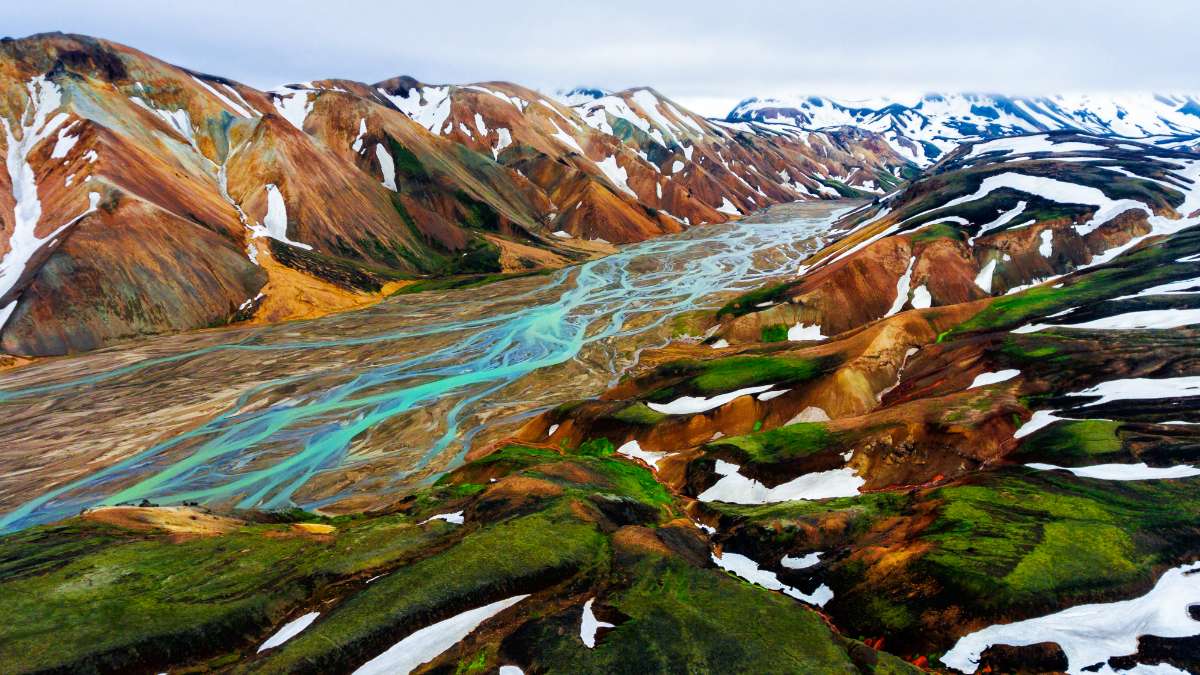 Day 4 – South Coast
Home to many of this unique island's most famous sites, Iceland's South Coast takes you through picturesque villages. The area has incredible black sand beaches and mesmerizing ice lagoons, too. Worth at least two days of your Iceland one week itinerary, the South Coast is full of hidden and not-so-hidden gems. Luckily, you'll discover all of them by traveling along the famous Ring Road in Iceland, also known as Route 1.
Caves of Hella and Waterfalls
If you're a fan of caves, you might like to stop at the small town of Hella to explore the nearby Caves of Hella. Further along the road, you'll come to the 60-meter tall Seljalandsfoss Waterfall, where you can walk behind the cascading water. Many people's favorite stop, Skogafoss Waterfall and its lush green surroundings, is up next.
Vik and Reynisfjara Beach
As we follow the Ring Road along Iceland's South Coast, we'll come to the remote seafront village of Vik. Close by this town is the beautiful Reynisfjara black sand beach. Nestled in a valley, the colorful houses of Vik and red-roofed Vik Church are some of the most photogenic spots in Iceland. This southernmost village in Iceland, located just 180 kilometers from Reykjavík, is a great overnight base. With full facilities, Vik Campsite is around 1 km from the town center.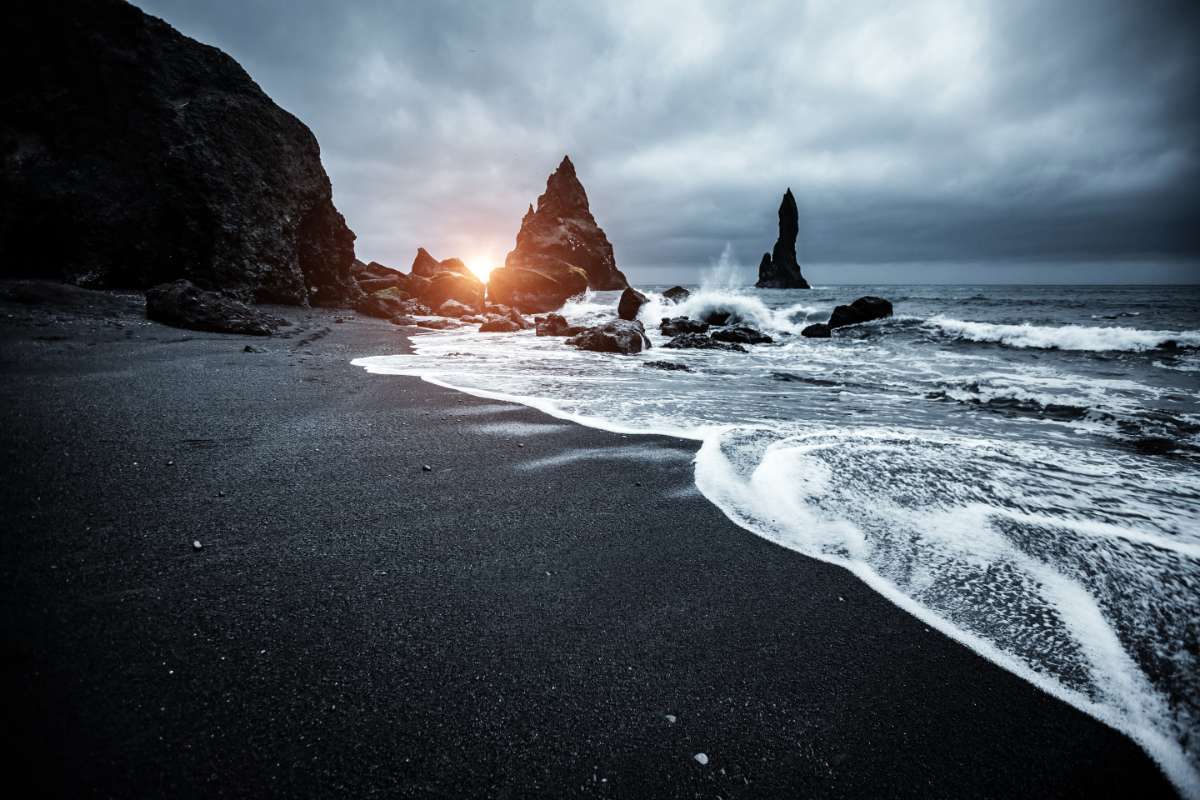 Depending on how much time and energy you have left, your base for the night could be at Skaftafell Campground or back at Vik.
Day 5 – South Coast
Ready to continue exploring the South Coast in your Iceland campervan rental? Let's go!
Skaftareldahraun Lava Field
Next up on our Iceland 7 day tour is a stop at the otherworldly Skaftáreldahraun lava field, located just under an hour's drive from Vik. The site of what is believed to be one of the largest lava flows in a single eruption in the world, Skaftáreldahraun is one not to be missed!
Skaftafell National Park
Continuing along the Ring Road for around 50 minutes, we'll come to the beautiful Skaftafell National Park. It is actually a nature reserve within Iceland's vast Vatnajökull National Park. Take your time exploring the awe-inspiring landscapes in Skaftafell. Sights include imposing glaciers, stunning woodlands and the powerful basalt-lined Svartifoss Waterfall.
Jokulsarlon Glacier Lagoon and Diamond Beach
Another 50 minutes along Route 1 will take you to the incredible Jokulsarlon glacier lagoon and Diamond Beach. If you have time, take a boat trip among floating icebergs. You can also go on a once-in-a-lifetime glacier hike and watch Arctic tern and seals in their natural habitat at the magical glacial lake of Jökulsárlón. After exploring the wonders of this icy paradise, head over the road to the famous Diamond Beach. Here, black sandy shores are dotted with glistening icebergs – a photographer's paradise!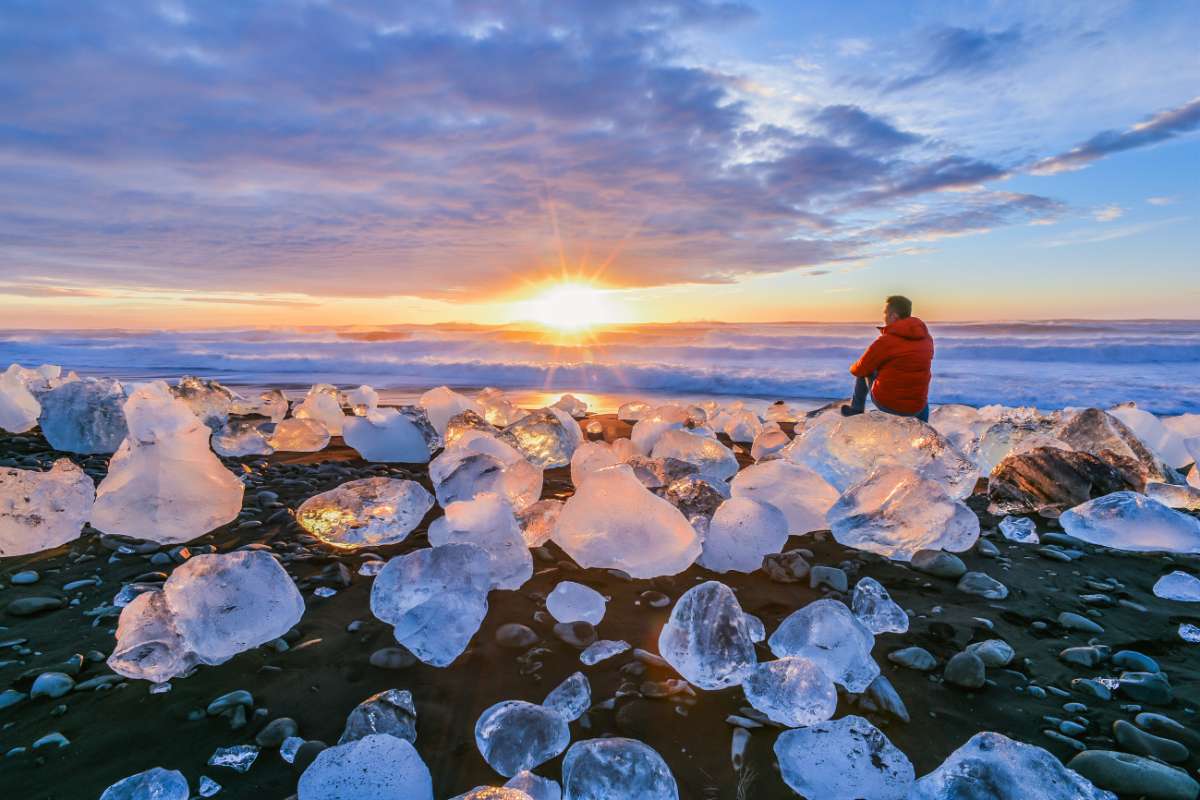 Day 6 – West Iceland: Snaefellsnes Peninsula
Having fun driving around Iceland by campervan? Don't worry – it's not over yet! Our 7 days Iceland itinerary drive us back to West Iceland next, to the stunning and dramatic Snaefellsnes Peninsula.
Snaefellsnes Peninsula
The sights of Snaefellsnes Peninsula will definitely keep you busy for a day (or two). There's plenty to discover here, including the glacier-topped Snaefellsjökull Volcano. You can also visit the quaint Stykkishólmur fishing village. Here, you will find a 19th century Norwegian wooden House. You can also add the beautiful Ytri Tunga Seal Beach to your route.
Discover crashing waterfalls, dramatic cliffs, incredible gorges and unspoiled sea views by taking a coastal hike on the Snaefellsnes Peninsula. Perfect to escape the hustle and bustle, you can enjoy the peaceful experience of visiting quiet natural landscapes at Snaefellsnes Peninsula.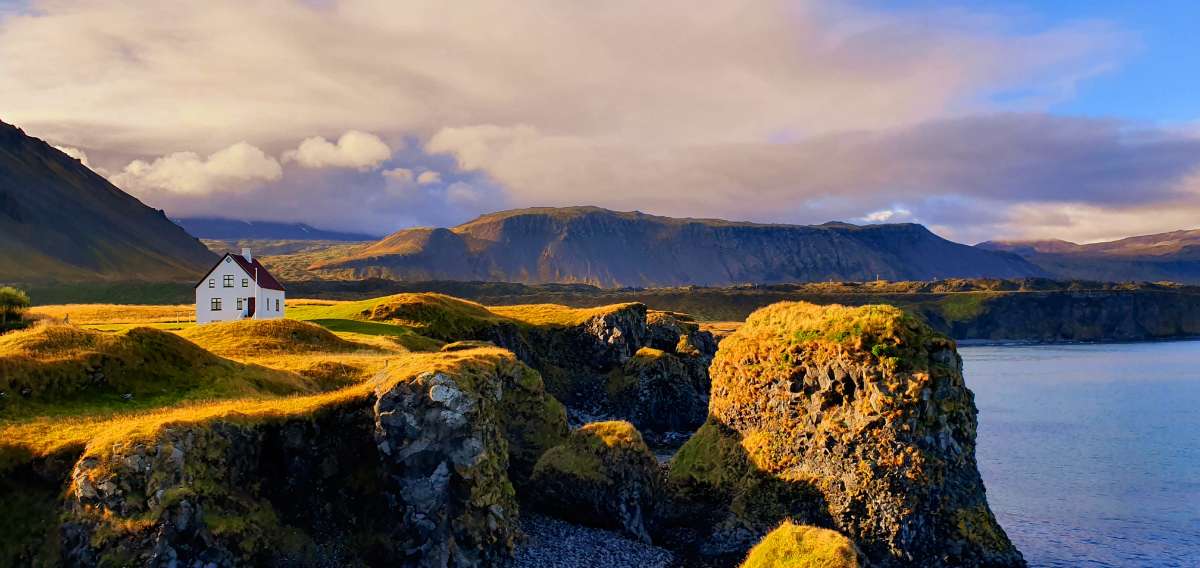 Day 7 – Snaefellsnes Peninsula, West Fjords, and maybe Akureyri
As we're nearing the end of our 1-week itinerary in Iceland, you may prefer another quieter day exploring the Snaefellsnes Peninsula or a visit to the fifth most populous town in Iceland: Akureyri.
West Fjords
Enjoy the sights and sounds at Snaefellsnes, or even venture further into the West Fjords, where you'll find the flowing meadows and Arctic fox of Hornstrandir Nature Reserve. This trip is optional, as the Westfjords does need more than just one day to be fully explored.
Akureyri
If you have more time before heading home and prefer to see another of Iceland's towns, you can take a 3 hour and 30 minutes drive to the town of Akureyri. This city lies on Iceland's Northern Coast. You might like to view the stained-glass windows of Akureyri Church, a remarkable place in the city. You can also visit the contemporary Icelandic and international art in Akureyri Art Museum. If you're more into nature, then visit the rich Iceland plant species at the Botanical Gardens.
Note that Akureyi is around a 5-hour drive from Reykjavík, so make sure you have enough time to head back and get to the airport.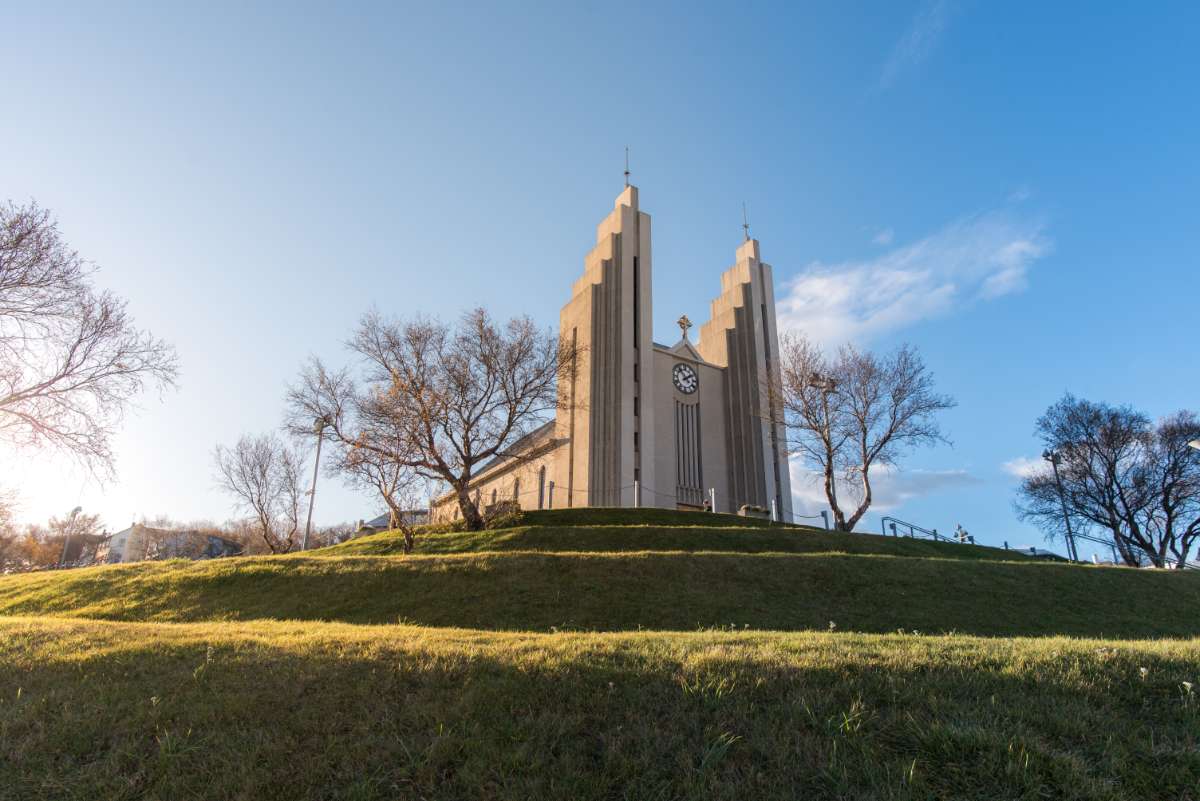 Spring Iceland Itinerary For 7 Days
Iceland in spring is a perfect time to explore nature and spot some of the island's majestic wildlife. Check out our spring Iceland itinerary for 7 days:
Day 1: Whale and dolphin spotting at Heimaey Island
Day 2: Hiking at Thingvellir National Park
Day 3: South Coast trip for puffin watching
Day 4: Snaefellsnes Peninsula
Day 6: Road trip to Akureyri
Day 7: Blue Lagoon and Reykjavík
Summer Iceland Itinerary For 7 Days
Summer is a beautiful time to spend a week in Iceland. You can still enjoy the awe-inspiring sights of immense glaciers, as well as explore stunning nature reserves and waterfalls on some sunny days!
Day 1: Golden Circle - Thingvellir, Kerid Crater and Gullfoss Waterfall
Day 2: Iceland Highlands: Landmannalaugar
Day 3: Vik and Reynisfjara
Day 4: Jokulsarlon Lagoon and Diamond Beach
Day 5: Lake Myvatn
Day 6: Snaefellsnes Peninsula
Day 7: Blue Lagoon and Reykjavík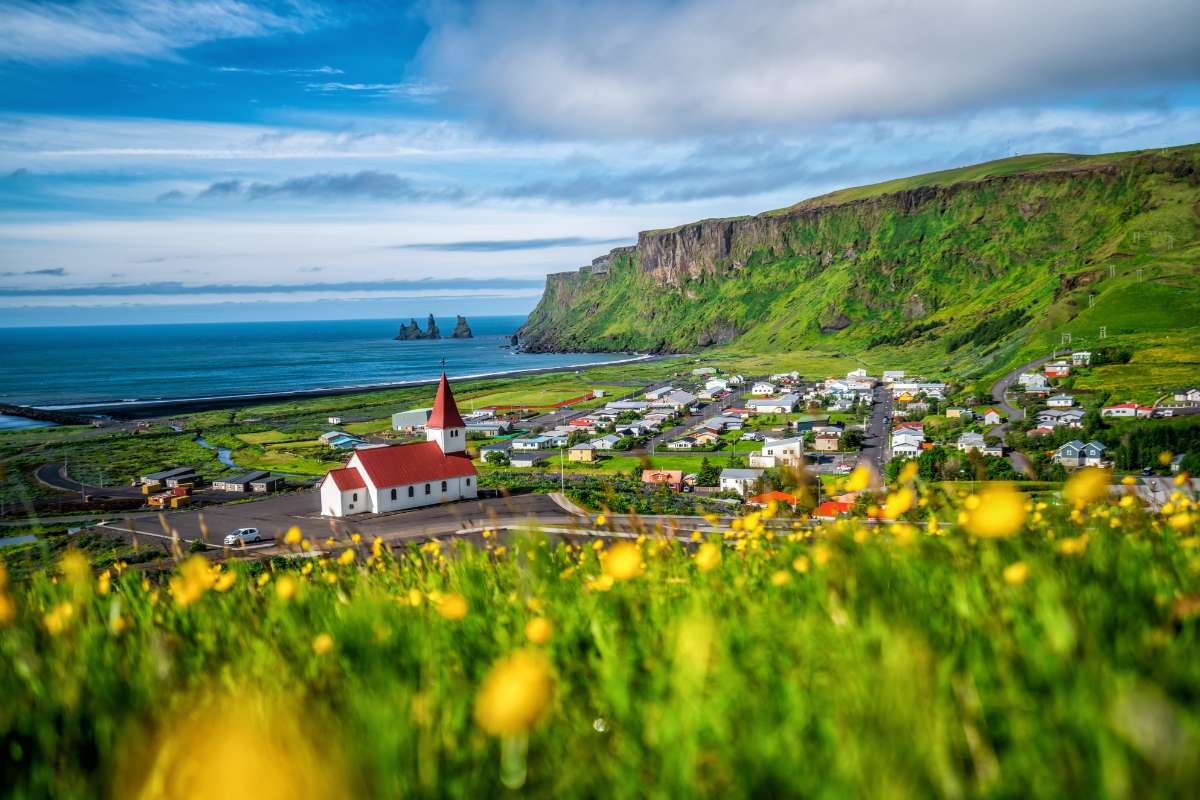 Fall Iceland Itinerary For 7 Days
Enjoy a week in Iceland during the transitional season of fall with our 7-day fall Iceland itinerary. There's even a chance to spot the Northern Lights!
Day 1: Reykjavík: Perlan museum, Sun Voyager statue and Hallgrimskirkja Church
Day 2: Golden Circle: Thingvellir National Park, Geysir geothermal area and Gullfoss waterfall
Day 3: Vik village, Skogafoss and Seljalandsfoss waterfalls
Day 4: Jokulsarlon and Skaftafell Nature Reserve
Day 5: Fjadrargljufur Canyon
Day 6: Whale watching tour from Akureyri to Eyjafjordur fjord
Day 7: Blue Lagoon and Northern Lights - Grotta Lighthouse
Winter Iceland Itinerary For 7 Days
Wrap up warm and get driving as you explore Iceland's incredible landscapes covered in snow. Be aware that some roads may be closed in winter due to harsh weather. So, always check the Iceland road conditions on your route before you set off on our winter Iceland 7-day itinerary.
Day 1: Reykjanes Peninsula or Snaefellsnes Peninsula, depending on weather
Day 2: Golden Circle route
Day 3: Vik and Reynisfjara black sand beach
Day 4: Glacier hike at Jokulsarlon Lagoon
Day 5: Akureyri
Day 6: Northern Lights hunting
Day 7: Warm up in the Blue Lagoon and explore Reykjavík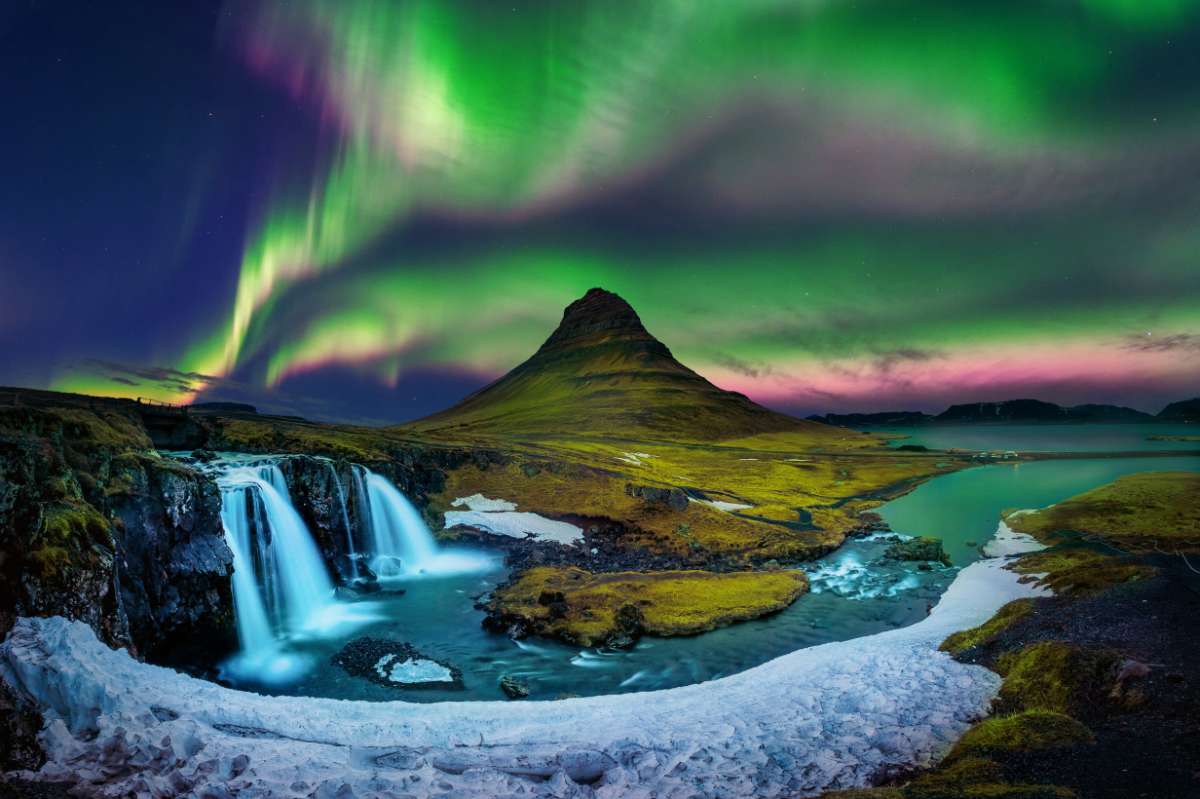 Bring Your 7-Day Iceland Itinerary to Life!
Inspired for your own Iceland 7-day tour? Make that dream a reality by reserving your motorhome rental in Iceland now, ready for the adventure of a lifetime! What are you waiting for? Take that well-deserved vacation to soak in the breathtaking sights and sounds of pristine nature in Iceland.
Planning a longer trip? Don't miss our Iceland full itinerary article!