Going on a vacation brings with it different priorities for different people. But there's one thing that most travelers do agree on, and that's food. There is a universal type of enjoyment that comes from eating meals out and trying the local cuisine in a new city or country.
So, in this article we are going to explore what to eat in Iceland, touching on everything from popular flavors and must-try dishes to, shall we say, the more acquired tastes? We'll be covering both the traditional foods of Iceland, as well as its present day foodie preferences. We know you're hungry just reading this so let's get stuck in, shall we?
What food to eat in Iceland
In no particular order, here are our top ten dishes and snacks offering an authentic flavor of Iceland. Vegetarians or vegans won't be able to sample the list in full, but there should be at least a few local eats in here to suit everyone.


Licorice
Skyr
Lamb
Seafood
Fermented shark
Brennivín
Hot Dogs
Ice Cream
Rye Bread
Tomato Soup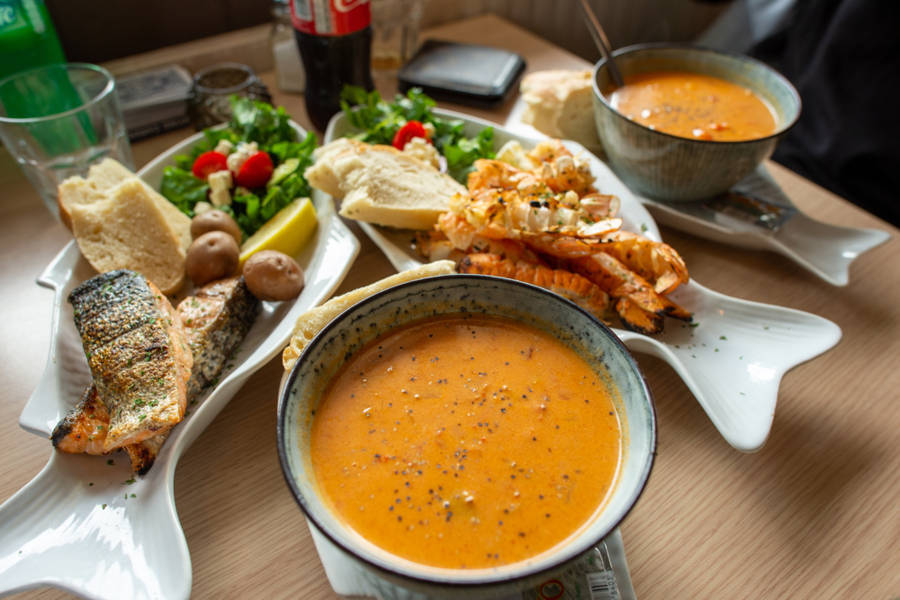 1. Licorice
As in many Nordic countries, people just adore licorice. In Iceland this is no different, as residents can't get enough of this sweet go-to snack. It comes in many forms and flavors from soft to hard, chewy to sweet, and even salted. However, if you have a sweet tooth, you might like to try it smothered in chocolate.

In Reykjavík's ice cream parlors, you will also find licorice-flavored ice cream. The more adventurous licorice-lovers might like this fun and fascinating option. If not, then perhaps some chocolate licorice sprinkles will be more tempting to the tastebuds
2. Skyr
This creamy, protein-rich yogurt-like product has sustained Icelandic people for centuries. Back in the day it was largely homemade, with each farmstead having its own signature recipe. These days, it can be purchased in huge amounts from convenience stores and supermarkets up and down the country.
Skyr offers a healthy boost of energy and most Icelanders swear by it. From breakfast to afternoon snack to fine-dining inspiration, skyr is both a versatile and delicious food. You can buy it in a whole host of different flavors, as well as plain. It can also be used to make a fortifying smoothie-like drink on a hot summer's day. Traditionally, plain skyr was sprinkled with sugar as a kids' breakfast.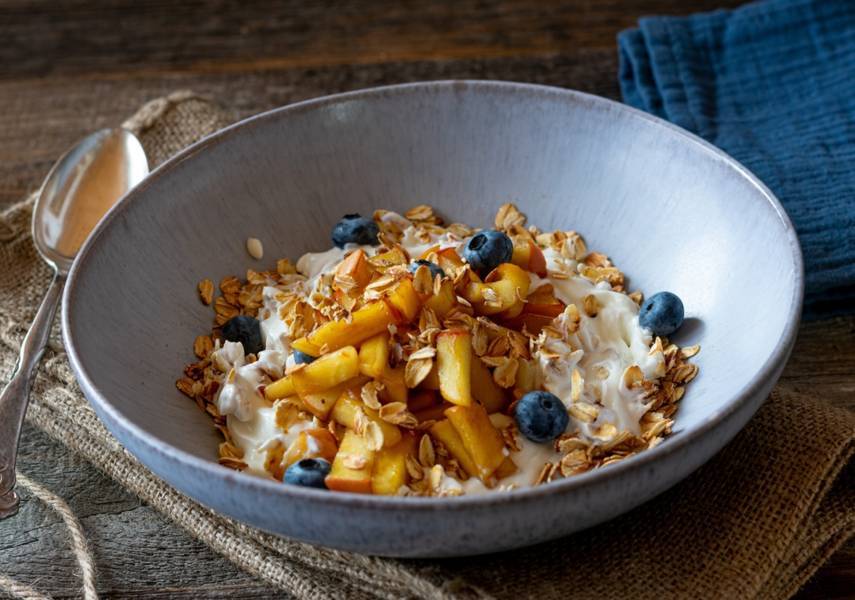 3. Lamb
If you plan on hiring a camper van for a road trip around Iceland, you'll notice that there are a lot of sheep. You'll often see them straying across the unfenced roads while you're out and about driving. So, it follows that lamb is a very popular dish in Iceland.
From flavor-packed roasts to savory stews and much more, delicious and succulent lamb is often on the menu at restaurants and family dinners. Since the animals graze on the grasses and wild herbs of Iceland all day long, their meat is especially flavorsome. Not to mention there are hardly any antibiotics used in Icelandic farming, which makes the final product absolutely delectable.
4. Seafood
Fish and seafood are one of the mainstays of Icelandic cuisine, and for centuries that has yet to change. After all, the country was built on fishing and it is one of the main industries here. From the freshest Atlantic Cod fish and chips to delicious langoustine dishes, seafood lovers will be in their element in Iceland.
5. Fermented shark
This is one of those acquired tastes that we mentioned earlier. Fermented shark is a very traditional bar snack in Iceland. If you hit a few bartops in Reykjavík, you'll likely be dared to try it, so brace yourself. It possesses a strong and pungent flavor with a chewy texture. It's safe to say the majority of people will probably find it a little…what shall we say? Challenging.
The origins of this snack date back to Iceland's early years. Centuries ago, food was pretty scarce here, so the locals used any means that they could to preserve foodstuff for leaner times. Dried fish was a popular dish, as was fermented shark meat. It may seem hard to believe, but the culinary tradition has stuck and some people still enjoy its flavor today.
6. Brennivín
Brennivín, also known as Black Death, is a strong, clear liquor traditional to Iceland and is usually served in shots during festive occasions. Brennivín is to fermented shark as peanut butter is to jelly, as this potent spirit is taken as a chaser to help neutralize the strong fishy taste. Trying Brennivín is pretty much a rite of passage on a trip to Iceland, so don't leave without having your share!
7. Hot Dogs
One of Iceland's most ubiquitous foods has to be the humble hot dog. It is the go-to snack for Icelandic people out and about in the towns and cities. Fast, tasty and affordable, it is popular with visitors to Iceland too. For your fix, be on the lookout for hot dog vans parked up in towns and villages.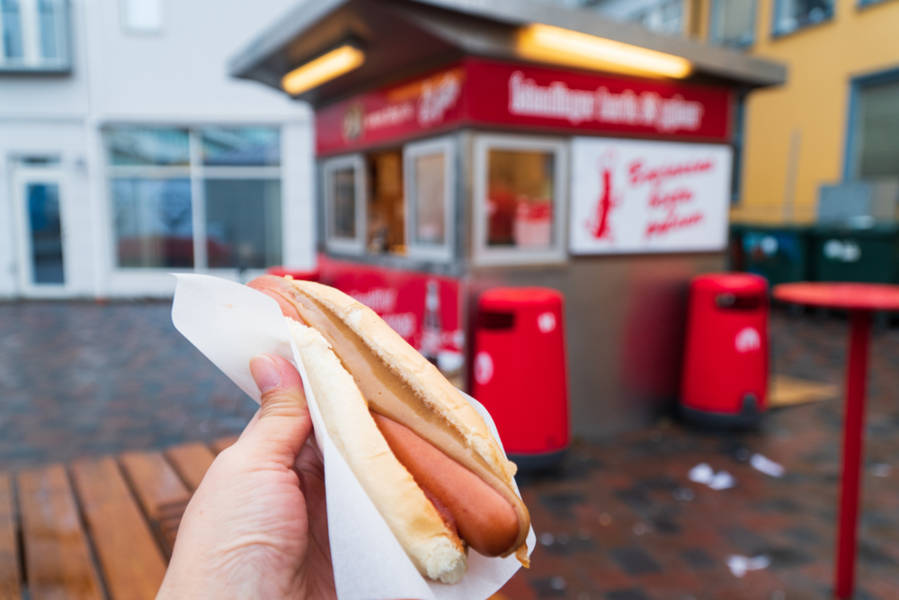 Fortunately, Reykjavík is home to the most long-standing and famous hot dog stand of them all: Bæjarins Beztu Pylsur. This legendary spot can be found down at the old city harbor, and you won't be able to miss it since it always has a long line of residents and tourists alike waiting outside. For the real deal, choose the blended beef, lamb and pork dog with all the toppings. From fried onions to an array of tasty sauces, you're in for a real flavor sensation.
8. Ice Cream
Going out for Ice cream is pretty much a way of life in Iceland. This might seem a little strange given the average temperatures in this chilly, northern country, but many people say that eating ice cream keeps them warm. You'll have to try it for yourself to find out if that reigns true. When touring Iceland, you'll find that nearly every town and village will have a busy ice cream parlor to visit. And once inside, you'll likely feel like a kid in a sweet shop as there are an abundance of tantalizing flavors to try. Not to mention the kaleidoscope of different sprinkles, toppings and sauces available to embellish your scoop with.
9. Rye Bread
This is another one of Iceland's traditional foods with an interesting history. Traditionally, rye bread was baked underground using geothermal heat. It is still practiced this way in some bakeries today, though not all. In this way, the dough goes in a clay pot and is then buried in the ground for a full day of baking. Talk about quality homemade bread!
These days it is also baked in regular ovens, of course. But if you do visit a traditional geothermal bakery, make sure you try it hot from the pot! Chowing down on a piece of rye outside in the elements only adds to the flavor and experience. Enjoy it with butter and a sprinkle of sea salt, or piled with cream cheese and smoked Icelandic salmon.
10. Tomato Soup
This might sound like an odd recommendation for such a northerly country. Obviously, these Mediterranean fruits are not native to the Arctic! But this is where the country's geothermal energy kicks in yet again. Today, tomatoes are cultivated in Iceland year round in large glasshouses heated by geothermal energy. Some of these geothermal farms are open to visitors and are combined with Icelandic cafés where people can taste the produce. If you visit one, you'll find out that they use no pesticides in their growing scheme. This means that every tomato is pretty much organic and totally delicious. They also make the best warming soup to heat up your stomach on a cold evening.
Icelandic traditional food
If you are curious about what Iceland offers in the cuisine category, know that everywhere from cosmopolitan Reykjavík to remote mountain towns serve up food that's rich and hearty. Yes, fish and lamb still occupy a very important place in Icelandic cuisine, but the Icelandic gastronomy has renewed itself. This ensures that all travelers will be able to find several options that will surely suit their taste!