Visiting the Jokulsarlon Glacier Lagoon in Iceland is one of the most magical experiences you can have here on the island. Especially if you opt for one of the boat tours that is offered at Jokulsarlon.
If you are planning on visiting the island soon or want to know more about the lagoon before adding it to your trip itinerary, read on. We reveal everything you need to know about one of Iceland's most popular attractions.
What is the Jokulsarlon Glacier Lagoon?
Jokulsarlon is the island's biggest and deepest lake (about 285 meters) and is known as the iceberg lagoon in Iceland. The size of the lake is no surprise when one realizes that the lake is ultimately fed by Europe's largest glacier; the Vatnajökull. This Glacier in Iceland takes up an impressive 8% of the land! Breidamerkurjökull is the glacier that can be seen at the lagoon, but it is merely a glacier tongue/outlet of Vatnajökull extending into the lagoon.
The glacier water in the lagoon is a stunning bright blue, and you can observe large icebergs floating around as parts of the glacier detach. There are also floating ice sheets, but what really excites visitors are the seals that frequently use them as resting spots to bask in the sun or take a nap.
Since Jokulsarlon Glacier Lagoon is connected to the ocean, the lake is also affected by the tides and the tidal range can be anything from 2 to 3 meters. The lagoon is quite an impressive sight, so it's not strange that it has been the backdrop of some of our favorite movie scenes. Watch Batman Begins, Tomb Raider, and The Secret Life of Walter Mitty and see if you can spot this glacial giant.
Where is Jokulsarlon Glacier Lagoon?
Jokulsarlon Glacier Lagoon can be found on the southeast of the island, in the southern part of Vatnajökull National Park (the biggest national park in Iceland, named after the Vatnajökull Glacier).
How to Get to Jokulsarlon Glacier Lagoon
Once you've arrived on the island via Keflavik Airport, and made your way to the capital city of Reykjavik, there are various ways of getting to the Jokulsarlon iceberg lagoon:
How to Reach Jokulsarlon by Air
It is not possible to get a direct flight to Jokulsarlon Glacier Lagoon, but you can take a flight and then continue on to the lagoon via ground transport. You can either grab a flight to Hornafjordur (this will take you about 3 and a quarter hours) or you can grab a flight to Egilsstadir (this will take you about 1 hour).
Once you've arrived in Hornafjordur, you can take a taxi to Höfn where you'll catch the 51 bus to Jokulsarlon. If you arrive at Egilsstadir, you can rent a car and make a road trip out of the 270-kilometer journey to Jokulsarlon.
How to Reach Jokulsarlon by Road
There are essentially three ways to travel to Jokulsarlon Glacier Lagoon via the road:
Via Bus
There are numerous ways of reaching the Jokulsarlon glacier pond in Iceland via bus – it all just depends on the type of adventure you're looking for. You can opt to hop on a bus that goes straight to Jokulsarlon. This route will take you 11 hours and has only 2 stops along the way; Hvolsvöllur and Vik I Myrdal.
Then you can also choose to combine the bus ride with a private rental. You can depart from Reykjavik Campsite, thereafter you'll need to take 3 buses to Kirkjubæjarklaustur where you will then rent a car to drive the rest of the way to the lagoon (about a 1.5-hour drive).
Via Guided Tour
There are numerous guided tours (whether day trips or multi-day packages) that will take you to Jokulsarlon Glacier Lagoon from the bigger cities in Iceland. A few that come highly recommended include:
Via Your Own Transport
In our opinion, this will always be the best way to discover the island, since you are in full control of your time and itinerary. We recommend renting transport in Reykjavik and then making a road trip out of the 375-kilometer drive to Jokulsarlon via the Ring Road.
To include Jokulsarlon Glacier Lagoon in your road trip, renting a campervan in Iceland is highly recommended. It provides both transportation and accommodation, allowing you to reduce costs significantly by staying at campsites.
The Best Time to Visit Jokulsarlon Glacier Lagoon
The Jokulsarlon Glacier Lagoon is open all year round but offers different experiences based on the different seasons. Many opt to visit the lagoon during the winter since they have a chance of spotting the Northern Lights and can include other winter activities such as exploring the ice caves in their trip itineraries.
But during the winter season, the lagoon itself seems to be frozen in time, with icebergs frozen in place. During the summer months and early autumn, the giant icebergs and sheets of ice are actually floating down the lagoon and make the lagoon feel more "alive".
How was Jokulsarlon Glacier Lagoon Formed?
The lagoon is basically the product of global warming. The Breidamerkurjökull Glacial Tongue began melting and retreating due to the rising temperatures in the 1920s already (global warming might be a modern-day topic, but it's been happening for quite a while).
This means that Jokulsarlon will continue to grow and become bigger as more and more ice crumbles and melts. But this also means that time is ticking on this glacial experience, and someday in the future, Jokulsarlon Glacier Lagoon will be a deep fjord. To put the speed at which this is happening into perspective; the lake was four times smaller in the 1970s!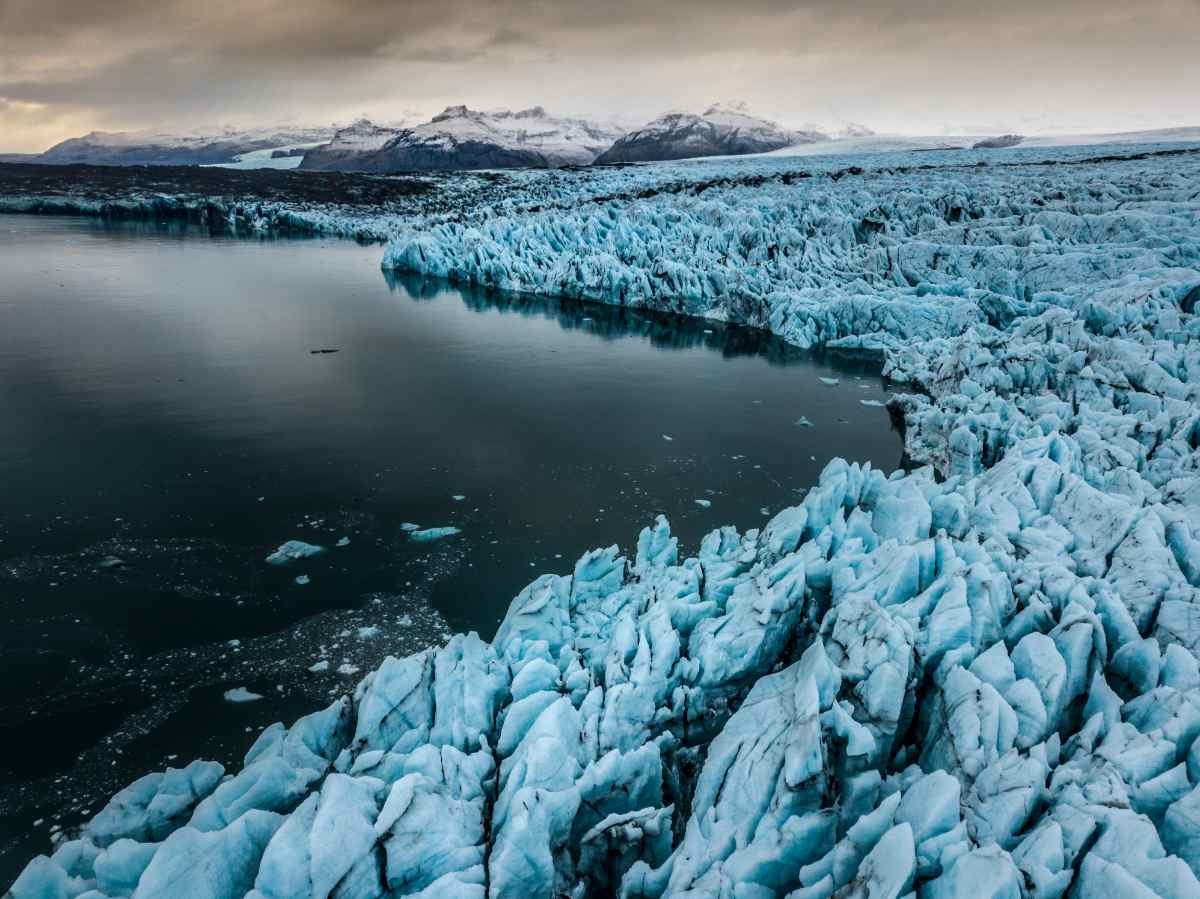 What to Do and See at Jokulsarlon Glacier Lagoon
You will find plenty of things to do and see at Jokulsarlon Glacier Lagoon, so be sure to give yourself enough time to experience everything the site has to offer:
What to Do in Jokulsarlon Glacier Lagoon
The following are some of the most popular activities you'll find at Jokulsarlon Glacier Lagoon:
Jokulsarlon Glacier Lagoon Boat Tours
The boat tours at Jokulsarlon Glacier Lagoon are purposefully created to give you an up close and personal experience that suits every personality. If you are someone who enjoys a little bit of adrenaline pumping through your veins, we suggest you go on the Zodiac boat tour.
This tour is a bit more fast-paced and bumpy, but will get you within arm's reach of the icebergs and the glacier. The Amphibian boat tour is a bigger boat that makes for smoother sailing and you'll slowly cruise down the lagoon, taking in the picturesque surroundings.
Jokulsarlon Kayaking
To have closer encounters at Jokulsarlon than in a kayak, you'll need to actually get into the water (don't though). Kayaking the Jokulsarlon Glacier Lagoon is truly a once-in-a-lifetime experience that will get you right next to the floating icebergs and seals playing around them. Just keep in mind that due to safety concerns (you are in a lagoon with giant floating icebergs and wildlife after all), kayaking can only be done via a guided tour.
But these groups are usually very small (also for safety reasons) and make for a very intimate experience. You also don't need to have any previous experience or specific skills to go kayaking. Remember, kayaks are not like canoes.
They are much bigger and more stable, and are pretty easy for complete beginners to get the hang of. Before you start planning your big kayaking day out, just confirm the group size, weight, and age restrictions with the tour operator, so you are not left disappointed or with half your group waving you on from the shore.
Ice Caving at Jokulsarlon
To say that standing within a cavern with walls entirely made out of blue ice is a unique experience would be the understatement of the year. Add in almost fairy-tale-like ice formations, stalactites hanging from the "ceiling" like icy fangs, and stalagmites looking like tiny mountains on the floor, and you'll be forgiven thinking you've just been transported straight into Disney's Frozen.
The ice cave at Jokulsarlon called the Crystal Ice Cave, can only be visited via guided tour (once again, those safety issues come into play). The tour takes about 3 hours and usually consists of no more than 14 people. This is also a seasonal experience (ice melts in warmth, remember?), so this ice cave in Iceland is only open to the public during the colder months of the year (October to March).
Jokulsarlon Glacier Hiking
This is a wonderful activity to take on with the family, since children aged 10+ can join in on the fun. A Jokulsarlon glacier hike allows you to literally take a walk on Europe's largest glacier; Vatnajökull. As you can imagine, safety is also a top priority with an activity such as this, and the hikes can only be done via guided tours where an experienced guide will (quite literally) keep you safe from the pitfalls of glacier hiking.
A glacier hike is far more than just walking across ice. You will be gawking at the things your guide will show and share with you. From sinkholes and dirt cones consisting of the ash of past volcanic eruptions to small caves, and more… you'll understand why a 7-kilometer walk takes roughly 4 hours. Guided tours can be booked for 2+ individuals, and the tour group will also usually not be more than 14 people.
Go to the Annual Fireworks Show at Jokulsarlon Glacier Lagoon
This is something not many know about, but if you're lucky enough to visit the island in August, you'll be able to attend this spectacular show. And the way the bursts of color in the sky reflect on the ice will simply blow your mind.
Take a Hike
As you know, Jokulsarlon Glacier Lagoon can be found in Vatnajökull National Park. You will find a myriad of hiking trails here in the park to properly explore the beautiful landscape. There are trails of all sorts of difficulty levels and lengths (day hikes as well as multi-day treks), so no matter your experience or skill level – you'll be able to find a trail that works for you.
What to See in Jokulsarlon Glacier Lagoon
There are plenty of interesting things to see at Jokulsarlon Glacier Lagoon such as:
Birds
Jokulsarlon Glacier Lagoon is a favorite spot for bird watching. The reason why the lagoon is such a birder's paradise is because the lagoon offers a wealth of food to the birds, especially herring and capelin that are brought in by the tides. If you visit the lagoon, you can tick off birds on your bird watcher's list such as the Barnacle Goose, the Whooper Swan, the Skuas, the Arctic Turn, the Northern Fulmar, and many more.
Seals
The seals are there for pretty much the same reason that the birds flock to the lagoon – an abundance of food. That's why, if they're not lazying about on the sheets of ice, or playing around the floating icebergs, they can be seen hunting at the mouth of the lagoon where the most fish are found.
The Northern Lights
As we already mentioned, the wintertime in Iceland is a popular time to visit the Lagoon since you can explore the ice caves and spot the Northern Lights. The reason why the lights can be quite spectacular here is the combination of cold and lack of light due to its remote location (you won't find any glaring city lights here that'll diminish the effects of the Aurora Borealis).
The Midnight Sun
This is on the opposite spectrum of the Northern Lights. If you visit the island in June (which is the height of summer) you will not be able to see the Northern Lights at all since there's no darkness at all. But this allows you to experience another of Iceland's famous natural phenomena; the Midnight Sun. This is when the sun might take a quick dip behind the horizon, but darkness never falls, and you'll essentially have 24-hour "days" (which includes daylight at midnight).
Diamond Beach
Iceland is pretty famous for our black sand beaches. These beaches are the result of thousands of years of volcanic activity here on the island. And whilst we have a few popular black sand beach spots around the island, one of the most impressive can be found next to Jokulsarlon Glacier Lagoon; Diamond Beach. On Diamond Beach, pieces of ice wash on shore to sparkle light diamonds in the sunlight. Definitely a magnificent sight to behold!
Where to Stay Near Jokulsarlon Glacier Lagoon in Iceland
With so much to do and see at Jokulsarlon Glacier Lagoon, many stay over and spread the local activities and attractions across a few days. If this is something that you are also considering, the following accommodation suiting a variety of budgets come highly recommended:
Jokulsarlon Hotels
Jokulsarlon Guesthouses
Jokulsarlon Campsites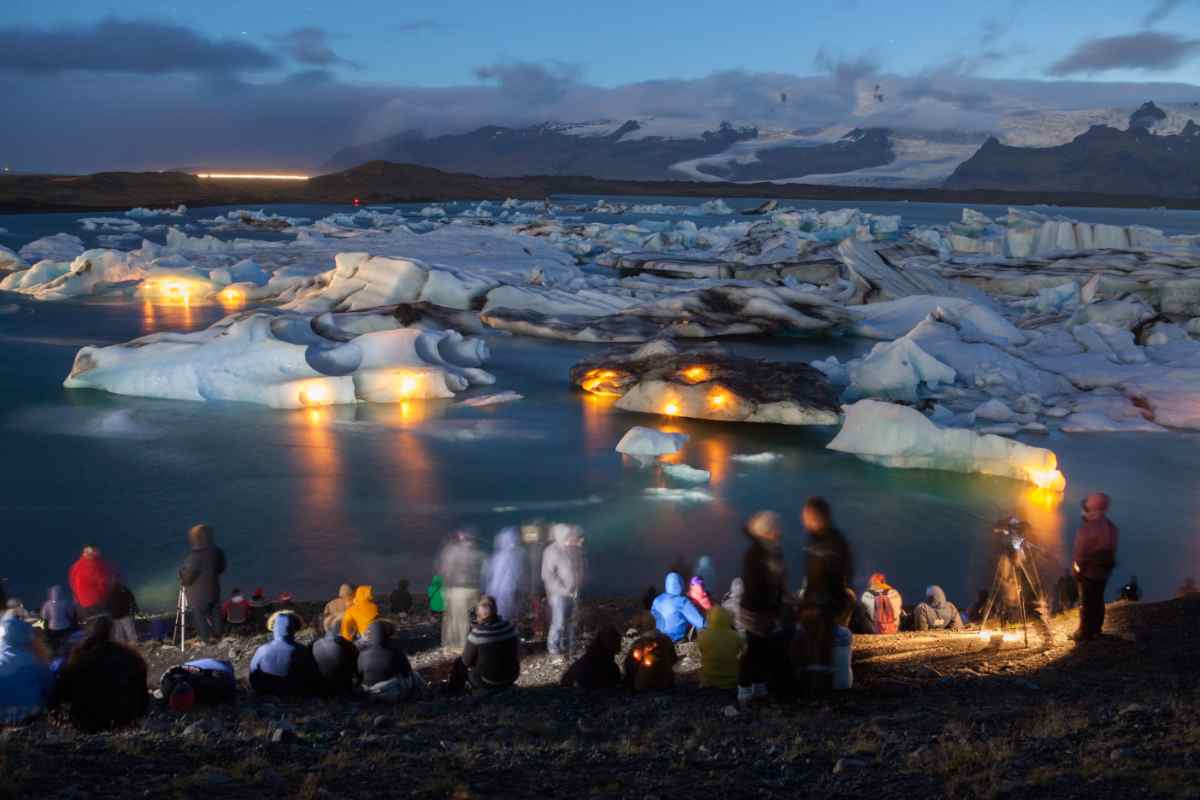 Helpful Tips when Visiting Jokulsarlon Glacier Lagoon
If this is your first visit to the island, or it will be the first time you'll be stopping at Jokulsarlon during your trip to Iceland, the following tips will come in handy:
Make Sure that You Book Tour Spots Well in Advance During Summer
Our summer months are peak season here on the island, and you'll need to ensure that you've booked your spot on any of the tours at Jokulsarlon Glacier Lagoon well in advance. If not, you might be very disappointed to find everything fully booked.
Get Dressed for the Occasion
Not only do you need to dress warmly when visiting the lake, but you'll also need to don your best waterproof clothing and accessories (especially if you're planning on going on a boat ride).
Beat the Crowds
The crowds at popular attractions such as Jokulsarlon can become quite daunting. But even during our busiest season, there are ways to beat the crowds. Plan your visit for either early morning or late afternoon. We recommend late afternoon, when most visitors have left, and there won't be many new visitors arriving. Plus, if you're visiting when daylight hours have become fairly reasonable again; a sunset over the lagoon is simply magical.
Ensure that Your Phone is Fully Charged and You Have a Power Bank
For those who don't know, the cold can cause batteries to get drained pretty quickly. And Jokulsarlon with its glacier and drifting icebergs definitely complies with all cold criteria. So, make sure that you have a fully charged phone before heading out, and take a power bank as backup with you.
Download Offline Maps
Whether it's a drained battery or just because technology and signals fail us some time, we always recommend that visitors not solely rely on GPS, but download maps as well as keep a few hard copies close by. This way, you won't be left completely in the dark when the electronic devices let you down.
Snap Pics at Sunrise or Sunset
Jokulsarlon with its bobbing bright blue icebergs and icebergs with streaks of volcanic ash still visible inside them, is a favorite spot amongst amateur and professional photographers. But if you want to snap a couple of near-perfect pics, we suggest you visit the lagoon during sunrise or sunset.
Not only will you not be bothered by the crowds, but this is when you can take advantage of the natural light and see how the colors reflect on the clouds, the ice, and the glassy water.
FAQs
Below, you will find the answers to some of the most frequently asked questions regarding Jokulsarlon Glacier Lagoon:
How Far is Jokulsarlon from Reykjavik?
Jokulsarlon is about 380 kilometers from Reykjavik, and it will take you roughly 5 hours to drive there.
What Kind of Lake is Jokulsarlon?
Jokulsarlon is a lake that is fed by glacial water, hence why it is also called Jokulsarlon Glacier Lagoon. One of the dead giveaways of a glacier lagoon/lake is the gigantic icebergs bobbing about.
How Long Does it Take to See All of Jokulsarlon?
For Jokulsarlon Glacier Lagoon itself, we recommend setting aside about 4 hours to properly explore the lake and go on one of the boat tours. But if you want to add on some of the local surrounding attractions, we strongly advise that you take at least a couple of days if you don't want to feel father time constantly breathing down your neck. You will find accommodation options in our article.
How Many Boat Trips are There Per Day at Jokulsarlon Glacier Lagoon?
During peak season (June, July, August), the boats run all day with at least one boat leaving every half an hour 'till the final trip at 18:00. These operating times change during the "down" season, however, so we recommend double-checking before heading out to the lagoon.
Can We Spot Puffins at Jokulsarlon Glacier Lagoon?
Puffin spotting in Iceland is a seasonal activity, and these little guys only make Iceland their home during the breeding season (May to August). So, if you visit the island at other times of the year, the odds of you running into a Puffin are basically 0.
If you visit during Puffin season, whilst it may be possible to see a Puffin or two at Jokulsarlon, we won't recommend it as a go-to Puffin spotting hot spot. Rather head towards the cliffs or rock formations here on the island, where you will find them in their hundreds.
Jokulsarlon Glacier Lagoon; a Must-Visit Spot on an Iceland Road Trip
We still believe the best way to explore the island is via a road trip. And with Jokulsarlon so conveniently situated next to the Ring Road, it would almost be a crime not to include this as a stop on your trip itinerary.
So, for the most enjoyable (and affordable!) road trip, rent a campervan in Iceland and start ticking off incredible sights such as Jokulsarlon whilst fully immersing yourself in the Icelandic landscape.