Getting ready to drive around Iceland on your upcoming trip? As well as finding your perfect rental vehicle in Iceland, it'll serve you well to learn about the different Iceland road signs you may come across when on your travels.
As Iceland is an increasingly popular tourist destination, many cars on the road are actually visitors on vacation – all the more reason to study the Iceland road signs, as you can't always rely on the driver in front of you to know the rules of the road.
Top Tips for Reading Iceland Road Signs
Triangle signs

give a warning.

Circle signs

mean that something is prohibited.

The word '

stans

' means stop, which you'll often see at a junction or toll booth.
City Traffic Signs in Iceland
A red circle with a yellow bar through it means 'entry prohibited', meaning you can't enter the road from the direction you are approaching it from, but you can access it from a different direction.

A yellow circle bordered by red means 'driving prohibited'. You can't drive in this area at all.

A blue circle bordered by red with a red diagonal line through it indicates that 'parking is prohibited'.

A blue circle bordered by red with two red diagonal lines crossing each other indicates 'no parking or stopping'.
Meanings of Common Iceland Road Signs
Here are some of the most common and important Iceland road signs and their meanings, which will be particularly useful when travelling through Iceland's natural landscapes.
Speed Signs
Speed signs in Iceland are in yellow circles bordered by red. The speed is written in kilometres per hour.
Average speed limits in Iceland are:
30 kph (around 18 mph) for residential areas

50 kph (31 mph) for other built-up areas

80 kph (49 mph) for gravel roads

90 kph (55 mph) for paved roads, such as the

Ring Road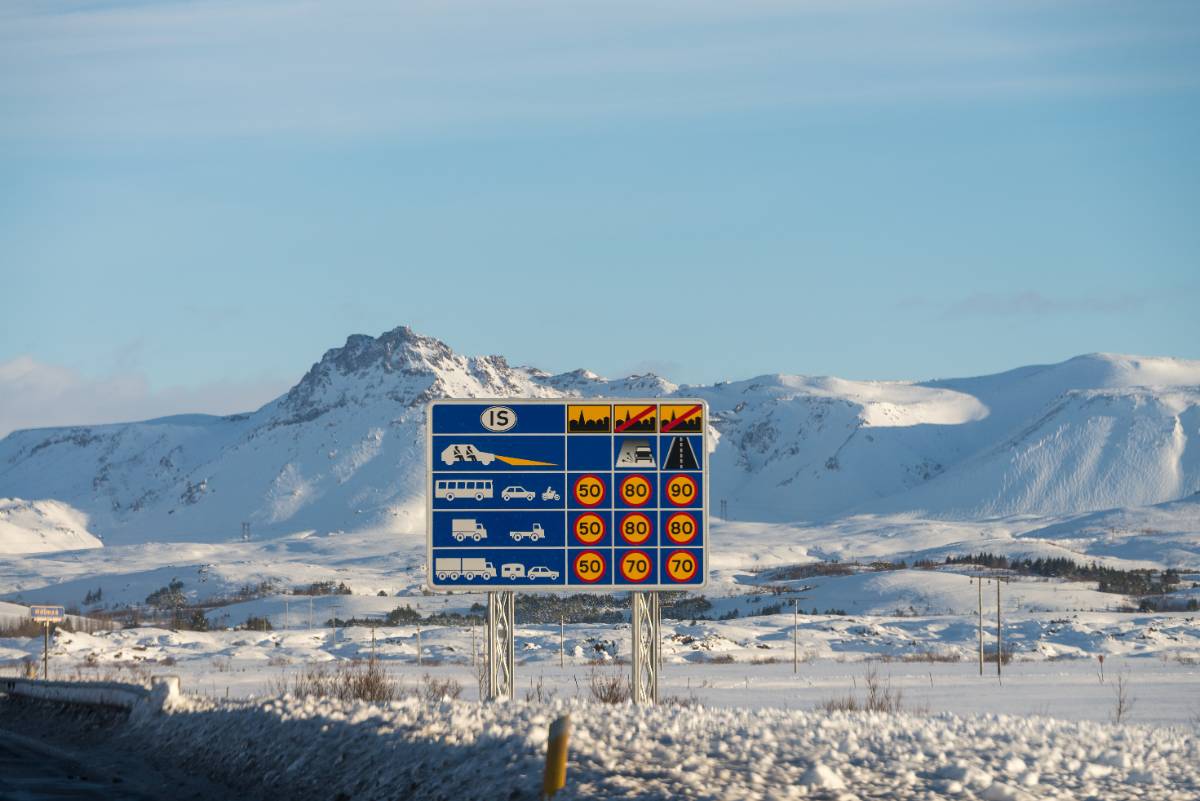 There are also suggested speed limits in Iceland, which are indicated by blue square signs with white numerals within a white circle. While they are not mandatory, these advisory speed limits are offered to guide you when navigating the Icelandic roads. We recommend following these guidelines to ensure you're safe while exploring Iceland.
Gravel Road Surface Change Sign
An important one to note when driving around Iceland, gravel road signs indicate a change in the road surface that can affect your car's response to the road. Iceland's F-roads can be uneven with a loose surface.
You'll see a double sign with the top sign being a black exclamation mark in a yellow triangle bordered by red and the bottom sign showing a picture of a road with the words 'malbik endar', which means 'asphalt ends'. It's particularly important to pay attention to these traffic signs in iceland as the grip of your wheels will be affected by the change in road surface, which will, in turn, increase stopping distance.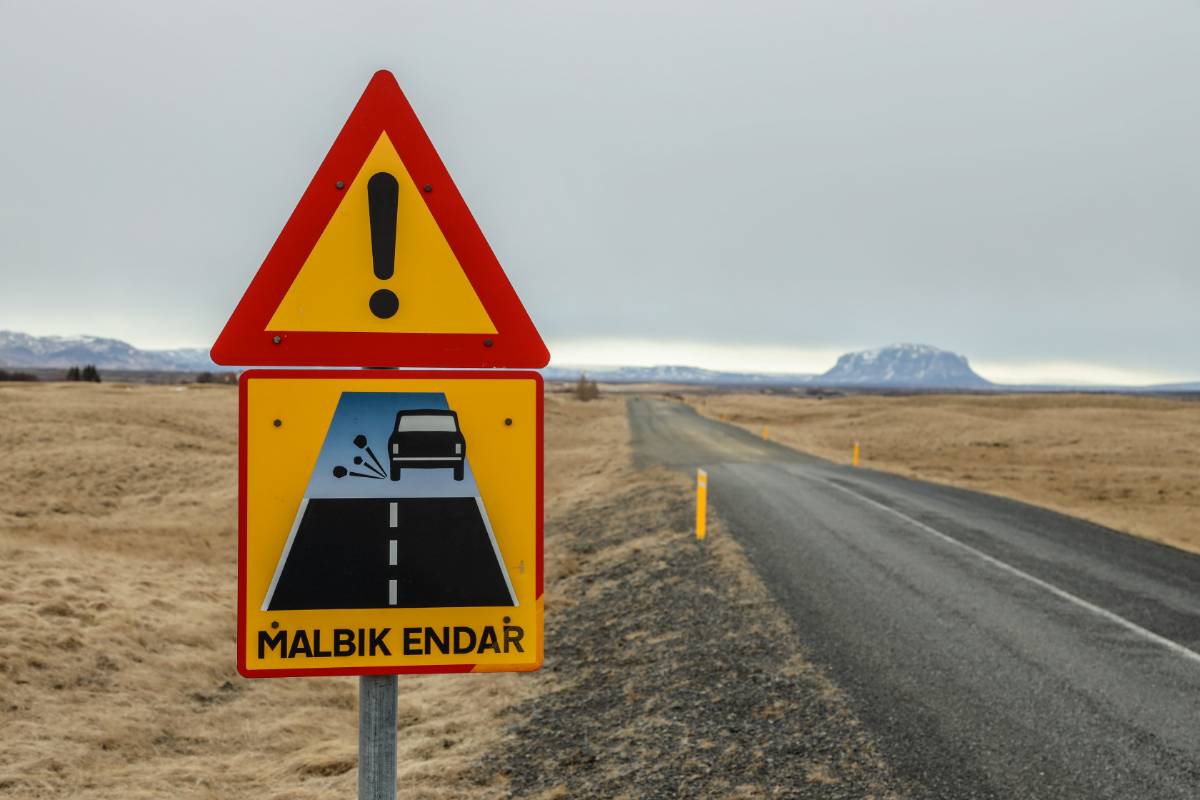 4x4 Road Signs
4x4 vehicles are required to reach certain destinations in Iceland, such as the Icelandic Highlands, which can only be reached via the country's mountainous F-roads. Some of these roads cross rivers and traverse challenging terrain, so it's important to make sure you have a sturdy, reliable 4x4 vehicle rental in Iceland before tackling these roads.
This Icelandic street sign is a yellow rectangle bordered by red featuring a black car symbol that says '4x4' on it and the phrase 'óbrúadar ár' below, which means 'river crossing with no bridge'. The most difficult F-roads of all are marked by a sign that says 'torleidi', which means 'extremely difficult terrain' – be warned that driving these roads require expert skill.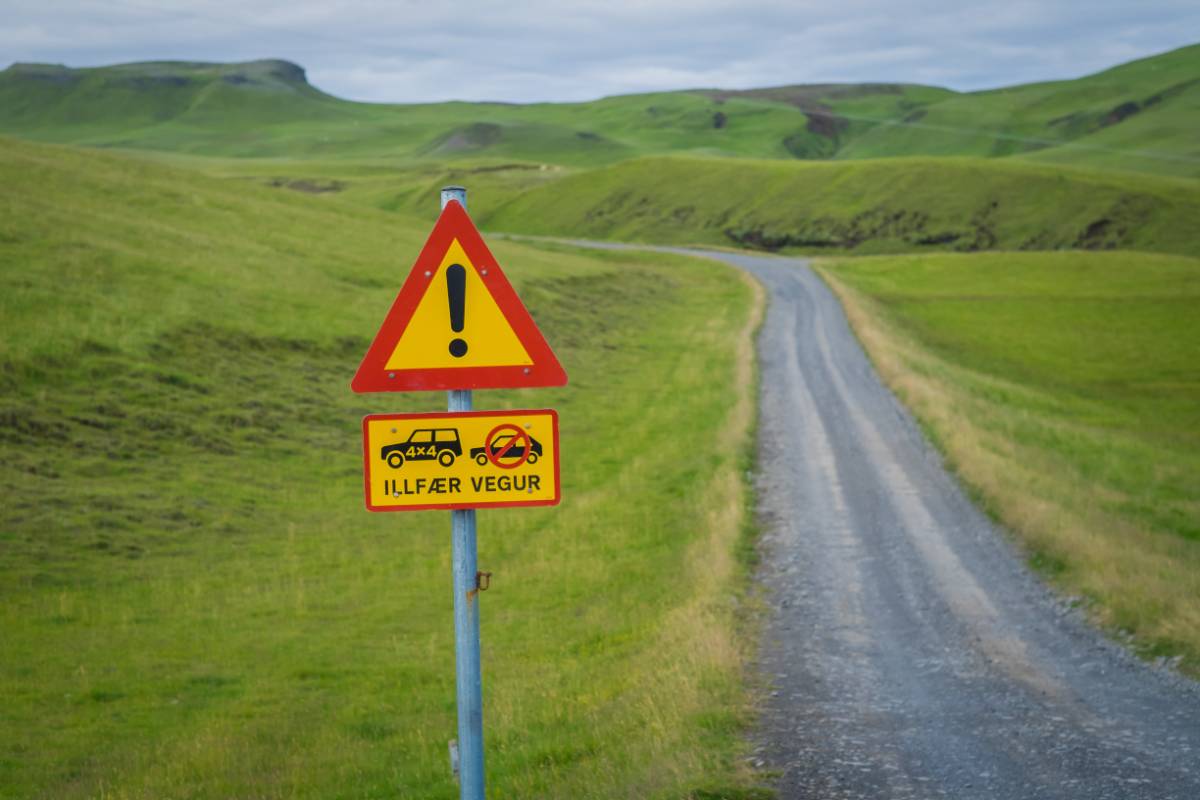 Animal Road Signs
Iceland's spectacular natural scenery is home to a diverse range of wildlife, with some species existing in close quarters to the Icelandic road network, particularly in more rural areas. Being vigilant when traveling along roads with animal signs will help to protect the precious Icelandic animals.
These road signs in Iceland are yellow triangles bordered by red with a black symbol of the animal type that lives nearby. Sometimes there will be a distance sign underneath that indicates where the animals are located along the road.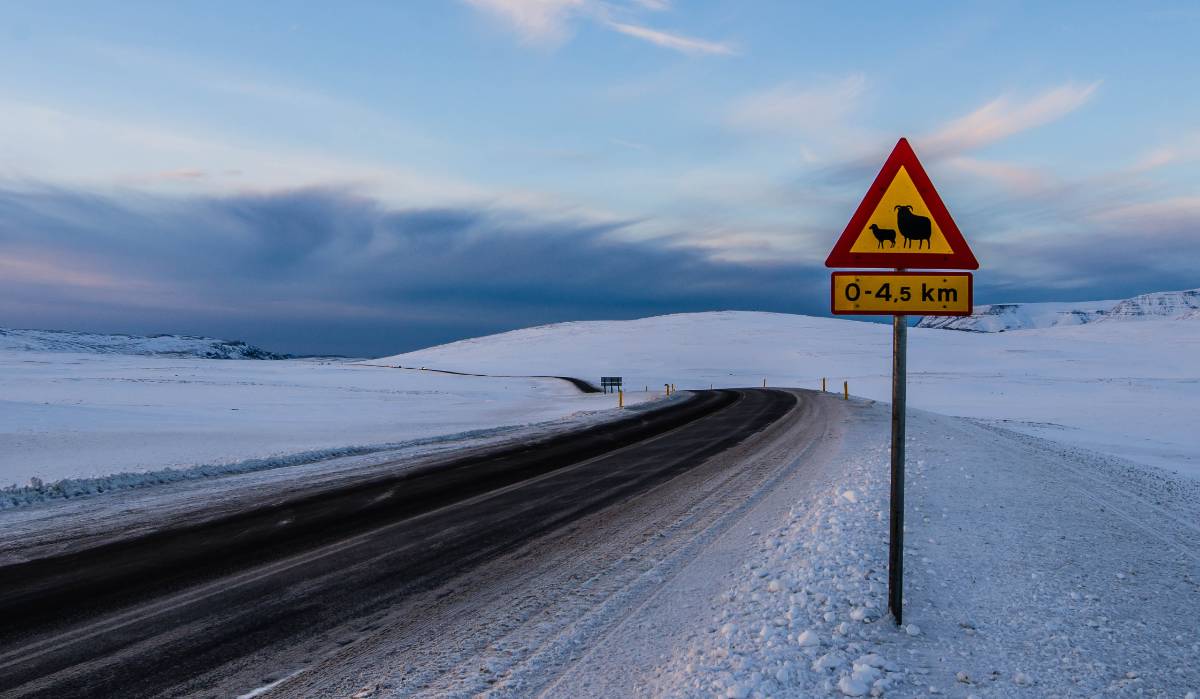 One-Lane Bridge Sign
When driving around Iceland by campervan, you'll come across many unusual roads due to the country's unique geology. This is also the case if you choose to rent a motorhome. While there are rivers to cross and mountains to traverse, there are also many one-lane bridge roads that require special care to drive across. Although you may not immediately think this type of road is dangerous, quite a few accidents occur on these bridges, especially when road conditions are icy.
But don't worry, you can cross these roads safely by slowing down on your approach to the bridge and ensuring you can see far enough up the road ahead. The sign to look out for is another double sign with a black exclamation mark in a yellow triangle bordered by red at the top and a drawing of a bridge with a single car crossing above the words 'einbreid bru'.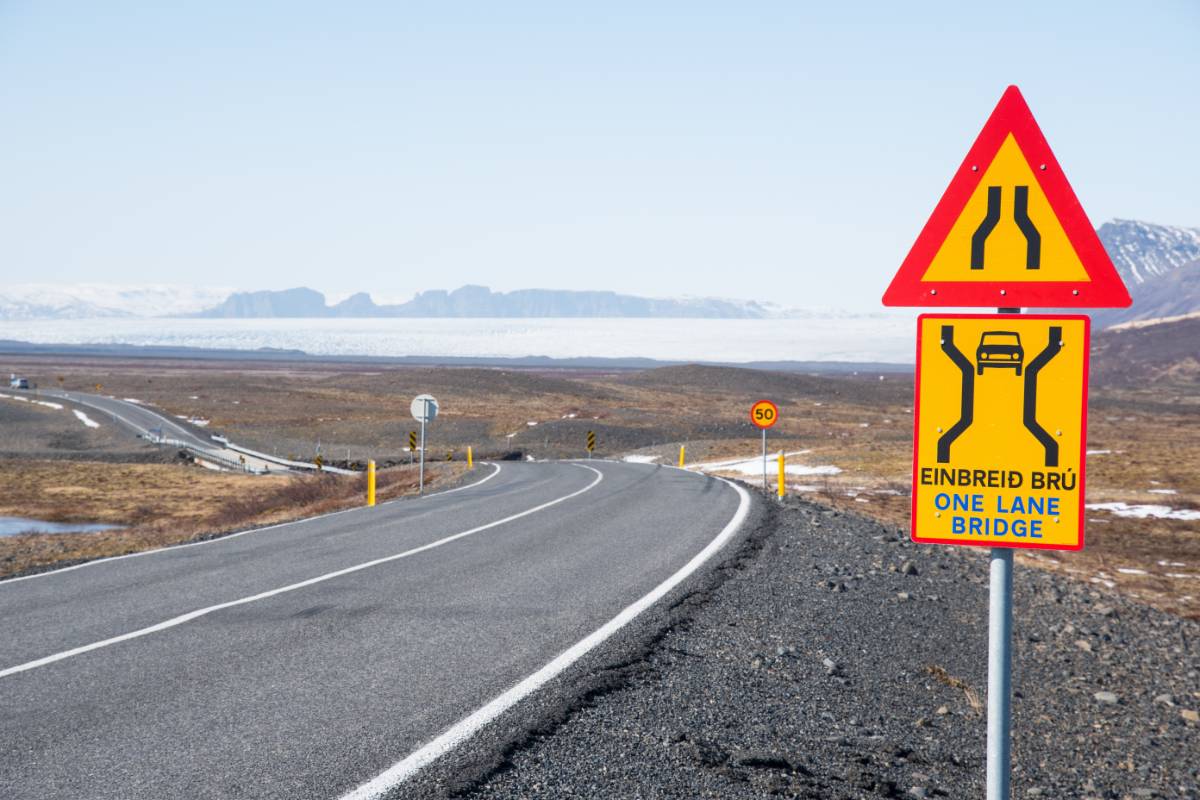 Exploring Iceland by campervan
Now you're all clued up about Iceland street signs, it's time to book your rental vehicle in Iceland ready for your big trip. Let's hit the road and explore all the breathtaking natural wonders the Land of Ice and Fire has to offer!