An Iceland campervan road trip is one of those once-in-a-lifetime adventures that you think only happens in the movies. You imagine a bunch of friends, a young couple, or a small family packed into the back of an RV and making their way around Iceland by camper van. Add in the fact that the country's Ring Road completely encircles the island while hitting most of the major sites along the way and you can see why Iceland was made for road trips. Not only that, but there is an abundance of campsites to choose from and well-developed infrastructure for those looking to go camping in Iceland.
Exploring Iceland by Camper Van
There's a reason Iceland campervan rentals are so popular. When travelers are planning their road trips in Iceland, there are three main options. While some choose car rental and staying at hotels, to be perfectly honest, this is a very pricey option. Another route people take is renting a motorhome in Iceland. Motorhomes are a good choice, but they can also be quite expensive because they're so large.
Campervans in Iceland give you the best of both worlds. Your RV is small enough that you can drive to many of the same places that sedans or SUVs can access. And because Iceland campervans are so small, they cost less money to fill up the tank at gas stations. You'll also save a ton of krona by not eating at restaurants for every meal.
Having a kitchenette in the back of your camper van means that you can pull into a parking lot at any time and prepare breakfast, lunch, dinner, or a snack. It's easy and convenient to whip something up using cheap groceries that you purchased at discount supermarkets like Bónus, Krónan, and Nettó.
And here's another money-saving tip to make sure everyone in your group are happy campers. Stock up on alcohol in the airport at duty-free. It's so much cheaper than buying heavily taxed liquor during your travels.
In addition to the cost benefits, Iceland by campervan also affords you some pretty cool experiences. Depending on where you're staying and the type of vehicle that you have, you might be able to see the Northern Lights from inside your Iceland campervan.
If you stick to the Ring Road or the Golden Circle, a 4WD will do. And if you're looking to explore the country's Highlands or drive on F-roads, a 4x4 camper van rental in Iceland is exactly what you need.
Driving in Iceland
Safety is essential while driving in Iceland by camper van. If you come during the summer months, you'll probably be blessed with good weather. If your Iceland trip is in winter, you need to take some basic safety precautions like driving slowly, giving yourself plenty of time to arrive, and year-round safety measures like paying attention to road signs for dangerous conditions like blind hills (blindhaed) or blind corners, etc.
Something you may or may not be aware of is that regardless of driving conditions, you must always have your headlights on. And whatever you do, please don't just pull over onto the side of the road whenever you feel like it. Traveling around Iceland by campervan, you're going to want to stop to take pictures of the scenery and breathtaking landscapes. When you do so, please make sure that you're completely out of the way and not blocking the road for passing drivers.
The last tip for driving in Iceland with your campervan rental: be sure to plan your stops at gas stations in advance. There are parts of the island that are quite remote, and the last thing you want is to run out of gas in the middle of nowhere.
Icelandic Roads and Road Conditions
If you stick to the main thoroughfares (aka The Ring Road) during your Iceland road trip, you'll find mostly paved roads. The country's gravel roads tend to be the F-roads of the Highlands and other wild parts of the island. You'll find these paved roads easier to drive during the summer months. Once the snow starts to fall, things become a little trickier.
Your camper van rental company will already have taken basic precautions like providing vehicles with studded snow tires. Almost all Iceland campervan rentals come standard with them from November to March, which is Iceland's winter. You'll want to practice safe driving at all times on these slick, slippery, icy roads. Exploring Iceland by camper van in the winter is a magical experience, and we always want you to be safe. Check the weather forecast and Icelandic road conditions using helpful websites.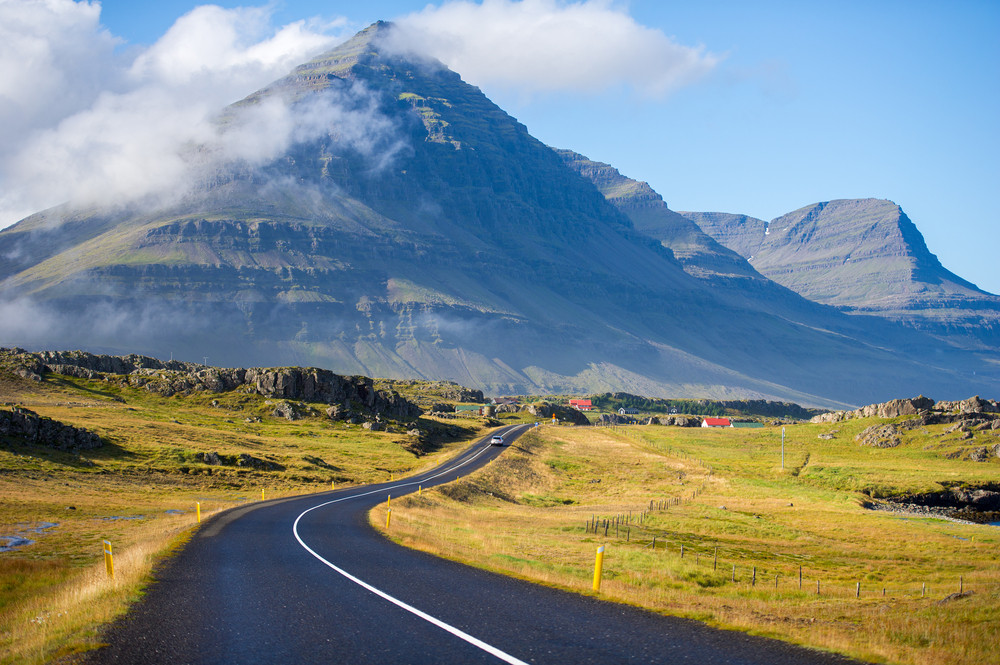 Do I Need Travel Insurance For My Camper Van?
There are several different types of insurance for Iceland campervan rentals, and the type you choose depends on your itinerary and what you think you need. CDW (Collision Damage Waiver) insurance come standard from most rental companies.
You can upgrade this to SCDW (Super Collision Damage Waiver) coverage. There's also Sand and Ash Protection (SAAP), which will come in handy if your trip around Iceland by campervan takes you along the South Coast. There's been quite a bit of volcanic activity in this area over the last decade, and as a result, there's lots of ash and sandy particles floating around, especially when the wind starts to pick up. Sandstorms an ash storm are not unheard of in this part of the country.
You'll also definitely want to opt for Gravel Protection (GP) if you intend to rent a 4x4 camper van in Iceland to drive in the Highlands. You'll encounter plenty of gravel roads, and you want your Iceland campervan to be protected from any damage.
Driving Around Iceland by Campervan
Campervan rental is one of the best ways of exploring Iceland. This is probably why so many visitors who come to our shores opt for this mode of transport. It's an easy, convenient, economical way to get around the island. Driving in Iceland is both pleasurable and fun. Take a look at some of our Iceland campervan rentals available to see if any catch your eye. Then grab your credit card and start dreaming of your amazing Iceland adventure.