Whether you are in the mood for a long stay or a short visit, there is a wide variety of Iceland farms around the country that will satisfy your needs. Some are high-end luxury resorts in an Icelandic farm style, whilst others still look and operate like the regular farms in Iceland, just with more people.
Experiencing this mystic island in the right way is crucial in getting the most out of your holiday. With an Iceland farm stay, you can get some peace of mind and enjoy the beautiful nature at the same time. Check out our top picks and guiding information to ensure you get an amazing Iceland vacation.
What is it Like to Stay on an Iceland Farm?
First of all, getting to your farm stay in Iceland will be an experience. Expect to drive along gravel roads, dirt paths, and cross thin bridges to reach your farm stay. Only Iceland's main highways are paved, so your car may get a little messy along the way. Your rewards for this journey, however, are well worth the effort.
If you've come to Iceland to get away from crowds and noise, this is the perfect way to spend your holiday. You will also be able to support their locally grown produce and locally made products. Nothing says Iceland like real skýr and a knitted sweater from sheep wool.
Additionally, you'll have easy access to nearby famous hiking trails which are off the main tourist routes. The accommodation type will often be a converted house, with the option of single or shared rooms. The farmers will generally live in a separate building on the property.
What to do on an Iceland Farm?
Apart from the aforementioned hiking trails, certain farms will also offer excursions to their guests. These can include Icelandic horse-riding treks, ATV tours and fishing tours. Farmers will also be happy to share their favorite spots in and around the farm and also tell you if there are any cool things like volcanoes, glaciers, waterfalls, or hot springs nearby.
Of course, since you're staying somewhere remote, this means starry nights and maybe even some northern lights if the sky is clear.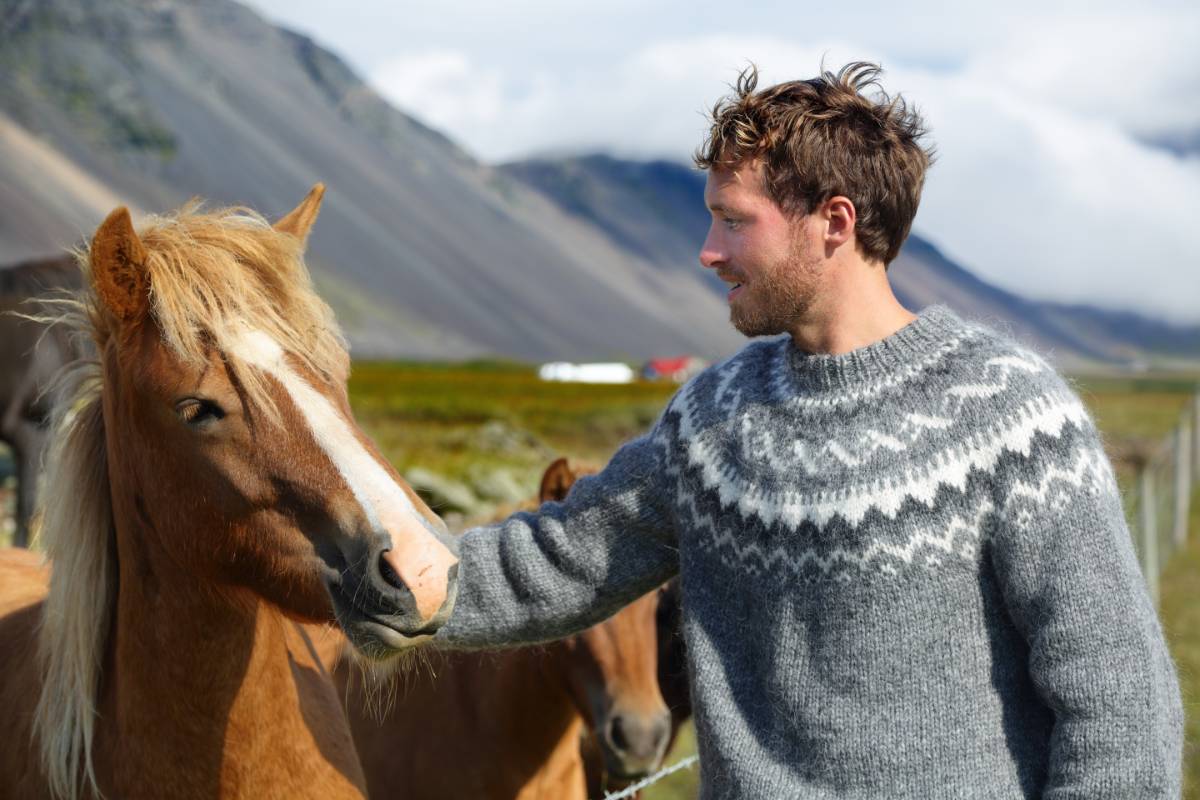 How to Book a Stay on an Iceland Farm
Since most farms will work on their online presence, you will be able to book your stay on most of the popular online booking sites. If you rather want to book directly with the Iceland farm owners, you can easily do that on their own websites.
There are farm stay options throughout the country, so you'll have no problem finding accommodation wherever you go. The only place you won't find a farm guesthouse is in the highlands, Iceland's interior.
Iceland Farm Recommendations for a Stay
1. Deplar farm
This is the clear favourite Iceland farm when it comes to luxury holiday stays. An old sheep farm has been remade into a luxury stay for farm holidays. Deplar Farm offers you everything you could ask for in a luxury Icelandic farm experience. They offer 13 rooms with 1-8 persons per room.
Enjoy outdoor adventures such as hiking, biking, fishing, kayaking, horseback riding, and skiing, or take a calmer approach and chill in the in-house spa, gym, or game room. This stay is tucked away on the troll peninsula in the northern part of Iceland, so keep that in mind when you're making your booking.
2. Stóra Ásgeirsá Farm Stay
Another northern farm that we're big fans of is Stóra Ásgeirsá Farm Stay, which is the perfect crossover between a rustic and luxury Iceland farm stay. This is probably a good representation of the farm houses Iceland has and how they look around the country and offers 4 rooms that can fit 7 people.
Here you will be able to pay a visit to the farm animals, have a horseback riding trip with the owners, or simply sit by the waterfall right next to the house. The farm is right next to the Ring Road 1, which makes this a great stop on a way around the island.
This Icelandic farm is just over an hour to the east. It is a rebuilt farm with double rooms, family rooms, cottages and apartments, which means that you will stay in modern rooms on an old farm.
The owners keep some domestic animals that guests of all ages can interact with, so it's your perfect farm experience. There's also a restaurant on-site with a special "blind raven" dining experience in which guests eat in complete darkness. This is a must-do if you have a night to spare at this wonderful Iceland farm.
Vatnsholt's location makes it easy to find; just drive past the small town of Selfoss and turn onto Villingaholtsvegur road.
4. Hellishólar
Hellishólar is located about an hour and forty-five minutes from Reykjavík, in the south, close to Ring Road 1. It offers hotel rooms, cottages, and camping spots, so it fits whichever way you like your farm holidays.
Combining farm life with outdoor sports, this former Iceland farm has a 9-hole golf course on the property and golf courses for patrons. There's a restaurant on the farm, so you won't have to look far for food, and for the little ones, there's a playground on the site.
Apart from that, there's a fishing lake not far from the farm and plenty of hiking trails to take on warm summer days. The farm offers ATV tours and horseback riding for those who want to take part in those activities.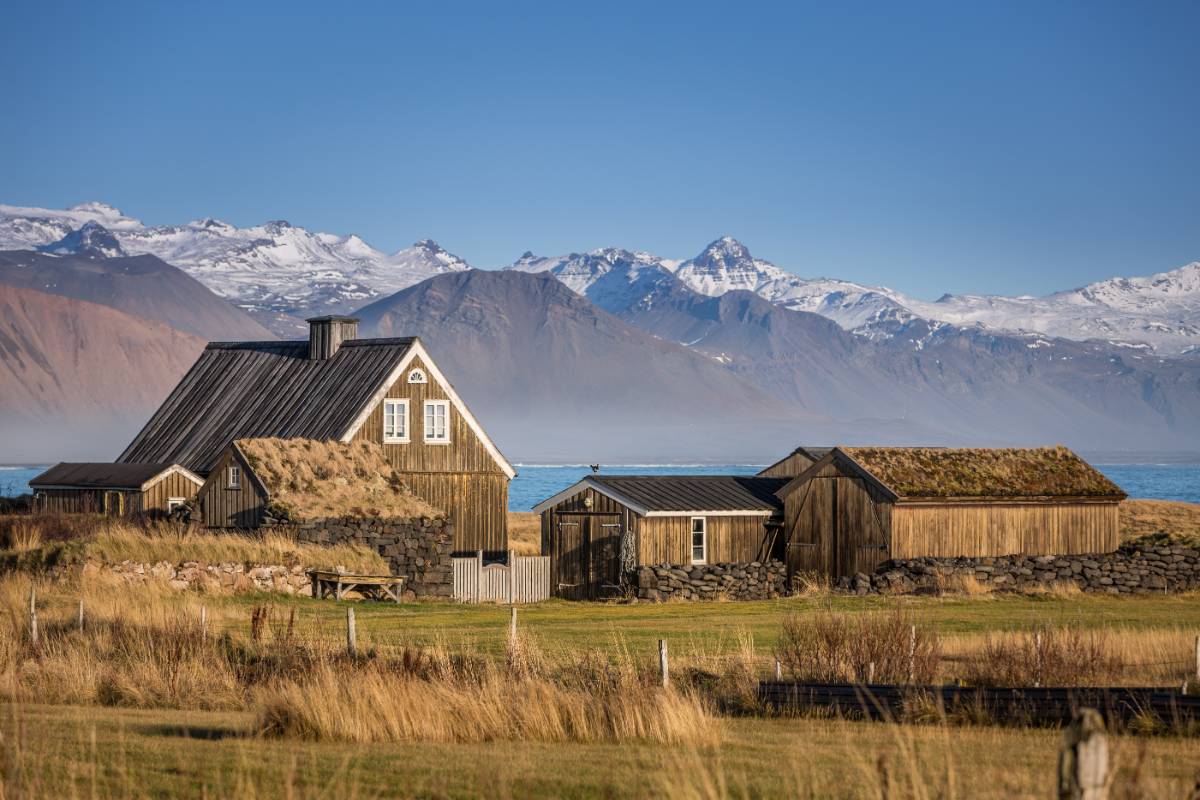 5. Ytra Lón Farm & Retreat
An extremely remote farm stay option, Ytra Lón is in the Eastfjords, or the northeast of Iceland, one of the least-populated areas in the country. The accommodations are in the form of studio apartments, and since it's still a working farm, they serve lamb dishes from their own stock.
Breakfast, packed lunches and dinner are available if you don't want to cook for yourself in the studio kitchen. When you're not eating, explore the peninsula on which the farm is situated. Many bird species, including puffins, make the cliffs around the peninsula their home in the summer and offer an amazing nature experience.
Very close to the property there's also a river with an abundance of Arctic Char and Brown Trout. This is the best location for those who like to fish in a peaceful environment.
Iceland Farm Recommendations for a Visit
You don't have to visit Iceland farms to get some sleep. Going there to simply have a short (or long) experience and see what life is like on an Icelandic farm is also a good enough reason.
1. Slakki
Located roughly an hour from Reykjavik and just 20 minutes off the Ring Road 1,Slakki is an Iceland farm petting zoo that is perfect for a day trip. Here your kids can interact with a myriad of animals, and sometimes even help the staff bottle-feed some of the baby animals!
They offer a restaurant, mini-golf, and playgrounds for the younger adventurers in the family.
2. Vallanes, Moðir Jörð
Just southwest of Egilstaðir, you'll find an organic farm which focuses on growing food rather than herding it. Here you won't get the traditional farm experience, as the animals are absent, but that is what we like about it. The name Moðir Jörð translates to "Mother Earth", which perfectly embodies this place.
Offering a top-notch restaurant with a very low environmental impact, this is the place to go if you are in the eastern part of Iceland and want to visit a restaurant with vegan options. You will also be able to get to know the plant kingdom that is the very base of all farm life in Iceland.
3. Háafell
Speaking of typical Icelandic farm life, roughly an hour and a half north of Reykjavik there is a very special goat farm. The owners of this place rescued the Icelandic goat and are now solely reliant on these animals.Háafell teaches their patrons about this specific goat and sells all kinds of goods that are made from them.
If you like new experiences, it's well worth a visit on your way around the Ring Road 1. Goats are super fun creatures, and the smaller they are, the crazier they are!
An Iceland farm that also hosts a petting zoo that is all-around an amazing family visit. Honestly, it's an amazing visit regardless of if you bring family or not. The sheer number of animals you can chill and pet here is worth the drive, and it is really educating about Iceland farm life. Refreshments and snacks can be bought on-site and it's a perfect stop along the Golden Circle.
While technically not a farm, this is a great option for anyone who isn't planning on going away from the big city for a farm visit. Here, you can meet up with most animals you will find on an Icelandic farm and still be back to your holiday stay
The Pros of an Iceland Farm Retreat
If you want to discover how countryside residents live in Iceland, book a stay on an Iceland farm. The pace is slower, the views wider, and the surroundings quieter.
That is if you don't mind the bleating of a few sheep or the neighing of a few horses. However, most of us will agree that those natural noises trump the artificial sounds of traffic and nightclubs any day.
Booking a stay at an Iceland farm doesn't mean you won't be able to visit popular sites. In fact, many of the farms are just a short drive away from famous landmarks.
You'll get the best of both worlds, as you can explore the sights but leave the crowds behind every evening when you return to your peaceful accommodation. Lock in your farm stay and rental vehicle today to get excited about your upcoming adventure!