Renting a camper and driving around the Ring Road is hands-down the best way to see our beautiful country. Driving in Iceland is likely unlike anything you've ever experienced before. That's because everything from road conditions to weather conditions might be completely new and foreign to you, even as an experienced driver.
If you're planning on doing a self-drive Iceland road trip, there are several things you need to know. Driving safely in Iceland is of the utmost importance, so we've outlined some tips, tricks, and information to keep you informed and safe.
Iceland driving laws to be aware of
Just to get ourselves oriented, let's talk about some Iceland driving laws. This will help you put some things into context as well as make you aware of rules that may be different for drivers than in your country.
The speed limit in Iceland
Probably the most important of Iceland's driving laws is the country's speed limit. I'm pretty sure that drivers here have to go a bit more slowly than what you're used to. This is because of concerns about weather conditions, road conditions, and how they affect general driving safety.
The speed limit in Iceland is:
90 km/h (56 mph) on paved roads in rural areas
80 km/h (50 mph) on unpaved roads in rural areas
50 km/h (31 mph) in populated areas like cities, villages, and towns.
And obviously, if it's raining, snowing, foggy, icy, or if there are other inclement Icelandic weather conditions, you'll want to slow down. Getting to your destination safely and in one piece is much more important than arriving in record time.
Keep your headlights on at all times
Another Icelandic driving law that surprises some is that we have to keep our headlights on at all times. This is because you won't always encounter high visibility when driving along the Ring Road or in the Highlands. It doesn't matter if the sun is shining and there's not a cloud in the sky, you'll need to keep the lights on your Iceland campervan rental switched on.
Alcohol and driving under the influence
In some countries, you're allowed to have a small drink or two and still be able to get behind the wheel. This is not the case in Iceland. Here, your blood alcohol level must be zero, which means you can't have a quick beer or even a sip of wine before hitting the road. This might seem a bit strict if you're not used to it. But because driving conditions are so extreme in Iceland, your absolute concentration and speedy reflexes are required
Off-road driving in Iceland
Lastly, driving off-road in Iceland is completely forbidden. Our country's unique geology and rare combination of elements make for terrain you won't find anywhere else. Flowers and plant life such as volcanic moss are fragile and easily damaged. In some cases, they take hundreds of years to grow back, if at all.
You might cause irreparable damage. It's important to take care and not drive recklessly anywhere you want just because you think it will be cool.
When driving in Iceland, you absolutely need to be a part of the conservation and protection of our delicate flora. Please stay on marked paths, trails, and roads.
Driving in Iceland in winter
Another driving safety issue that pops up is if you plan on visiting Iceland in the winter. Iceland travel during this time of year is becoming more and more popular for travelers. This is due to low prices and natural attractions like the Northern Lights.
Driving in Iceland in winter presents its own unique set of challenges. Ice and snow cover the roads while conditions in Iceland and the weather can change in a split second. If you're not used to driving under such extreme circumstances, you could easily find yourself entangled in a dangerous situation.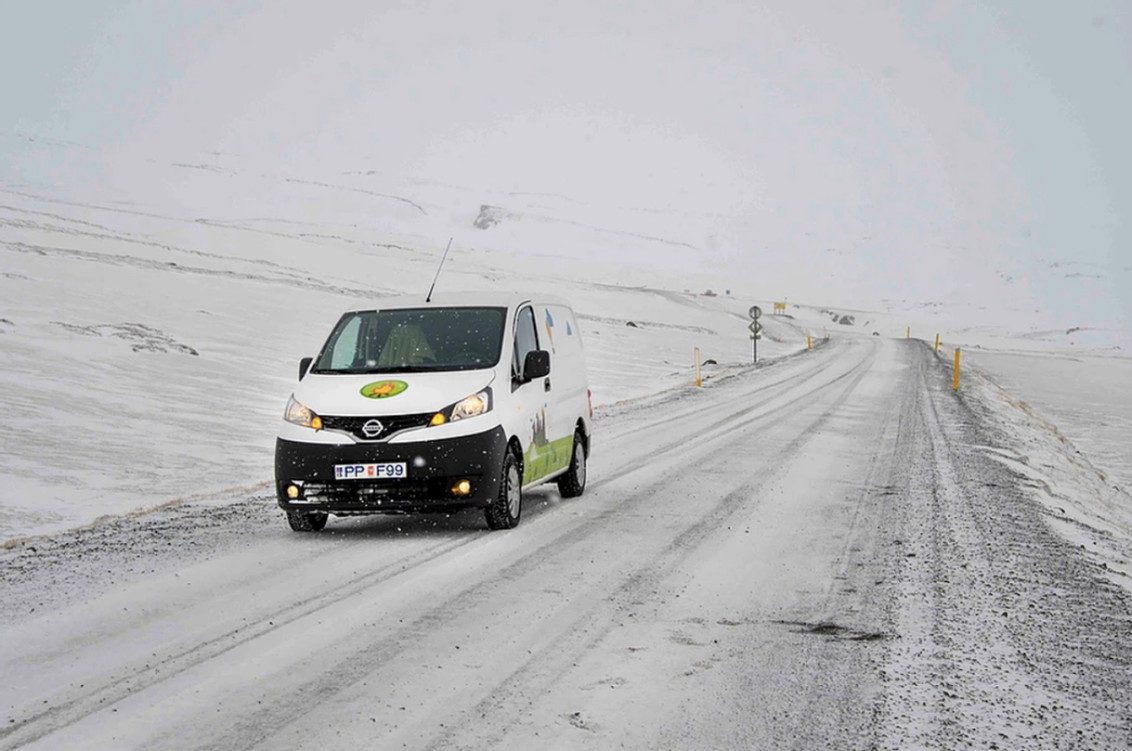 It goes without saying that if you find yourself caught in the middle of a snowstorm, slow down and be extra vigilant. If things take a turn for the worse or start to get really bad, pull over to the side of the road and wait for it to pass.
It's smart to leave a copy of your itinerary and travel plan with friends and family. You should also stay in constant communication during your trip. Some people even take a portable GPS transmitter in the car with them so loved ones can pinpoint their exact location.
This way, if the worst-case scenario happens and you get stuck, search and rescue will be able to find you easily once the roads have reopened.
Staying Updated
The best way to avoid this type of situation is to constantly check the weather forecast on the days when you plan on driving. The Iceland Meteorological Office website provides the most accurate and up-to-date information. Don't be afraid to delay travel by a day or two and listen to Icelanders if they tell you a bad storm is on the way.
Checking road conditions and road closures in advance is also a great way to make sure you won't run into any unexpected disruptions on your trip.
Iceland driving and F-roads
The F-roads that you'll encounter in Iceland's Highlands are yet another piece of the puzzle with Iceland driving. These mountain roads open up every summer and allow you to access the island's wild, unspoiled, rugged interior. This area has some of the most breathtaking views and stunning scenery the country has to offer. There are no paved roads here, so you'll spend your time navigating gravel roads with lots of potholes, pebbles, stones, and more.
These gravel surfaces are not maintained like a typical Iceland road, so novice drivers might have some difficulty. You also need to have a 4x4 camper like the VW Crafter or Mercedes Marco Polo to drive on F-roads in Iceland. This is mandatory and required by law.
If you plan on taking your rental on these roads, you should absolutely get Gravel Protection (GP) insurance. Sand and Ash Protection (SAAP) is also highly recommended if driving through the volcanic zone in the South at any point during your trip.
Special hazards while driving around Iceland
Exercise caution with driving hazards in Iceland like single lane bridges (Einbreid brú), single lane tunnels (Einbreid göng), blind hills (Blindhaed), or blind corners. They require extra care, attention, and driving courtesy.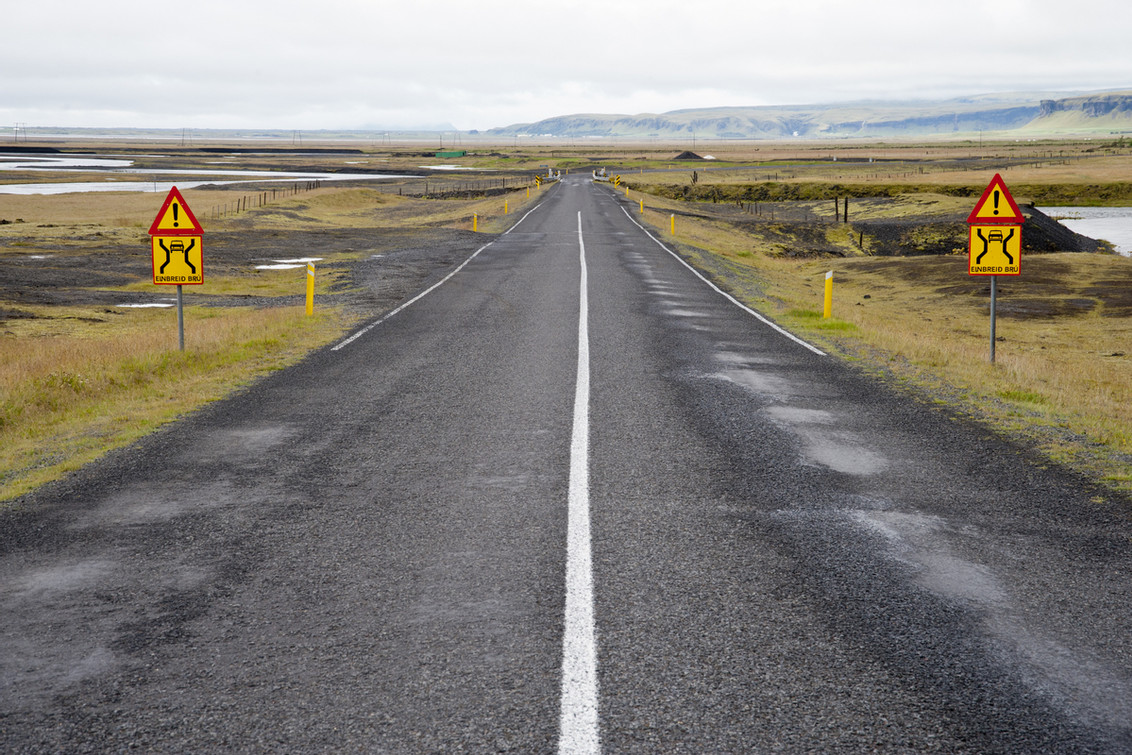 When approaching a single-lane bridge or a single-lane tunnel, keep in mind that the person who is closest has the right of way. If you want to play it safe, pull over and let the other driver pass before continuing on your way.
Hills or curves in the road where you can't see oncoming traffic represent a very real risk for collision or impact. The Iceland driving side of the road is on the right. When approaching a hill or a curve with a blind spot, slow down and pull over to your right as you get closer.
The Iceland gas station phenomenon
Our last tip for Iceland driving safety is to plan your gas station stops in advance. This doesn't fall under the umbrella of traditional safe driving advice, but it's extremely important. Densely populated areas can be few and far between. If you're driving through one of the country's rural areas, you just might find yourself dozens or hundreds of kilometers or miles from the closest service station.
Running out of gas and getting stuck while you're traveling is an absolute nightmare. So fill up your gas tank early and often and get an idea of where you plan on topping up.
Driving safely in Iceland
Driving around Iceland presents many different types of surfaces, weather conditions, and driving challenges. Hopefully being prepared for what to do in these situations will help you be a safer driver. Websites like safe.is will also be a huge help. Armed with your newfound knowledge of what it's like to drive in Iceland, you're ready for a safe, fun, happy adventure.