Taking a road trip around Iceland's Ring Road in a campervan, motorhome, or another recreational vehicle (RV) is without a doubt the best way to experience everything the small volcanic island has to offer. Not only are you saving money by passing up expensive stays at hotels and not eating out for every meal, but you also have the freedom that comes with a flexible itinerary. You'll have more cash to spend on cool outdoor activities like glacier hikes, whale watching, volcano tours, and more. Traveling in a home on four wheels has a huge number of advantages, which is probably why it is such a popular way to travel in Iceland. There's plenty to know when preparing to rent an RV in Iceland. Here is a guide to answering some of the most commonly asked questions.
As you begin researching your Iceland trip, you're going to start thinking about your itinerary, which highlights natural attractions to visit, and how you are going to get around the island. Renting a campervan or motorhome may not have initially occurred to you, but you'll soon come to realize that RV rental is actually the most popular way to do Iceland travel. The country has a robust infrastructure of campsites and roads that lends itself very nicely to this back-to-nature activity. Not only that but there is a wide range of vehicles on offer. All types of travelers, from a couple on their honeymoon to a family of five, will find the right type of camper or motorhome. And the fact that campsites in Iceland are spacious and open means that you rarely have to worry about reserving in advance.
The Difference Between Camper vans and RV's
Just as quickly go over the difference between these two types of vehicles, let's look at their features. Motorhomes are the larger, more luxurious recreational vehicle that you can rent. They come with a full kitchen, bathroom and shower, seating and dining area, and beds that you can lay down on at any time. Camper vans, on the other hand, are much more compact and stripped down. They are small vans that have been retrofitted with heating and sleeping arrangements in the back. During the day you'll need to convert your sleeping quarters into the cooking area. There's a kitchenette with a simple gas stove or hot plate and sometimes a small sink. You won't have much counter space or a food prep area with a campervan.
Special Licenses and Permits
You can drive both campervans and motorhomes in Iceland with a regular driver's license from your home country (a type B license in Europe or a class D license in the United States, for example). Just check the requirements to see that you don't need an International Driving Permit (IDP) or another type of translation of your license. You also need to make sure that your license allows you to drive vehicles up to 3,500 kg (around 3.85 tons). Certain countries, like India, only allow you to opera cars and trucks up to 2,500 kilos (2.75 tons). And of course, you need to meet the minimum age requirements of campervan rental (20-23 years and up) and motorhome rental (25 years and up).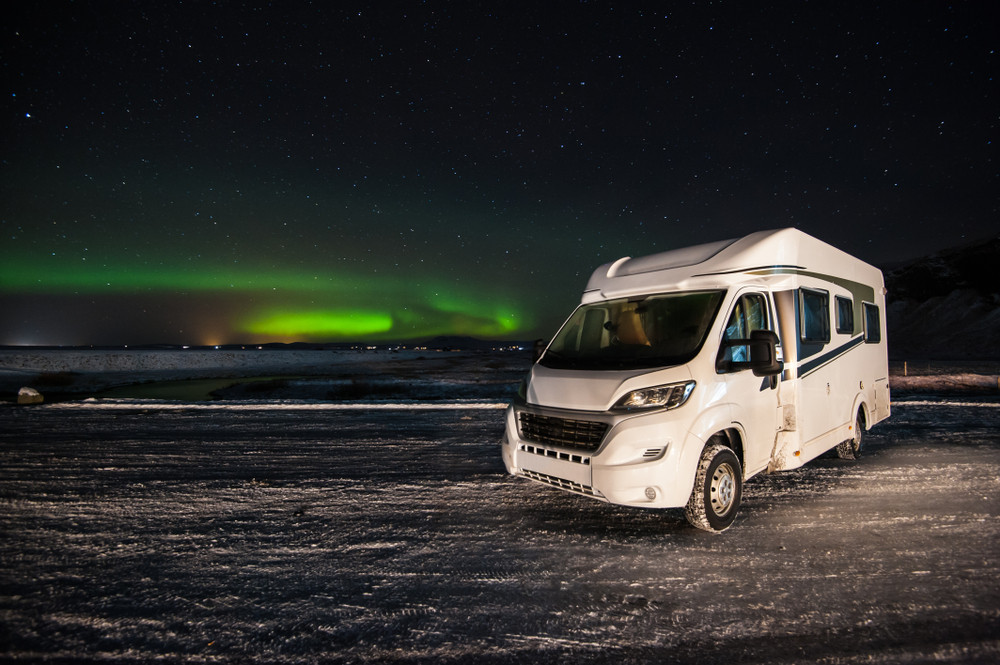 RV Rental in Iceland
Campers and motorhomes aren't exactly the same, so there are a few things to keep in mind. Many roads in Iceland, especially in the more frequented, more popular areas are going to be paved. This means that you can drive on them with a regular 2WD sedan, a motorhome, or a camper. There are small portions of the Ring Road which are unpaved, so be sure to slow down if you find yourself approaching one of these gravel sections of the road.
If you choose to explore the Icelandic Highlands or other wild areas of the country, please remember that you can't do it with a regular motorhome or a two-wheel drive camper. These zones have special paths called F-roads (mountain roads). These unpaved gravel roads require a 4WD vehicle, whether that be an SUV or a 4x4 Iceland camper rental like a Mercedes Marco Polo or VW California. Under no circumstances are you allowed to drive a motorhome on Iceland's F-roads.
The Booking Process
It's quite easy to do an RV rental in Iceland and the booking process is very straightforward. Once you decide on the right vehicle for you and the length of your trip, reserve your date on the booking engine and leave a small booking deposit. This fee is usually around 15-17% of the total cost of the rental and will be subtracted from the final cost. You can pay the booking fee with a credit card or a debit card. You have to pay the remaining balance either before you arrive or upon pickup.
When you retrieve the keys for the vehicle at the rental office, you will be required to leave credit card information as a guarantee for your rental. Don't worry, there won't be a block put on the card. It's more as assurance in case there are some unforeseen costs like damage not covered by rental insurance or speeding fines for drivers caught on Iceland's notorious speeding cameras.
Rental Insurance
Something you want to consider when booking your camper or motorhome rental in Iceland is what type of insurance to get. The basic types of travel insurance are Collision Damage Waiver (CDW), Super Collision Damage Waiver (SCDW), Gravel Protection (GP), Sand and Ash Protection (SAAP), and Theft Protection (TP). CDW comes standard on all rentals in Iceland and covers damage caused by accidents. SCDW Is essentially the same except that your deductible is lower. Gravel Protection (GP) Is useful for all those little dents, knicks, and scratches caused by flying gravel. Sand and Ash Protection (SAAP) Is useful in the parts of Iceland where there's lots of volcanic ash and sand floating around. Many times the wind will kick these particles up into a frenzy, and sometimes there are even sandstorms and ash storms, much like in the desert. Theft Protection (TP) covers the cost of the vehicle in the event that it is stolen.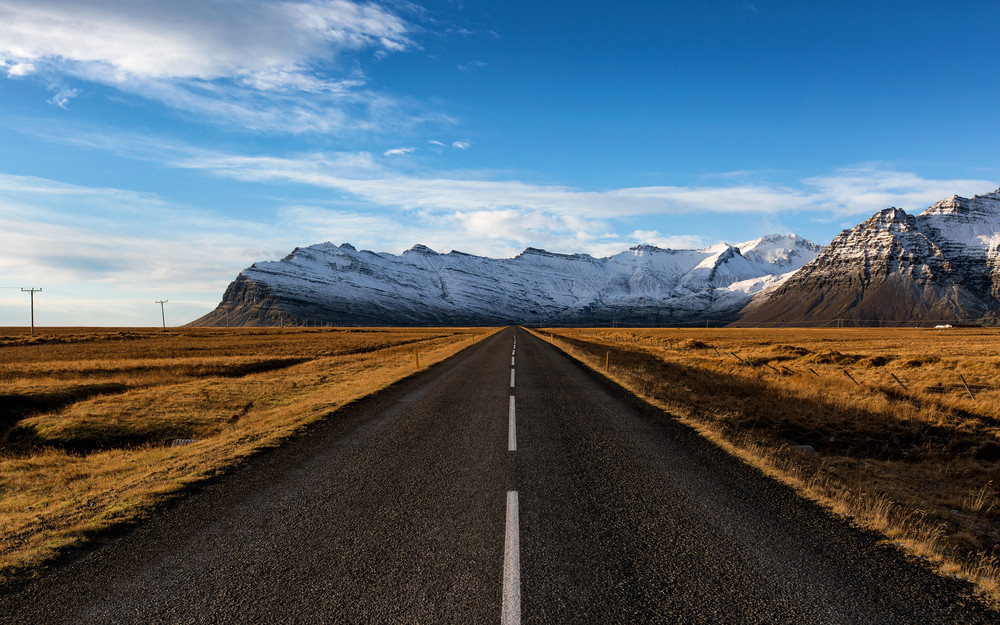 Driving Around Iceland's Ring Road
Iceland is a country that was made for road trips. The Ring Road circumnavigates the small island and is the perfect way to drive between the country's most popular destinations and must-see attractions. The Iceland driving side is on the right, and if you decide to pull over for a picture, please either look for a parking lot or pull far enough over that you are not blocking the road. You don't want to inconvenience other drivers during your Iceland road trip.
There are parts of the Ring Road that can get quite deserted and desolate. Something smart drivers do is plan their fuel stops in advance. This way, you always know where the next closest gas station is, and you don't risk running out of gasoline in the middle of nowhere.
Safety Tips for Driving in Iceland
Regardless of what type of vehicle you choose, it's important to know about driving in Iceland in order to have a safe trip. Iceland weather and road conditions are likely going to be a new experience for you. There's a very useful set of videos on YouTube about Iceland driving tips called driving with Elfis. The animated videos outline many of the hazards and potential pitfalls that you need to be aware of while navigating Iceland's roads.
You always want to pay attention to the speed limit in Iceland, which is 90 km/h (56 mph) on paved roads in rural areas, 80 km/h (50 mph) on unpaved roads in rural areas, and 30-50 km/h (18-31 mph) in urban areas. And of course, please don't feel the need to speed. Slowing down is always preferable, especially since you are likely to encounter snowy, icy roads during most of the year.
Some useful websites for checking road conditions in Iceland are the Icelandic Road and Coastal Administration homepage and the Iceland Meteorological Office homepage. You can get alerts about road closings, approaching storms, and helpful tips for safe driving in Iceland. The SafeTravel.is website is also a great source of information for first-time drivers in Iceland.
What to Know About RVs for an Iceland Road Trip
Taking a road trip around Iceland is certainly the trip of a lifetime for many. While there's a lot that goes into planning your adventure, what to expect and which vehicle best suits your needs goes a long way in helping you prepare. If you have any other questions, please feel free to reach out, and we'll be happy to assist you.