Once you've decided to visit Iceland, there are some things to research in advance of your trip. Iceland's weather and climate are a big one, as they will affect everything from what you pack and wear to the activities you do. Not to mention Iceland's weather in March is much different than July or even September. The Icelandic climate has lots of winds and rain, but there can also be very sunny days in the middle of winter. Let's take a look at Iceland weather and what you should expect during your campervan road trip.
I'd like to take a look at Reykjavik Iceland weather because it's the capital and is the places all international visitors fly into. What we'll see is representative of what you'll find all over the island. Iceland's weather averages are similar to what you'll find in Reykjavik. There are some exceptions, however. The South Coast is the wettest, warmest part of the island. You'll notice a distinct difference when traveling here as opposed to the northern part of Iceland.
Iceland's weather in summer
The highest temperature ever recorded in Iceland was 30.5 ºC (87 ºF) back in the 1930s. This was definitely a fluke and not representative of normal temperatures of Iceland weather in July or other summer months. The average temperature in Iceland in summer is usually more reasonable. It hovers around 10-15 ºC (50-60 ºF), which is still pretty cool for most. Iceland's summer weather is warm and pleasant for us, but as with most things, everything is relative.
When you pack for Iceland, make sure you still bring lots of toasty layers. Even though you are dealing with the Midnight Sun, Iceland's weather in summer, even in July or August, can still be a bit chilly. And be sure to bring your bathing suit. Regardless of the time of year, taking a dip in an Icelandic hot spring or hot pot is something you should experience.
Iceland weather in October and September starts the change from summer to winter, as you begin to see the country's Northern Lights. The longer nights mean you'll have more of an opportunity to spot the natural wonder in the sky.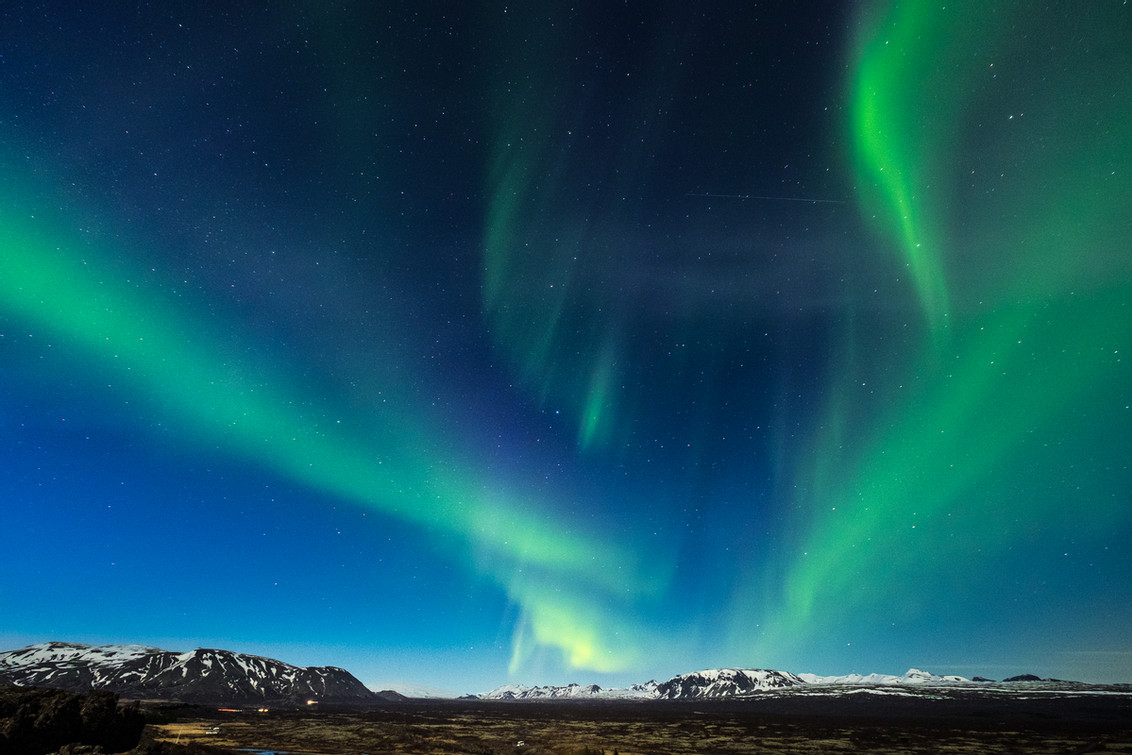 How cold are Icelandic winters?
Icelandic winters are actually quite mild, considering the fact that we're just below the Arctic Circle. Even though winter is longer here (usually November to March), temperature-wise the weather is still not as bad as in places like Chicago. We get our fair share of snow; but thanks to the warming effects of the Gulf Stream coming across the North Atlantic, the temperature in Iceland is not completely polar. It has created a microclimate around the island that means we're not as frozen as we could be.
The coldest months are usually January and February. Average winter temperatures in Iceland hover right around the freezing point (0 ºC or 32 ºF). You generally don't see the mercury reading on the thermometer dip more than a few degrees below this crucial point. Iceland's winter weather is definitely cold, but you just need to bundle up correctly to face the elements. The coldest temperature recorded in Iceland was -38 ºC (-36.4 ºF) back in the early 1900s during the Great Frost Winter.
Spring in Iceland sees the transition into summer and a gradual rising of the temperatures. Even though there's still snow on the ground in April, both April and May see a shift in Iceland's weather. As the snow melts and lupine starts to bloom, the country starts gearing up for the summer tourist season. Pretty soon, the country shakes off its winter chill as green, rolling hills replace snowy, white landscapes.
Tips for traveling in Iceland
One of the things to keep in mind while traveling in Iceland is that you'll need to continually check the weather forecast. The only constant with Iceland's weather is change, so be prepared. I'm not exaggerating when I say it's possible to experience all four seasons in a day. Checking the Iceland weather forecast frequently will save you time and hassle when driving from town to town. Extra caution is advised when driving through the Highlands' F-Roads during the summer time. It could even save your life if you see on the forecast that a storm is approaching.
Something else that surprises many visitors to Iceland is how windy it can get. In addition to ice storms, snow storms, hail storms, and ash storms, you might also find yourself getting caught up in the wind in Iceland. Sometimes the gales are so strong that they knock people over. The wind chill will also affect you, so in addition to waterproof clothing, pack windproof items like windbreakers.
Iceland Weather and Climate
The weather and climate in Iceland are not as cold as you might think. It's true that our winters are longer and you'll experience a lot of snow, but that's true for any northern European country. As long as you come prepared and know what to expect, it won't be such a big deal. Look at Iceland weather by month to see average temperatures and precipitation for the time of year you plan on visiting.