It can be hard to wrap your head around a country called Iceland that can reach temperatures in the 20s during summer. So, what is Iceland weather like? And how does one even comprehend days spent in almost complete darkness? There are so many things that make the Iceland weather unique that many end up struggling to pack for their trip.
But it really isn't that tricky if you know what each season brings and what to expect from each month on the island. That's why we wrote this article that you can use as a guide and make planning a little easier.
The Iceland Weather in General
Most people are very surprised to learn that the Iceland climate is much milder than they envisioned. Probably because most have images of Antarctica pop up in their minds when they think about Iceland.
The reason things aren't quite as icy in Iceland is that we've got a lot of volcanic activity on the island that heats things up. We also have the warm currents of the Gulf Stream coming down the coast. But there is one thing that you need to take note of. Even though we have seasons here on the island, we have a saying that goes: "you can experience all four seasons in a day here".
While blizzards are not very common in summer, the season's weather can quickly shift. Clear, blue, sunny skies can turn into a rainstorm, back to sunny skies, only to then leave you with a cloudy day that has winds howling around your house.
There is a misconception that Reykjavík is somehow warmer than the rest of the island. This is merely an illusion created by the buildings creating a type of shelter against the weather elements. In reality, there is no difference between the Reykjavík weather by month than the rest of the island below.
The Iceland Weather by Season
As we've already mentioned, Iceland's yearly weather is also seasonal. But because the island is so far north, things do tend to work in extremes here. But this also helps visitors in a way.
Where you often hear things such as "you might see this" or "you might be able to do that", Iceland is very much a "you will" or "you won't" situation. This actually helps with planning, depending on what you want to see or do on the island. This is what you can expect from the Iceland weather by month:
Spring Weather
Whilst, we technically have a spring season, most tend to focus more on summer or winter since spring comes and goes in the blink of an eye. During spring in Iceland, things can still feel a little wintery. Certain roads and routes will still not be open yet, and icy patches might still be thawing.
But as with any spring season, it is a season where the landscapes and its fauna and flora seem to awaken from a deep slumber. so, it is quite the experience to visit the island during this time.
Summer Weather
It should come as no surprise that the summertime in Iceland is considered the peak season here on the island. This is also the season that locals and visitors rent campervans in Iceland. They flock to the various camping sites on the island. There, they do various outdoor activities, so you'll need to book well in advance to avoid disappointment.
Autumn/Fall Weather
As is the case with springtime in Iceland, autumn is so fleeting that it barely exists. Generally, the harsher weather elements are practicing for winter during this period. Harsh weather elements are practicing for winter during this period.
As a time that is known for its change, many photographers flock to the island because of the flora turning various autumn colors.
Winter Weather
If you enjoy listening to classical music, you'll understand what we mean when we say winter in Iceland is like a crescendo. Our little island literally turns into the beautiful winter wonderland that is depicted in so many movies. But the same weather conditions that make this possible can be quite challenging. This is especially if you are not used to these types of conditions.
Iceland Temperature by Month
To plan your adventure through Iceland's landscapes, understanding its temperature fluctuations is essential. With this information at your fingertips, you'll be well-prepared to make the most of your Icelandic journey, no matter the time of year.
Here's what you can expect from the weather and Iceland's average temperature by month throughout the whole year:
March
This marks the official turning point of the season. The temperatures will slowly start increasing along with the daylight hours. But Iceland in March may still make you feel like you're caught in the crosshairs of winter and springtime.
You can expect temperatures ranging between 1-3 degrees Celsius. So, you already don't have to deal with those below-freezing temperatures anymore. Daylight hours increase from 10 hours each day at the beginning of the month to 13 hours by the end of the month.
April
Although we're already technically in spring, there is still some overlap between the seasons. You'll still be able to do some winter activities like skiing and exploring ice caves during the month of April. April in Iceland offers up temperatures ranging from 1 to 6 degrees Celsius.
And whilst you can expect 13 hours of daylight hours each day at the start of the month, it quickly escalates to almost 17 hours by the end of the month. Whether it's because of the weather (we couldn't resist) or something else entirely, April also marks the start of Iceland's whale watching season. Many migratory whale species make the waters around the island their home.
May
The Iceland weather in May might actually trick you into believing that it's summer already. It is known as the driest month of the year, so if you're planning a trip filled with outdoor activities, this should be your go-to month.
The last remnants of the winter would've melted by now, and temperatures range between 4 and 9 degrees Celsius. During May in Iceland has increasing daylight hours from 18 to 20 per day, making it ideal for outdoor activities.
June
The Iceland weather in June is probably some of the best you can get all year round here on the island. The harsher weather elements such as our legendary Icelandic winds have calmed down and the rain seems to keep at bay a bit more.
Temperatures during this month range between 8 and 12 degrees Celsius. Meanwhile, you get to experience your first Midnight Sun with daylight hours going from 20 hours to 22 hours by the end of the month. Just keep in mind that with all these daylight hours in June in Iceland, you won't be able to see the Northern Lights.
July
Iceland in July comes out on top when comparing the weather to any other month, and it is the warmest month in Iceland. Temperatures during the month range between 9 and 14 degrees Celsius. The harsher Iceland weather elements taking a well-deserved break.
Whilst you will still be able to experience a Midnight Sun at the beginning of the month, daylight hours will start to wane. But if you're used to 12-hour days where you're from, the 19 hours of daylight at the end of July is nothing to scoff at. At this time of the year, rental motorhomes in Iceland are taking centre stage.
August
The August weather in Iceland is still keeping up with the general summer vibe. Although things are slowly starting to go downhill temperature-wise. The wind and the rain are starting to return to work after their down season. Temperatures during August in Iceland range between 8 and 13 degrees Celsius. Daylight hours on the other hand will go from 19 to 15 hours each day by the end of the month.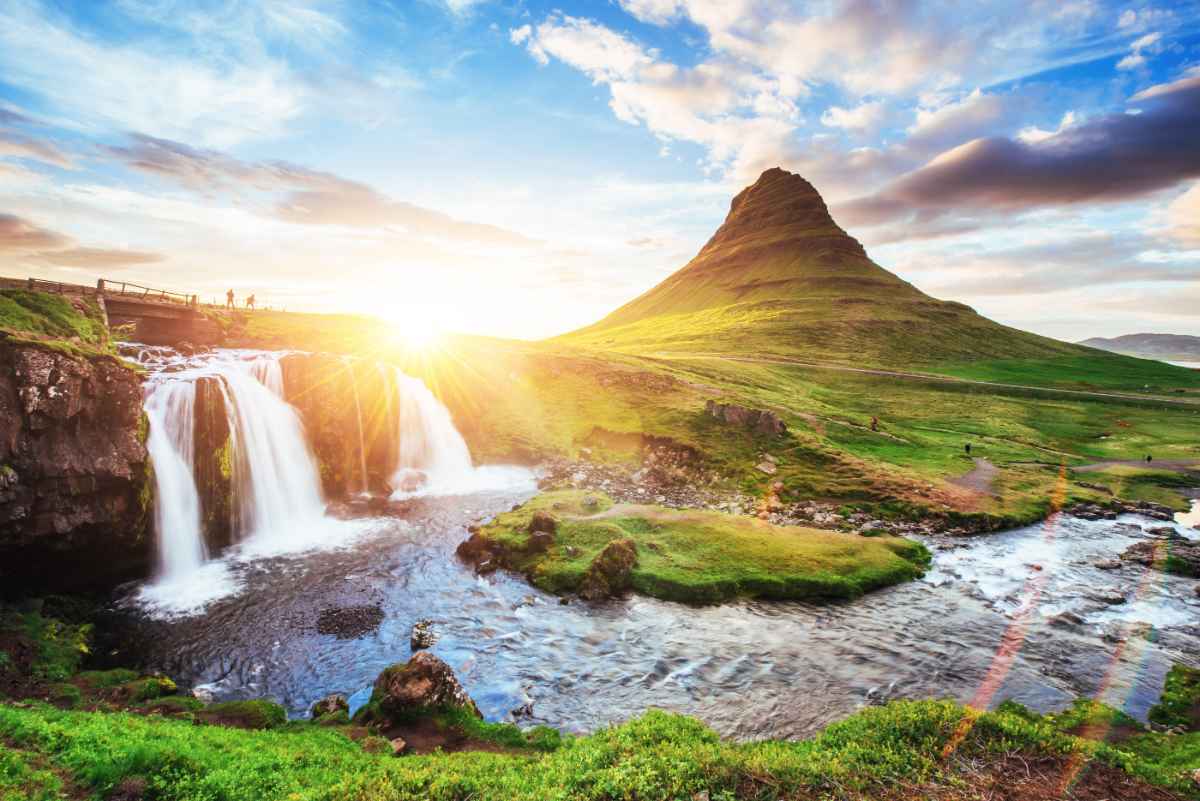 September
September in Iceland is characterized by rainfall. In fact, September is known as the wettest month of the year. So, if you were thinking of squeezing in a few more outdoor activities on your trip during this time, the odds of September thwarting your plans are good.
But because of the rainfall, it's an exceptional time to visit Iceland's waterfalls and see exactly how powerful these can be at full capacity. Temperatures range from 6 to 10 degrees and daylight hours move from 15 hours a day to almost 13 hours a day by the end of the month.
October
October in Iceland gives you official notice that in real Game of Thrones tradition "winter is coming". The harsher weather elements are picking up speed and the wet conditions continue. Temperatures range between 2 and 7 degrees Celsius and daylight hours decrease even further. From about 13 hours of daylight each day to roughly 11 hours of daylight at the end of October.
November
If winter is the full-feature film, the Iceland weather in November is the trailer. The wet and rainy conditions continue, and the harsh weather elements become, well, harsher. And the temperatures see a significant drop from what they used to be just a couple of months ago; now, being anything from -1 to 3 degrees.
November in Iceland is also the month you are likely to experience that road conditions become trickier. You can experience the first snowfall of the winter season. Daylight hours also see a dramatic change, going from under 11 hours at the beginning of the month to a mere 5 hours at the end of the month.
December
December in Iceland is like every feel-good Christmas movie scene you've ever seen and is a good representations of how cold Iceland is (or can be). Snow is at the order of the day, and temperatures range from -3 to 2 degrees Celsius. Although you need to remember that temperatures can dip to below -20 in certain parts of the country.
Daylight hours fall even further from 5 hours to just 4 hours each day. Except for certain parts of the country where it can go to a mere 2 hours of daylight each day. The winter weather would've made road conditions pretty tricky to navigate by now and many roads/routes on the island will be closed.
January
It's like the island knows the festive season is over and it's time to get to work when one looks at the Iceland weather in January. The rains and snowfall start to subside and January in Iceland is generally known as a fairly dry month. But even in this calm, the winter is still ever-present and you can expect glistening ice crystals everywhere. Even the waterfalls have glistening ice tentacles creeping over the cliffs to the frozen waters below.
It truly is a magical sight to see. January temperatures also tend to range between -3 to 2 degrees Celsius. And even though it's mid-winter, the daylight hours are actually starting to pick up again. It increases from 4 hours at the beginning of the month to 7 hours at the end of the month.
February
February in Iceland marks the last stretch of the winter here on the island. Even though temperatures are still low, they will also start to increase along with daylight hours.
Temperatures will now be between -3 and 3 degrees Celsius, and daylight hours will increase significantly. From just 7 hours at the start of the month to more than 10 hours by the end of the month. Just take note, February is usually a dry month like January, but rainfall increases towards the end of the month.
The Iceland Weather; the Epitomy of Extremes
By now you should have the answers to some frequently asked questions such as "Is Iceland cold?", "Does it snow in Iceland?", and "How warm does it get in Iceland?". And we're sure that you can now understand why we say that the seasons here on the island range in extremes. But even though the weather can be quite challenging at times, it's also very rewarding. Without the extreme darkness, we'll never see the neon, bright lights of the Northern lights dance across our skies.
Without the extreme cold, we'd never get to explore the bright blue, glistening ice caves. And without all those daylight hours, we'd never get to experience a Midnight Sun. Every season on the island has its own attraction. With preparation and knowing what to expect, each season can offer a new and memorable adventure.