Diamond Beach is considered to be one of the must-visit locations here in Iceland and for good reason. Not only is it a spectacular sight to behold, but it's definitely one of the go-to places for amazing photography. The fact that it's so close to numerous other must-visit attractions here on the island serves as a bonus.
So, if you've got an upcoming trip to the island, or have always heard about the beautiful Diamond Beach and are curious to learn more – stick around. In this article, we answer all your most frequently asked questions and tell you everything you need to know about this crystal beach in Iceland.
Diamond Beach in Iceland
Below you will find the answers to some of the most frequently asked questions we receive regarding Diamond Beach:
Why is Diamond Beach famous?
What makes Diamond Beach even more spectacular, and the very reason it is called Diamond Beach in the first place, is that it is scattered with hundreds of pieces of ice that glisten and shine like diamonds in the sunlight.
Diamond Beach is a double whammy when it comes to the creations of the Land of Fire and Ice. You'll often hear people referring to Diamond Beach as either the black Diamond Beach in Iceland or Iceland's iceberg beach, and both are pretty descriptive of what you'll find there. Diamond Beach is one of our most popular black sand beaches here on the island.
Iceland's black sand beaches are the result of thousands of years' worth of volcanic eruptions, where lava flowing across the land was cooled down by the cold air and ocean water to form hardened black sediment. This sediment was then broken down over time by the crashing waves and other weather elements to form the tiny grains of sand we see today.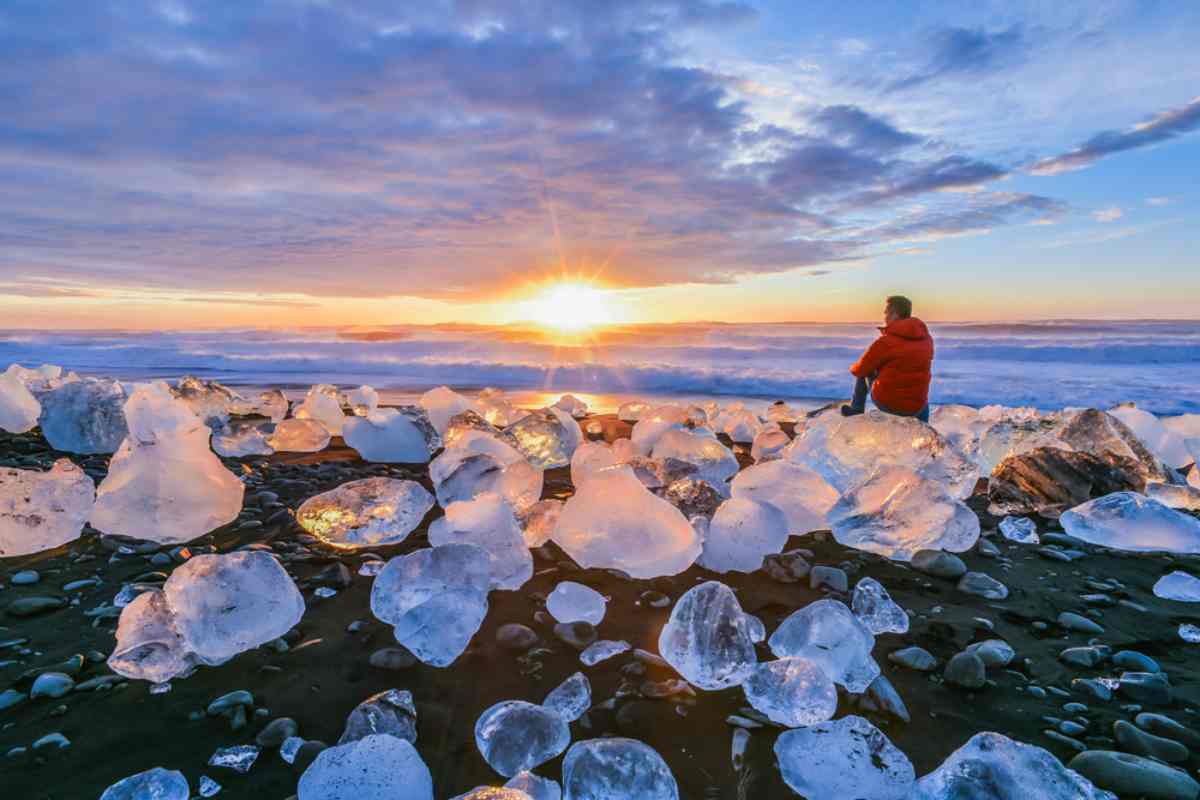 Where is Diamond Beach in Iceland?
Diamond Beach lies at the edge of the largest glacier in Europe, Vatnajökull Glacier, which is located in Iceland's largest national park with the same name (Vatnajökull National Park). The park is situated in the southeastern part of the island and is easily accessible via the main roads and popular road trip routes in the country.
Can You Swim at Diamond Beach?
Whilst it's not illegal to swim at Diamond Beach, we won't recommend it at all. Not only is the water extremely cold, but it also contains many hazards and dangers, from rocks, ice, and corals to all sorts of marine life like seals.
Is Diamond Beach Safe to Visit?
Absolutely. It's perfectly safe to take a stroll on Diamond Beach as long as you keep general Iceland beach safety in mind, such as don't turn your back on the ocean. At Diamond Beach, it's also important to remember that waves bring in not just pieces of ice, but actual sheets and giant chunks of ice, so you better keep a lookout.
Also, don't clamber on the ice that has washed ashore – if you slip and hurt yourself, it's gonna turn into a memorable vacation for all the wrong reasons.
How Do I Get to the Diamond Beach in Iceland?
Since Diamond Beach is conveniently located along the Ring Road, a mere 2.5 hrs from Vik, and 4-5 hours from Reykjavík, it's best to include it as a stop on your Ring Road road trip.
Although it's possible to visit the beach as a day trip in the summertime with its longer daylight hours, we won't suggest putting yourself under that kind of time crunch when visiting the beach and other surrounding attractions. Rather, opt to overnight somewhere in the area in these instances. Here's how to reach the beach from Reykjavík and Vik:

From Reykjavik
Take Road 49 to Road 1 and head south for about 4-5 hours till you see the sign and turn off towards Jokulsarlon and Diamond Beach.
From Vik
Take Road 1 and head east for about 2.5 hours till you see the sign and turn off towards Jokulsarlon and Diamond Beach.
When is the Best Time to Visit Diamond Beach?
Diamond Beach is open to the public all year round. So, the best time to visit Diamond Beach will heavily rely on your personal preferences and what you want out of the experience. During the warmer months of the year, you'll be treated to plenty of daylight hours with beautiful sunrises and sunsets, unless you visit mid-summer where you'll have the added benefit of experiencing a Midnight Sun.
The colder months bring with it even more ice that also melts at a lower rate than during the summertime. And even though you'll have fewer daylight hours to work with, the darkness allows you to experience the Northern Lights dancing overhead whilst "diamonds" glisten in the moonlight.
What Should I Wear to Diamond Beach?
When visiting Diamond Beach, you'll need to dress warm, irrespective of the season. The mere fact that you'll be walking along a beach strewn with pieces of ice should give you an inkling of why. It's also important to wear sturdy walking boots since the ground is uneven. We recommend waterproof hiking boots.
You should also take a raincoat in case of rainy weather, but we do recommend that you wear a wind and waterproof jacket irrespective of the weather, since it can get pretty windy on the coast and the wind picks up ocean spray. Getting wet is not very pleasant, especially during the colder seasons here on the island.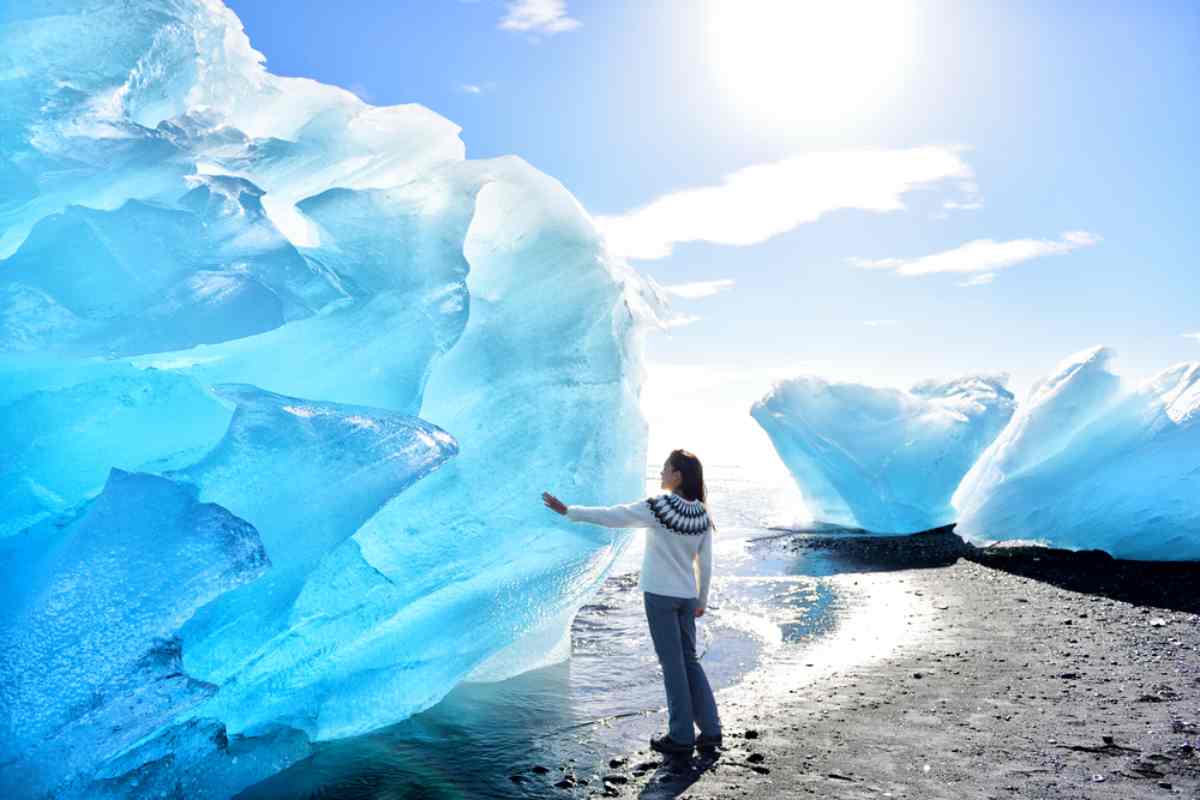 What is There to Do and See Around Diamond Beach?
There is plenty of things to do and see around Diamond Beach. We suggest you add the following to your trip itinerary:
Visiting

Svartifoss Waterfall

Taking a hike in

Skaftafell National Park

Exploring the Crystal Ice Cave (this activity is exclusive to the colder months here on the island, though)

Going on a Glacier Hike of Vatnajökull Glacier (only available as a guided tour activity due to safety concerns)

Kayaking in Heinabergslon

Taking a snapshot of Hvannadalshnukur (the highest point in Iceland)

Going horseback riding on one of the many riding tours offered in and around Vik
Where Can I Stay at Diamond Beach?
As you can see from the variety of things to see and do in the area, it's best to stay over for a night or two. The following accommodation comes highly recommended: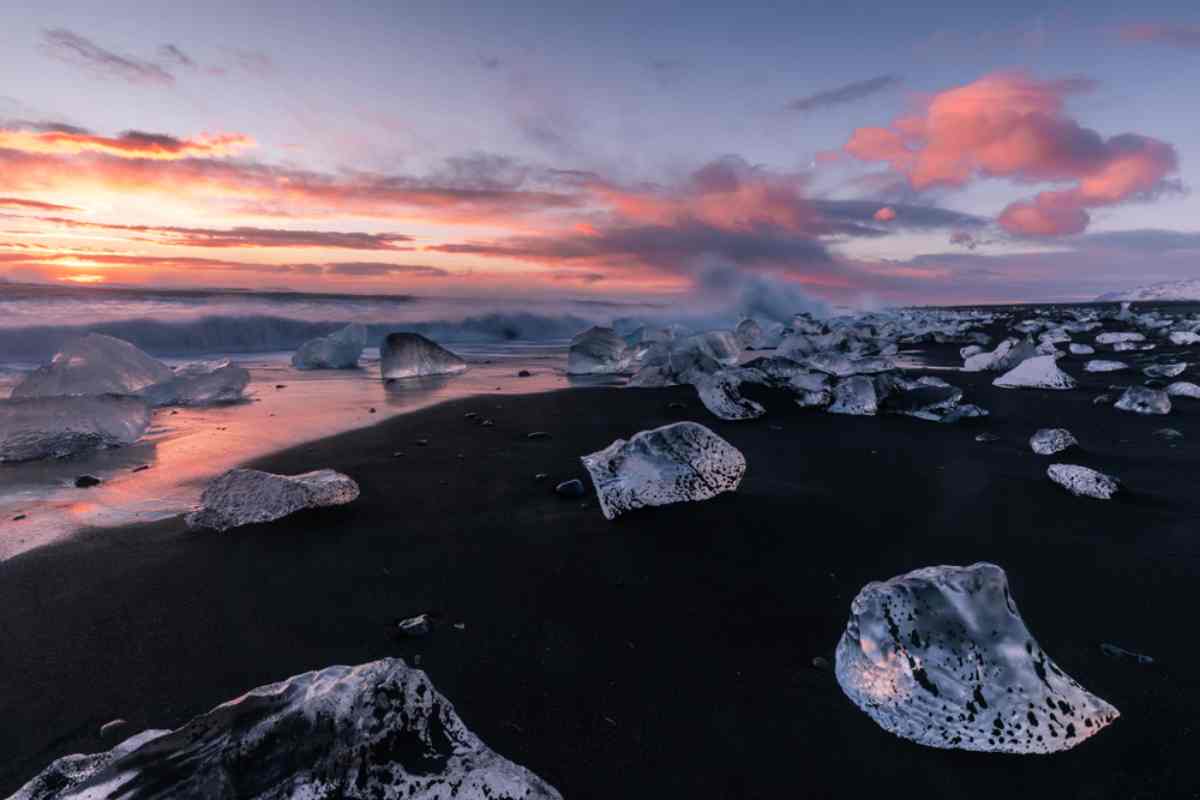 Is Diamond Beach Worth It?
Most definitely! One of our infamous black sand beaches that looks like it's scattered with diamonds?! What's NOT to like?! And with it so conveniently located near the Ring Road, there's no excuse not to pop over during your road trip.
If you want to stay over and experience more of the things the area has to offer, and want to cut down on accommodation costs, we recommend that you rent a campervan in Iceland and stay over at one of the above-mentioned campsites which all have rave reviews. Happy travels!