There are so many things to see and places to visit in Iceland that it can be tricky trying to put an itinerary together. The best solution is to create your Iceland bucket list beforehand based on preferences, seasons and the time you'll have available. Just remember to remain flexible, as Iceland weather conditions change quickly and may thwart some of your plans.
You'll also need to create your itinerary well in advance. Especially if you intend to visit some of Iceland's must-see places during the busy summer months. This is so you can book any spots, buy any tickets, rent a vehicle and go to attractions early to avoid both disappointment and the crowds. So, if you're busy planning your trip to the island, here are some of Iceland's best places to visit:
1. Reynisfjara
Reynisfjara is one of the places to see when it comes to black sand beaches in Iceland. This is because it stretches on almost endlessly. Furthermore, the black sand, hexagonal column cliffs, and crashing waves can be an incredibly dramatic sight. This is also one of the few sights that overcast and cloudy weather actually highlights these dramatic features. And, ironically, allows for incredible photo opps.
But this beach located close to the small fishing village of Vik I Myrdal on the south coast of Iceland is not to be trifled with. There are no lifeguards at Reynisfjara, and for good reason. Despite the endless coastline tempting visitors to take a dip just to be able to say "I did that", swimming at Reynisfjara is strictly prohibited. This is because of incredibly strong undercurrents and sneaker waves (aptly called, since they sneak up on you). So, you should also never have your back to the ocean here.
2. Geysir Geothermal Area
The Geysir Geothermal Area is not only one of the most interesting places to visit in Iceland. Did you know it's also the origin story of the entire concept of a geyser? The Great Geysir in the Haukadalur Valley in the southern part of Iceland was the very first geyser to ever be discovered in Europe. Subsequently, all future discoveries would also be referred to as a geyser.
Although you can still admire the Great Geysir for its history and contribution to the English language, it's no longer active. But Stokkur that's located only a 350-meter walk from Geysir is definitely still flaunting its geyser skills. It spits bubbling water and sends liters of water spouting 20–40 meters into the air every 6–10 minutes. It can be incredibly challenging to capture this magnificent sight. Even though you are expecting it, the eruption still manages to give you quite a fright.
3. Blue Lagoon
The island is infamous for its hot springs, caused by volcanic activity heating up the underground water supply. You can still find some hot springs you're allowed to swim in their natural states. However, others (especially those too hot for humans in their natural state) have been turned into geothermal public pools. The Blue Lagoon is such a geothermal pool.
The Blue Lagoon has an incredibly interesting origin story. It was initially formed by the condensed discharge from the Svartsengi geothermal power plant. Fast-forward to today, where it is still one of the most relaxing places in Iceland with its healing waters, but just with some added benefits and perks.
Entry into the Blue Lagoon comes with a complimentary face mask made from the silica-rich mud extracted from the Blue Lagoon. If you would like some extra pampering, you can now also book treatments and packages at the Blue Lagoon spa. You can even grab some lunch or dinner at the restaurant there. Because of the incredibly unique aesthetics of the lagoon, it's quite the experience and one of the most Instagrammable places in Iceland.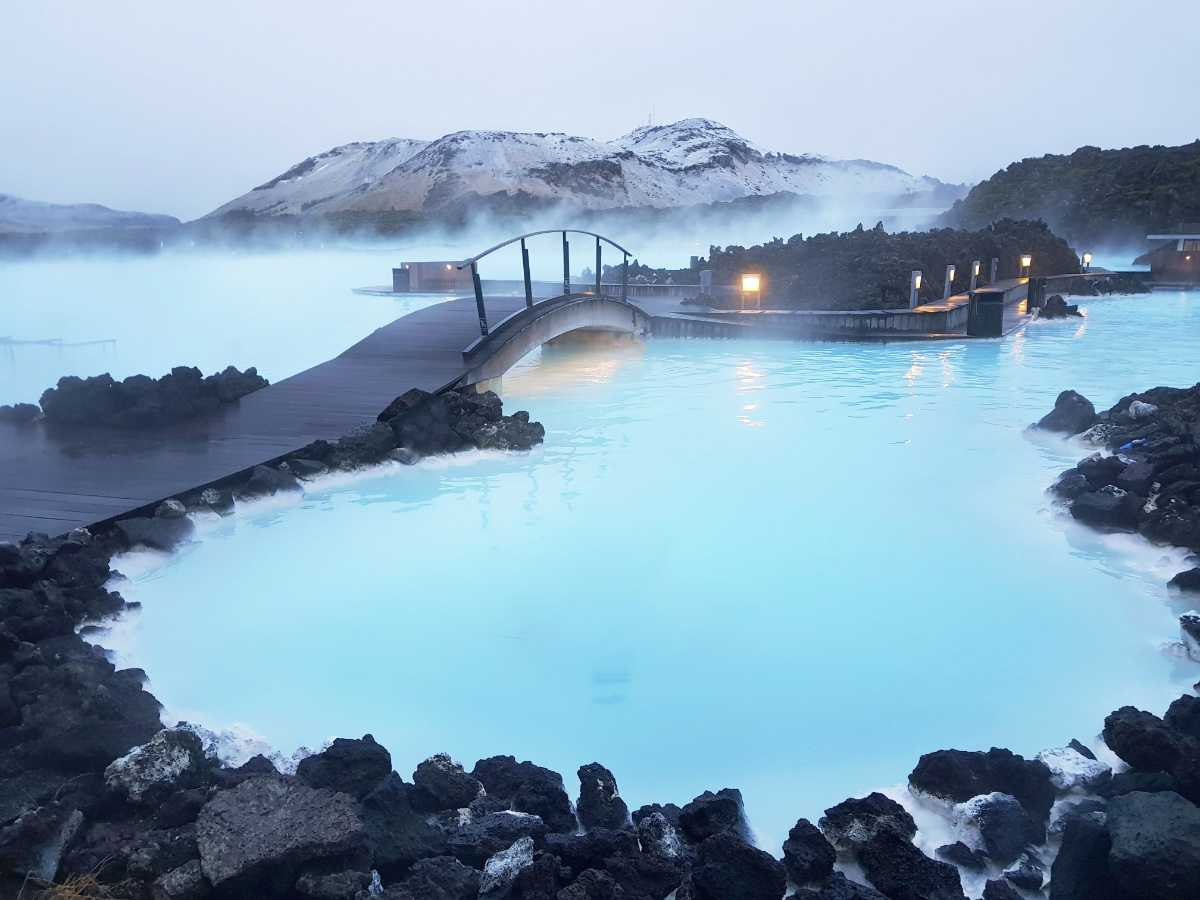 4. Seljalandsfoss Waterfall
Iceland boasts 10 000 waterfalls all over the island, but Seljalandsfoss is definitely one of the top sights in Iceland. Situated on the south coast of Iceland, very conveniently close to the Ring Road, it drops cliffs a staggering 60 meters tall. But it's not just its height that makes the falls so popular. Due to a cavern, you can walk behind the falls and get a look-out at the magnificent Iceland landscape from behind a veil of water.
The falls are open all year round and whether you visit during summer or winter, both offer incredibly memorable experiences. During the summer, you can go see the falls during a Midnight Sun and in winter, the falls are kept well-lit. It creates a magical and quite unique scene. You'll get to see water tumbling over cliffs with frozen tentacles dangling down with a blanket of snow draped over the ground.
5. Husavik
Husavik is situated on the north coast of Iceland and is the oldest settlement in Iceland. Husavik is also known as "the whale capital of Iceland", so as you can imagine, its biggest attraction is whale watching. If seeing these giants of the ocean is your main goal with visiting Husavik, we highly recommend that you come between April and September. That's when the migratory whales make the island their home.
Some of the whales you can look forward to seeing are Orcas, Minke whales, Sperm Whales, Humpback Whales and Harbour Porpoises. If you've done all the whale watching you can possibly do, you can also visit the Husavik Lighthouse, the Exploration Museum, and have a soak in the Geosea. Or maybe have a cocktail at Jaja Ding Dong. A nod to the Netflix movie, Eurovision, that features the town and also resulted in an Oscar-nominated song titled Husavik - My Hometown.
6. Heimaey Island
Heimaey Island is the largest of the cluster of islands called the Westman Islands. The island is called home by roughly 4000 permanent inhabitants and is one of the best places to see Puffins in Iceland. These odd-looking clown birds make the island their breeding ground between May and August each year.
Once the Pufflings (yes, that's actually what they are called) are born, it can lead to quite a bit of consternation and fun. These curious little babies are drawn to the town's lights. Wandering into town like moths drawn to a flame, it has become a tradition that the town's children be tasked to collect the little ones. Their mail goal is to take them back to the ocean. Heimaey Island also has an incredibly interesting history. You'll be left transfixed listening to tales of volcanos, murder, slaves, and pirates.
7. Blue Ice Cave in Vatnajökull
The Blue Ice Cave is one of Iceland's most beautiful places to visit, but it is only open from mid-October to March. This is due to safety concerns during the warmer months (ice melts, remember?). The Blue Ice Cave can be fairly confusing to visitors. They will probably hear ice cave names such as the Crystal Ice Cave, the Vatnajökull Ice Cave, and the Anaconda Ice Cave etc. They end up thinking that these are all different caves, when in fact, they are all one and the same.
This actually started as a marketing gimmick. Since the ice cave is ever-changing, they would slap on a new name to draw both old and new crowds. The Blue Ice Cave got its name due to the incredibly blue hue of the cave walls. Exploring the bright blue ice caves is absolutely magical and definitely one of the must-do items on a winter trip to the island.
8. Hvitserkur Rock Formation
Due to all the elements at play in Iceland, you will find all sorts of interesting rock formations across the island, such as Hvitserkur. It's not called the Land of Fire and Ice for nothing! Hvitserkur is one of the best places to go in Iceland - not just because of its extraordinary look, but because of the legend behind it. Over the years, there have been a few versions of the story of how this 15-meter-high basalt stack on the eastern shore of the Vatnsnes Peninsula in northwest Iceland was formed.
The most prominent version tells the tale of an annoyed troll. He was extremely bothered by the ringing bells of Pingeyraklauster Convent and decided to tear them down. But blinded by his annoyance and anger, he lost track of time and got caught by the daylight. And as the first rays of morning sunlight hit him, he turned to stone. The scientific reason for Hvitserkur is that a giant basalt rock was eroded by the ocean. The crashing waves wear the rock down for many years, resulting in three large holes going straight through it. We prefer the troll rock version.
9. The Viking Village in Hafnarfjördur
Hafnarfjördur is just 10 km south of Reykjavík, the capital city. It gives visitors the opportunity to experience the Viking Age first-hand at the Viking Village. Here you can stay in a Viking-themed hotel and enjoy a meal at a Viking restaurant (it opens at lunch). But the entire Viking Village is an experience.
Those pouring out of tour buses get "kidnapped" by the Viking inhabitants, who later accept them into their clang. If you're lucky, you'll also see some combat demonstrations as well. Dinners on a Friday or Saturday night are especially raucous, with Vikings singing and dancing whilst you dine on a menu. The typical course includes Viking favorites such as fish soup, lamb shank, dried haddock, and putrefied sharkmeat.
10. Jokulsarlon Glacier Lagoon
This is probably one of Iceland's most beautiful places. Fed by one of the largest glaciers in Iceland (and all of Europe!) called Vatnajökull, this glacier lagoon is filled with massive icebergs and drifting pieces of ice that's broken off of the glacier. Although you can visit the lagoon and take a few snapshots from afar, we highly recommend that you book a spot on one of the boat tours.
On one of these, you will be cruising past lazy seals relaxing on the floating pieces of ice. You'll get so close to icebergs that you could reach out and touch them! And you can cruise along the glacier wall and actually experience one of these pieces of ice breaking off. After your boat tour, you can quickly pop around "next door" to Diamond Beach.
11. Silfra Fissure
The Silfra Fissure is not only an interesting place to visit and take a few photos. You can actually go snorkeling and diving there! The Silfra Fissure is the 'Fissure' (aka "tear") in between the Eurasian and North American continents. Here the tectonic plates are pushing each other apart, splitting Iceland in two.
Clear glacial water fills the crevice and this is exactly where one can go snorkeling or diving. But please note that if you want to go diving, you'll need to have your diver's license with you and have at least a couple of dives under your belt.
12. Landmannalaugar
Landmannalaugar is in the Highlands in the South of Iceland and is definitely one of Iceland's most beautiful places. This is because of the colorful rhyolite mountains formed by volcanic activity that can be found there.
Landmannalaugar is also well known for its epic hiking trails. These hikes will take you to other interesting attractions such as lava fields and geothermal hot springs. One of these hiking trails is the Laugavegur Multi-day Trek, which is 55 kilometers long. Hikers will experience the most dramatic and jaw-dropping landscapes and scenes imaginable.
13. Askja Caldera
Visiting Askja today will leave you thinking that it's just a big lake on top of a mountain. Well, that's a wrong assumption. The Askja Caldera is actually an active volcano known for its dramatic eruptions.
It's located on the northern side of Iceland's biggest national park; Vatnajökull National Park and its water is found frozen for most of the year. And if you ever find the water abnormally unfrozen? Well, time to head home as fast as you can since that is the tip-off that an eruption might be coming soon!
15. Reykjavik
Reykjavik is the capital city of Iceland, and it shows in its various activities and attractions. The city bursts with wonderful shops and restaurants, and the hustle-and-bustle of its lively nightlife.
You can visit one of the museums like Saga Museum, appreciate local art such as the Sun Voyager sculpture. Or gawk at the marvelous architecture of Hallgrimskirkja. Alternatively, you can shop 'till you drop in Laugavegur Street. And then, explore the rest of the city whilst stuffing your face on the Reykjavik Food Walk.
16. Mount Kirkjufell
Kirkjufell is a pyramid-shaped mountain located near Grundarfjördur on the Snæfellsnes Peninsula. If it looks familiar to you, it's because this 463-meter-high mountain has graced our screens as Arrowhead Mountain in the series, Game of Thrones.
Today, it not only makes for quite an impressive photo. Did you know it's been named one of the top 10 most beautiful mountains in the world? But you can actually hike up the mountain. It is important to note this challenging hike should only be taken on with a professional guide by your side.
17. Dettifoss Waterfall
Dettifoss is one of Iceland's must-see places since it's officially the most powerful waterfall in Europe. Measuring 45 meters high and 100 meters wide, this enormous waterfall has 365292.24 liters tumbling over the cliffs EVERY SECOND!
That's why you'll also need to remember your waterproof clothing and raincoat if you want to have any chance at a good photo there. If not, you'll just look like a drenched cat in the waterfall's mist and spray. Dettifoss can be found in the northeast of Iceland in the Vatnajökull National Park. You can choose from two different viewpoints: the west or the east side.
18. Asbyrgi Canyon
Asbyrgi Canyon is found just 38 kilometers from Husavik in the Vatnajökull National Park. This canyon of 3.5 kilometers is shaped like a horseshoe and is not only breathtaking but also seeped in folklore.
Many believe that Arbyrgi is the capital city of Iceland's Hidden People living in the canyon cliff walls. Since Asbyrgi is an easy stop when you're traveling via the Diamond Circle, go take a hike and let us know if you too hear the singing coming from the rocks as the legend talks about.
19. Eyjafjallajökull
Eyjafjallajökull is the troublemaker of Iceland. This volcano caused havoc with its massive 2010 eruption. It left people stranded and flights canceled across Europe, and many had to be evacuated out of fear of hot ash and lava flows.
But today you can rest assured when taking one of the many tours to Eyjafjallajökull. The volcano is covered in an ice cap that covers about 100 square kilometers. And unless you see that ice suddenly melting, there's no reason to fear another eruption anytime soon.
20. Seljavallalaug Swimming Pool
Welcome to one of the best places to go in Iceland and one of the oldest pools in Iceland! The pool was built in 1923 and is 10 meters wide and 25 meters long. Although this is considered one of Iceland's most hidden geothermal pools (situated in a secluded valley), it is not the Secret Lagoon.
Although there is a changing room on-site it's really very primitive and tourists usually leave it an absolute mess – so be prepared. But despite, the changing rooms, you'll thoroughly enjoy the 20-30 degree Celsius pool with its amazing surroundings. And what's more – the experience is absolutely free of charge!
21. Kirkjubaer Guesthouse
Forget about your boring old B&B. When it comes to the Kirkjubaer Guesthouse it's anything but the ordinary. This guesthouse with its bright blue roof, windows, and door might seem a bit gimmicky due to its aesthetics. The reason is that it seems like it was made to look like a church. But the reality is that it actually was a church! It served as the fishing village of Stodvarfjordur's local church from 1925 'till it was replaced by a newer and bigger church.
Since that time the church fell into disrepair and many were heartbroken at the sight. Especially one couple. They eventually bought the church and renovated it, turning it into the accommodation loved by many today. And don't think that the renovations had an "out with the old and in with the new" approach. You can still find many of the original fixtures and furniture inside!
These Places to Visit in Iceland are Only the Tip of the Iceberg
The places mentioned in this guide are some of the best places to go in Iceland. But they are merely the tip of the Iceberg when it comes to all the things to do and places to go on the island. We strongly believe that the best way to explore the island is by making a road trip out of it (and trying to stay for at least 2 weeks).
The most convenient (and most affordable) way to travel is by renting a campervan in Iceland. Live and adventure by driving your itinerary route and parking at campsites along the way. And who knows, after your road trip, you might have discovered an even longer list of the best places to visit in Iceland.