A trip to Iceland is an unforgettable experience. It's a country full of awe-inspiring nature; from its towering waterfalls to its grazing sheep in the sleepy countryside. But Iceland has a lot to offer in other ways too; cities!
The total population of Iceland is about 350,000 people. You will soon notice the cities here are relatively small. We even dare to say that most of them would be considered small towns instead of cities. However, what they lack in people, they make up for in character.
Whether you choose a base in the capital city of Reykjavík and take day trips out, or decide to rent a campervan and explore the Iceland Ring Road; there are a number of great cities to visit in Iceland.
So without further ado, let's discuss the top cities in Iceland.
1. Reykjavík
Reykjavík is an Iceland city name you've definitely heard of, plus it's the capital! Reykjavík is the largest city in Iceland and houses over two-thirds of the country's population.
The city's main shopping and restaurants street is Laugavegur, but all around it, you can find hidden gems. It is a colorful city with plenty of quirky side streets to explore.
Immerse yourself in Icelandic art and culture by visiting one of the many museums and galleries in Reykjavík. Favorites include the Einar Jonsson Museum and the Asmundur Museum. Keep your eyes peeled while you explore because there are many outdoor sculptures and street arts to enjoy across the city.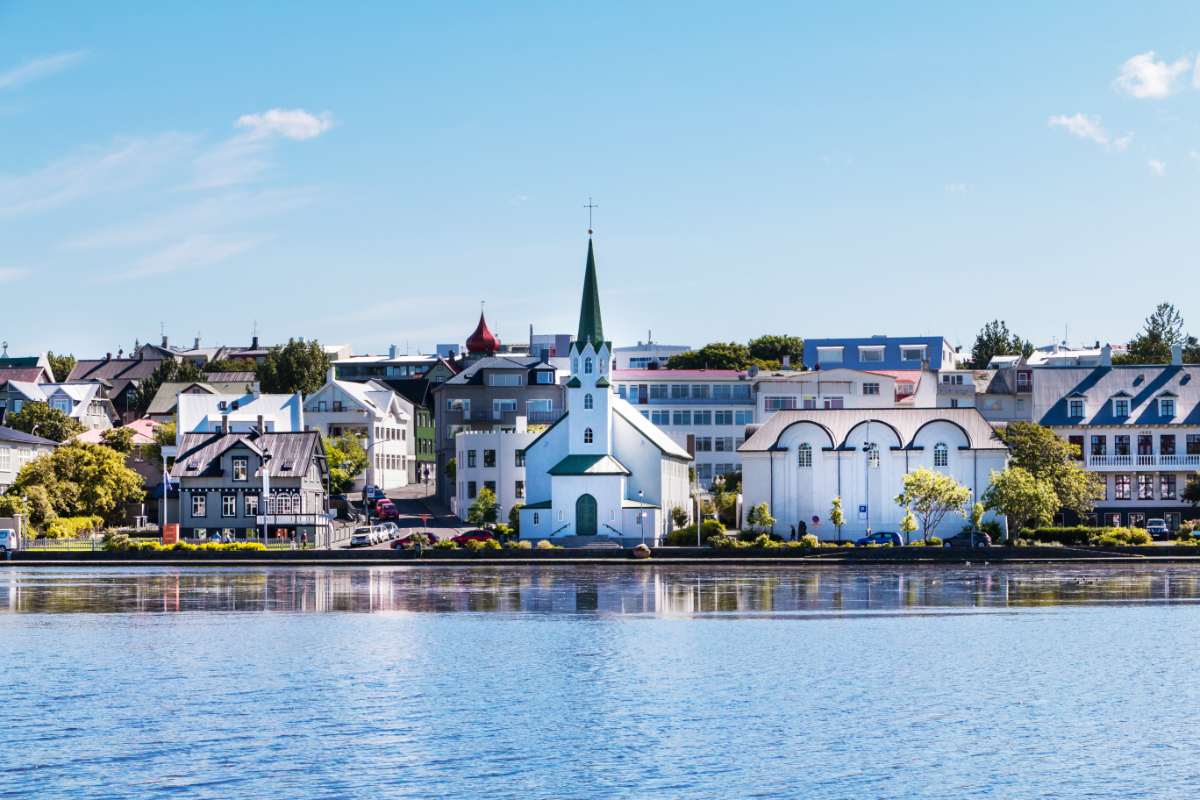 2. Kópavogur
Kópavogur is the second-biggest city in Iceland after Reykjavík. It's not far from the capital; you can easily catch a bus or drive your rental vehicle between the two. The drive is only about 15 minutes.
Kópavogur translates to "seal pup bay" because of the seals that frequent its beautiful shoreline.
The architecture in Kópavogur is considered stunning, most notably the Kópavogur Church and the Gerðarsafn Kópavogur Art Museum. If you're more into nature than galleries, the hills surrounding the city boast a number of hiking trails.
Kópavogur is home to Sky Lagoon, a new geothermal impressive spa in Iceland. Guests are invited to soak in the views at the ocean-side infinity pool, and sip their favorite drinks at the lagoon bar.
3. Hafnarfjörður
Hafnarfjörður is one of the best cities in Iceland to visit with kids because of its links with elves! The Elf Garden in Hellisgerdi Park is supposedly populated with Hudufolk, the hidden people of Iceland.
Hellisgerdi Park is a beautiful place to visit, even if you don't see any elves. This lava stone park is worth visiting for its combination of man-made and natural beauty.
Another family-friendly attraction in Hafnarfjörður is the Viking Village. It is a complex made up of hotels, holiday cottages and restaurants. Fjörugarðurinn is a restaurant with live entertainment based on Viking life.
Hafnarfjörður is home to Iceland's Viking Festival, held in mid-June every year. Held over several days, the Viking Festival is populated with Viking reenactments. These Viking themed activities include battles, archery and storytelling.
4. Akureyri
Akureyri is considered one of Iceland's major cities in Iceland, despite its small size. Only 20,000 people live there, but it's the biggest town in Northern Iceland, earning it the nickname "Capital of the North".
Akureyri is beautiful in the summer, the town comes to life with outdoor cafés, and people lounging at the local pools. It is also home to numerous hiking trails, and summer concerts or festivals.
Summertime in Akureyri is the perfect time to visit Lystigardurinn, Akureyri's botanical garden. Entry is free and open from 9am in summer.
In wintertime Icelanders head to Akureyri to enjoy the slopes of Hlíðarfjall. Tourists can enjoy a trip to Jolahusid, a quaint little gift shop, to stock up on Christmas gifts. The shop's exterior looks a cross between a traditional Nordic house and a gingerbread house, with candy decorating the roof.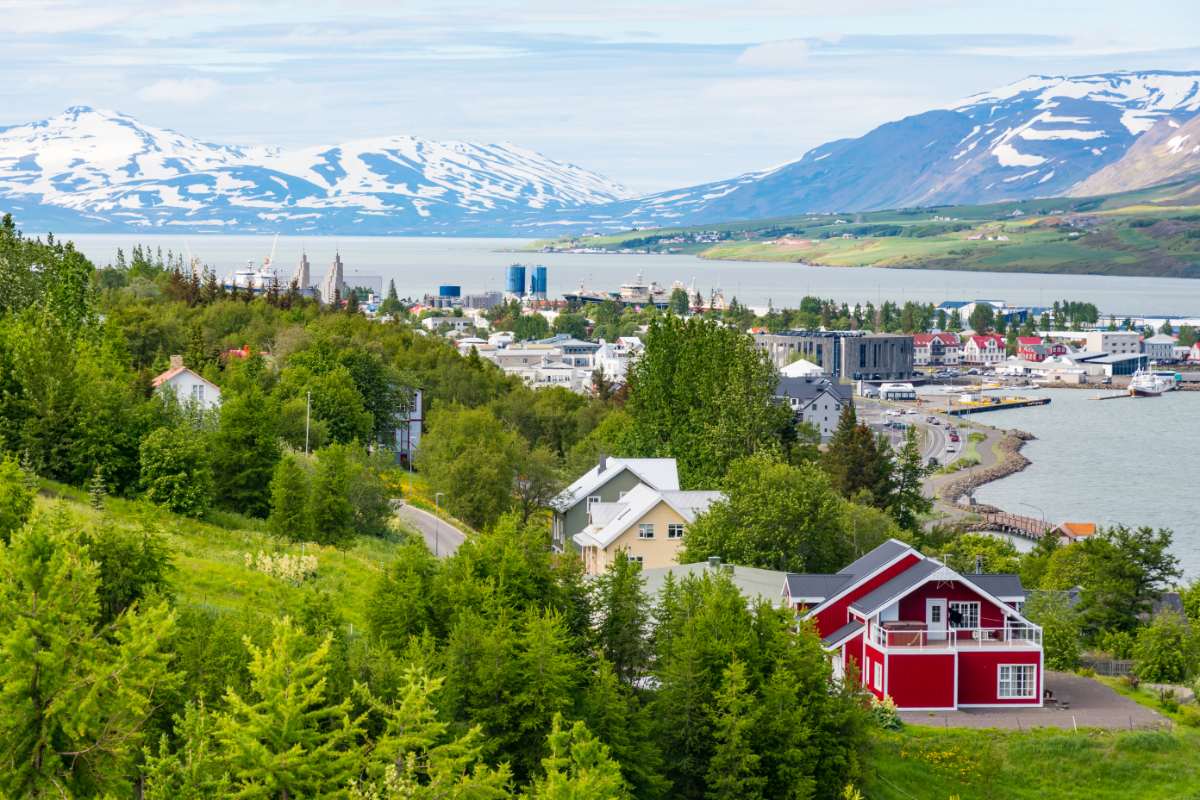 5. Garðabær
Garðabær is one of the popular cities in Iceland with history fans. Head to the Hofsstaðir Archaeological Park and admire the remains of the second-largest farm from the settlement age in Iceland.
For some culture, visit the Museum of Design and Applied Art. The exhibition is small, but it's full of great examples of contemporary Icelandic design. Be sure to visit the gift shop on the way out too.
After lunch in the town center, why not sample some authentic Icelandic whiskey at the Eimverk Distillery. This is Iceland's' first and only whiskey distillery and a perfect destination for fans of spirits.
Navigating Garðabær by bus can be a little tricky, so you might want to rent a vehicle.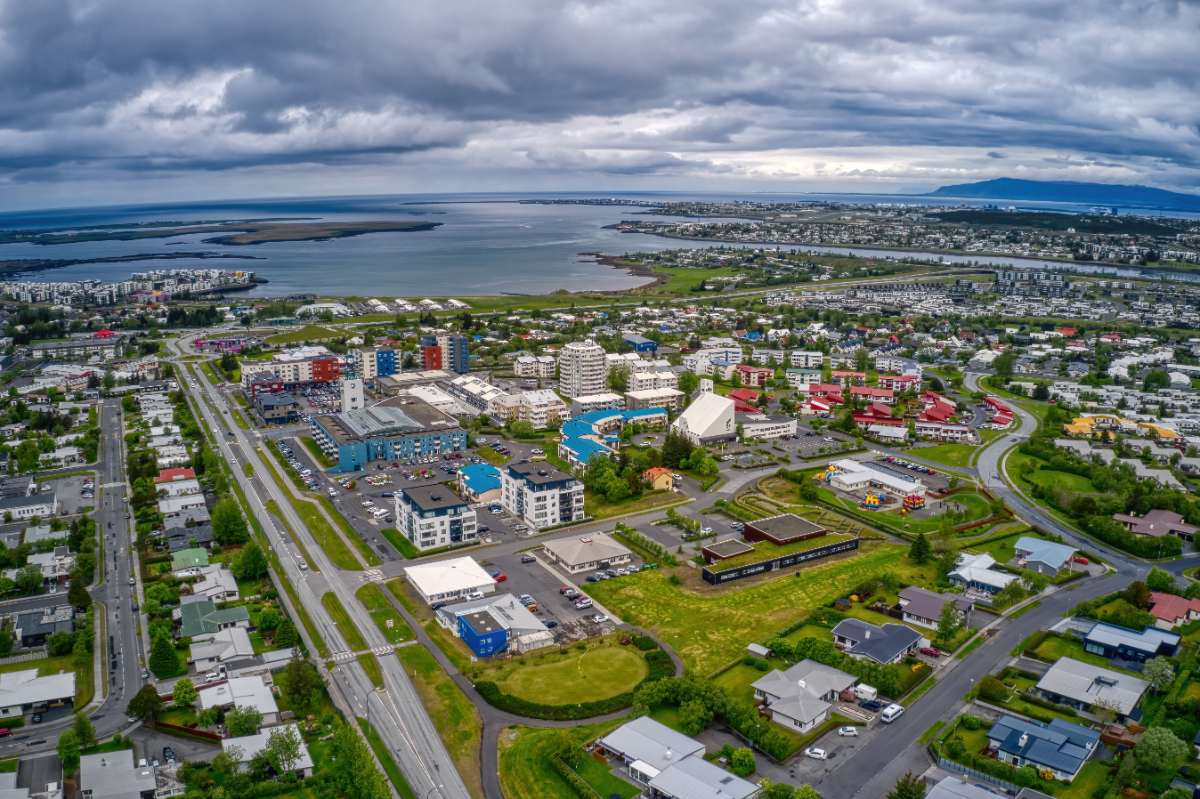 The Best of the Rest
There aren't many cities in Iceland because of the island's small population, but there are plenty of amazing towns and villages to visit.
Here is a list of other places in Iceland that deserve an honorable mention despite not being a city.
Mosfellsbær
Mosfellsbær is a small farm town just outside Reykjavík. It's popular with those using the city as a home base but wishing to spend a day in nature. The town is home to Iceland's oldest and most prestigious wool factory. Here you can buy high-quality Icelandic wool sweaters (Lopapeysa), wool blankets or beautiful multicoloured sheepskins.
Árborg
Árborg is easy to find as it's located on the famous Iceland Ring Road. It's one of the largest towns along the South coast and is home to many great restaurants and shops for picking up souvenirs. Annually, in mid-June, the town hosts a BBQ festival.
Husavik
Husavik is known as the "Whale Capital of Iceland" and is one of the best places to spot humpback, minke, and blue whales. Visit the town between March and December for the highest chance of seeing them.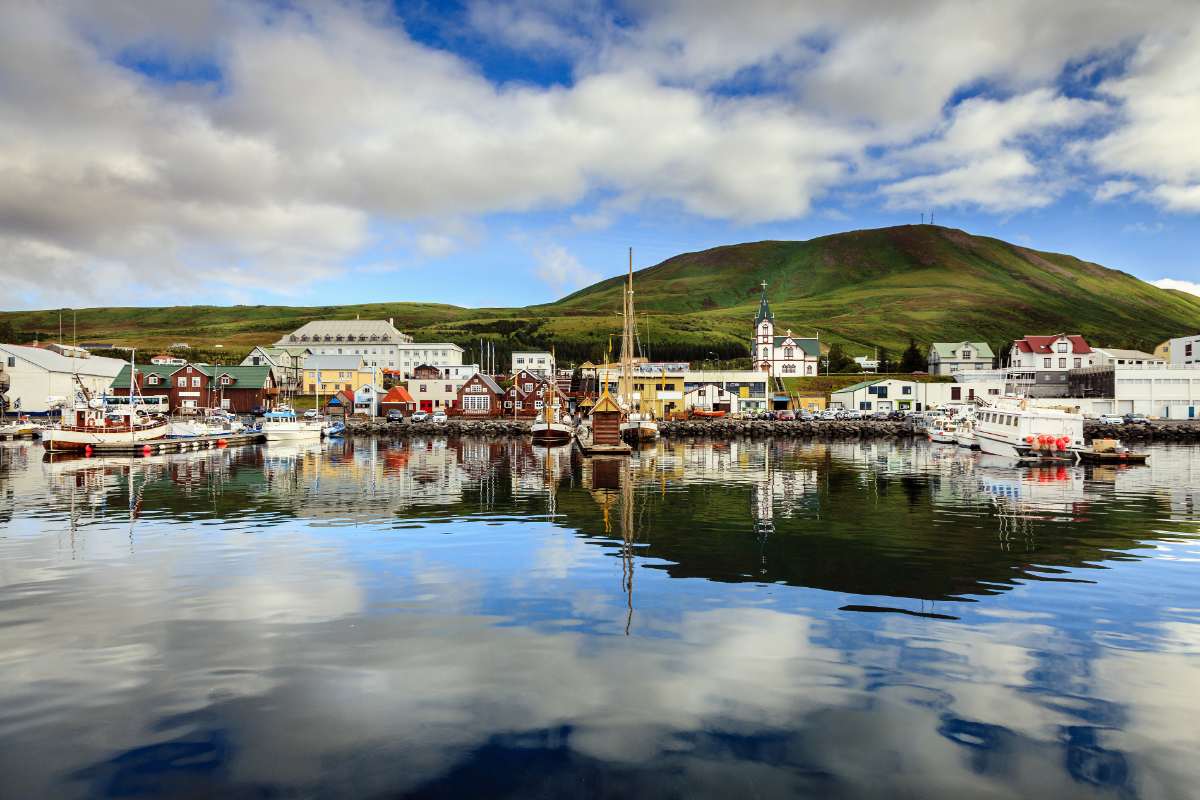 Seyðisfjörður
Seyðisfjörður is so small, it would be very easy to overlook it on your travels. You'll be sad if you do, though, this village is surrounded by epic cliffs and thrashing sea waves.
City Life in Iceland
All of these Icelandic cities have something unique to offer. You could return year after year and still find yourself surprised by what you find.