It can be confusing packing for a trip to the island. What do you pack for summer in a place called Iceland? What do you pack when the sun technically never quite sets? And what do you pack in a country where the saying goes, "you can experience all four seasons in a day"? There is no way visitors to the island can navigate these packing conundrums without having an Iceland packing list from those in the know.
That's why we decided to give you the lowdown on the Iceland seasons and what to pack for each, as well as give you a handy packing list that you can use as a guide.
Packing for Iceland in Summer
Summer in Iceland is from June to September. You can look forward to temperatures generally being between 10-20 degrees Celsius. Weather elements such as snow and the legendary Iceland winds have also disappeared and calmed down. Summer in Iceland is the busiest time on the island, and the reason is what will impact your packing.
Summer is outdoor activity time; from camping, horse riding, and hiking to snorkeling the Silfra and ziplining in Akureyri. It is prime time to enjoy these activities whilst the weather is nice, and the daylight hours are plenty. You don't need to pack specific gear for most of the activities, as rentals are available. Still, you might have your favorite camping gadget or headlight that you want to pack.
And you might feel more comfortable using your own dry suit snorkeling Silfra. Whichever activities you have on your Iceland summer bucket list, your preferences in clothing, gear, and equipment, and how you intend to mitigate your Midnight Sun sleeping patterns will have a big impact on what you pack.
What to add to your Iceland packing list during the summer months:
Sleeping mask
Any of your own gear/clothing that's activity-specific, and you prefer not to rent from others
Sunscreen
Mosquito head net
Packing for Iceland in Winter
It should come as no surprise that it's pretty cold in Iceland during the winter months (December to March). Temperatures can range between -30 to 0 depending on where on the island you are. You'll have to be prepared for snow, rain, and winds that can rip the door off a car.
Daylight hours are few and far between, and many campsites and other outdoor activities are closed. Winter in Iceland is for those who want to experience some once-in-a-lifetime phenomena and activities. It is also good for those who have a tight travel budget.
What to add to your Iceland packing list during the winter months:
Long, waterproof winter coat
Ice cleats
Ice scraper & foldable snow shovel (almost no rental agencies offer these, so you will either need to bring your own or purchase them on the island)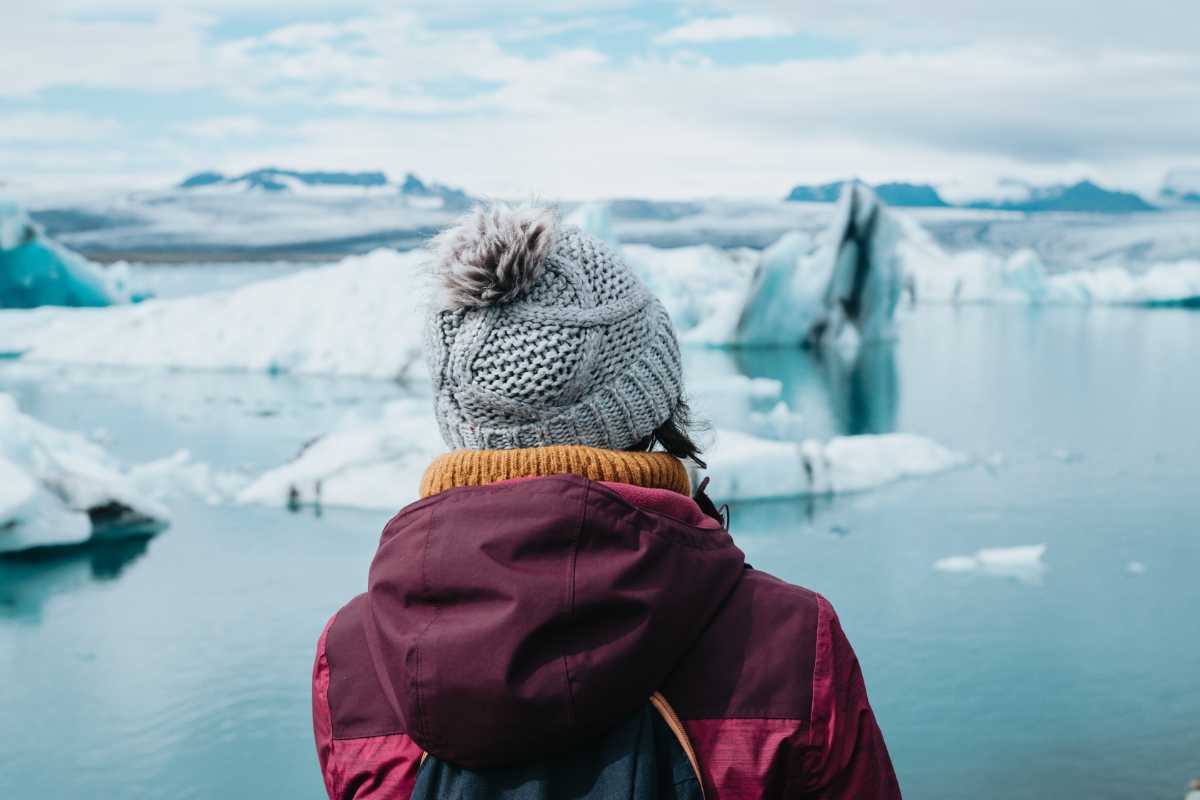 Iceland Packing List
Below, you will find a packing list that you can use as a guide when packing for your trip to the island. Please remember to add the specific items mentioned above based on the season you'll be visiting.
Raincoat
Waterproof jacket
Fleece/woolen sweater. (We recommend packing just one or two, so you can buy authentic Icelandic woolen sweaters once you arrive – they are amazing!)
Waterproof pants
Waterproof hiking boots (irrespective of whether you'll be hiking or not)
Casual shoes (for the days spent in the city as well as to change in when moving in from the outside)
Underwear
Thermal vests
Thermal leggings
Warm woolen socks
T-shirts & long-sleeved shirts
Casual pants (when you're out and about in the city)
Warm hat (we always recommend beanies)
Warm gloves
Warm scarf
Bathing suit (for when you want to take a dip in the Iceland hot springs)
Quick drying towel (whether winter or summer, you don't want to be lugging around wet, cold things whilst traveling)
Flip-flops (to use at the hot springs and other public changing rooms)
Sunglasses
Moisturizer
Lip balm (you've never felt cracked lips like you feel in Iceland)
Toiletries & medications (just double-check flight restrictions. Avoid leaving important allergy medication or your favorite bottle of conditioner behind at the airport)
Water bottle (the water quality in Iceland is so high that you'll never need to buy water – just top up as you go)
Backpack (suitable for outings as well as hikes)
Electronics: chargers, cables, a power bank, an adaptor, etc.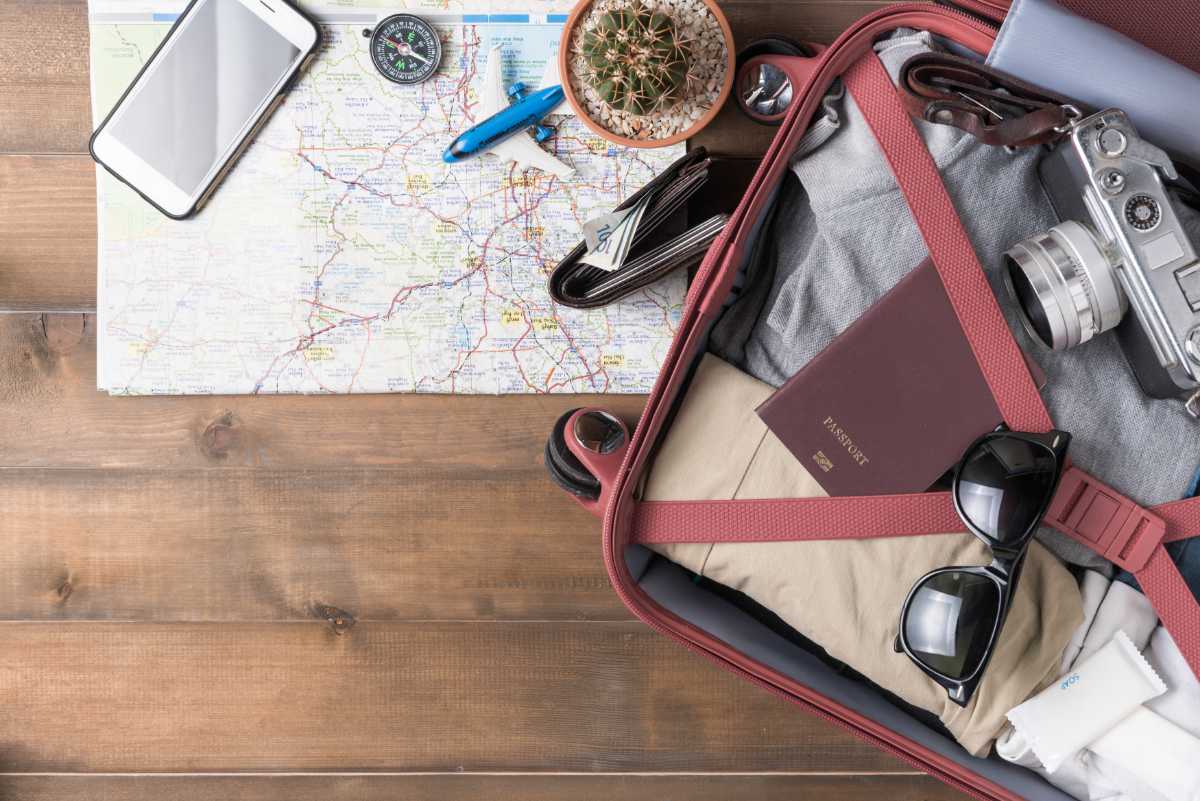 A Few Helpful Packing Tips for Your Iceland Trip
If this is your first time on the island, the following helpful tips will ensure that you come prepared and have a great trip:
Pack Waterproof Clothing & Gear for Day Outings as Well
Remember the local saying about "four seasons in a day"? Well, you don't want to suddenly find yourself caught in the rain on a hike or whilst spotting Puffins in Iceland, right? And miss out on the experience because you're too focused on getting soaked. You also do not want to end up looking like a drenched cat at some of the must-see spots in Iceland. We're talking about the waterfalls.
When it comes to waterproof clothing on an Iceland packing list, many forget that waterproof clothing and gear are not just for mitigating the Iceland weather. These become essential items when it comes to the mist and spray created by the powerful waterfalls. And let's not forget the muddy mess you sometimes have to hike to the natural hot springs.
Keep an Eye on the Weather
If you are planning your trip itinerary or before heading out on your daily outings, always check the Iceland weather forecast. This will also help guide you in what to pack in your backpack and will help you avoid any weather mishaps.
Always Wear Layers in Iceland
Many are surprised to see t-shirts on the general Iceland packing list, but this is because you always need to dress in layers here in Iceland, irrespective of the season. With the sudden changes in weather and the temperature differences between the indoors and outdoors, you can expect a rollercoaster ride of "now I'm hot" and "now I'm cold" on your trip. Dressing in layers will allow you to always be able to take something off and put something on.
Pack for the Space and Itinerary You'll Have
Yes, the packing list says t-shirts and long-sleeved shirts, but how many should you take? Well, you need to take the number of days you'll be spending on the island into account and how often you'll be traveling. If you're going to be moving around a lot, you don't want to lug a bunch of luggage around. And how much space will you have If you intend to rent a campervan in Iceland or going camping with your hired motorhome. You can't bring the same amount of stuff as when you're renting an entire Airbnb apartment, since space is limited.
Packing for Iceland is Easy if You Have an Iceland Packing List
Many items (especially the seasonal ones) aren't "common sense" if you're used to living in other parts of the world. That's why an Iceland packing list that one can use as a guide is incredibly helpful to navigate some of the confusion of packing for your trip. We hope that this list will soothe some of the pre-trip stressors and that our tips will make this trip to Iceland the best one ever!