With Iceland boasting over 10,000 waterfalls, you'll have your pick of spectacular water displays when visiting the island. But there are a few falls that simply cannot be excluded from your trip itinerary, one of which is Skogafoss Waterfall in Iceland.
In this article, we tell you everything there is to know about this amazing waterfall, where to find it, when to plan your visit, and much, much more. So, if you've got an upcoming trip to the island, or simply want to learn more about the falls that have made an appearance on our TV screens, read on.
Skogafoss Waterfall
As one of the most visited waterfalls here in Iceland, we get a lot of questions about Skogafoss. Below you will find all the answers to some of the most important and frequently asked questions:
Where is Skogafoss Waterfall in Iceland?
Skogafoss Waterfall can be found in the south of Iceland near the small village of Skogar which lies just south of the Eyjafjallajökull Volcano.
How High is Skogafoss Waterfall?
Skogafoss is one of our tallest waterfalls in Iceland, clocking in at a staggering 60 meters. This drop as well as the volumes of water crashing over the cliffs, it's also one of our most powerful, and this is made very clear to any visitor that gets drenched in its mist and spray.
What Does Skogafoss Mean?
The name Skogafoss is actually very descriptive of the falls (too bad you won't know that that's the case unless you've actually seen what the falls look like). The word 'skogur' translates to 'forest', and the word 'foss' translates to 'falls'. So, the name Skogafoss is a combination of these two words and is indicative of the incredibly lush greenery that surrounds the waterfall.
How was Skogafoss Formed?
Skogafoss is a very interesting Icelandic landmark, and not just for its beauty. In this case, the waterfall is not the thing that was created or formed, but rather the landscape around it that has drastically changed.
It's hard to believe that the cliffs we see Skogafoss tumble over today were once the Icelandic coastline. But due to severe marine erosion, the coastline has receded to where it is found today.
What is the Legend Surrounding Skogafoss Waterfall in Iceland?
The legend of Skogafoss will leave any treasure hunters amongst us salivating. It is said that in the year 900, an old Viking with the name of Prasi Porolfsson hid his treasure chest filled with gold and other precious items behind the waterfall.
With this powerful waterfall plummeting to the ground from a height of 60 meters, you understand why no one has dared prove the legend right or wrong. And we highly recommend that you don't attempt to be the first!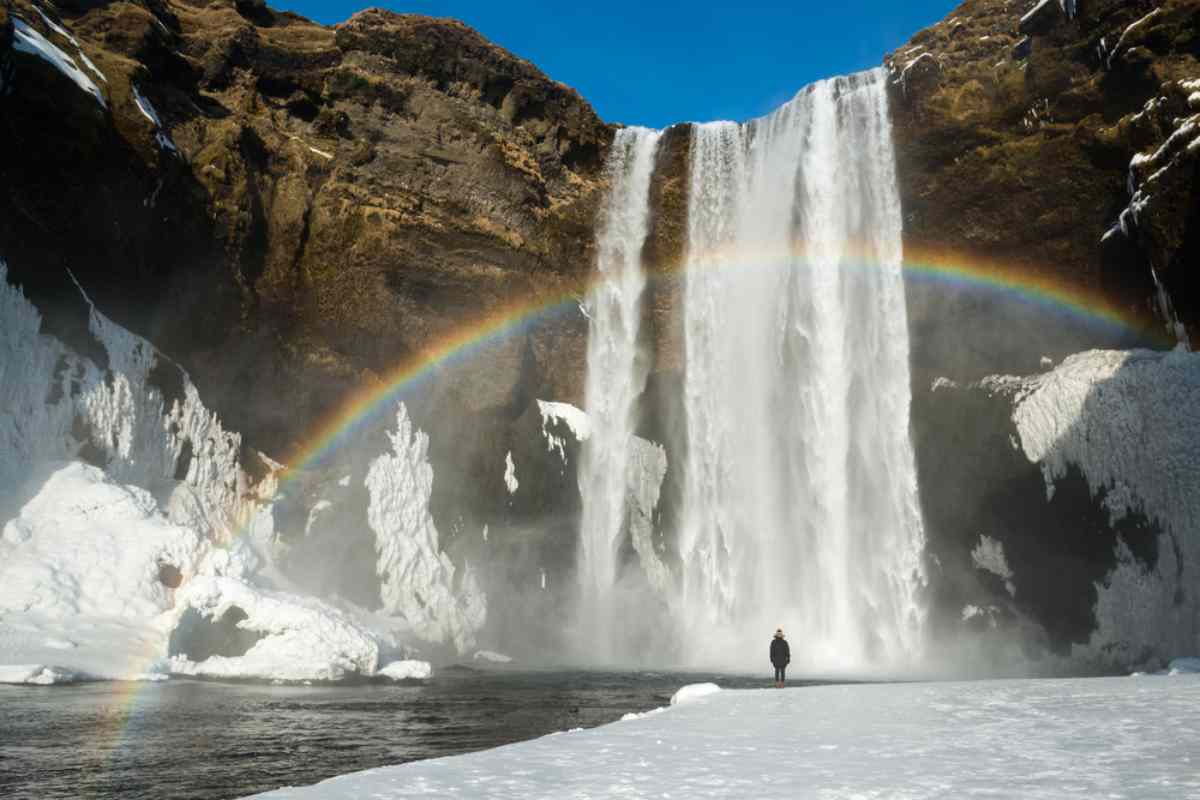 When is the Best Time of the Year to Visit Skogafoss Falls in Iceland?
One can visit Skogafoss Waterfall all year round, but, as we already mentioned, this powerful waterfall does tend to give off massive amounts of mist and spray, and unless you're properly prepared with waterproof clothing and gear, it might become very unpleasant visiting during the colder months of the year here on the island.
You might then also want to give the months with the most rainfall a skip, which is January, February, March, September, October, November, and December. So, most prefer visiting the falls during the Iceland summer months, from June to September. Those who do choose to take on the falls during the wintertime should just be careful, as the stairs to the falls can get pretty icy and slippery.
What is the Best Time of the Day to Visit Skogafoss Falls in Iceland?
There really isn't a specific time of day that's particularly recommended to visit the falls, although most will advise you to get an early morning start during our busier summer months in Iceland just to avoid the majority of the peak season masses.
How Much Time Should I Spend at Skogafoss?
Most visitors spend between 1-2 hours at Skogafoss and that includes the hike to the falls and various viewing spots.
The Skogafoss Waterfall Hike
You will find a favorite trail amongst hikers at the Skogafoss Waterfall called the Waterfall Way, the Skogafoss Waterfall Hike, or the Skoga Trail. This trail is about 16 kilometers in total and will take roughly 4 to 6 hours to complete based on your pace. You don't need to be exceptionally skilled or experienced to take on this trail since it's rated as easy, but we do recommend that you only hike the trail during the summer season.
The hike starts at the Skogafoss Waterfall, and even though it forms part of the longer Fimmvörduhals Trail, the Skogafoss Trail only follows the Skoga River and does not continue on to Eyjafjallajökull Volcano and Myrdalsjökull Glacier. But the option of extending your hike is there. Just take note that the Fimmvörduhals Trail is 25 kilometers long and ends in Thorsmörk.
How to Get to Skogafoss Waterfall
There are essentially three ways to get to Skogafoss Waterfall:
Booking Your Spot on a Guided Tour
There are many guided tour options here on the island that will take you to Skogafoss Waterfall. Since it's located so close to the capital city, you'll find plenty of day tour options that will take you to the falls. You will also find plenty of multi-day holiday package tours that include Skogafoss as one of their stops.
Hopping Onto the Bus
You can actually get to Skogafoss by catching a bus from the capital city. If you get on the 51 bus in Reykjavik, and then get on the 52 bus in Selfoss, it will take you directly to the falls. You can also catch a bus to Vik from Reykjavík and simply walk the 13 kilometers to Skogafoss.
Driving Yourself
This will always be our recommended way to travel, since we believe it's the best way to explore the island on your own terms – you remain in full control of your time and trip itinerary. As we already mentioned, Skogafoss is very close to the capital city. Traveling to Skogafoss from Reykjavík won't even take you 2.5 hours, and is only 155 kilometers.
This makes it possible to turn a visit to Skogafoss into a day visit, although we suggest you make it part of your Ring Road road trip around the island. To get to Skogafoss from Reykjavík you need to head east on the Ring Road 'till you'll literally spot Skogafoss on your left. Then simply follow the sign and turn left into the small road to the parking lot, and take the short walk to the falls.
Things to Do and See Near Skogafoss Waterfall in Iceland
The reason we recommend staying in the area for at least a night or two is that there are plenty of things to see and do near Skogafoss. You can add the following to your trip itinerary:
Visiting the

Skogar Museum

Exploring Skogafoss and Surroundings on Icelandic Horses

Taking a Dip at Seljavallalaug

Visiting the Volcanoes of Katla and Eyjafjallajökull

Checking Out Seljalandsfoss Waterfall (the drive from Seljalandsfoss to Skogafoss isn't even 30 minutes)

Taking on Some of the

Hiking Trails in the Thorsmork Reserve

Visit the

LAVA Centre

Going Glacier Hiking on Myrdalsjökull
Where to Stay Near Skogafoss Waterfall in Iceland
You will find plenty of accommodation options to pick and choose from, and that are suitable for a wide variety of personal preferences and budgets. For a bit of a luxurious stay, you can opt for one of the hotels near Skogafoss in Iceland, such as Umi Hotel and Hotel Skoga.
Or you can go for a more budget-friendly yet comfortable stay at one of the local guesthouses such as Skogar Guesthouse. For the ultimate affordable stay whilst immersing yourself in the Icelandic landscape, you can opt for renting a campervan in Iceland and camping near Skogafoss in Iceland at campsites such as Skogar Campground.
Skogafoss is Not to Be Missed On Your Trip to Iceland
Now that you've learned about what makes Skogafoss so impressive, and about all the other things you can do and see in the area, it's very easy to understand why Skogafoss is a must when it comes to an Icelandic trip itinerary. Simply rent a campervan in Iceland, take a road trip, camp at Skogar, and soak in the beauty of Skogafoss Waterfall and the breathtaking surroundings.