At the height of the Icelandic summer, there is plenty to do in Iceland in August. Not only does August offer the breathtaking landscape Iceland is known for, but it also offers a variety of festivals and activities that are not available other times during the year. We've made life easier for your next August visit and guide you through all the things to do in Iceland in August.
Traveling to Iceland in August
There are a few things to keep in mind before packing your bags to the Land of Fire and Ice in August. Firstly, it is the height of the summer, so you can expect a fairly busy turnout from both the locals as well as tourists. Secondly, this month is jam-packed with events and activities such as festivals, hiking, kayaking and much, much more. When taking these facts into account, one needs to properly plan out one's trip beforehand and make any bookings as soon as possible.
Also, we often get asked the question of whether one can see the Northern Lights in Iceland during August. If that is something on your Icelandic bucket list, you'll need to pick another date for your visit (or come visit again!). The Northern Lights are only visible from September to March.
Top Things to do in Iceland in August
If you've got your heart set on Iceland and you're wondering what to do in Iceland in August, then these are some of the things that come highly recommended:
One of the best ways to travel in Iceland if you go in August is to make a road trip out of it. There are 5 popular road trip routes in Iceland. These include Ring Road – Route 1, Westfjords, Snæfellsnes Peninsula and Reykjanes Peninsula.
However, the most infamous is called The Golden Circle and can, technically, be done in a day. But with the endless list of things to do in Iceland in August you should really consider extending the trip. Whether renting a car and staying at accommodation or campsites along the way or opt for a campervan adventure – you will not regret it.
1. Do a 4x4 Excursion
The highlands of Iceland is completely impassable in the winter, so the height of summer is definitely when you want to explore this region. The views alone make this trip worthwhile with mountains, glaciers and volcanoes. But these mountain roads can only be driven with a 4x4 vehicle, so be sure to keep that in mind when booking your rental car.
2. Take a Hike
There are three main national parks in Iceland, all offering hiking trails with magnificent views. They are Vatnajökull, Snæfellsjökull and Thingvellir. The best part is that you don't need to be an avid hiker with a fitness level of an Olympic athlete to enjoy these trails. They generally range between 30-45 minute walks.
But if you're a bit more hard-core and would like to take on a day-long hike or even a multiple-day long hike, there are plenty of options to choose from. Some of these include Viknaslódir, Fimmvörduháls and Laugavegur.
3. Go River Rafting
August is your last chance to take on the Hvítá river before it freezes over again. If you envision treacherous waters that require extreme skills, rest assured – River Rafting in Iceland is not limited to the pros and can be done no matter your experience level.
Some of the things to look forward to during your river rafting experience include the impressive cliffs of Brúarhlöd canyon, the beautiful Gullfoss Waterfall and a relaxing hot sauna after your day of paddling.
4. Go Sea Kayaking
Keeping to the waters, Sea Kayaking is a great way to explore the Icelandic coastline. There are plenty of day tours offered around Reykjavik that will take you deep into Geldinganes Fjord. The beauty and tranquility awaiting you there, just a few minutes from the city, will astound you. And you might even spot a seal or two.
5. Take a Jet Boat Ride
Not one for paddling? No problem. Take a jet boat ride through the Hvítá river canyon. This is an absolutely thrilling experience, especially if you're one for speed. This experience also gives you a glimpse of quite a few things you wouldn't be able to see otherwise such as bizarre rock formations and incredible cliffs and deltas. Some jet boat tours even combine the trip with a local beer tasting if you want to go for a two-in-one-combo.
6. Have Fun at a Festival
The festival itinerary in August is almost an entire holiday on its own. These are some of the festivities you can look forward to:
Verslunarmannahelgi (Merchant's Weekend): This is the first weekend of every month, so it counts not only as one of the top things to do in august but also in the summer, and essentially consists of plenty of festivals all over Iceland. The holiday weekend is full of family fun with music, activities, and outdoor markets.
Reykjavik Pride Festival: In typical pride-fashion, this week in August is categorized by concerts, drag shows, street theatre and, ultimately, the legendary Pride Parade. In a country that is so LGBTQIA+ friendly is quite an experience.
Culture Night: This festival is usually held on the first Saturday after the 18th of August. It's essentially the anniversary celebration of the day Reykjavik got its municipal rights.
Reykjavik Jazz Festival: This is the country's second-oldest music festival and an absolute must when travelling to the island in August. As the name suggests, this festival is all things jazz. From new rising talent to well-known international artists performing contemporary, Latin, Avant-garde, Gospel and other styles of jazz.
7. Experience Day & Night Like You've Never Done Before
It's common knowledge that the days and nights in Iceland vastly differ from what is experienced in the rest of the world. August also holds its own unique time experience. The midnight sun in Iceland. Where the sun only starts setting at around 9 pm and one can experience an almost unimaginable sunny midnight.
8. Get Close to Nature
For the animal lovers amongst us, August in Iceland has some natural treats in store. Not only can you visit the world's biggest Puffin colonies whilst nesting, but the odds of you spotting a whale is much greater than in other months of the year.
9. Go Snorkeling & Diving
This is something that's rarely associated with Iceland, but the country actually offers a very unique diving experience. The Silfra Fissure in the Thingvellir National Park is part of the American and Eurasia tectonic plate rift. And even though you will still be required to wear a drysuit, the temperature in Iceland is at its warmest in August. So for those a little skittish of the cold, this is the best time to dive headfirst into this sport (pun intended), and definitely one of the best things to do in Iceland in August.
10. Pick Some
August is berry season in Iceland. You can easily stumble on berries such as wild strawberries, blueberries, crowberries, and bilberries – especially if you decide to take a hike. If berry picking sounds like an activity for you, just keep in mind that the best regions for picking berries are in the north and northwest.
And, like anywhere else in the world, know your berries before randomly starting to pick and eat them. The conifer, yew (Taxus) produces a red berry that is toxic.
11. Get Out
The weather in Iceland in August is probably the best it is all year. This is not the time to be watching series re-runs indoors. Go to the Reykjavik Flea Market, take a stroll around the harbour or take a dip at the geothermal beach and take turns plunging into the cold ocean and the hot tub.
Temperatures range between a toasty (at least in Icelandic terms) 13 degrees Celcius and lows of 8 degrees Celcius. But you might also be some of the lucky ones who get treated to 25 degrees Celcius.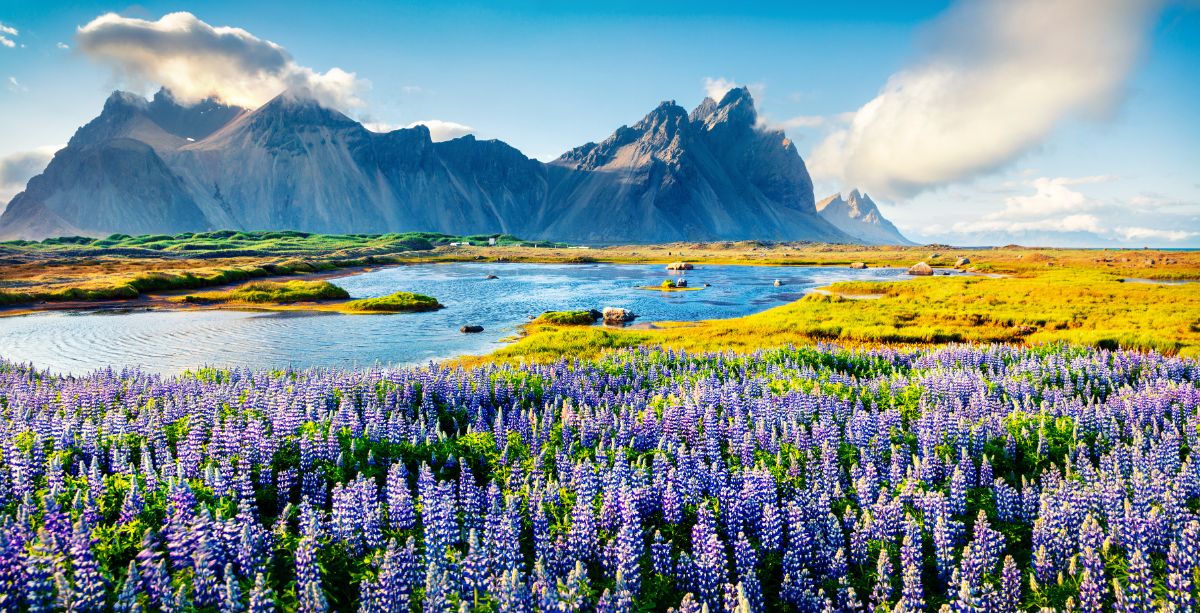 Make the most of August!
There will always be things to do in Iceland throughout the year, but there's no denying that Iceland in August offers some unique experiences, a bunch of festivals and nice weather. If you are itching to take that road trip or just want to experience Iceland from something else than just the normal hotel room, be sure to check out our campervans and motorhomes.