Iceland is located between the Arctic and North Atlantic Oceans. Because of this, the Nordic island is one of the most sparsely populated countries in the world. As the island lies over two tectonic plates, it experiences vibrant geological activity. This creates a magical country of volcanoes, glaciers, canyons and waterfalls. But what is the Iceland population like?
One of the most developed and wealthy countries on Earth, Iceland is a world of its own waiting to be discovered. Here, we've compiled all the most useful and interesting Iceland population demographics for 2022. We will include:
The ethnic makeup of Iceland,
How Iceland's population has changed through time,
The average age and life expectancy in Iceland,
Iceland's most populated cities
and more fascinating statistics and information!
Iceland Demographics: Iceland Population 2022
The population of Iceland is around 376,000, with about 86,000 (24%) of these residents having a foreign background. Around 93% of Iceland's population are Icelandic.
Around 60% of Iceland's population live in the capital, Reykjavík, and its immediate surrounding municipalities. This makes the Greater Reykjavík population just over 223,000 people. That is higher than the entirety of Greenland's population of around 56,000. The Reykjavík population in the city itself is around 131,000.
Urban areas in Iceland, which are defined as localities with a population of over 200 people, are home to 99% of the population of Iceland.
Iceland's Population Through Time
For most of Iceland's history, its population has remained between 30,000 and 80,000. In the post-settlement period, the Icelandic population has grown rapidly. When official statistics began in 1703, the population of Iceland was just over 50,000.
Most Icelandic people are descended from Norwegian settlers and Gaels from Scotland and Ireland. They were brought over as slaves in the 9th century AD during the Settlement of Iceland. In the 1850s, around 20% of Iceland's population immigrated to North America and Canada. Of the 17,000 Icelanders who emigrated, around 2,000 are believed to have returned to Iceland. At the time, the Iceland population only numbered 75,000.
Iceland Population and Immigration
Before the 1990s, there was very little immigration to Iceland. However, between 1994 and 2001,immigration started to rise sharply. That coincided with the accession of Iceland to the European Economic Area and the Schengen Agreement.
The country from which most immigrants in Iceland (around a third) originate from is Poland. Polish people account for 36% of Iceland's current immigrant population. That means there are around 20,000 Polish people currently living in Iceland.
Denmark is second place in terms of immigration figures in Iceland, with almost 4,000 Danes in Iceland. They are followed by Lithuania, with a figure of almost 3,000 people (2019 figures). Whereas in the 1990s, 2% of Iceland's population were first-generation immigrants, in 2017, this number was almost 11%.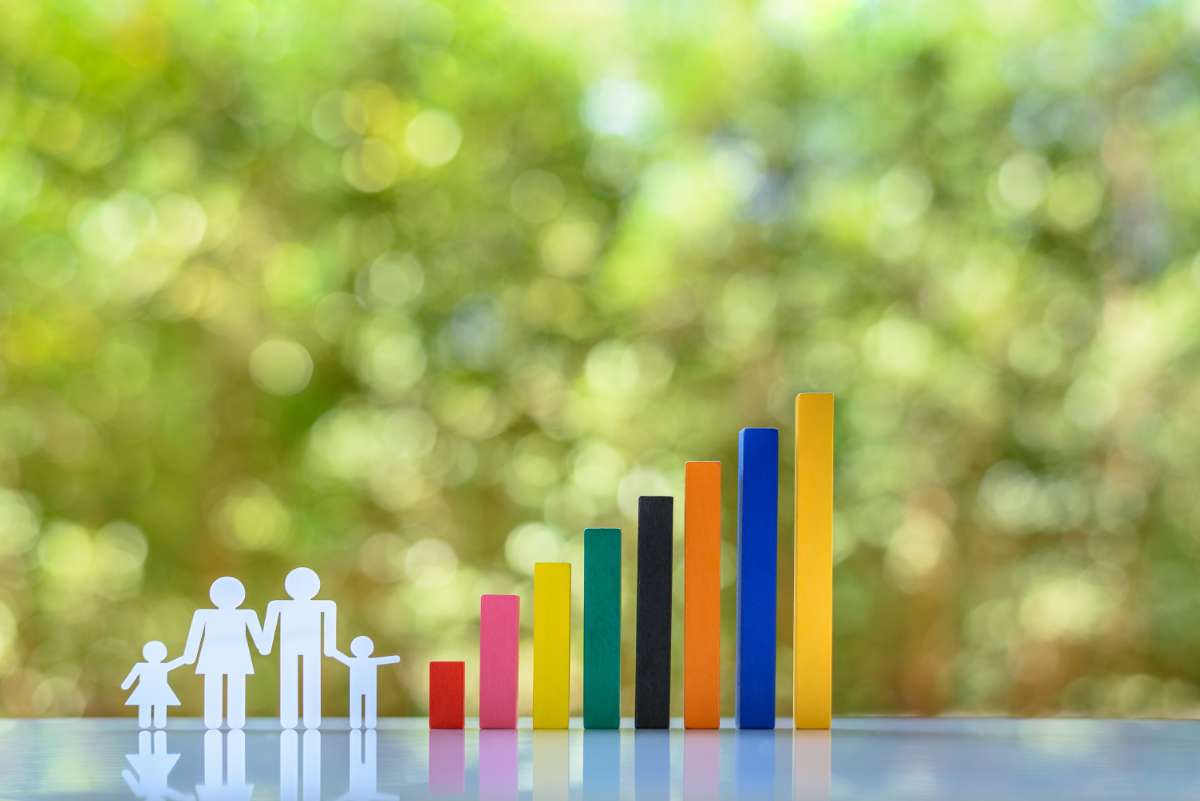 Religion in Iceland
The next element on our tour of Iceland demographics is religious affiliation. Around 72% of Iceland's population belong to the Evangelical Lutheran Church of Iceland, which is the state church. Here are some of the main religious minorities in Iceland by number of followers:
Catholics: 15,000 (2020 figure)
Buddhists: 1,500 (2021 figure)
Muslims: 1,300 (2015 figure)
Jews: 250 (2018 figure)
About 9% of the population of Iceland don't belong to any religious group.
Iceland Population Life Expectancy
The life expectancy in Iceland is 83.6 years for the overall population. The male life expectancy is 81.4 years and the female life expectancy is 85.9 years (2016 figures).
Population of Iceland by Age
The population of Iceland by age is as follows (CIA World Factbook 2017 figures):
0-14 years: 20%
15-24 years: 14%
25-54 years: 40%
55-64 years: 12%
65+: 14%
The male-female ratio in Iceland is 1.05:1 male to female (2022 estimated figure).
Birth, Death and Fertility Rates in Iceland
Iceland's fertility rate is 1.95 children per woman, which is one of the highest in Europe. The birth rate is 13.0 per day and the death rate is 6.6 per day, meaning Iceland's population is continually increasing.
Language in Iceland
Icelandic is the main language in Iceland. Icelandic is spoken by about 314,000 people, most of whom live in Iceland. English and a second Nordic language, usually Danish, are also part of the Icelandic compulsory education system.
Iceland's Most Populated Cities
After the capital city, Reykjavík, which is home to a population of almost 131,000, the second most populous area in Iceland is Kópavogur. It currently has a population of 37,000. The following Icelandic cities in terms of population size are: Hafnarfjördur (30,000), Reykjanesbaer (19,000) and Akureyi (19,000).
A motorhome in Iceland is possibly the best way to visit them.
Population Density of Iceland
Iceland's surface area is around 103,000 square kilometers. The sparse population of this unique island makes Iceland's population density one of the lowest in Europe at 3 people per kilometer.
Among the lava fields, ice lagoons and expansive Icelandic National Parks, there are relatively few towns and urban areas housing Iceland's population. This makes Iceland one of the best places on Earth to explore untouched and serene natural landscapes.
Quality of Life in Iceland
Iceland consistently tops the tables for quality of life. It is currently ranking as the third-happiest country in the world by the World Happiness Report. Iceland's rating is 7.557, for reference, Finland is ranking first at 7.821. This is calculated by considering different factors including GDP per capita, life expectancy, social support, freedom to make life choices, generosity, and perceived corruption.
Visiting Iceland for Yourself!
Inspired to discover the Land of Ice and Fire for yourself? Take a campervan and hit the open road of Iceland to explore this magical country. Get to experience the vibrant Icelandic cultural life, buzzing towns and awe-inspiring geological phenomenon. Get started planning your Icelandic adventure by discovering all the best places to visit. Reserve your campervan in Iceland, and be ready for a once-in-a-lifetime trip.