October is the last of the shoulder months before you head into winter here on the island. This is exactly what makes visiting Iceland in October a popular option. You're not contending with mid-winter weather conditions or daylight hours, and the island hasn't been hit by the festive season prices yet.
If you are considering traveling to Iceland in October, this article is for you. We tell you everything there is to know about Iceland in October – from the weather, and what to pack, to everything there is to do and see.
Is October a Good Time to Visit Iceland?
Well, as you might've already guessed by our intro, a visit to Iceland in October has many benefits. But, for you to decide whether October is the right fit for you, we've created this handy overview of pros and cons:
Pros
As a shoulder month right before the official start of the festive season here on the island, October isn't considered a peak season month. This means that you can do your Christmas shopping in peace without all that peak season crowd foot traffic, and you also don't need to get such an early start just to miss the peak season crowds at local attractions and activities.
As we already touched on; no peak season crowds means no peak season pricing, which means that your budget can stretch much further when you travel to Iceland in October.
Referring to a month as a shoulder month is just another way of saying that it's in-between seasons. This also has its perks since you often get to experience the best of what both seasons have to offer here on the island. And because it's not peak season, you essentially get the best of both worlds at a fraction of the price.
If road tripping the island is on your Icelandic bucket list, October is also a good month to visit since road conditions are not as tricky to navigate as during the mid-winter months, and all the roads and routes that are closed during the colder months each year are still open.
The combination of daylight hours and darkness during October allows you to still have a pretty jam-packed trip itinerary (which can become tricky during the mere 4 hours of daylight mid-winter), yet you will still have enough darkness to be able to see the Northern Lights in Iceland in October.
Whilst it's very clear that the weather is moving into winter mode, it's still not official winter weather conditions. That means that you will be spared some of the harsher winter weather elements and you won't need to brace yourself for those constant below-0 temperatures.
If you have a special interest in wildlife, visiting Iceland in October just might blow your socks off with our array of migratory whale species calling the island home during this time
Cons
Since it's not peak season, operating hours may have changed for everything from different types of transport to local attractions and activities. So, before heading out, double-check to make sure that you don't end up in front of a 'closed' sign.
Whilst the amount of daylight hours in October still works in your favor, it's no longer enough to experience another one of Iceland's most famous natural phenomena; the Midnight Sun. This is when the sun never quite sets and you get to experience, as the name suggests, sunlight at midnight.
As we already mentioned, you won't be experiencing the extreme weather conditions that winter on the island brings, but it's definitely not summer either. So, you'll need to come prepared for some chilly temperatures as well as some rainfall and stronger winds.
If you enjoy wildlife, there is a downside to visiting Iceland in October; whilst you get to see the migratory whales, you've just missed another famous creature here on the island; the Puffins. The Iceland Puffins make the island their home during their breeding season, which is between May and August in Iceland.
Driving in Iceland in October
As we already mentioned, driving in Iceland in October is still fairly easy for a variety of reasons. Firstly, the extreme winter weather hasn't hit the island yet. That means that road conditions are not in such a state that nervous drivers or those not used to driving in such conditions feel like they need trauma counseling by the time they reach their destination.
Secondly, the extreme winter weather in Iceland hasn't started causing sudden road closures all across the island yet (causing havoc on trip itineraries and road trips that aren't flexible enough). And, thirdly, most roads and routes that are kept closed throughout the colder months on the island are still open.
This means that you also don't need to accommodate all sorts of road closures when planning your road trip, and you are still able to explore the regions hardest hit by these closures, such as the Westfjords and the Highlands. Since some of the F-roads in Iceland might still be open during early October, you highly recommend that you discuss your planned road trip route(s) with your rental agent to advise you on which vehicle to use.
Certain roads (such as the F-roads) can only be accessed legally with a 4x4 vehicle. Then there are other roads and routes which may not have a legal requirement to drive a 4x4 vehicle, but any local will advise you not to attempt the drive with a normal 2-wheel drive vehicle.
The roads and routes you decide to take on will also impact the rental insurance you take out. For example, you cannot road trip the south coast of Iceland without taking out additional Sand and Ash Insurance. If you, just like us, believe the best way to explore the island is via road trip, the following are some of the most popular road trip routes here on the island:
Westfjords Way
South Coast Way
Weather in Iceland in October
As a shoulder (in-between) month, October weather is also a bit of a mix between seasons. Even though the weather has already started turning towards the winter season, you still don't need to worry about those constant freezing temperatures or the more extreme weather elements that the winter season brings with it. Here's exactly what you can expect from the weather in Iceland in October:
How Cold is Iceland in October?
The temperature in Iceland in October no longer reaches summer highs, but you can still enjoy temperatures ranging between 2 and 7 degrees Celsius. The average temperature in Iceland in October is usually around 4 degrees Celsius. There is a bit of a misconception that the Reykjavik weather in October is somehow better than that of the rest of the island.
Although Reykjavik which is situated in the south of the country, will always have slightly nicer weather than the colder, northern regions of the island, the fact that people think Reykjavik boasts better weather is merely an illusion.
This is because the buildings create a sort of shelter against the harsher weather elements, making the capital feel warmer than on its outskirts. But this illusion is also not limited to Reykjavik and can be felt in most of the bigger cities here in Iceland.
Iceland's Daylight Hours in October
As we already mentioned, Iceland in October still has more than enough daylight hours each day for you to create a pretty amazing trip itinerary. Each day, you'll have at least 12 hours of daylight to work with.
Does it Snow in Iceland in October?
The more north you plan on exploring, the more likely you are to experience some snowfall. But, generally, the most you'll need to worry about during the month of October is a little bit of sleet.
Rainfall in Iceland During October
October is considered to be one of our wettest months on the island, so you are guaranteed to experience some rainfall during your October trip to Iceland. The rainfall throughout October usually totals about 77 millimeters.
How Windy is it in Iceland in October?
As with the overall weather, the winds have also started to pick up speed and strength, leaning more and more toward the winter season side of things. And even though wind speeds have not yet reached mid-winter levels where the Icelandic winds have been known to rip car doors straight off their hinges, you'll need to prepare yourself for average wind speeds of around 27 kilometers an hour.
What to Pack and Wear when Visiting Iceland in October
If you're wondering what to wear in Iceland in October, you won't be the first. For most, packing to a country that is called Iceland can get pretty confusing. That's why we've created this handy Iceland packing list that you can use as a guide. Just also keep the following in mind for your trip to Iceland in October:
There's a good reason why you need to bring a raincoat and not a travel-sized umbrella. Because of the winds here on the island, an umbrella won't even be able to make it through one day here.
Ensure that you've packed all your waterproof clothes and accessories – like we already said, you're guaranteed to get some rainfall and without the right clothes or gear, you're going to have a wet, cold, and pretty miserable trip.
You'll also need to ensure that you keep your waterproof clothes and accessories close, irrespective of what the weather forecast says. Not only can the weather be quite unpredictable here on the island, but you'll need your waterproof gear for much more than just rain.
Waterproof clothes are lifesavers at any of our magnificent waterfalls that create powerful mist and spray. And waterproof hiking boots will stop you from losing a flip-flop or ruining your favorite pair of shoes when walking on the wet and muddy trails of the hot springs.
Pack a backpack that is suitable for both day outings as well as hikes. You can also consider taking a multi-functional travel bag that can also be used as a backpack. This way you save on packing space.
We're not telling you to take t-shirts and long-sleeved shirts to wear just the t-shirts or just the long-sleeved shirts. Here on the island, with its "four seasons in one day" and temperature differences between the indoors and outdoors, layering is the name of the game. That means wearing both T-shirts and long-sleeved shirts. This way, you'll always be able to put something on or take something off depending on the situation.
Best Things to Do in Iceland in October
If you're wondering what to do in Iceland in October, the following suggestions will help you compile your trip itinerary:
Check Out Our Rock Formations
In a country with ever-evolving and contrasting terrain, we have some incredibly interesting rock formations (most with an equally interesting backstory or legend attached to it). Some of our most popular rock formations are Elephant Rock, Dyrholaey, and Hvitserkur Sea Stack.
Go Camping
October in Iceland is your last chance to go camping without worrying about the harsh winter weather interfering. Camping in Iceland is also not just a way to immerse yourself in the Icelandic landscape and get a front-row seat to some of the island's most-loved attractions, it's also a great way to save on accommodation costs.
You also don't need to be the next Bear Grylls to enjoy this type of outdoor lifestyle. By renting a campervan, you can take care of both transport as well as your accommodation and go camping in comfort. Some of our go-to camping sites are:
Skógar Campsite
Skaftafell Campsite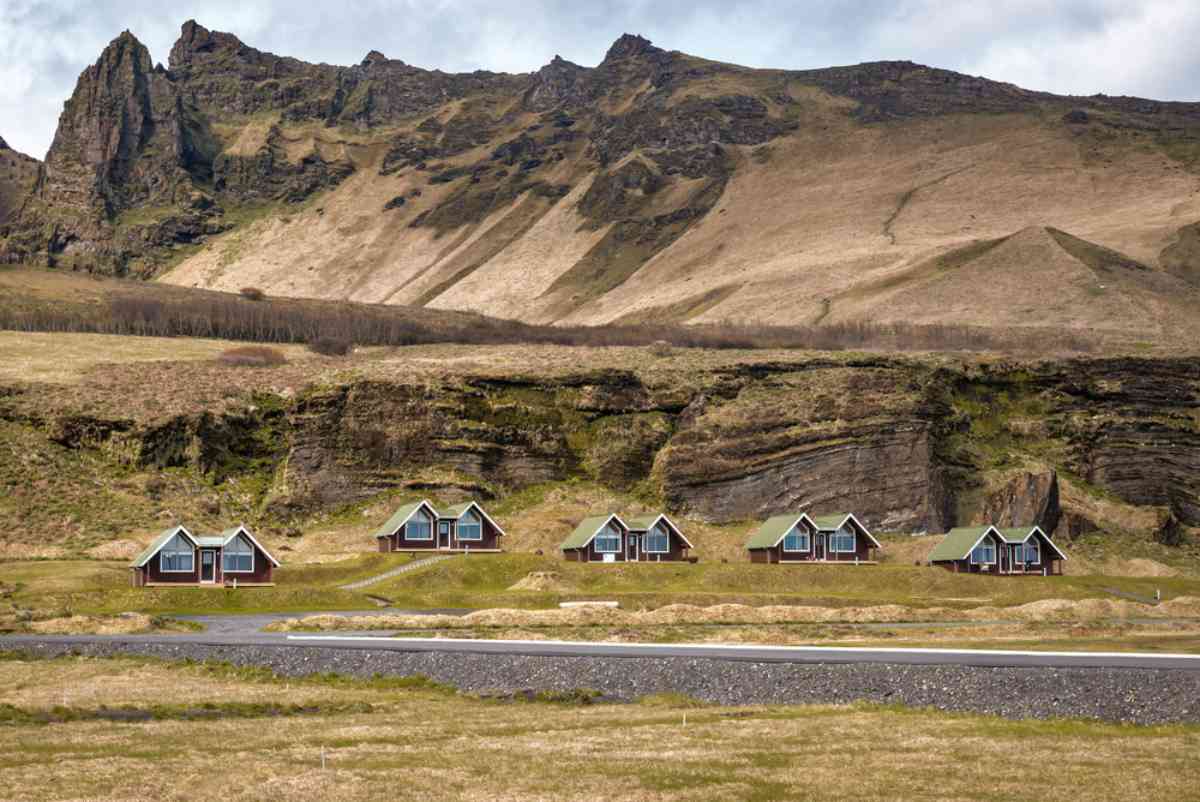 Cruise the Jokulsarlon Glacier Lagoon
The Jokulsarlon Glacier Lagoon is a magical destination here on the island. It is a gigantic body of water where huge icebergs can be found bobbing around, originating from the massive glacier in the distance.
But whilst all this can be seen from shore, a boat cruise on the Jokulsarlon Glacier Lagoon can take you to within touching distance of these incredible sights, and you can cruise right next to sheets of drifting ice with lazy seals sleeping in the sun.
Have a Soak in a Hot Spring
Iceland has many hot springs all across the country because of the volcanic activity on the island heating up the underground water supply. Whilst some of these hot springs can still be found and used in their original and natural forms, other hot spring water has been utilized to create geothermal pools.
Taking a relaxing soak in one of these hot springs (or geothermal pools) is considered to be one of the best things to do in Iceland in October, and some of the must-visit spots include the Blue Lagoon, Myvatn Nature Baths, and Reykjadalur.
Visit the Very First Geyser
Another interesting fact about Iceland is that it was the place where the very first geyser was discovered. In fact, it's also the reason why we call geysers geysers in the first place. The very first geyser discovered in Europe was named Geysir, and although this geyser is dormant today, it's still a pretty impressive place to visit due to it being the origin story of all geysers.
But a visit to Geysir doesn't mean that you won't actually get to see a geyser eruption. Stokkur is just a short walk from Geysir and is still incredibly active today. Go and see how hundreds of liters of water erupt high into the sky.
Become a Viking
There are a variety of ways that you can get to live out your wildest Viking dreams here on the island. You can go sailing on an authentic Viking ship. Or get dressed in traditional Viking gear and have your portrait taken at Mink Studios. Or you can walk the streets of a Viking village and join in a real Viking feast for dinner.
Explore the Island on Horseback
This is probably the best way to take "the road less traveled" and get to see things that most keeping to the main routes on the island will never get to see. Another reason why horseback riding is such a unique experience here on the island is the fact that Iceland actually has its own breed of horse.
These horses are called Icelandic Horses (very original, we know), and are famous for their pony-like statures despite being full-grown. They are incredibly friendly and can perform an extra gait called the tölt. If you visit the island in October you'll also see that they get a thick, fluffy coat during the winter months to keep them protected against the harsh weather conditions throughout the winter.
Visit Our Museums
If there's one thing you can't accuse Iceland of its boring museums. Whilst many keep museum visits for days when the weather isn't working in their favor, we highly recommend that you set aside at least a couple of days to visit some of our most popular museums. These include:
Go on a Hike
In a majestic landscape such as Iceland, it's no surprise that the island boasts a myriad of hiking trails. Just by visiting one of the national parks in Iceland, you'll have your pick of trails ranging from day hikes to multi-day hikes, and ranging from those suitable for beginners of all ages to pro climbers.
Max Out That Credit Card
Okay, not really, but you actually might be tempted to when going shopping in our famous shopping street; Laugavegur. This is one of the much-loved things to do in Reykjavik in October before the festive season masses descend on the capital for their Christmas shopping. In Laugavegur Street you will find anything from clothes, and souvenirs, to home décor items, outdoor gear, and much, much more.
Check Out Our Waterfalls
Well, not all of them, since it will be impossible to tick off visits to all 10,000 of them. But there are a few waterfalls that simply can't be missed, each with its own unique features. These include:
Seljalandsfoss Waterfall
Skogafoss Waterfall
Dettifoss Waterfall
Godafoss Waterfall
Marvel at Our Architecture
As one of the most creative nations in the world, living in a country with such rich history, it's no surprise that the island has a few pretty impressive architectural gems. If you have an appreciation for art and architecture, make sure you stop by Hallgrimskirkja, Budakirkja, and the Nordic House during your stay here on the island.
Explore the Capital City
When visiting Reykjavik in October, we cannot recommend enough exploring the capital city by going on the Reykjavik Food Walk. There truly is no better way to learn about Reykjavik than have a knowledgeable guide giving you the lowdown on the city whilst stopping along the way to stuff your face with delicious local dishes and craft beers.
Icelandic Festivals and Events in October
Icelanders don't need an excuse to celebrate, and you'll find plenty of festivals and events to join in the month of October:
The Lighting of the Imagine Peace Tower
If you're a fan of John Lennon or his ideals, this one's for you. The Imagine Peace Tower was erected in John's memory as a reminder of what he stood for. This tower isn't really a tower at all, but multiple beams of light forming a giant column reaching into the night sky.
This "tower" is only lit during certain periods throughout the year, and October is one of those times. The lighting of the Imagine Peace Tower also has some fanfare and celebrations attached to it.
Iceland Airwaves
Iceland Airwaves is one of the island's biggest music festivals and attracts visitors from all over the world. It is held in the capital city of Reykjavik, lasts four days, and boasts the best of both local and international acts from a variety of music genres. This is the one event that you'll need to double-check the dates of since the festival is sometimes held at the beginning of November instead of the end of October.
Visiting Iceland in October; All the Benefits on a Budget
As a shoulder month between seasons, there are plenty of things to do and see in Iceland in October at much more budget-friendly rates. To up the stakes on your savings as well as explore the country properly, you can rent a campervan in Iceland and road trip some of our most popular routes and stop at some of our most famous attractions along the way. October might be the start of the Icelandic winter chill in the air, but the island still promises you thrills everywhere!