January's a month for making resolutions. For many of us, after the excesses of the Christmas season, that means being more active. Despite the wintry weather and short days, there are plenty of ways to get outside. From challenging hikes to scenic horseback rides, Iceland delivers.

We've selected the ten best things to do in Iceland in January, so book your camper rental and take your pick!
1. Venture inside one of Vatnajökull's glittering ice caves
A country such as Iceland, where there are so many glaciers, is blessed with numerous ice caves.

For example, you may hear people speak of the Crystal Cave, shaped by the flow of a particularly large glacial river and famous for its visual effects as light pours through the blue, thick ice lining its walls. Beware though! Its coloring and appearance change from one season to another, so make sure you visit during January!

Another unique and amazing site worth visiting is the Black Diamond Ice Cave, but it can only be safely entered during the winter, which is why January is such a great time to visit Iceland.

Located beneath the mighty Vatnajökull glacier, ice cave tours depart from Jökulsárlón glacier lake, driving off-road in a super jeep to get closer to the cave. On foot, wearing crampons and helmets, you'll trek across the ice and into the cave itself. The dazzling, almost iridescent blue ice that awaits is jaw-droppingly beautiful and is guaranteed to WOW your socks off!
2. Ride Icelandic horses
One of the best ways to see the Icelandic countryside is on horseback. The weather in Iceland in January can be cold, often accompanied by snow and ice. Generally speaking, that makes horse riding where the weather is milder, for instance in the south of the country or in the Reykjavík area, more of an enticing prospect than further north.



Reputable stables will prioritize the welfare of their horses but ask to make sure that they have been shod with special winter shoes for the season. These not only help horses avoid skidding, but also prevent snowballs from building up on the underside of their hoofs. Horses grow a winter coat to keep warm but unfortunately that doesn't solve the issue for the rider: make sure to dress appropriately for the cold weather so that nothing distracts you from the beautiful landscape.
3. Hike beside a snowy waterfall
Many of Iceland's most magnificent waterfalls can easily be reached via main roads in your campervan. Seljalandsfoss is very accessible, though when it's slippery you won't be able to walk behind the falls like you can during the summer. At Skógafoss, half an hour further down the Ring Road, on the south coast, a trail snakes along the river above the falls, but be careful on the steps as they can get slippery.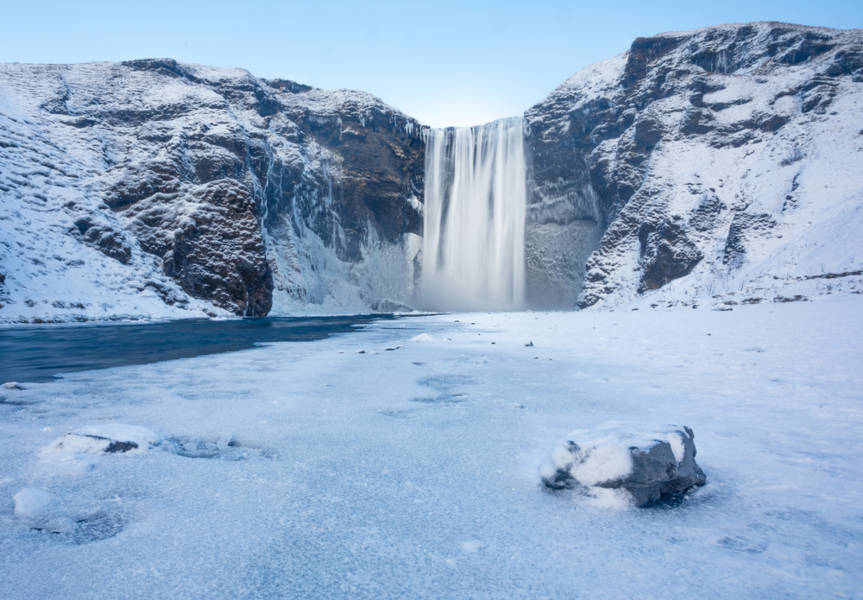 In the north of Iceland, if you've reached Akureyri or Húsavík, you should consider driving to Goðafoss on the Diamond Circle. During January's sub-zero temperatures, there's a good chance of seeing icicles hanging over the falls. In Snæfellsnes, Kirkjufellsfoss is even more photogenic when everywhere is winter white and sometimes partially freezes due to its small size.
4. Snorkel or dive in Silfra Fissure
Silfra Fissure is located in Thingvellir National Park. It's a rift formed due to the divergent movement of the North American and Eurasian tectonic plates. The fissure receives groundwater originating from the Langjökull glacier, and the natural filtration process it undergoes before arriving there results in some of the clearest water on the planet.



It's possible to snorkel and dive in the Silfra Fissure all year round. As you'll be issued with a dry suit to keep you warm regardless of when you come, there's no reason that can't be January. Take the plunge and come and explore this magical underwater world and its vivid blue and green algae, locally known as 'troll hair'!
5. Ski in the Tröllaskagi Peninsula
Iceland probably isn't the first place that springs to mind when you're planning a European ski holiday, but listen up. There are a number of places where you can ski in Iceland and this fledgling industry is picking up momentum. One of the best places to get started is North Iceland, where you can take advantage of the 5x5 ski pass, which covers five ski areas:
Siglufjörður Ski Area
Ólafsfjörður Ski Resort
Dalvík Ski Area
Sauðárkrókur-Tindastóll Ski Area
Hliðarfjall Akureyri Ski Resort

Dalvík is a small resort with just a few runs; however, it is ideally situated to take advantage of skiing in the Tröllaskagi Peninsula. The tallest peak in the area is the 1538-meter-high Mount Kerling ('Old Hag'). Advanced skiers will relish the opportunity to do some backcountry skiing, while winter visitors of all skill-levels can hit the snow and try to master cross-country skiing.
6. Try ice skating in Reykjavík or Akureyri
Once you are done exploring Reykjavík, you can head to your skating adventure at Reykjavik Ice Skating Hall. It is located in Laugardalur and is open to the public. Located to the east of the city center, this sports complex also boasts a geothermally heated swimming pool, a soccer stadium and an indoor sports hall. Lace up your rented skates and glide out onto the ice for an exhilarating and fun way to exercise.


From autumn until spring, the ice rink in Akureyri also opens to the public. The Akureyri Skating Club has been around since 1937 and oversees figure and social skating at the rink. There are also opportunities to watch a fast-paced ice hockey game, but you'll have more of a laugh if you're the one wearing the skates.
7. Snowshoes to explore Lake Mývatn
Driving in Iceland in January is less daunting than you might think, so don't rule out a road trip around the country. If you choose to follow the Ring Road in your campervan, make sure you take the opportunity to explore the Lake Mývatn region on foot. Equipped with a pair of snowshoes, you'll make light work of a scenic hike as your guide shows you some of the area's prettiest views.


Snowshoes distribute your weight over a wider area, so you don't sink too deep into the snow. The lightweight frame varies in size – you'll only need small ones for compacted areas, whereas if there's a lot of fresh powder, then a larger snowshoe will be more effective. Anyone who can walk can try them on so don't be scared and snowshoe up!
8. Mush huskies on a dog sledding adventure
An encounter with authentic Arctic wildlife will be one of the highlights of your visit to Iceland in January. It's still a little too early in the year to pay a visit to the Arctic foxes of Hornstrandir, but you can book a super jeep tour to meet East Iceland's wild reindeer herds.

If you don't want to go that far out, you can opt for the easier option of reserving a dog sledding tour, which you can do at a number of locations across Iceland.



Typically, teams of eight to twelve Siberian and Alaskan huskies or Greenland dogs enthusiastically pull sleds across the snow. Barking with excitement as you learn the basics of being a musher, the grins on their faces are a joy to watch. And when you return, there's always time for a few belly rubs or a gentle scratch behind the ears before you say farewell and jump back in your campervan.
9. Book a snowmobiling tour
The snowmobile is one of the fastest and most exhilarating modes of transport to cross snowy landscapes in the depths of the Icelandic winter. At speeds of up to 70 km/h (43 mph) you'll feel the chilly wind lashing at your face. You do need a driving license to operate one, but it won't take you long to master – just a brake and an accelerator, no gears.


While in summer, snowmobiles are confined to the higher reaches of Iceland's biggest glaciers, in January a whole winter wonderland opens up, just begging to be discovered. Some of the more accessible places to go snowmobiling include Sólheimajökull, on the South Coast, and Svínafellsjökull, in Skaftafell. You can also enjoy a Snowmobile tour at Langjökull glacier, Iceland's second-largest glacier. Another breathtaking location to explore is Lake Mývatn when it's completely frozen over.
10. Go out and celebrate Þrettándinn
If you travel to Iceland in January, you might be around for the Þrettándinn celebration on the 6th of the month. This is the Icelandic equivalent of Twelfth Night. It's the last day you're legally allowed to let off fireworks, the final chance to down one more Christmas beer and a good time to say goodbye to the last Yule Lad. There are some very strange tales associated with this date too, like speaking cows and seals that take on human form.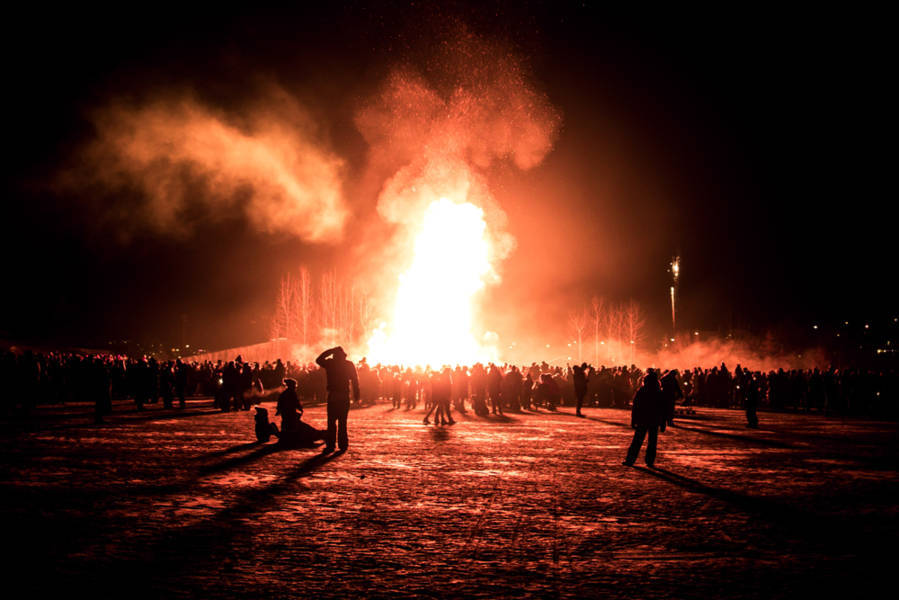 Þrettándinn is closely linked with the Huldufólk, Iceland's elf community. As on New Year's Eve, bonfires are lit, but this time Fairy Kings and Queens lead elf dances around the flames. It's also called the 'Great Dreaming Night' – try to remember the dream you have on that night, as it could be a clue as to what your future holds.
Traveling to Iceland in January
As you can see, January's a fun time to be in Iceland. You'll find that driving in winter conditions is far easier than you expected thanks to the winter tires standardly fitted on most vehicles, letting you concentrate on experiencing the best snow and ice activities. Why not make this the year you visit Iceland in January?

No matter what car rental you choose, from city cars to 4WD vehicles, you are guaranteed to have a great time and see Iceland in all of its natural splendor. What are you waiting for? There's plenty of things do in Iceland, and every new year is a new adventure waiting to happen, start yours today!