Festive crowds are already a thing of the past, and New Year celebrations will already be in your rearview mirror. January in Iceland might then be the best time to visit the island for a variety of reasons. You get to experience the magical winter wonderland Iceland turns into at the fraction of the price. And without the tourists stampeding each attraction and activity.
If you're wondering what the island could possibly offer in one of its coldest months, hold on to your winter hats! 'Cause there are experiences so unique that you can only have them in Iceland. In this article, we discuss January in Iceland in depth to discover whether this is the perfect time to plan your trip.
The Pros and Cons of Spending January in Iceland
As with most things in life, there are pros and cons to January in Iceland. We created this quick-scan overview, to help you weigh them up:
Pros
As we already touched on, the tourists crowd over the festive season and New Year has left. That means you no longer have to get up at the proverbial crack of dawn just to stand a chance at seeing one of the local attractions. Nor to partake in an activity if you haven't booked months in advance.
With the tourist masses waving goodbye to the island, so does the tourist rates for everything. From food, accommodation, attractions, and activities, which is a welcome relief for any visitor's budget.
There are certain attractions and activities one can only enjoy during winter in Iceland. So, January in Iceland means that you can see and do things the summer crowds can only dream of. Seeing the Northern Lights in Iceland in January is practically guaranteed. And you can explore the glistening glacier ice caves all over the island.
Cons
If road tripping your way all over the island is on your bucket list, know that certain routes and regions will be out of bounds during the winter months.
Snow and ice are at the order of the day (it is Iceland in winter, after all). So, if you're a nervous driver or simply don't like this type of weather, best to plan your trip for spring or summer.
The reason January in Iceland is the perfect time to spot the Northern Lights is because of how prevalent the darkness is. You only have a few daylight hours to play around with, so you need to plan your trip itinerary accordingly. The few daylight hours also mean that you won't be able to experience another one of Iceland's unique offerings: the midnight sun.
What You Can Expect From the Weather When Visiting Iceland in January
January is one of the coldest months on the island. Iceland's temperature in January ranges between -10 and 5 degrees Celsius. But you need to brace yourself; the general average temperature in Iceland in January rarely surpasses the 0 mark. Whilst this might be a dealbreaker to those who shy away from any form of winter chill, it is this exact weather that allows visitors to take part and see some of the most extraordinary things on the island.
Please note, many swear that the capital of Reykjavík is warmer than the rest of the island. This is merely an illusion. The buildings of the city create a certain amount of shelter against the elements so that it feels hotter when walking its streets.
Iceland weather in January can bring with it anything from clear blue skies and sunshine. Be warned, not to be mistaken for warmth! January also brings raging blizzards and fairy-tale-like snowfall. Luckily, the island still offers visitors plenty to do even in the most extreme weather. Also, remember that Iceland weather is fickle and, irrespective of season, you need to be prepared for the local saying. It goes "you can experience all four seasons in one day on the island".
Packing List When Traveling to Iceland in January
It is the aforementioned local saying that can make many confused about what to pack for their trip. So, to take away any anxiety-riddled frantic packing, we created this handy packing checklist. You can use it as a guide when traveling to Iceland in January:
Long, waterproof winter jacket (those long, puffer jackets tend to work well)
Mid-waist waterproof jacket (once again, a puffer jacket will do fine)
Waterproof pants
Waterproof hiking boots (whether you're planning on going hiking or not)
Underwear
Thermal vests
Thermal leggings
Warm woolen socks
T-shirts & long-sleeved shirts
Casual pants (for those days you stick within the city borders)
Warm hat (beanies work well for us)
Warm gloves
Warm scarf
Woolen sweater (only take one or two because you'll definitely want to buy a few authentic Icelandic woolen sweaters)
Bathing suit (for visiting the hot springs)
Quick drying towel
Flip-flops (to use at the hot springs and public showers)
Sunglasses
Toiletries & medications
Backpack (suitable for hiking as well as day outings)
Water bottle (nowhere will you find better quality water than in Iceland)
Electronics: chargers, cables, power bank, adaptor, etc.
Camping in Iceland in January
This is something we get asked a lot about by budget-conscious visitors who would like to keep accommodation costs to a minimum. So, if you're wondering whether you can still go camping when visiting Iceland in January, the answer is both yes and no.
Yes, you will still find some camping sites open, although plenty of sites, routes, and regions in Iceland will be closed during the colder seasons. And no, not even the most hardened local will advise you to go camping in the coldest month of the year. If you are not an absolute camping pro with the latest and greatest winter camping gear, just don't.
But we have some good news. There is still a way for you to go camping without it turning into a season of Survivor. If you rent a campervan in Iceland, you'll be able to camp in comfort and have no hassles packing up and setting up at the various campsites.
If you want to save even more money, we recommend that you get yourself the Camping Card (especially if you're a big family). The Camping Card will cost you only €159 and will grant two adults and up to four children access to 28 camping sites all over the island. Just remember to confirm which ones are open during the wintertime. Some camping sites to consider are:
Driving in Iceland in January
We're firm believers that the best way to explore the island is via road trip. Needless to say that this can be tricky during the winter months as certain roads and routes are closed and road conditions can be tricky. When driving around during the winter season, it's important to keep a close eye on the Iceland weather. Checking the Iceland road conditions is advisable too, as road closures can occur pretty suddenly.
It's also advisable that you speak to your rental agency and discuss your itinerary and potential routes. As experienced locals, they will be able to tell you whether you'll need a 4x4 vehicle or which accessories (such as Iceland snow tires) are essentials. Some of the most popular road trip routes include the following. Please keep in mind that due to road closures, you might need to get a bit creative. That's especially true with the Westfjords and the Highlands:
The Westfjords Way
The Arctic Coast Way
The South Coast Way
Other Things to Do When Spending January in Iceland
Just because it's cold outside doesn't mean that the highlight of your trip to Iceland will be sipping hot chocolate in your hotel room. Going to Iceland in January means that you're in for a huge adventure filled with once-in-a-lifetime sights and activities. Here are some of the things you can look forward to: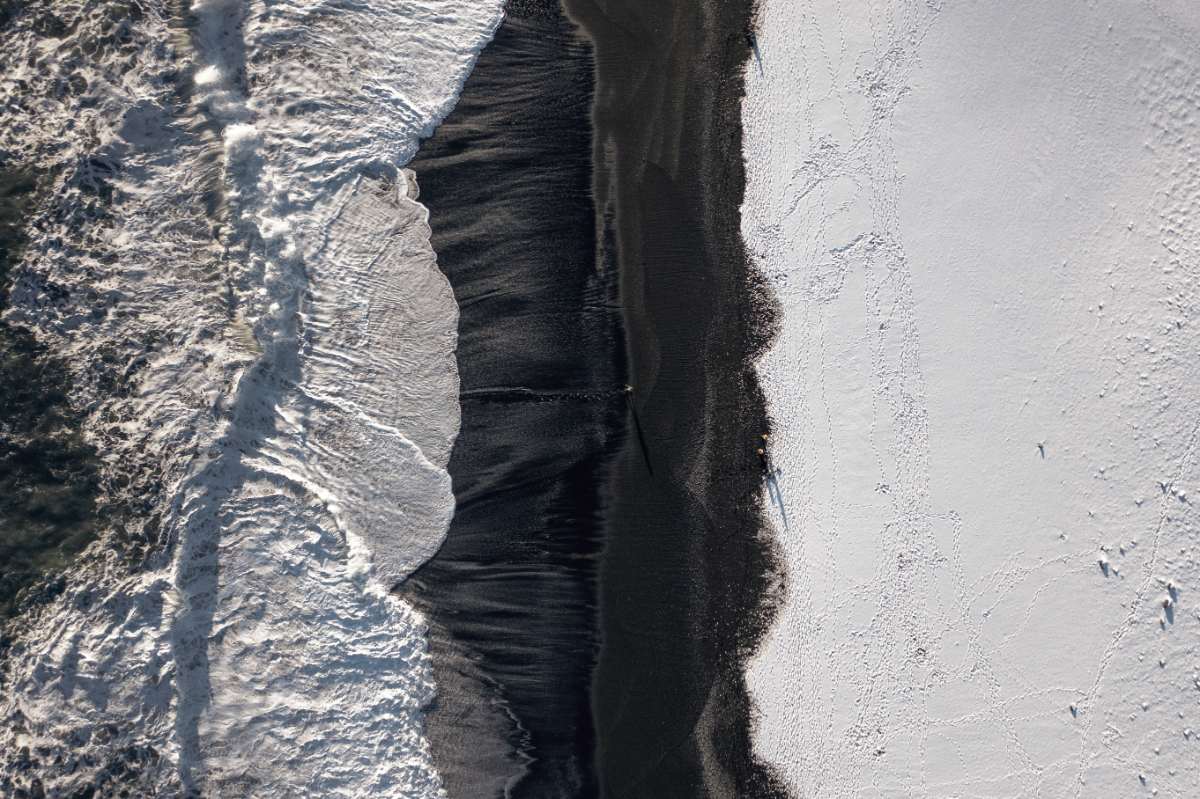 Helpful Tips When Spending January in Iceland
If you're traveling to Iceland in January, these are a few things to keep in mind:
Waterproof hiking boots are not just for hiking.
Snow easily turns into sludge in city streets, and if you're venturing out to the rest of the island, things can get pretty muddy. Waterproof hiking boots will ensure that you don't end up walking around with wet feet all day.
These boots also have exceptional grip, which is essential when going on some icy adventures. Also, be very careful when visiting the waterfalls as their pathways and steps can also be glazed over by a thin layer of ice. You want to be the one staring at the cascading water – not be the one cascading down the hill after slipping.
Dress in layers.
The secret to always being dressed in comfortable clothes for Iceland in January is to dress in layers. By giving yourself the freedom to take things off and put things on as and when needed, you won't feel like you're boiling alive whilst having lunch in a restaurant. Nor feel like you're freezing to death whilst hiking a glacier.
Watch where you step and stop.
It is illegal to go off designated trails, roads, or camping spots in Iceland. This is because the island has a very unique ecosystem that can be severely affected with just one wrong step. It's also for your own safety. If that wrong step doesn't damage the ecosystem, it can get you lost or seriously injured. Not adhering to these rules can end up in pretty hefty fines and a lot of explaining to your rental agency.
Keep a GPS close by when road tripping.
Whilst the main roads are clearly marked, there are many places in Iceland that are pretty remote. And once the weather turns on you, it can also become quite tough keeping track of where you are. A GPS will keep you on route and ensure that you reach your destination safely and on time.
Regularly stock up on necessities and gas.
Once again, this has to do with the remoteness of certain parts of the island. There are certain parts where gas stations are few and far between. So, you always want to ensure that you have enough gas in the tank to at least get you to the next station. You should also ensure that you have enough water and snacks in the car, just in case you end up stuck somewhere in a more remote area and have to wait awhile for help to arrive.
January in Iceland; Start Your Winter Wonderland Adventure!
The Iceland weather in January might be cold, but it only serves to create the unique winter wonderland experiences visitors can enjoy during their trip. To camp in comfort and to keep costs down, opt for an Iceland campervan rental as transport around the island.
And if it's suggested that you get a 4x4 vehicle – don't worry, there are plenty of 4x4 campervan and motorhome options available to suit your needs. Use our list of things to do in January along with the popular road trip routes mentioned in this article to plan your itinerary and communicate your plans with your rental agency. Excited yet? Your January Iceland adventure awaits!