Spring in Iceland might just be the perfect time for a visit. This shoulder month holds many benefits for visitors. Things such as affordability or avoiding tourist crowds and fair weather. These make visiting Iceland in spring one for the books.
So, if you've been planning a visit to the island, but have been on the fence in terms of when then read on. You might just discover that visiting Iceland in the spring is just what you need.
When is Spring in Iceland?
Spring in Iceland is from March to May (late March to early June if we want to be really technical about it). But even if you didn't know that, you would never need to ask "when does spring start in Iceland?" during a trip in March. This is generally a time when the island slowly starts to wake up from its long winter slumber and it's very apparent when taking a look around you.
The Iceland weather in Spring
It is surprising how quickly the weather (especially the temperatures) can change here on the island. You've just gotten used to the extreme harsh winter elements when it seems like almost all of them leave the building at once.
Although you might still see some remnants of the colder season (ice and snow don't melt overnight), the legendary Iceland winds have calmed down. Luckily, you no longer need to be concerned about being caught in a blizzard. The temperatures have also increased to a point where they're no longer dwindling below the 0-degree mark. You can now look forward to temperatures ranging between 0-10 degrees Celsius.
These are the typical average temperatures in Reykjavik in Iceland in the springtime:
Average temperatures during March in Iceland: High 36.1 ºF (2.3 ºC) | Low 28 ºF (-2.2 ºC)
Average temperatures during April in Iceland: High 44 ºF (6.8 ºC) | Low 39 ºF (3 ºC)
Average temperatures during May in Iceland: High 46.4 ºF (8 ºC) | Low 41 ºF (5 ºC)
Keep in mind that here on the island, you might not feel the sun in the way you're used to due to the chill in the air. Still, it doesn't mean that you can't end up with a nasty sunburn. So, always remember to apply sunscreen when you're outdoors (even when overcast and cloudy!)
The Pros and Cons of Iceland in Spring
As with most things in life, everything comes with pros and cons – even Iceland in the spring. We created this handy overview to help you decide whether a spring trip to the island might be in the cards for you:
Pros
If you're visiting Iceland in spring; congratulations! You've just managed to avoid every possible peak season here on the island (the winter wonderland festive season as well as the busy summer season). This means that you don't need to get up at the proverbial crack of dawn just to ensure that you don't have to deal with traffic. Nor to almost have to rent a crane just to get a peek at local attractions above the tourist crowds.
With the peak season tourist crowds being a thing of the past, so are those hefty peak season prices. So, you'll find that a trip to Iceland in the springtime is much easier on the pocket.
Daylight hours keep on increasing all throughout spring – from about 10 hours at the beginning of March to roughly 18 hours at the end of May. This means that you'll have enough daylight hours for a pretty jam-packed itinerary. Fortunately, you'll still have enough darkness to give you a chance at spotting the Northern Lights.
And remember the weather? If it's slipped your mind, go back up and read it again. Take in how nice the Iceland weather will be treating you during the spring season.
Cons
It's not mid-summer with 20+ hours of daylight each day. So, if you want to tick off the Midnight sun on your Iceland bucket list, the spring season is not the time for you to visit.
Although road conditions on the island have improved dramatically, it will still take some time for the roads to go back to ideal conditions. This is especially true when you're visiting during March and early April. You'll also find that many roads and routes generally closed during the colder months have not reopened yet. This might chuck a spanner in the works when it comes to your road-tripping plans.
Because it's not peak season, you may find that operational hours are not what we're used to during the summer months in Iceland. Some activities/attractions may only be open on certain days of the week and only for a few hours. And when it comes to public transport such as buses and ferries – they may also run less frequently. You'll need to double-check all these things whilst planning your trip and before heading out every day.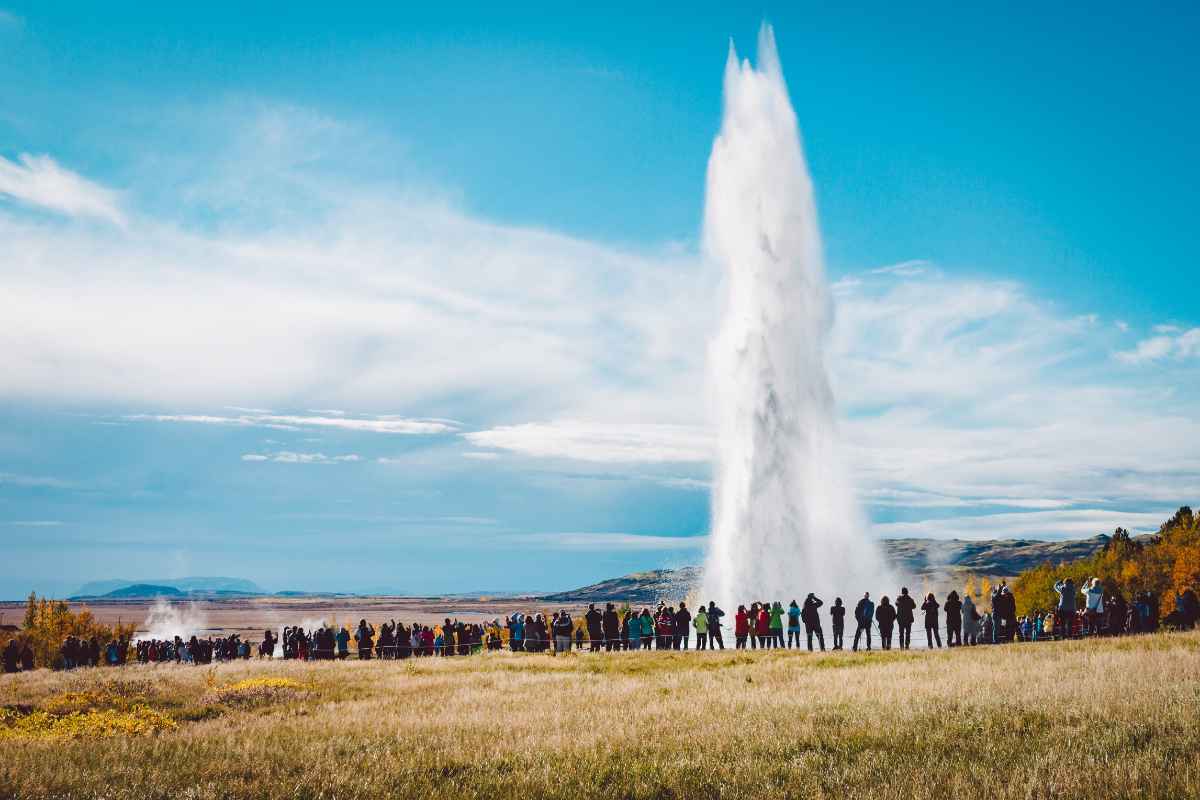 The Best Things to do in Iceland in Spring
There are plenty of things to do and see during the spring season in Iceland. Here are just a few you might want to consider adding to your trip itinerary:
Go on a Whale Watching Tour
You can spot whales along the coast of Iceland all year round. However, from April on, you will have various migratory species coming to welcome spring on the island as well. When taking a whale watching boat tour during your spring visit, you might be able to see Sperm Whales, Blue Whales, Orcas, Minke Whales, and many more!
Spot some Puffins
It's not just the whales that call Iceland their home in spring. The infamous Iceland Puffins also return to their breeding ground in May. Watching these odd-looking penguin-like birds with their colorful beaks is definitely a once-in-a-lifetime experience.
Snorkel or Dive the Silfra Fissure
If you've ever wanted to float in between continents, you need to snorkel or dive the Silfra Fissure. The Silfra Fissure is a crack (a fissure) between the Eurasian and North American tectonic plates where they push each other apart. This crack is filled with pure and clear glacial waters. Visitors to the island are now given the chance to either snorkel or dive in the water. But please keep in mind that diving is only permitted for experienced divers and you will need to provide proof of your diving license. Snorkeling can be arranged for all.
Take a Hike
With the weather being in one's favor and daylight hours returning to a sensible amount, hiking is suddenly back on the itinerary cards. And there are plenty to pick and choose from on the island. You will find various options when it comes to skill and experience level or whether you're looking for one-day outings or multi-day treks. Some of the popular hiking trails include:
Mount Esja
Kjolur
Glymur Waterfall
Thakgil
Reykjadalur Valley
Visit the Waterfalls
Iceland is home to 10 000 waterfalls! And although it will be impossible to cram a visit to each into just one island holiday, there are still plenty who top the must-see charts. Some of the Iceland waterfalls you do not want to miss are:
Dettifoss Waterfall
Seljalandsfoss Waterfall
Dyjandi Waterfall
Godafoss Waterfall
Take a Dip in a Hot Spring
Iceland has natural hot springs all over. This is due to the volcanic activity on the island that heats up the water resources underground. Some of these natural hot springs can still be enjoyed in their original state. Others, had to be incorporated into geothermal public pools, either because of their extreme heat or location.
It might sound counterintuitive, but there is nothing better than soaking in an Iceland hot spring when there is a chill in the air. That makes springtime one of the perfect times to take a dip (especially early spring). Some of the most popular hot springs in Iceland to visit include:
Go Horse Riding
Horse riding in Iceland is unlike any horse riding experience you can ever have anywhere else in the world. This is because the island boasts its own horse breed! These horses are (quite unimaginatively) called Icelandic Horses, but have various aspects that make them exceptional creatures. They have an incredibly friendly and kind-hearted nature.
During the wintertime their pelt is thick and fluffy, so you might still get a glimpse of that when visiting Iceland in spring. They have a stubby and short physique, which makes them look pony-like. And they are infamous for their extra gait, called the tölt.
Attend a Festival or an Event
The Icelanders don't need an excuse for a celebration, so you'll find plenty of festivals and events on the Iceland calendar during the spring season. These include the Reykjavik Food and Fun Festival as well as the Saga Festival.
Tips for Planning a Trip to Iceland in Spring
If you are planning on visiting Iceland in spring, the following helpful tips will ensure that you have a safe and memorable trip:
Keep Waterproof Clothing and Gear Close
People often think that packing waterproof clothing and gear is only reserved for those who intend to go hiking or for in case you get caught in the rain. People often think that packing waterproof clothing and gear is only reserved for those who intend to go hiking or for in case you get caught in the rain. Well, in a country like Iceland where "you can experience all four seasons in a day", you will come to appreciate your waterproof items more in other situations.
These include walking on the muddy trails of natural hot springs areas. Or visiting Iceland's waterfalls where many underestimate the powerful spray they create and end up looking like drenched cats.
Keep a Close Eye on the Weather and Road Conditions
Remember the local saying we were talking about? Well, this and other unforeseen circumstances can really throw a spanner in the works of an itinerary with outdoor activities and attractions or a road trip due to sudden road closures.
To avoid situations like these, you'll need to be prepared. And the best way to do this is to keep a close eye on the Iceland weather and the Iceland road conditions. Not only whilst initially planning your trip, but also before heading out on your daily excursions.
Opt for a Campervan and Camping
If you want to have an even more affordable trip that will actually help extend your stay on the island, you need to rent a campervan in Iceland and opt for camping. Not only will the campervan take care of both your accommodation and your transport, but it will also allow you to camp in comfort.
Camping equates to a LOT of savings here on the island (especially when using a Camping Card). There's a HUGE difference between spending $10-$20 per person per night and $90-$300 per person per night.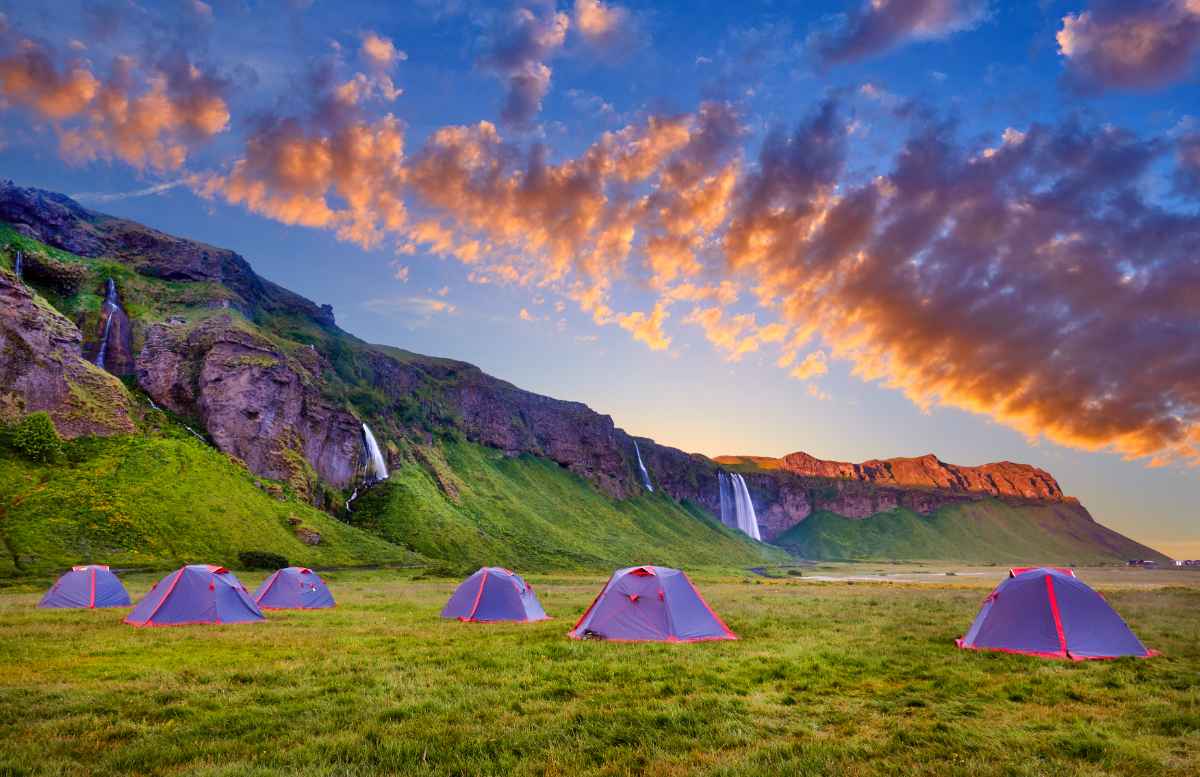 What to Pack for a Trip to Iceland in Spring
It can be tricky to pack for springtime to a place called Iceland, so we've created this handy packing list for you to use as a guide:
Raincoat
Waterproof jacket
Fleece/woolen sweater (take just one or two so you can buy a couple of authentic Icelandic woolen sweaters – they are the best!)
Waterproof pants
Waterproof hiking boots (as explained earlier, it doesn't matter whether you're going hiking or not)
Underwear
Thermal vests
Thermal leggings
Warm woolen socks
T-shirts & long-sleeved shirts
Casual pants (for the days you stay within the city)
Warm hat (beanies work really well)
Warm gloves
Warm scarf
Bathing suit (for when you're visiting the hot springs)
Quick drying towel
Flip flops (for at the hot springs or other public changing rooms)
Sunglasses
Toiletries & medications (just double-check the flight restrictions. This way you won't end up having to leave half your vanity behind at the airport)
Water bottle (Iceland's water quality is super high, so you just need to top up wherever you go)
Backpack (suitable for both day outings and hikes)
Electronics: chargers, cables, a power bank, an adaptor, etc.
Time to Spring into Action for Your Iceland in Spring Trip
Have you decided that going to Iceland in the spring will work perfectly for you? Then don't waste another minute! Use this article as a guide and start prepping and planning your trip. Hopefully, we'll be welcoming you here on the island soon.