Visiting Iceland in July might be the best holiday choice you've ever made if you're looking for a summer vacation with a dash of adventure. It happens to be the one summer month without any public holidays. Still, that doesn't keep these warm-hearted people from embracing the vacation spirit.
And with so many things to do in Iceland in July and so many daylight hours to enjoy them in, it's not surprising to see why. So, if you're planning on visiting the island in July or was wondering when to plan your trip, stick around. In this article, we discuss what you can expect from the month of July and which must-do and must-see items to include on your trip itinerary.
What is Iceland Like in July?
You actually experience the warmest and mildest weather Iceland has to offer when you visit in July. Temperatures have risen and the harsh Iceland weather elements, like snow and winds, have taken a summer break. This makes it perfect for various excursions in nature and is one of the few times you can comfortably dive in the northern Atlantic.
If you're wondering what to pack for a summer trip to a place called Iceland, check out our handy packing list. Daylight hours are also more than 20 hours each day, so you'll have plenty of time to tick off all those Iceland bucket list items. Unfortunately, the downside to this lovely weather and increased daylight hours is that you won't be able to see the Northern Lights. The Northern Lights are only visible when it's cold and dark. Iceland in July is the complete opposite of that.
The Top Things to do in Iceland in July
There is definitely no shortage of things to do in Iceland in July, so it can be tough deciding what to add to your trip itinerary. Below you will find our list of the 15 best things to do in Iceland in July:
Explore the Westfjords
When you have around 20 hours of daylight every day, visiting one of the most beautiful regions on the island is a must. In July, all roads/routes in the Westfjords are open again (closed during colder months), making it the perfect time for a road trip through the region. Cruising in and out of the myriad of fjords makes for amazing views, and the Dynjandi waterfall is the perfect stop for a lunch picnic.
If that is not enough to convince you to visit the Westfjords, then there is one small furball left that might convince you. Ironically, this small creature is Iceland's largest predator: the Arctic Fox. And it has made the northernmost part of the Westfjords its home. In the Hornstrandir Nature Reserve, you have a high chance of spotting one of them. The Westfjords are well off the usual routes and worth a couple of your summer vacation days. Westfjords also offers recreative activities such as:
Fishing

Bird Watching

Seal Watching

Kayaking

Golfing
Visit the Highlands
Most of the year, the roads that enter and cross the highlands are closed due to the weather. That is why Iceland in July is perfect for anyone who wants to see otherworldly attractions like the Askja volcanic area or Landmannalaugar in the Highlands.
With that said, there are certain parts of the Highlands that you can visit in the winter too. However, we prefer not to worry about getting blown away by the strong winds or being overwhelmed by the snow. Especially if you're planning on going camping in the Highlands. Some helpful packing tips for when you go camping in the Highlands are:
Clothes that dry easily – Iceland is a wet island.
Warm clothes that breathe – The temperatures might feel warm when the sun is high, but it can get really cold at night and early in the mornings.
One or two proper towels and swimwear – There are plenty of warm baths and chilled glacier lakes to enjoy.
Warm, waterproof, and sturdy hiking boots – Dry and warm feet are the best companions in the Icelandic Highlands.
Extra power banks – This is essential if you plan on taking pictures.
Go Whale Watching
Have you ever seen 'Free Willy'? Did you know that Willy was actually from Iceland and is really named Keiko? In Iceland in July, you have a good to fair chance of actually seeing a killer whale in the wild. The name 'killer whale' is misleading. The killer whale is actually a type of dolphin and earned its name for hunting whales, making it one of the few predators in the sea. Along with the white-sided and white-beaked dolphins, they are commonly found in the waters around Iceland. They certainly provide a spectacular sight for tourists and fishermen alike.
July is the month when the whales have migrated to the northern side of Iceland. If you're extremely lucky, you could see up to eight different whale species while whale watching in these waters! The most common sighting is that of the Humpback Whale, and they are usually the ones that like to show off with high jumps and big splashes.
If you're looking for the classic whale, you should keep an eye out for the largest whale of them all – the Blue Whale. When these massive beasts splash their tails, you better hold on to the boat. The rest of the species are shy in the 'showing off'-sense, but they are often seen frolicking in the nutrient-rich summer waters.
Other known whales to be seen in the Icelandic waters are:
Sperm Whale

Minke Whale

Sei Whale

Harbor Porpoise (the world's smallest whale)

Pilot Whale
Go Snorkelling/diving
Diving into the North Atlantic Ocean might not seem like the most relaxing thing to do, we know that. Still, it could definitely be worth it in the summer when the waters are warmer. Much like the weather, the waters in Iceland reach their peak temperatures in July and will treat any visitors with the warmest embrace.
When it comes to what to do in Iceland in July, or the best things to do in Iceland regardless of the month, diving is a great choice for those with a little bit of adventure in them. This is, however, an activity that is only suitable when the weather is calm, as the currents are strong.
One of the most popular diving experiences you can have is to follow Dive.is or Strýtan Dive Center down between the Eurasian and North American tectonic plates. This is the opportunity of a lifetime to swim around with the native trout and touch two continents without actually being on any one of them. Unfortunately, this exact experience is only available to those with the right scuba diving license. If you're willing to settle with simply swimming between the continents and looking down on the narrow crevasse, snorkeling is an excellent option that won't disappoint.
Attend a Local Festival or Event
The month is credited with the nicest weather on the island and with the most daylight hours of the year. Then it's no surprise that all sorts of festivals and events are at the order of the day. Here are a few you can consider adding to your to-do list:
The Icelandic Horse Convention
You can't visit Iceland in July without seeing the amazing Icelandic horses. At the Icelandic Horse Convention, equestrians from all over the world come to see what these magnificent creatures are capable of. If you find yourself at this event, you have to stay for one of the most spectacular events of the festival: Gæðingakeppni. Here, riders need to demonstrate five gaits, and a properly performed flying pace is something of a marvel if you have an interest in horses.
Siglufjördur Folk Festival
Running for five days straight with more than a dozen concerts throughout the city, Siglufjördur Folk Festival is the perfect place to learn more about Icelandic lore and tradition. Starting on the 4th of July, this festival is all about tradition and history. Here tourists can learn traditional crafts, and dances, or simply enjoy a nice local beer to the sound of local musicians.
Eistnaflug
If you rather want to listen to something modern, Eistnaflug is a must when planning out things to do in Iceland in July. This rock festival boasts genres like rock, punk, indie, and metal. The age limit is 18 years, and it takes place in the eastern part of Iceland, inviting you to see some of the lesser-visited areas of the island.
Bræðslan
This is a very exclusive festival, held in a town with no more than 110 inhabitants in another part of the east coast. The festival is held in an old fish factory and only sells 900 tickets each year! Bræðslan Festival is the perfect venue for an intimate music experience. There you get closer to the musicians without the overcrowded feeling of most other festivals. This area is surrounded by beautiful mountains, and accompanied by the crashing waves of the North Atlantic. The perfect pairing to the party vibe!
LungA
Did you know that one of Iceland's most exported commodities is culture? At LungA Festival, you'll experience just how creative the Icelandic nation is as a small town of roughly 700 people set up a weeklong arts festival. The aim of the festival is to strengthen awareness of art in different forms. Here, people can enjoy everything from classic exhibitions to intricate workshops. The festival ends with a large celebration in true Icelandic style; with concerts, dance, and a strong sense of community.
The Medieval Trading Weekend
With roots going back almost a millennium, Iceland has a long-lasting tradition of trade. In the northernmost part of Iceland is a small town called Gásir that offers up the opportunity for visitors to get a taste of medieval life.
The 'villagers' of this event are dressed in medieval clothing. They will show you how crafts like blacksmithing, spinning wool, and woodworking was done in the medieval ages. Visitors can also partake in some of these activities and get themselves a souvenir or two, but beware; Vikings didn't have cards, so there's a 'cash only' policy on the grounds.
Experience a Natural Phenomena
When visiting Iceland in July, one of the most unique things to experience is a natural phenomenon called the Midnight Sun. The daylight hours have increased so much that darkness never falls. Even though the sun technically sets and disappears over the horizon, daylight still remains ever-present.
But take note; the Midnight Sun can cause havoc on some individuals' sleeping patterns, so be sure to bring a sleeping mask and some earplugs (the Midnight Sun party crowd can be quite rowdy) and set an alarm for when you need to go to bed (weird, we know). To experience a Midnight Sun, you'll need to plan your trip for the beginning of July before daylight hours slowly start to wane again.
Spot a Few Puffins
You may not be aware, but Iceland has actually been credited for "housing" 60% of the world's Puffin population. These penguin-like birds with colorful beaks, lovingly nicknamed the "clowns of the sea" spend most of their lives simply drifting out at sea. But from May to September, they leave the waters to breed here on the island.
Seeing these odd little birds waddling about and coming in and out of their burrows (they don't nest like regular birds) is quite a sight and something we highly recommend adding "spotting a few Iceland Puffins" to your to-do list if you consider yourself a nature lover.
Go Horseback Riding
The Puffins are not the only unique creatures one can find on the island. If you didn't go to the Horse Convention, you might not know that the island boasts its very own breed of horse, called the Icelandic Horse. These horses can take on the harsh Icelandic climate and gets a fluffy, thick coat during the winter months. They are also lovely creatures with a friendly nature and are so talented that they can perform an extra gait called the tölt.
When you see one of these horses, you can also be forgiven for thinking that they are ponies and not full-grown horses due to their small stature. You will find all sorts of horse farms and horseriding tours when road-tripping along the popular routes in Iceland and exploring the landscape on the back of one of these wonderful animals is one of the best things to do in Iceland in July.
Do Go Chasing Waterfalls
It is hard to wrap one's head around the fact that Iceland has 10,000 waterfalls! And pretty darn impressive ones at that, if we do say so ourselves. And with each having its own claim to fame, it's hard to pick out which to place at the top of your to-do list. But the following are definite fan favorites:
Seljalandsfoss – the waterfall you can walk behind

Dettifoss – the most powerful waterfall in all of Europe

Godafoss – where it is believed the island symbolically converted to Christianity

Svartifoss

– such beautiful falls with its black basalt columns that it has inspired many an artist and architect on the island
Go on a Road Trip
With amazing weather, extended daylight hours and all roads and routes open on the island, one of the best things to do in Iceland in July is to go on a road trip. And we are strong believers that a road trip is the best way to explore and experience some of the wonderful things Iceland has to offer. There are various road trip routes on the island and whether you'll be visiting for weeks or just a couple of days, you'll be able to find a suitable road trip route. Some of the most popular routes to consider are:
Westfjords Way

South Coast Way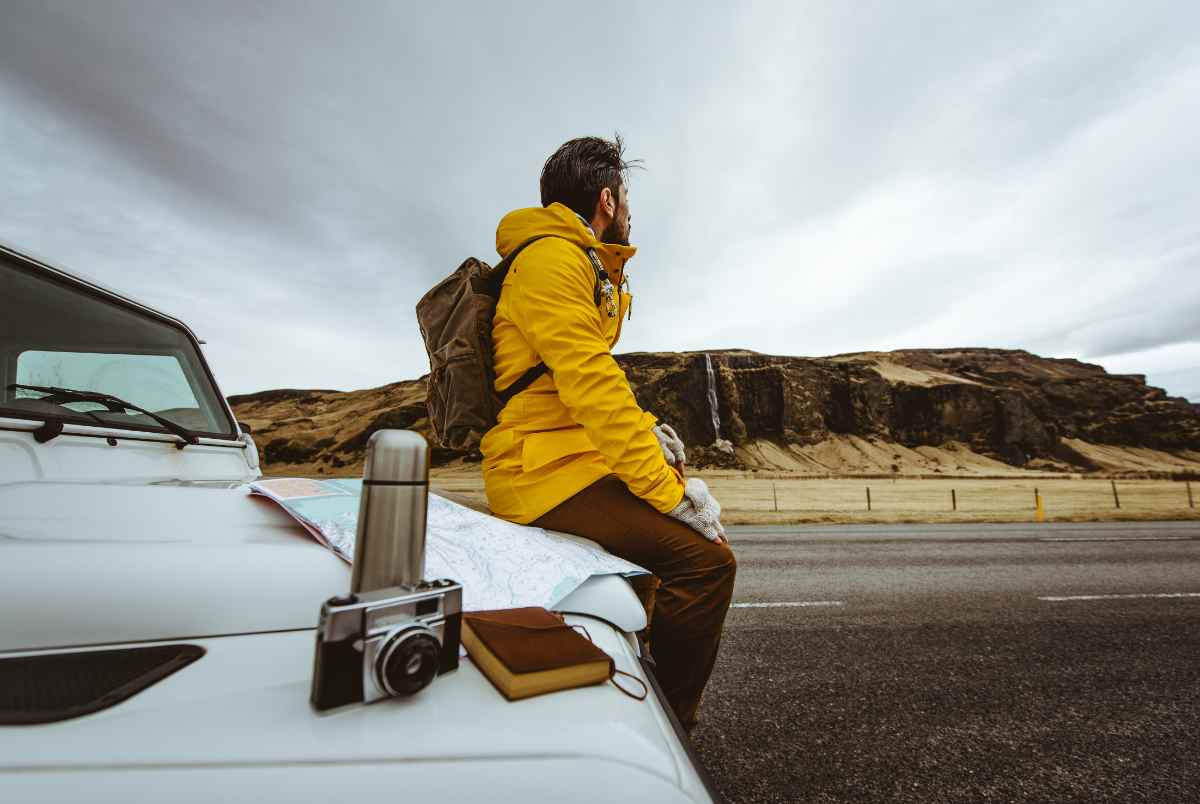 Take a Relaxing Soak in a Hot Spring
One of the top things to do in Iceland in July is taking advantage of some of the benefits that come along with being the Land of Fire and Ice. Due to all the volcanic activity on the island, the underground water supply gets heated up. In some places on the island, you will be able to enjoy this hot water in its natural form, whilst other hot springs are utilized in geothermal pools open to the public. Some of the must-visit hot spring hot spots are:
Go Hiking
Don't worry, you don't need to be a pro hiker to enjoy this beloved activity here on the island. And without having to worry too much about the weather turning on you, and without the pressure of an imminent sunset, July is the perfect time to go hiking. You will find various trails all across Iceland that range from day outings to multi-day treks and they all come with different difficulty levels. Some of the popular trails include:
Glymur Waterfall

Mt Esja

Laugavegur

Landmannalaugar

Helgafell
Stroll Along a Black Sand Beach
Another benefit of being the Land of Fire and Ice is that you boast the most beautiful black sand beaches. This is a result of a process that took thousands of years. Hot lava flows across the land 'till it's cooled down by the cold air and the freezing ocean. Once it's cooled down, it turns into a gigantic mass of black sediment.
This sediment then gets broken down over time by the weather elements and the crashing waves, till the end result is fine grains of sand that stretch out for kilometers. Taking a stroll on one of these black sand beaches is one of the best things to do in Iceland in July when it's not too cold and windy. Some of the most popular black sand beaches in Iceland include:
Reynisfjara

Diamond Beach

The Black Sand Beaches of Vik
Taste Our Local Beer
Not many are aware of the fact that Icelanders are quite big on making craft beers – and they are delicious! That is why one of the top things to do in Iceland in July is to go on the Reykjavík Beer Tour. The tour starts late afternoon and whilst learning all about Icelandic beer, you'll be taken to a few venues to sample some of the best beers the island has to offer.
Not only is this a delicious outing and learning experience, but many solo travelers have also said that this tour helped them make connections and new friends on their trip. So, if you find yourself in the capital city, this should be at the top of your to-do list.
Visit a Museum
Just because the weather is nice, and you have a few extra daylight hours to spare, doesn't mean that you should be spending all your time outdoors. We have so many interesting museums on the island that you'll be amiss if you don't visit at least a few of them. Some of the museums we highly recommend are:
Explore Iceland in July!
The plethora of summer activities in Iceland, plus the milder, more stable weather, make July a great month to visit the island. With so many places to be and things to do, you don't want to be tied down by pre-booking accommodation all over the island. Rent a comfortable campervan to make the most of your time (and budget) and camp in comfort. See you in July!