Summer is officially waving goodbye, but that doesn't mean the fun has to stop. Catch the very last summer activities along with all the winter perks when you spend September in Iceland.
For many, spending September in Iceland is the best time to visit the island. It might technically be the end of summer, but there's still the opportunity to take part in summer activities that are otherwise closed throughout the year. This all whilst the majority of summer-chasing tourists have left and prices start to return to normal. Visitors will also not have to struggle with finding accommodation or availability for events, attractions and activities as they would mid-summer season.
Why Spend September in Iceland?
As with most things in life, September also has its pros and cons. And whether September in Iceland is the right fit for you will very much depend on your needs and requirements. Take a look at a few pros and cons and why we believe September in Iceland is a viable option:
Pros
The weather is not yet full-blown winter volatile.

Most of the summer tourists have left, which means less overcrowding.

Travel demand decreases, which means peak time rates are starting to get lowered.

The Northern Lights are slowly starting to make their return.

You might still catch a few of the migratory whale species.
Cons
It is the transition period between summer and winter, so you need to be prepared to experience every possible season.

Since most summer tourists have left, many popular attractions and establishment will start amending their operating hours to off-peak times. This can sometimes lead to disappointed visitors.

You would've probably missed out on the migratory Puffins, although you might still spot one or two if you're lucky.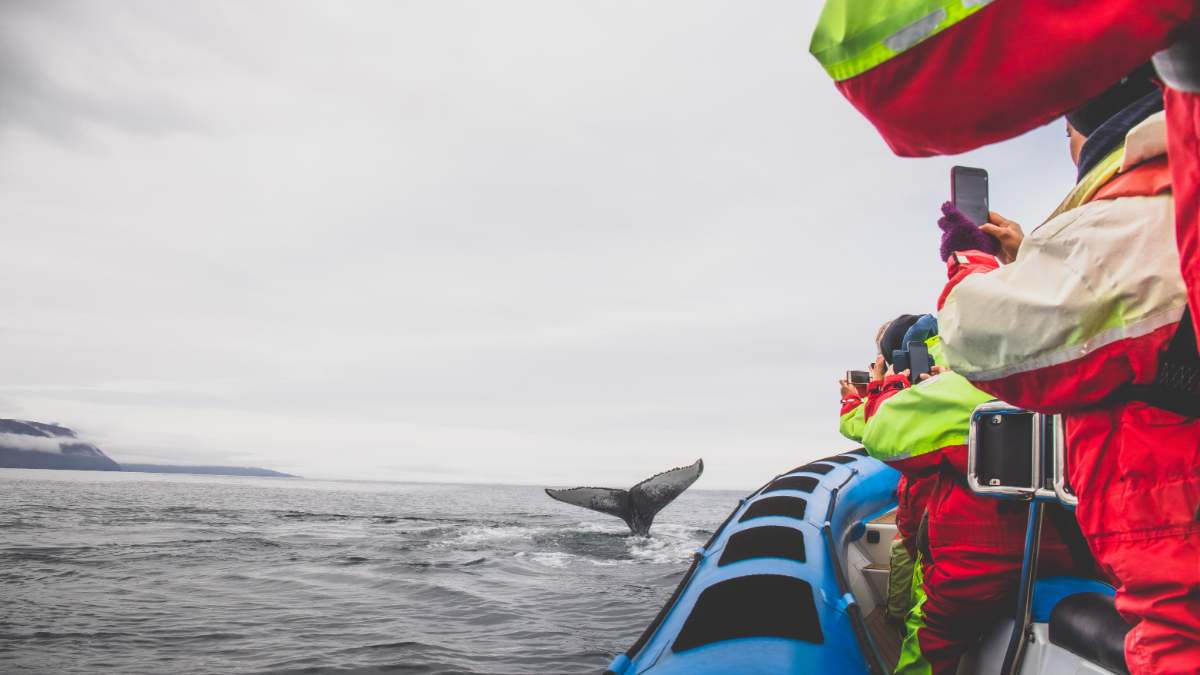 The Weather in Iceland in September
Since September in Iceland is essentially the transition month between summer and fall, you'll notice that the days are getting shorter. So, unfortunately, no midnight sun. You will definitely start to feel the temperature difference. The temperature in Iceland in September ranges between 6-11 degrees Celsius, whereas the average temperature mid-summer is around 10-15 degrees.
Reykjavík weather in September might still feel like it's punching up to mid-summer ranges sometimes. But it's merely because the cities offer a manner of shelter against the Icelandic elements.
Whilst the chill is starting to creep in during September in Iceland, the odds of you experiencing snowfall are small and those infamous Icelandic winds that end up steering your car more than you do is still a ways off.
Packing List for Iceland in September
So, if September in Iceland is the seasonal transition period, what do you pack? Just use our nifty little list of clothes for Iceland in September below, and you can't go wrong:
Waterproof jacket

Waterproof pants

Waterproof hiking boots

A raincoat

A travel umbrella

Thermal vests

Thermal long pants

A sweater

Casual long pants

T-shirts and long sleeve shirts (so you can layer)

Wool socks

Hats (one to keep the sunburn at bay during activities and another to keep your noggin warm like a beanie)

Warm gloves

A bathing suit (you might not be lounging on a beach, but when in Iceland, you have to take a dip in a natural hot spring at least once)

A quick-dry towel (you don't want to be travelling with a bunch of wet stuff)

A backpack (sufficient for hikes as well as day trips)
Things to do During September
Iceland daylight hours in September might be waning, but you still get a solid 12-14 hours of sunlight, so make the most of it. You will find that a trip to Iceland never ends up being long enough to do everything there is to do (hence why many return for a second, third or even fourth round). If you're travelling to Iceland in September, these are some things you can look forward to:
The Northern Lights
Iceland daylight hours in September might still be long compared to the rest of the world, but it's dark enough now for the Aurora Borealis to come out to play. This is a phenomenon missed by those opting to visit Iceland in the summer. If you've ever wondered where this highly scientific-sounding name comes from, this light spectacle is named after the Roman goddess of dawn (Aurora) and the Greek word for the north wind (Boreas).
And whilst many simply experience the phenomenon as beautiful streaks of lights dancing across the sky, not many know how truly badass the Northern Lights are. What you are actually staring at is electrically charged particles from the sun smashing into the Earth's magnetic field. It's a violently beautiful natural wonder.
Camping
Another popular activity during September in Iceland is camping. Since the weather is still forgiving and most roads still open, camping is a good accommodation alternative if you're travelling to Iceland on a budget. An even better way to stretch that budget is to get yourself a Camping Card.
This card will set you back only €159 and will grant a family of 2 adults and up to 4 children access to a number of campsites around the island for a stay of up to 28 days! With most campsites charging at least €10 per person per night, it's a massive cost-saver when travelling as a family. Some of the most popular camping sites include:
Waterfalls
This is where all the waterproof clothes for Iceland in September come in. That's because, between the muddy hiking footpaths and the spray when taking that Instagram photo, you'll be grateful you packed them. But in all seriousness, Iceland is home to 10,000 waterfalls and these powerful displays are something that you can't explain – it's something to be experienced. These are some of our top picks:
Gullfoss

Godafoss

Dettifoss

Seljalandsfoss
Whales
You might've just missed the Puffins, but you're still in time for whale season in September in Iceland. The island is home to 24 species of whale, but many are migratory and can only be seen during the months of April to September. If whale watching is on top of your Iceland priority list, we highly recommend that you stay in Húsavik. The town is known as the whale watching capital of Iceland. Otherwise, you'll still be able to find plenty of whale watching tours departing from Reykjavík. Some of the whales you can spot include:
Minke whales

Humpback whales

Orcas

Blue whales

Sperm whales
Driving Scenic Routes
If you are planning a trip to Iceland in September, we highly suggest that you work a road trip into the itinerary. September in Iceland is one of the last months that you'll be able to drive certain routes that are closed during the winter months due to treacherous road conditions.
When taking on a road trip, we also recommend that you opt for a campervan solution to stretch out your trip and exploration for as long as possible. Iceland is quite an expensive place to visit (especially in terms of accommodation), so a campervan is not only convenient, but it's also budget-friendly. Some of the famous road trip routes in Iceland are:
Just keep in mind that not all roads are accessible with a normal vehicle, and some routes might require a 4x4 vehicle. Please inquire at the agency when renting your vehicle.
Icelandic Horses
You need to grab all the opportunities the weather in Iceland in September still gives you. One of which is the unique experience of riding on an Icelandic horse. There are a wide variety of ways you can go horse riding in Iceland, from multi-day treks to shorter horse-riding trails. The Icelandic horse is a breed of its own (quite literally).
Not only are they extremely friendly and hardy for their environment, but they also have a very particular trait. For those who don't know, horses generally only have 4 gaits: walk, trot, canter and gallop. The Icelandic horse has 5: walk, trot, canter, tölt and flying pace. During the tölt, the Icelandic horse always has one foot on the ground. This makes this gait such a smooth ride that it birthed the tradition of the beer tölt. During a beer tölt, the rider holds a pint of beer and finishes their tölt without spilling a drop.
Magnificent Landscapes
If you don't want to explore the island via car, there's always the option of taking the road less travelled and discovering Iceland by foot. Another popular activity during the month of September in Iceland is hiking. There are multiple hiking trails all around the island and vary in difficulty level and length.
Hiking trails truly offer a unique experience since many trails allow hikers to see things that those travelling by car will never be able to reach, including being up close and personal with a few waterfalls and volcanoes. Whether you prefer a short walk or a multi-day trek, these are some of the most popular hikes to take:
Mount Esja

, Moderate Difficulty Level, 2-3 Hours

Glymur Waterfall

, Moderate Difficulty Level, 3-4 Hours

Snæfellsjökull, Moderate to Challenging Difficulty Level, 8-10 Hours

Jökulsárgljúfur Canyon, Easy Difficulty Level, 2 Days

Víknaslódir Trail, Challenging Difficulty Level, 3 Days

Hornstrandir, Easy to Moderate Difficulty Level, 4 Days
Food
Hiking is not the only exploration you can do on foot. Many don't know that Reykjavík is a foodie paradise. From craft beers to local cuisine, the Reykjavík Food Walk will give you the ultimate taste of Icelandic culture. The tour consists of only a small group of people and is very popular, so we recommend that you book this activity in advance.
Hot Springs
As we mentioned earlier, Iceland is filled with natural hot springs. This is because the volcanic activity on the island heats up the underground water supply. Many of these hot springs have been kept in their natural state whilst offers (especially those that were way too hot for human use) were utilized for commercial, public pools. Many hot springs are completely free to use, but some, especially those with added spa services, charge an entry fee.
The hot springs are definitely something you want to do in September in Iceland before the winter weather officially starts turning on you. And since many swear by the healing properties of these mineral-rich waters, who knows, you might go back home a new and improved version of yourself. Some of the most popular hot springs to visit include:
Hrunalaug

Seljavallalaug

Kvika Footbath
Black Sand Beaches
Another activity not to be missed whilst the temperature in Iceland in September is still in your favor is to stop by one of the many black beaches across the island. This is truly a unique experience that Iceland offers and is the product of when the two forces of the Land of Fire and Ice meet.
Hot lava flows towards the ocean and is turned into a big black mass of sediment as it is cooled down by the cold water. Throughout the years, this sediment is broken down into what we now know as the black sand on the beach. These are some of the must-visit black sand beaches:
The infamous Reynisfjara

Vik's Black Sand Beach

Diamond Beach

Stokksnes Beach

Solheimasandur (this one is a buy one black beach get a free plane wreck kind of deal)
Vikings
There are so many cool Viking things to do during September in Iceland, it's ridiculous. If you've always been fascinated by the culture or just want to get out of your adult skin for a bit, Iceland is probably the best place to do it. These are some of the Viking things that await you:
Helpful Tips When Spending September in Iceland
Always Double-Check Operating Hours
As we've touched on before, September marks the official end of the peak summer season, so many attractions and venues are switching to winter operating hours. The last thing you want to do is get all excited only to be met by a closed door. Always double-check to avoid disappointment.
Always Double-Check Road Conditions
Since September is a transition month, we suggest that you keep a close eye on road conditions. Double-checking operating hours is one thing, but starting your drive only to find that the road is closed is quite another.
Wear Layers Irrespective of the Weather
As a transition month, September can be a bit unpredictable (or at least more than the summer months). And a bright sunshine morning can quickly turn into a cloudy, cold afternoon. It will serve you well to always be prepared, especially during day outings. Wearing layers is a good solution.
Always Keep Waterproof Things Nearby
Whether a raincoat, umbrella or waterproof jacket and pants - you'll want these items within arm's reach at all times. Not just because of possible rainfall, but the island boasts 10,000 waterfalls, and you're bound to spot one on your trip. Many underestimate the force of these waters and they end up completely drenched by the mist and spray.
Taking Advantage of Summer Activities in Fall
If you're travelling to Iceland in September, you'll have a lot on your to-do list. Just remember that Iceland in late September will officially be in autumn, so if you want to take advantage of all the summer activities and attractions that are still open whilst the weather is playing along, the earlier in September you come the better. So, what are you waiting for? Carpe diem! Grab the (12-14 hour) day during your September in Iceland trip!