Iceland in May is pretty special. The temperatures are starting to climb – you might even get lucky with some double-digit days. It means nature is beginning to wake from her winter slumber. Hardy spring flowers add a much-loved injection of color to the landscape. And, as the days lengthen, there's a general feeling of optimism for the summer ahead. The increasing daylight hours also allow tackling many of the things to do in Iceland in May without feeling pressured by the setting sun.
So, why not load your stuff into a campervan rental and hit the road? There are many popular road trip routes all across the island, each with a wide variety of unique attractions and exciting activities. In this article, we discuss what you can expect when spending time in Iceland in May and which things to see, and what you should add to your trip itinerary.
What to Expect from your Trip in May
Iceland in May is what's known as a 'shoulder season' which holds quite a few perks for those visiting the island. Firstly, visitor numbers haven't yet reached their summer peak. That means that you won't feel like you're fighting for a glimpse at a local attraction through the peak season crowds. Secondly, with no peak season crowds yet, there also won't be peak season prices. This will help stretch your holiday budget much further.
May is not officially peak season in Iceland yet. However, it doesn't mean you can't experience the activities and attractions that the busy summer months offer. There are plenty of things to do in Iceland at this time! With most roads and routes open and less traffic than in peak season, May may be the perfect time to rent a camper. This way, you can fully immerse yourself in Iceland's landscape while enjoying all the sights and stops along the way.
With the harsher Iceland weather behind you, increased daylight hours, and the open road ahead of you, there's no reason to delay ticking off the items on our list of the best things to do in Iceland in May.
Best Things to do in Iceland in May
The following are some of the must-visit places and must-do activities you should add to your trip itinerary when traveling to Iceland in May.
1. Hike to a Volcano
In March 2021, a hitherto unknown volcano called Fagradalsfjall made the world sit up and take notice. For six months, it spewed fiery red molten magma from multiple craters and fissures. That ended up transforming the landscape and captivating those who hiked up to take a closer look. As the eruption slowed, the steaming vents and sulfur-stained lava rocks became the main attractions.
Although the Fagradalsfjall eruption is over, at least for now, lava fields such as this one in Reykjanes are a reminder of how raw, unpredictable, and downright compelling the Icelandic landscape is. If you hike, you can choose from several trails that offer various views of the crater and lava field. Who knows when the volcano will burst into life again – last time there was a gap of more than 800 years between activity. The area is also quite close to Reykjavík city. So, do add this one to the list of things to do in May!
2. Find out About Siglufjörður's Herring Heritage
In the 1950s, the North Iceland town of Siglufjörður was a busy port that made its fortune from a single type of fish: the humble herring. Hundreds of fishing boats set off in search of the herring that migrated to nearby waters. The waterfront was lined with wharves and jetties that would have buzzed with activity as the fish were unloaded. For a time, it was the largest port in the country.
Across the road from the harbor, in colorful buildings housing is what's now Siglufjörður's Herring Era Museum. Here, you can learn about how the fish were processed and how these small factories turned out thousands of barrels of smoked and pickled herring. It was a cosmopolitan place and the money flowed freely until one day, in the 1960s, the herring simply disappeared. Why? You'll just have to drive up when you're in Iceland in May to find out!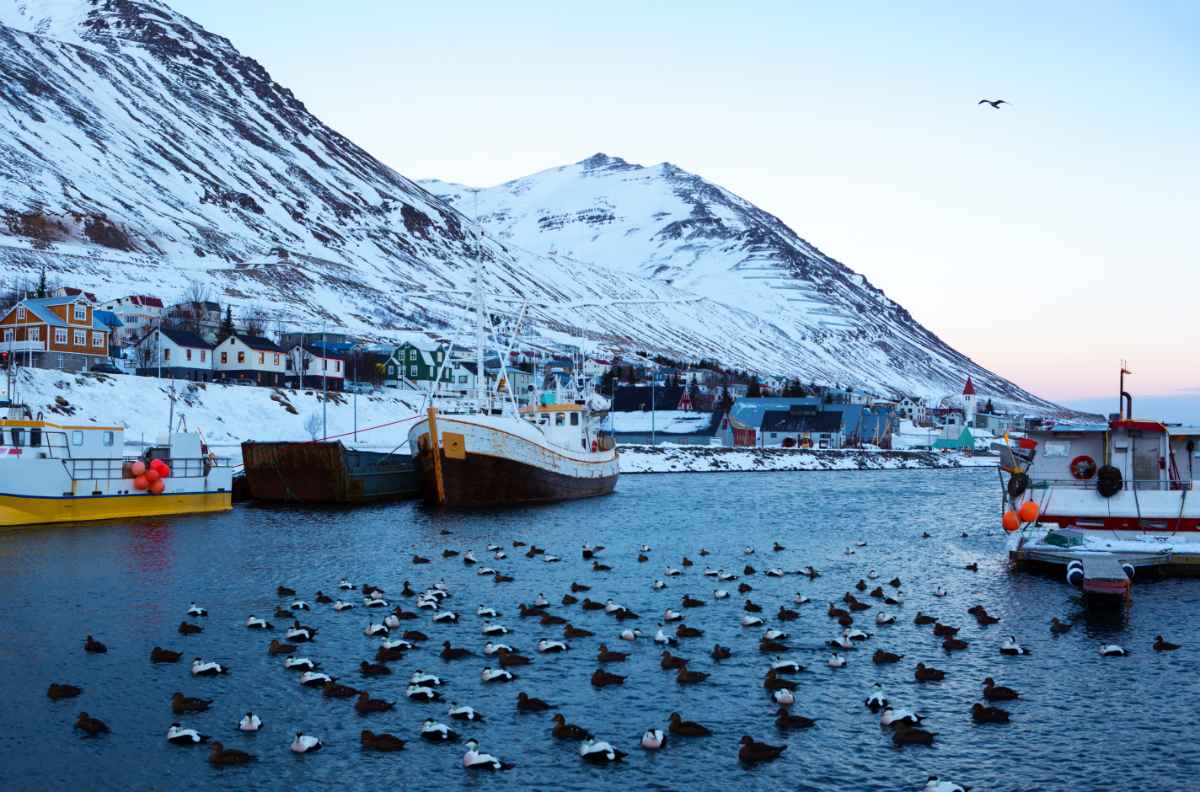 3. Scoff Down Waffles in the Westfjords
The owners of Simbahöllin Café in Þingeyri make a bold claim: to serve the best waffles in Iceland. It's quite a trek to reach this out-of-the-way place deep in the Westfjords, but many do. Particularly from May onwards, when the weather often improves, making it one of the top things to do in Iceland in May. The waffles here are light and fluffy; topped with homemade rhubarb jam and heaps of cream, they are utterly delicious.
You might find yourself waiting in line for a table at Simbahöllin Café. Yes, even if there appears to be no one around for miles, unless you get there right at opening time. As the access to the Westfjords improves, road traffic's likely to increase and, we're guessing, so too will the queue for this place. It'll still be worth it, but we reckon it's best to get there sooner rather than later.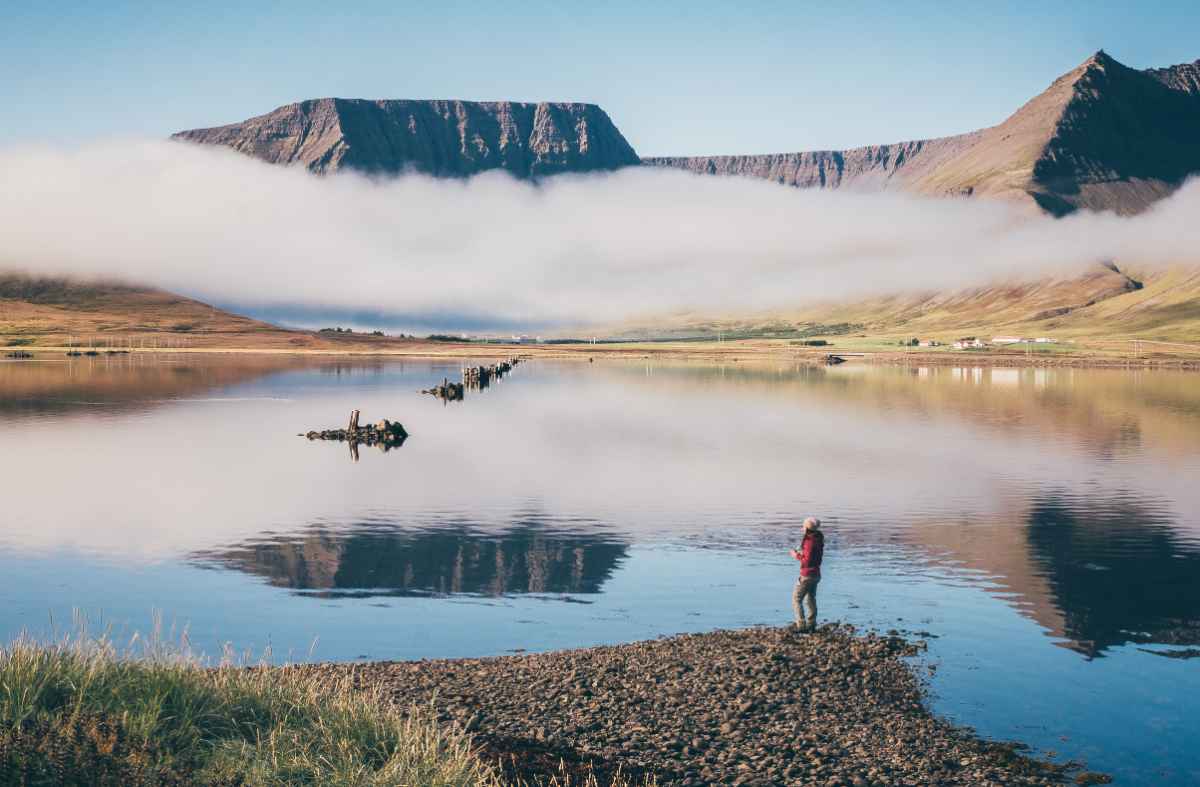 4. Hike to the Wreck of a Plane
Once upon a time, you could drive across one of Iceland's black sand beaches until you reached a wrecked plane. The US Navy DC-3, carrying a small crew and cargo, was forced to do an emergency landing at Sólheimasandur in South Iceland in 1973. Fortunately, no lives were lost, but the decision was made not to recover the plane. Over the years, it succumbed to the elements – wind, snow, and rain took its toll and the shell was a mess.
It's still possible to get out to Sólheimasandur and take a closer look at the "crashed" plane, but you'll need to hike. It's no longer permitted to drive along the barely-there track. It's not Iceland's most scenic hike, though, so prepare yourself for a fairly monotonous landscape once you've parked and set off on foot. But don't rule this out as one of the top things to do in Iceland in May just yet. The end result is worth it.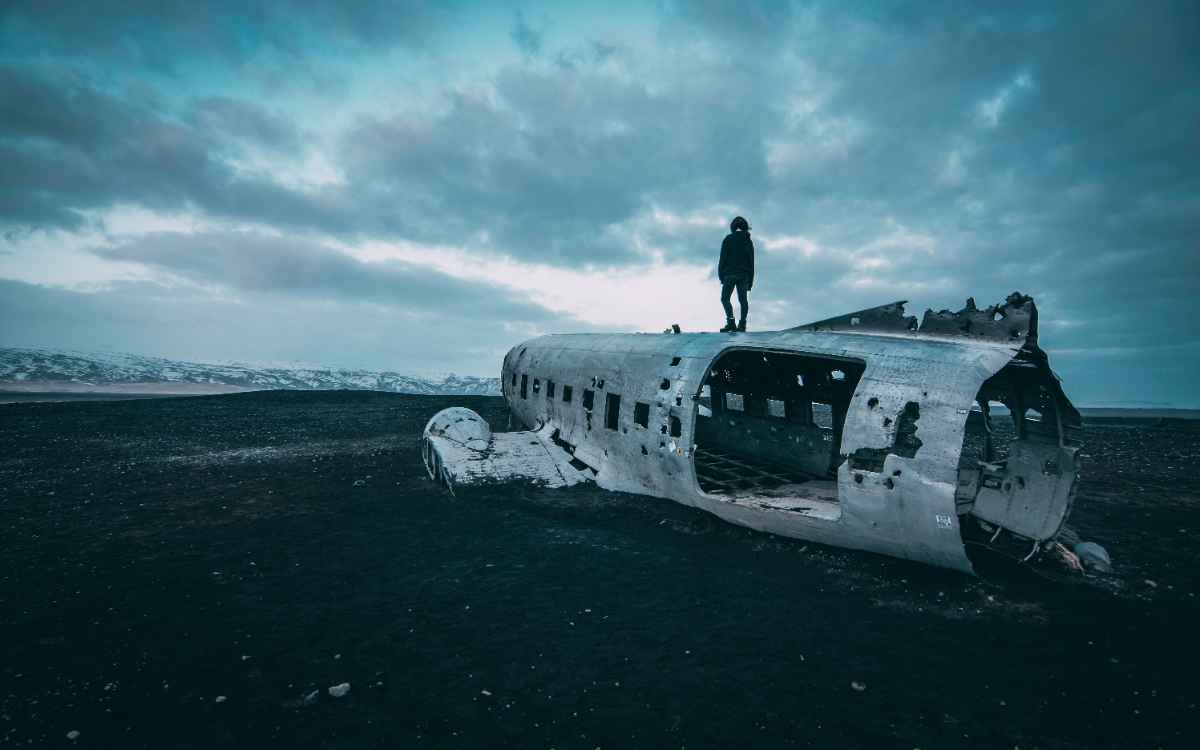 5. Shop at Iceland's Oldest Book Store in the Westfjords
The Old Bookstore in Flateyri opened in 1914 and has been trading ever since. The sign above the shop doorway reads Bræðurnir Eyjólfsson, and today it's run by Eyþór Jóvinsson who's the great-grandson of the original owner. As you step through the door, there's plenty to remind you of how it might have looked in the old days. Faded ledgers line the back wall of the store and even now, secondhand books are sold by weight.
Bræðurnir Eyjólfsson is a functioning bookstore. In fact, one honest Icelander visited in 2019 to pay an outstanding debt of 1500 ISK racked up by his grandfather. He was a farmer in Önundarfjörður, exactly 100 years earlier. For visitors, there's also a small museum to take a look around. Eyþór's great-grandparents lived beside the shop for decades, and the family has kept their home as it was when they passed on.
View this post on Instagram
6. Take a Spin on a Mountain Bike
Since the weather in May is likely to be much milder by late spring and perhaps even sunny, this can be the perfect month to try mountain biking. Cut your teeth on the trails within Heiðmörk Nature Reserve. There are plenty of graded trails suitable for beginners which get you among the area's red pseudo craters. It's not far from Reykjavík, which makes it really convenient.
A much more challenging mountain biking route might lure you to East Iceland. Begin beside the Atlantic Ocean at Dalatangi Lighthouse and follow Route 953 along Mjóifjörður. Just beyond the head of the fjord, take a break to admire a pretty stepped waterfall called Klifbrekku. Follow the road north to Egilsstaðir before looping back to follow the road south to Hallormsstaðaskógur. It is Iceland's biggest forest, beside Lagarfljót Lake.
7. Learn about Icelandic History at the Saga Museum in Reykjavík
Iceland's history is brought to life at the Saga Museum. You'll learn why early settlers stayed on the island. All through a combination of Madame Tussauds-like wax figures and interactive audiobooks. The Saga Museum is definitely one of the top things to do in Iceland in May. Take a journey through hundreds of years of history, reliving volcanic eruptions, the ravages of diseases such as the Black Death, and violent battles between warring chieftains.
Here, you can "meet" the people that shaped a nation, such as the adventurous Leifur Eiríksson. He's the one whose statue is in front of Hallgrímskirkja in Reykjavík. And Sister Katrin, a 14th-century nun who was burned at the stake for selling her soul to the devil. You'll also hear the story of Ingólfur Arnarson, the first Norseman who liked Iceland enough to stay – Ingólfshöfði on the South Coast is named in his honor.
8. Visit Glaumbær in Skagafjörður
One of the most curious forms of architecture you'll come across while in Iceland is the humble turf house. There are plenty of examples to see as you drive around the country, such as at Árbær Open Air Museum on the edge of Reykjavík. Or at Keldur in South Iceland, thought to be the oldest in the country. Up in North Iceland, you won't want to miss Glaumbær.
The last inhabitants didn't leave Glaumbær until 1947 and the place is now preserved as a museum. You then can see what it would have been like in the 18th or 19th centuries. Once you get inside, you'll see that they built this farmhouse from turf, stones, and timber. Like all turf houses, when it rained, Glaumbær would have been damp and leaky. The exact opposite of your camper home on wheels, which will be snug and cozy no matter what the weather.
9. Go Wild with the Wildlife
May is when things start going wild on the island – literally. You will find plenty of migratory whale species along the Icelandic coast that will call the island their home till September. It truly is an impressive array that ranges from Minke Whales and Orcas to Sperm Whales and Blue Whales. You will find plenty of whale watching boat tours if you want to get up close to these giants of the ocean. These tours abound in Reykjavík and Husavik (the whale capital of Iceland).
But one of the best things to do in Iceland in May is to spot a few Puffins. These penguin-like birds with colorful beaks spend their time out at sea. But when May comes, they make Iceland their breeding ground till September. In fact, Iceland is credited with 60% of the world's Puffin population. And if you think seeing one of the Iceland Puffins is exciting, wait till you see their adorable Pufflings!
10. Explore the Capital Whilst Stuffing Your Face
One of the best things to do in Reykjavík in May is to go on the Reykjavík Food Walk. A city tour in Reykjavík is a great way to learn about the capital while indulging in local cuisine at multiple stops throughout the tour.
From authentic Icelandic dishes and homemade ice cream, to guzzling down some of the best craft beers the island has to offer. Trust us, you do not want to miss this opportunity! It is an intimate group setting, so many solo travelers have also credited the walk with making connections and friends on the island.
11. Take a Soak in the Blue Lagoon
You've most probably seen the Blue Lagoon without even realizing it. Due to its unique aesthetic, it has graced our screens many times in movies such as Hostel and Star Trek. The Blue Lagoon has an interesting origin story that's not the same as most other hot springs here on the island. In case you don't know; the volcanic activity on the island heats up the underground water supply.
Some warm water in Iceland is safe to swim in, but other pools are created by mixing warm and cooler waters to make geothermal pools. The Blue Lagoon is not just famous for its bright blue water, it's pretty famous amongst locals and visitors alike for its healing properties. The reason behind the color of the water is that it is incredibly mineral rich. And the silica in the mud makes this one of the top things to do in Iceland in May if you struggle with dermatologic issues.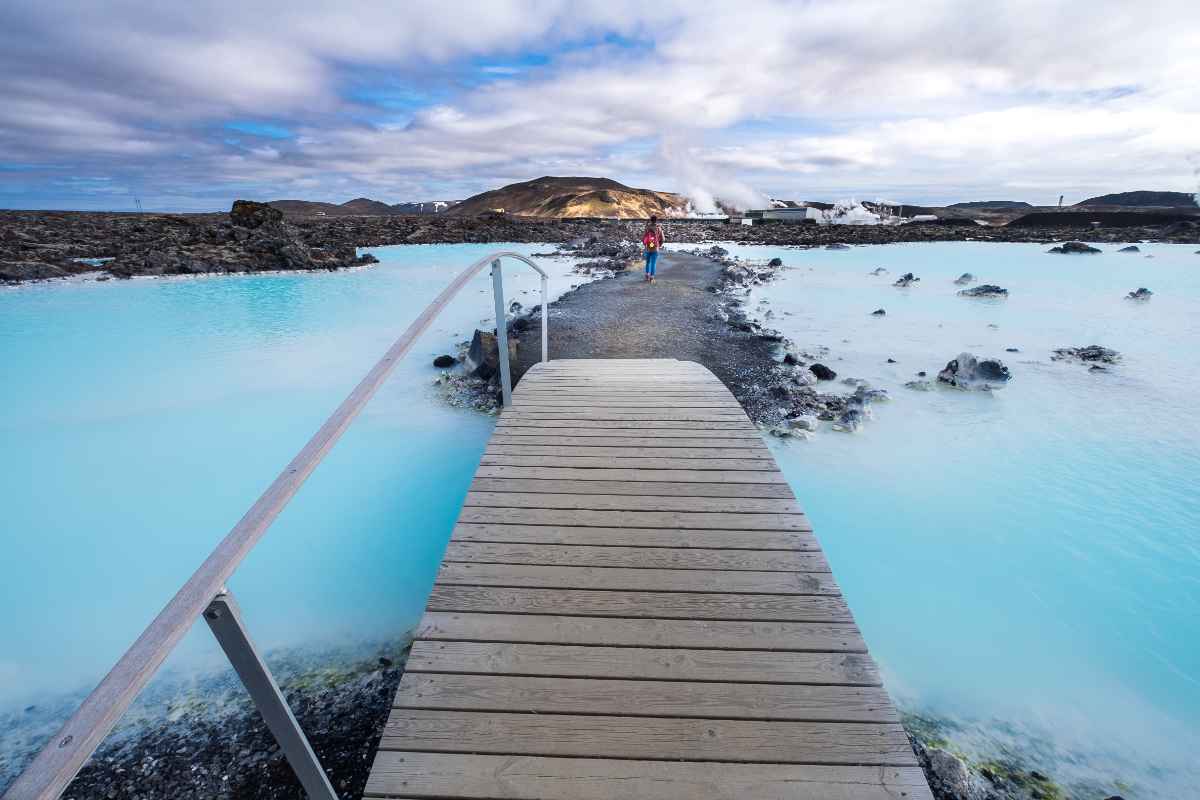 12. Visit Our Waterfalls
Iceland boasts 10 000 waterfalls! Visiting our falls is one of the best things to do in Iceland in May, and for good reason. May will see the last of the winter snow and ice melt away, and all that water has to go somewhere. That's why our waterfalls seem extra spectacular during this time.
The fact that the last of the winter snow and ice has melted also helps with getting to the falls in the first place. Although the hikes to the falls are generally not very long and are not very challenging, the winter conditions can make it pretty dangerous. For example, icy steps can be such a hazard that the trail is closed during the colder months. So, May makes for a pretty memorable visit to the Iceland waterfalls.
13. Go Horseback Riding
For those who are unaware; the island actually boasts its own breed of horse. As unimpressive as the name is (Icelandic Horses), as impressive is the breed itself. They have a pony-like stature and sport a thick, fluffy coat during the winter months. They are also credited with having an incredibly friendly nature and can perform an extra gait called the tölt. Exploring the Icelandic landscape on one of these magnificent creatures is truly a unique experience.
If you plan to go on a road trip, you will come across many breeding farms and horse riding trails. Likewise, other activities that revolve around Icelandic Horses. So, where you decide to stop and give it a go will rely on your preference and trip itinerary. But this is one of the most unique things to do in Iceland in May.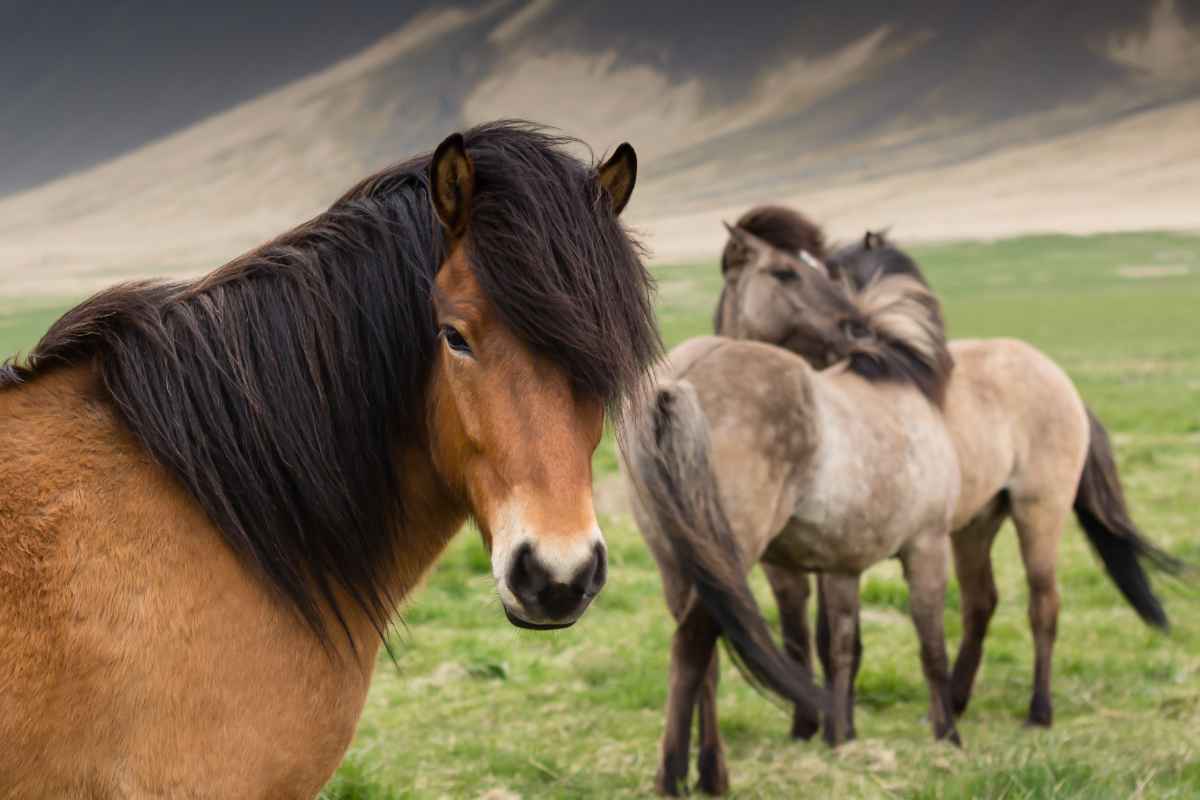 14. Lie Suspended Between Two Continents
This may sound like a magic trick, but it's simply a magical experience. And, of course, one of the top things to do in Iceland in May if you have any interest in snorkeling or diving. The Silfra Fissure is a tear (fissure) in the earth where the North American and Eurasian tectonic plates push each other apart. This fissure has filled with glacial water, where one can go snorkeling or diving in and truly lie suspended between two continents.
The glacial water is so clear that you can see up to 120 meters ahead of you. But, also, because it's glacial water, this snorkel/dive can't be taken on without a dry suit. Snorkeling can be arranged for anyone. However, if you want to go dive the Silfra Fissure, you'll need a valid diving license and adequate experience under your belt.
15. Explore an Ice Cave
This is one of the best things to do in Iceland in May, as it might be your last chance before most close for the warmer months. Exploring the ice caves in Iceland is an experience that seems other-worldly. Walking through bright blue ice tunnels underneath a glacier seems unbelievable! Still, it can only be done on a tour with an experienced guide due to safety reasons.
What makes exploring Iceland's ice caves even more interesting, is that the same person can explore the same ice cave throughout the years and never have the same experience. This is because of the melting that takes place during the warmer months, making the ice caves ever-changing and ever-evolving. Some may even disappear completely. But this constant transformation makes it possible to have multiple completely unique experiences in the same ice cave.
MAY the Force Take you to Iceland!
No matter where your travels take you, Iceland in May is a special place indeed. And if you choose to rent a campervan in Iceland for your road trip across the island, you're not just guaranteed a great time, but make your holiday budget stretch much further. From the open road to fascinating stops such as the ones mentioned in this article, we know you'll have a fabulous (and affordable!) time.